This post may contain affiliate links, which means I'll earn a small commission if you purchase something through these links. You won't pay any extra; instead, you'll be helping Aloha With Love to thrive. Thank you! Learn more.
COVID-19 has affected many of Hawaii's businesses and events. Please double check their dates and times before you go or make plans. Visit HawaiiCOVID19.com for more information.
--
Mom received some beautiful young squash from a friend that she decided to use in this jiaozi recipe. Normally, we use the common green cabbage for jiaozi or baozi since it's cheap and easy to find, but squash has a nice give when you bite into it. For this recipe, we used just one squash as each had plenty of meat. Young squash is preferred since it's sweeter and softer. If your squash is older, you'll only use the outer meat (closer to the skin) as the inside where the seeds are is too tough.
The great thing about jiaozi is that you can make a lot in one sitting and freeze the rest. When you feel like eating some, just grab it out of the fridge, pop some onto a pan of oil and you'll have perfectly cooked dumplings in less than 10 minutes. One of the first things my brother and I learned to cook was jiaozi. That way, Mom knew we were eating something healthy and homemade rather than sneaking in some candy or a bag of chips before dinner.
Aloha with love,
Amy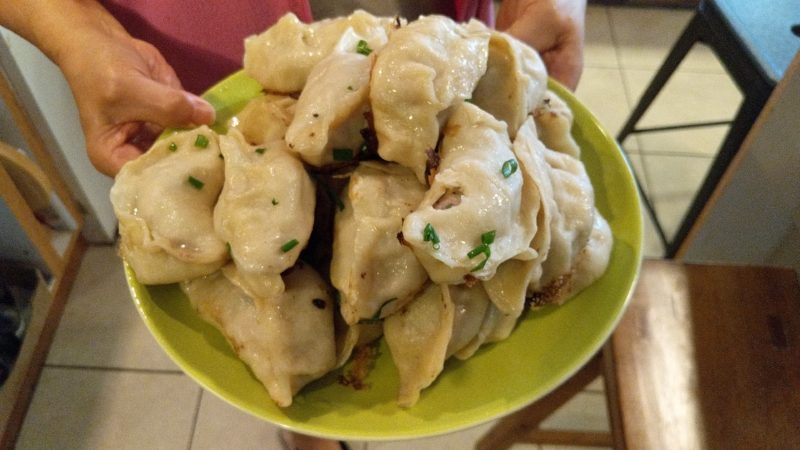 Ingredients
Jiaozi filling
2

lbs

ground pork

½

c

green onions

2

tbsp

thinly chopped ginger

1

tbsp

rice wine

Optional.

½

tsp

pepper

1½

tsp

salt

1

tbsp

sesame seed oil

2

tbsp

shoyu

2

tbsp

olive oil
Squash preparation
1

young squash

Peeled and grated.

1

tbsp

salt

¼

c

olive oil

2

tbsp

shoyu

1

tsp

pepper

1

tsp

salt
Dough
6

c

all-purpose flour

1

tsp

salt

2½

c

warm water
Instructions
Pork filling
Begin with the ground pork in a large mixing bowl. Add chopped green onions, chopped ginger, rice wine (optional), salt, pepper, sesame seed oil, shoyu, and olive oil. Mix everything together and put it in the fridge to cool as you work on the squash filling.
Squash filling
Peel and cut the squash in half to check the age. Young squash will be all white inside and the seeds soft enough to grate and eat. Older squash will have seeds that have hardened and you will only be able to use the outer layer. The taste also slightly changes in my opinion.

Grate the whole squash, add salt, then mix. Wait for a few minutes as the salt will draw out the water. Knead and squeeze handfuls of the squash to help get most of the water out.

Once most of the water has been squeezed out, thinly chop the grated squash and combine with the pork filling.

Mix the pork and squash together. Add more olive oil, shoyu, pepper, and salt as needed. Put in the fridge to cool as you work on the dough.

Note: Mom added this additional olive oil, shoyu, pepper, and salt after tasting the filling by dabbing it on her tongue. These ingredients have been adjusted to include these additions.
Jiaozi dough
Put flour and salt in a large mixing bowl. Make the very warm water with half hot water and half room temperature water. You should be able to put your finger in comfortably. Mom pours in 1 c, 1 c, then the remaining ½ c of warm water.

Slowly add very warm water to make a shaggy dough. She does not use up the water if all of the flour gets incorporated into the dough.

Knead the shaggy dough to form a smooth ball and to clean the bowl of any loose flour for about 3 minutes. Cover for at least 20 minutes.
Making the jiaozi skin
Before removing the dough, sprinkle some flour on top to make it easier to work with. Cut the dough in half and bring one half onto a floured work surface. Leave the other half in the bowl covered.

Roll out the dough to one long noodle, about 1½ inches in diameter. Pinch and separate the dough into little balls

With your fingers, press each ball of dough to flatten into a circle.

Use a rolling pin to flatten each jiaozi skin. Roll with one hand while you rotate the jiaozi skin with the other. Add flour when necessary. Each ball of dough will become a jiaozi skin that is roughly a little larger than the palm of your hand.
Closing the jiaozi
Add about 1 tbsp of filling to the middle of the jiaozi skin. Start with less if you need to until you get more practice in.

Pinch the opposite ends together.

With your forefinger, push in the skin toward the center so you form a loop on the top. Pinch the skin between your forefinger and thumb together.

Bring your forefinger to the top of the loop created in the last step and bring the skin toward your thumb. Pinch. This method gives the sealed area a curved shape, which helps it stand up by itself. Repeat with the other side.

With your forefinger, push in the skin toward the center and pinch the dough skin between your forefinger and thumb together.

With your forefinger and thumb, pinch together the top loop you formed in the last step.

The jiaozi should have a natural curve that makes them stand up by themselves. Leave aside the ones you plan to eat right away. The rest can be placed on trays or plates in the freezer. Once they harden, move them into plastic bags so that they can be easily stored without taking up too much space.
Cooking the jiaozi
Add oil to a pan and set temperature to high heat. Put the jiaozi in a spiral design starting from the outside. Make sure there's some oil under each jiaozi as you work your way toward the middle.

Pour enough water so that it covers the bottom half of the jiaozi. Leave on high heat and cover. The hot steam will cook the jiaozi as it slowly evaporates. (Read the recipe notes if you are cooking frozen jiaozi.)

You'll know this is almost ready when the sizzle-boil sound changes to a higher-pitched sizzle. Take the cover off to let the remaining water evaporate. This is when the crust below begins to form so leave it on the stove to allow the crust to form.

Slide the jiaozi onto a plate and serve. Dip with a shoyu and vinegar mix. Add some hot sauce for an extra kick!
Notes
You don't have to make the dough from scratch. Mom will often buy fresh wonton skins from the grocery and use them to make jiaozi. Wonton skins are readily available at many local grocery stores in Hawaii.

If you are cooking frozen jiaozi, change the temperature to medium as soon as the water starts boiling. Frozen jiaozi needs to be on the stove just a bit longer to fully cook.

Mom doesn't use fresh young squash often as it's rare for us to get it. We usually use the common green cabbage you find at the grocery.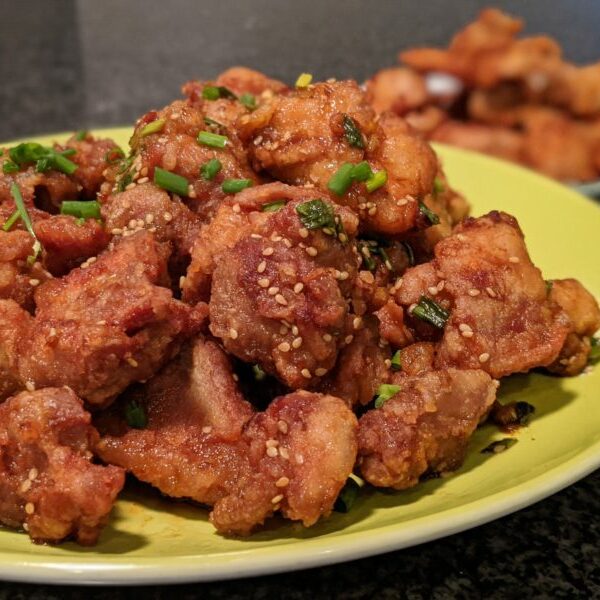 Get my latest recipes with a spoonful of aloha!