This post may contain affiliate links, which means I'll earn a small commission if you purchase something through these links. You won't pay any extra; instead, you'll be helping Aloha With Love to thrive. Thank you! Learn more.
COVID-19 has affected many of Hawaii's businesses and events. Please double check their dates and times before you go or make plans. Visit HawaiiCOVID19.com for more information.
--
A friend gave my brother a humongous bag of pinto beans so he decided to make this hearty stew in a slow cooker. It ran out pretty quick and my Mom wanted some more but didn't want to wait another 12 hours. So she made her own version for the stove, which turned out fantastic. She added the seasoning by taste and I'm happy to say that I had her measure it all out before she threw it all in. Have fun with this recipe, it's a good one that will hit the spot!
Aloha with love,
Amy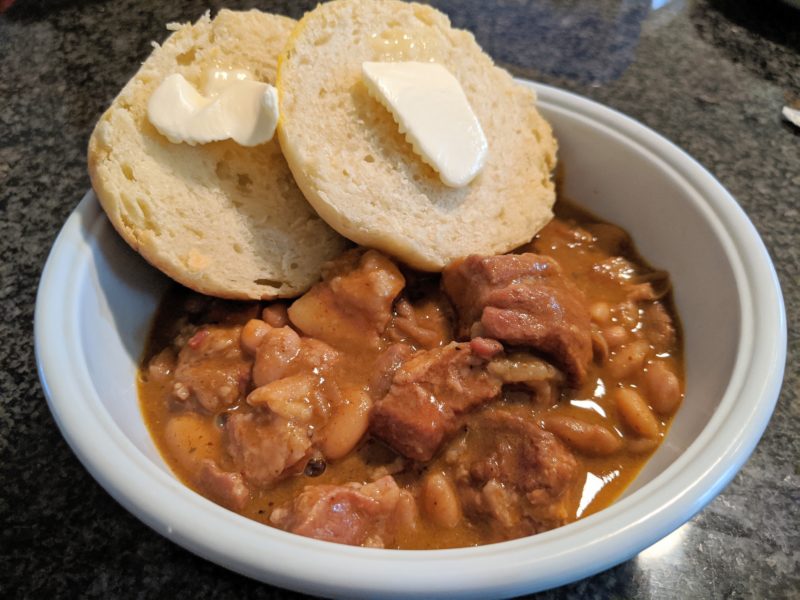 Ingredients
1½

lbs

unsoaked pinto beans

Soak overnight.

4

lbs

pork butt

½

lb

uncured thick bacon

2

tbsp

taco seasoning

1

tsp

paprika

2

tbsp

chili powder

1

round onion

1

tbsp

pepper

10

c

water
Instructions
Soak the pinto beans overnight. Mom soaked extra pinto beans in advance and froze them so she was able to skip right to the cooking.

Cut the pork butt into large cubes. Cut the uncured thick bacon into bite-sized pieces. Separate them from each other so that they'll cook evenly in the dutch oven.

Set the dutch oven on the stove at high heat. No oil. Add in the uncured thick bacon and stir for 1 minute.

Add all of the pork into the dutch oven and stir for 1 minute. Adjust the temperature to medium.

Add in the taco seasoning, paprika, and chili powder. Stir for 5 minutes.

Chop round onion into large chunks and put into dutch oven. Stir for 1 minute.

Add in all of the pinto beans into the dutch oven. Adjust temperature to high heat. Stir for 1 minute.

Add pepper.

Add about 10 c water.

Note: This will vary depending on your pot size and amount of meat and beans. But for us 10 c was just right. Add too much water and you'll have to cook this longer to get rid of the water, which will melt the fat out of the bacon and pork. It's safer to put less water and add if you feel it needs more as you check it while it cooks.

Cover and let it reach a boil (about 15 minutes). Lower the heat to medium and let it cook for 2 hours with the lid slightly open to let the water evaporate.

Check and stir every ½ hour. Add more water if necessary.

After 2 hours the color should have deepened significantly and much of the water should have evaporated leaving a thick, stew-like consistency. Serve with some hot bread!
Notes
Mom soaked extra pinto beans in advance and froze them so she was able to skip right to the cooking.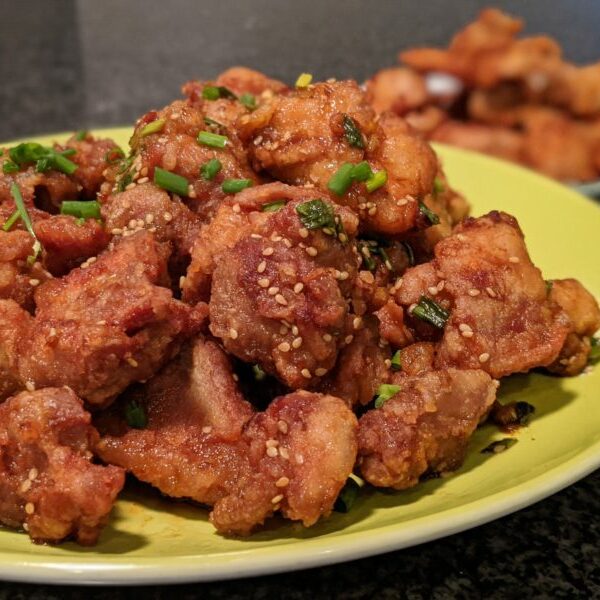 Get my latest recipes with a spoonful of aloha!