This post may contain affiliate links, which means I'll earn a small commission if you purchase something through these links. You won't pay any extra; instead, you'll be helping Aloha With Love to thrive. Thank you! Learn more.
COVID-19 has affected many of Hawaii's businesses and events. Please double check their dates and times before you go or make plans. Visit HawaiiCOVID19.com for more information.
--
The Maili Pink Pillbox hike is normally just called the pink pillbox hike. Out on the Waianae coast, the hike only takes about 40 minutes going up, but you're rewarded with an amazing panoramic view of the west shoreline of Oahu. Despite its awful rush-hour traffic, Waianae is gorgeous because of the lack of buildings and green views of the Waianae mountains and valleys.
I recommend this hike for those who will be in the area for a day or so and are looking for something quick to do. The Pink Pillbox hike doesn't take long and you'll know it was worth it once you get to the top.
Aloha with love,
Amy
Local Tip: If you're looking for another hike to do in Waianae, check out the Kaena Point trail. It's a popular spot to see Hawaiian Monk Seals and the drive down to the trailhead is beautiful, too.
What To Expect On The Pink Pillbox Hike
Although the hike is short, it gets hot up here! You can tell just by looking at the surrounding plants and trees that this is not a lush rainforest with lots of shade and muddy streams. This side of the island is drier than Honolulu so you can expect most hikes in the Waianae/Makaha area to be similar. Everyone we met on our way up (and down) were working up a sweat. Water, a hat, and sunscreen are a must!
The trail is plain to see and is mostly dirt, rocks and a few roots here and there. Since it's such a popular hike, we ran into people about every 5 minutes or so. It's nothing compared to the crowds at Diamond Head State Monument or Manoa Falls Trail though. Those staying in Waikiki rarely make it all the way out to Waianae, so it's nice to be able to have a slice of paradise for a couple of hours.
Local Tip: If you want to be near the Pink Pillbox Hike or near the west shoreline, you'll want to stay at one of the Ko Olina resorts: Four Seasons, Disney Aulani, Beach Villas, or Marriott's Beach Club. This resort property is only about a 15-minute drive away from the Pink Pillbox trailhead.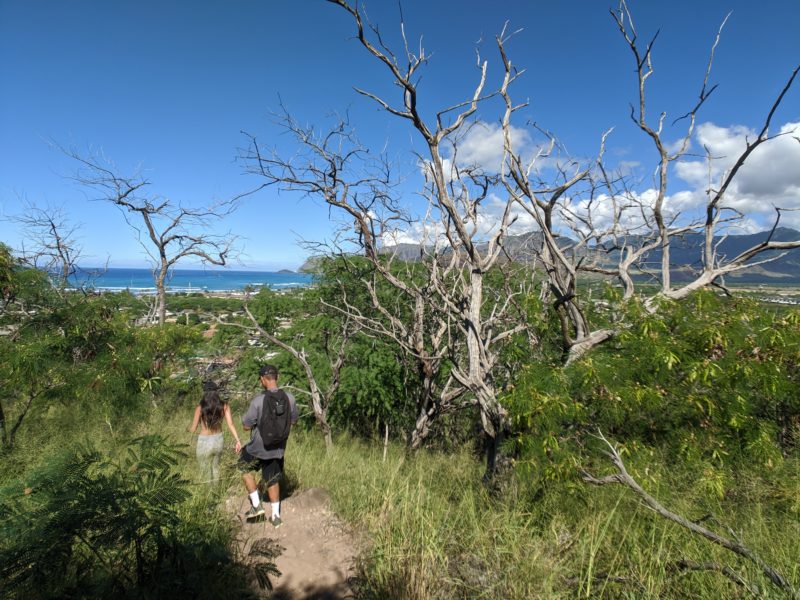 The path is a series of switchback trails and going up can be a breather since the heat really does get to you. Take the extra time to rest if you need it and take a look around while you're at it! The view behind you starts off with residential housing in the valley and the higher you go, the more of the ocean you'll be able to see. Plus, the surrounding mountains just make everything that much more beautiful!
Keep an eye out on the path. I'm always venturing off the path without realizing that the trail has switched in the opposite direction. The last time I went, my friend who is extremely familiar with the hike had to call out to me three times because I was too busy looking at the view instead of the trail. Once you see the path becoming overgrown, it's time to look behind you to see if the trail has "switched".
Also on the way up are a couple of giant trees with these exposed white roots. They're pretty cool to see and make for a nice photoshoot and rest stop because of the shade. My friend and I took a couple of minutes at each to catch a break from the sun.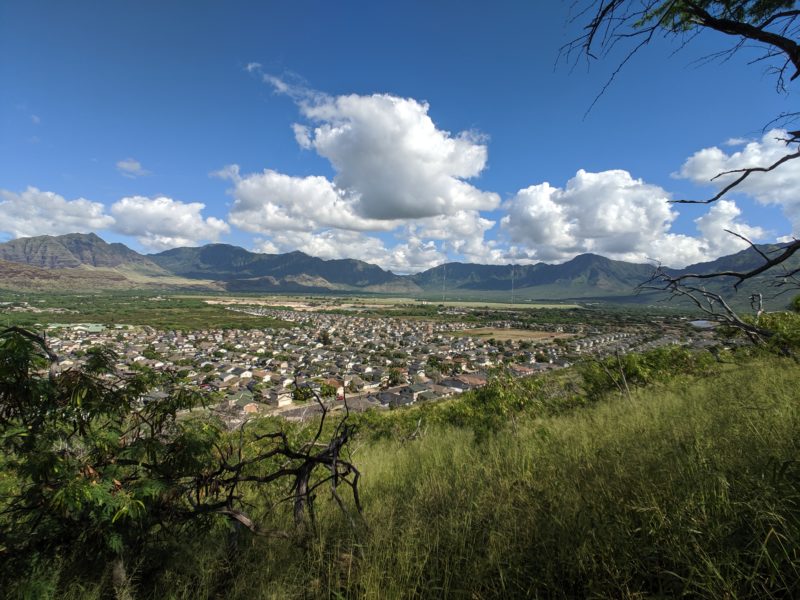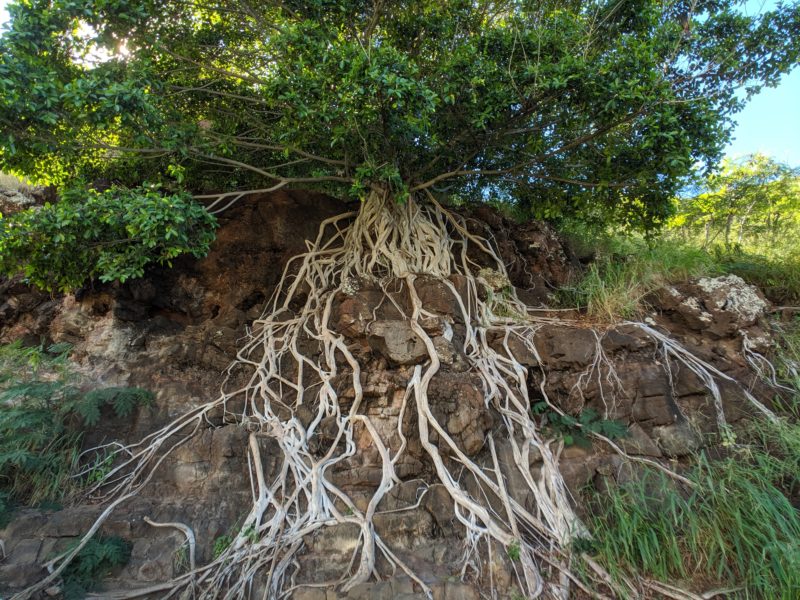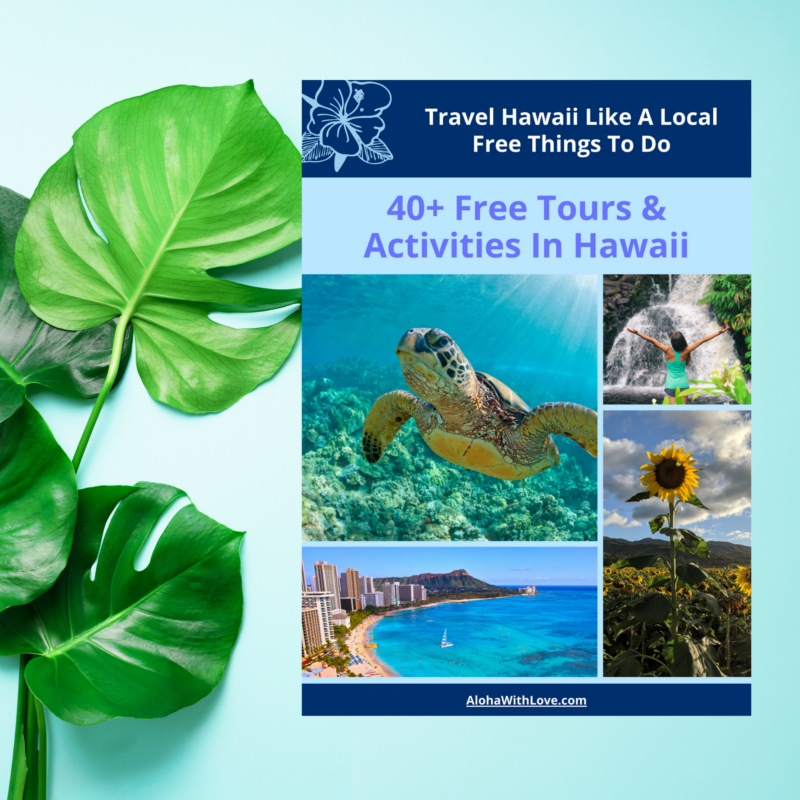 Want to go on a free tour in Hawaii?
The Pink Pillbox And Everything Else Up There
When you first get to the top, you're welcomed by this AMAZING view of the west coast. It's absolutely spectacular.
The pillboxes on Oahu are remnants of World War II and there are several scattered throughout the islands, many of which are still accessible. The pillboxes on the top of Diamond Head are very well known among the older community as the Japanese attack on Pearl Harbor flew above Waikiki Beach and Diamond Head on December 7, 1941.
The pink pillbox is the first one you'll run into, but there are actually a total of three on this hike. The other two pillboxes lay further inland passed the pink pillbox and can be reached by continuing up the trail. You'll see many people climbing on top of the pillboxes to enjoy the view and a few of them will even bring a cooler of lunch and refreshments. A picnic is a fantastic idea because it's very easy to spend at least a half-hour exploring each of the pillboxes and checking out the different views each one provides.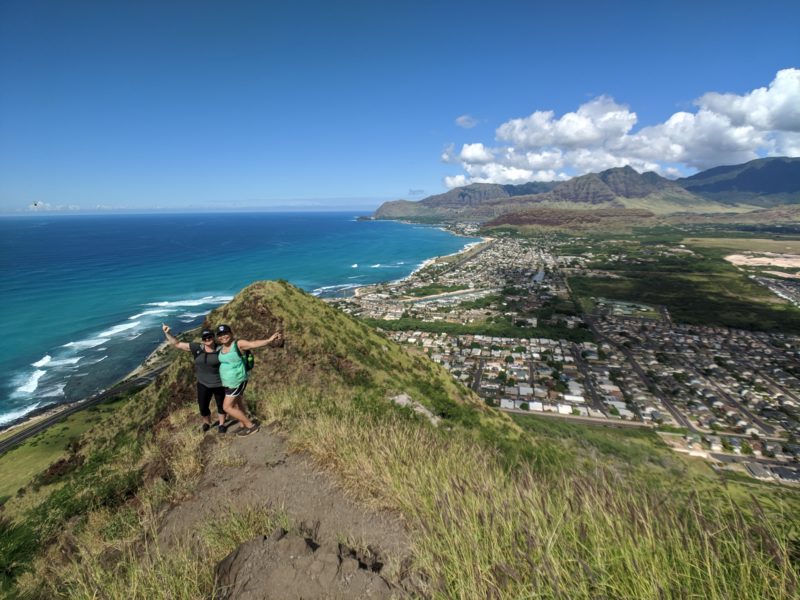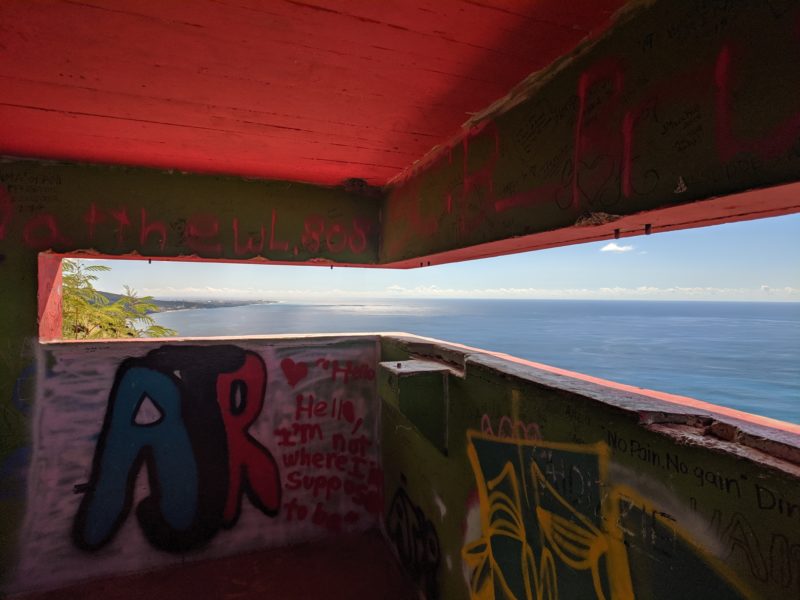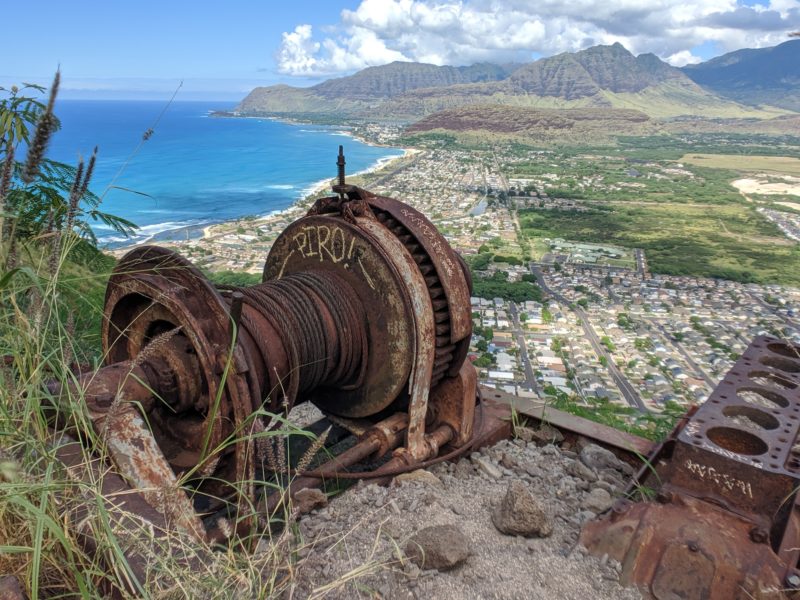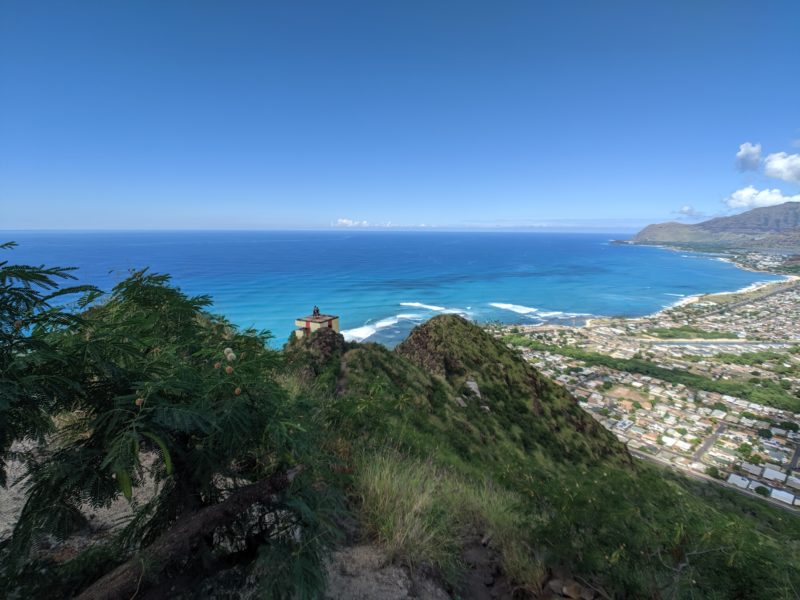 Directions And Parking For The Pink Pillbox Hike
From Farrington Highway turn on to Kaukama Road and head straight. It's a wide road and you'll know you're in the right spot when you see residential housing on one side and a mountain of dirt, trees, and shrubs on the other. Between the 3rd and 4th T-intersections, look for a foot-trodden dirt path up the mountain. Usually, there's a pack of cars parked on the side of the road, which is a good indicator that you should stop and park your car, too. Once you've parked on either side of the road, slather on the sunscreen and you're ready to go!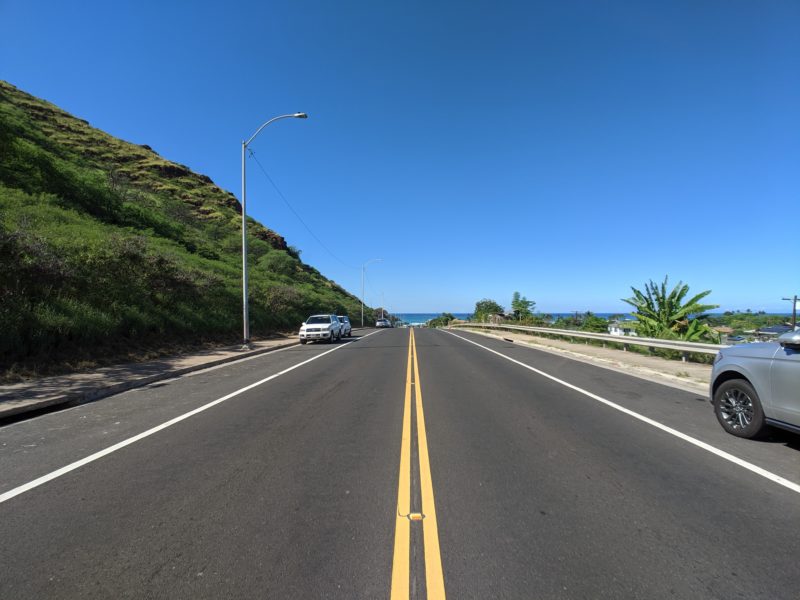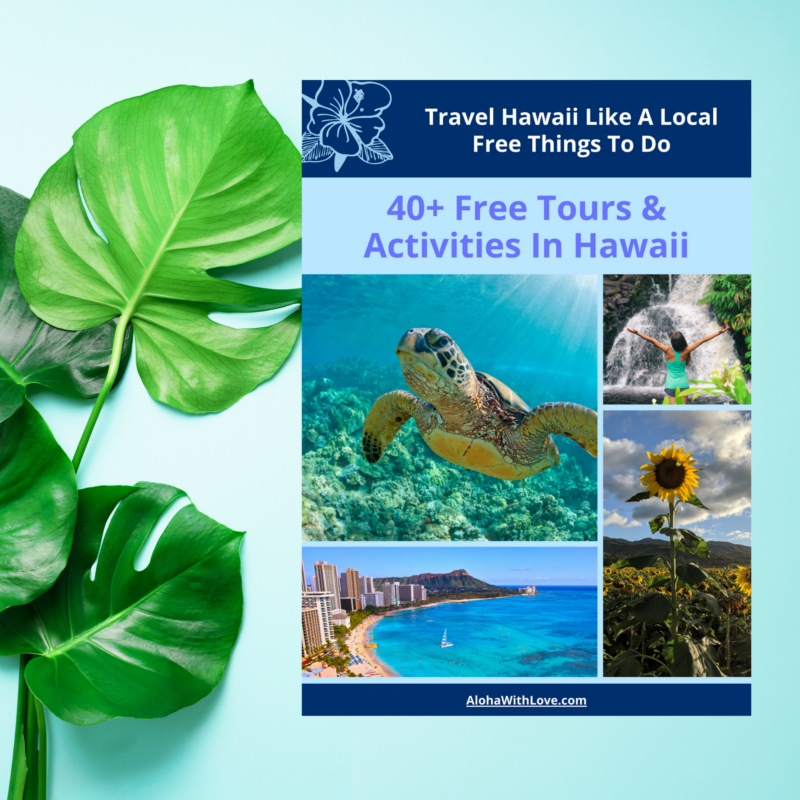 Want to go on a free tour in Hawaii?