This post may contain affiliate links, which means I'll earn a small commission if you purchase something through these links. You won't pay any extra; instead, you'll be helping Aloha With Love to thrive. Thank you! Learn more.
COVID-19 has affected many of Hawaii's businesses and events. Please double check their dates and times before you go or make plans. Visit HawaiiCOVID19.com for more information.
--
If you're ever offered the chance to help cook a pig in an imu, please jump at the chance! This traditional cooking style of using an imu (underground oven) to cook kalua pig is less and less common these days, but once in a while I'll come across someone who not only knows how, but does it often for parties and celebrations. When an imu is being prepared, locals know to expect a big social event that revolves around the imu. It will take at least the whole day to prep the pig, heat up the imu and cook it as everyone talks story and party-goers pop in every so often to see the cooking process. Once the pig is in the imu and covered, everyone relaxes and snacks on pupus as the pig slowly roasts. If they've timed it right (and local experts are great at this), the pig is cooked to perfection and just in time for dinner.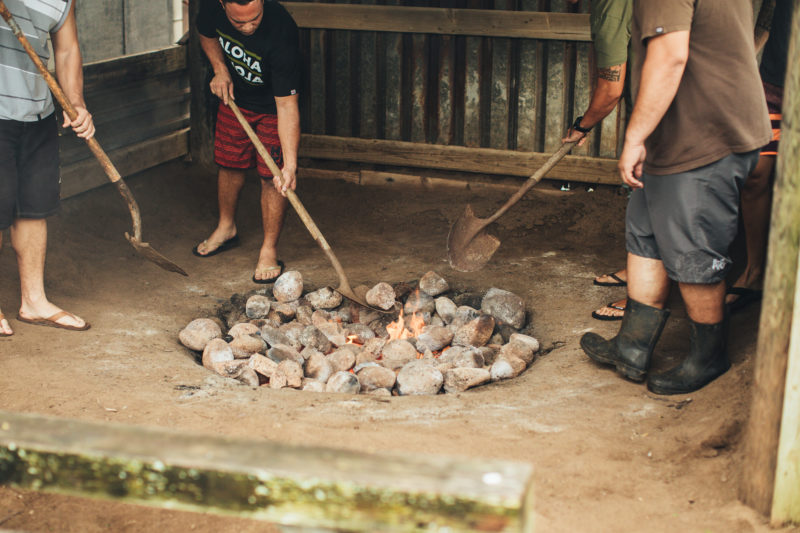 Cooking a pig is usually done for big gatherings so you can expect some really good homemade local food like laulau, haupia, poi, lomi lomi salmon and poke. And since most local parties here are potluck style, everyone will be bringing their best non-Hawaiian recipes so look forward to eating until you're close to bursting! Kalua pig is not the only food that comes out of the imu though. I've eaten kahuku corn, sweet potatoes, chicken, fish, bananas and even breadfruit, which was divine. My next goal is to find someone to cook me some kalua turkey for thanksgiving!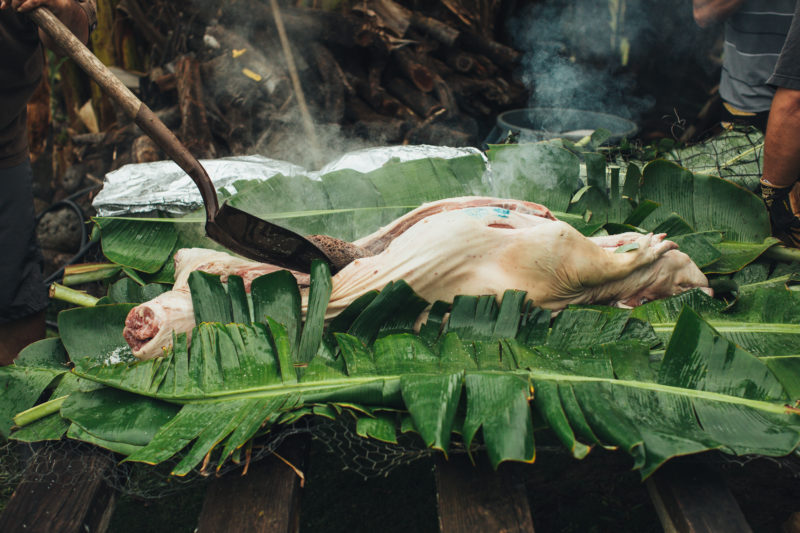 The really fun thing about helping out with cooking in an imu is that there are a variety of tasks that involves several people. If you're free and willing, you'll get sent to cut down 2-3 banana trees, gather as many banana leaves and ti leaves you can find, cut kiawe wood, and make fire kindling. You may even be assigned to kitchen duty where you'll be wrapping not only the pig, but also any other meats and vegetables that will be cooked in the imu with chicken wire and leaves. Of course, this will all be accompanied with fun and laughter as everyone works together for the main dish.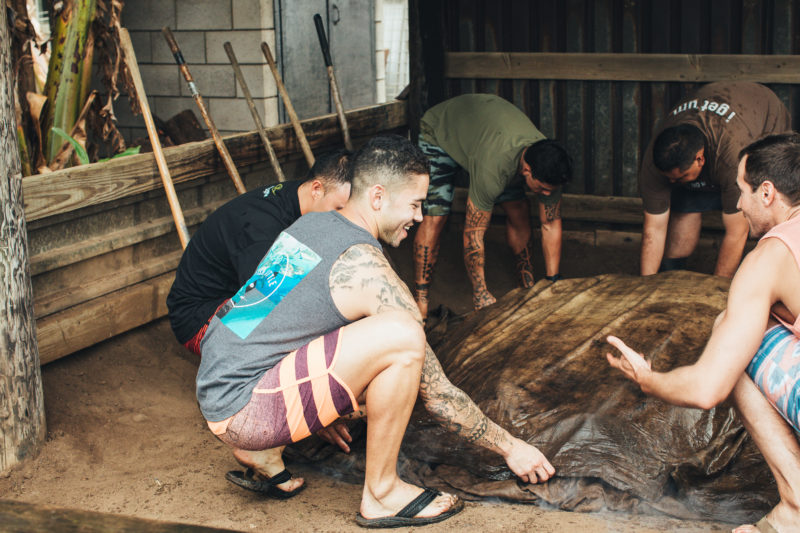 Once all the food has been placed in the imu and the tarp is covering the top to keep the heat in, it's time to sit back and relax. In general, you'll cook the pig for at least 6 -7 hours, but many people will cook this for longer and even overnight. The meat cooks very slowly since the heat is constantly escaping and the leaves keep everything juicy as the smoke flavors everything just right. As you can guess, there's a lot of partying and good old fun during this downtime, so enjoy the atmosphere, environment and people you're with!
Things To Do
If you don't have a chance to attend a local luau and see firsthand how to prepare an imu, then your next best bet is to go to a luau where they serve kalua pig – so ono!
The most famous luaus in Oahu with a ton of reviews are the Paradise Cove Luau at Ko Olina, the Polynesian Cultural Center Luau with a full-day pass and night show and Germaine's Luau (this one was a lot of fun and the show was awesome).
If you're on a different island, the luaus will be smaller, but just as enjoyable. I particularly like the Old Lahaina Luau in Maui, the Lava Legends and legacies Luau on the Big Island and the Luau Kalamaku at the Kilohana Sugar Plantation in Kauai. All are very likely to sell out fast so make your reservation way in advance to make sure you have good seats.
Local Tip: Sadly, I've been in the situation where luaus have run out of food – if you get the cheapest ticket, try to find out where you can sit so you'll get to the food bar earlier (the staff usually choose which tables go first). Or, if you have money to spend, splurge on that pricier ticket.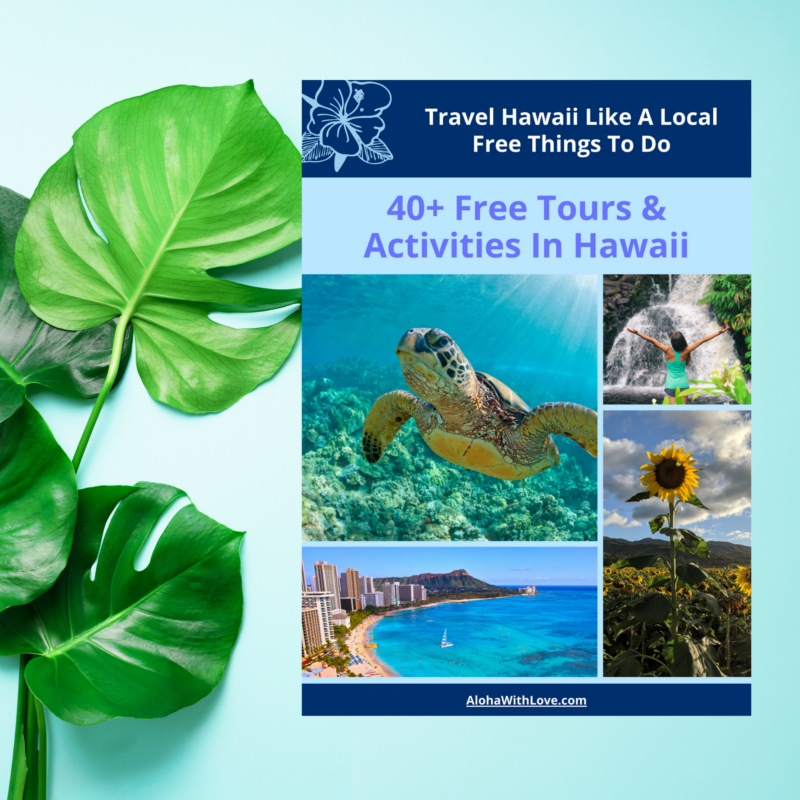 Want to go on a free tour in Hawaii?