This post may contain affiliate links, which means I'll earn a small commission if you purchase something through these links. You won't pay any extra; instead, you'll be helping Aloha With Love to thrive. Thank you! Learn more.
COVID-19 has affected many of Hawaii's businesses and events. Please double check their dates and times before you go or make plans. Visit HawaiiCOVID19.com for more information.
--
Pickled mango is popular in Hawaii. I grew up with it as a childhood treat and even my Dad and Grandpa have memories eating them. While sayote is not commonly known, it does make its appearance every so often usually in a neighbor's backyard. If you can find a source for fresh sayote, this is a great way to use it up in one go.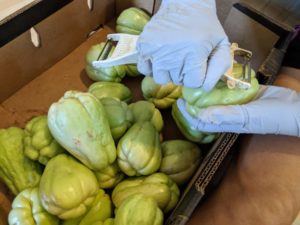 This recipe will be a cinch for those of you who are experts at pickling mango. Sayote are juicier, so the syrup will be a little more watery, but the taste will be the same. In the end, you'll bite into a light and crispy version of a pickled mango. Sayote is less dense, so this was a great alternative to give to my grandparents who find that eating pickled mango is a little too much for their sensitive teeth.
Aloha with love,
Amy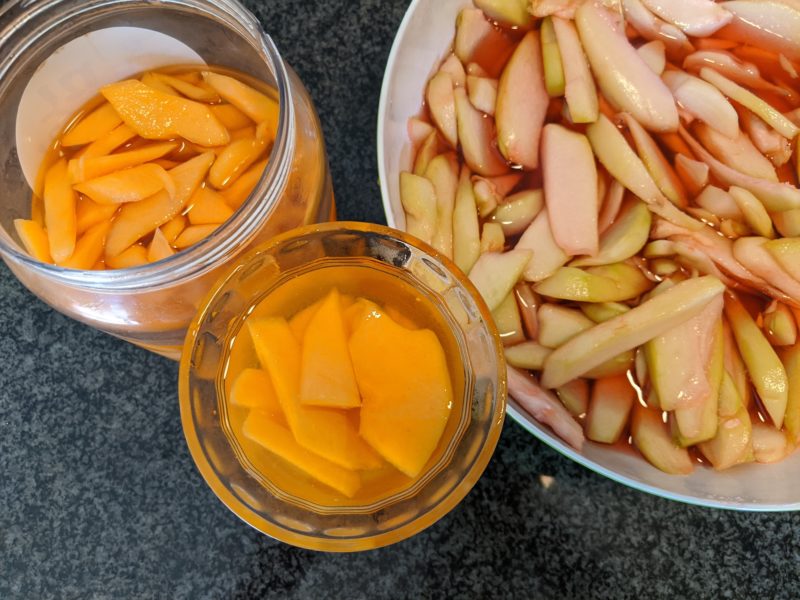 Ingredients
Several sayote

3

tbsp

salt

Draw water out of the sayote.

2

c

white sugar

2

c

brown sugar

2

c

vinegar

¼

c

Hawaiian sea salt

Li hing mui

Optional. Dried red plum seeds.

Red food coloring
Instructions
Peel the sayote and slice into long pieces. Don't slice it too thin or the sayote will become limp and will not be crunchy. These were cut about a ⅓-inch thick. Transfer to a large bowl. If you have li hing mui, you can add these to the bowl, too.

Heat up white sugar, brown sugar, vinegar and Hawaiian sea salt on medium heat to form the syrup. Constantly stir the mixture and use clean and dry utensils. Make sure the pot and utensils aren't wet.

Pour the syrup into the bowl of sayote. With gloved hands, mix everything together so that the syrup is covering all the surface area of the sayote. The gloves will stop any contamination from your skin.

Optional: Add a few drops of red food coloring. This will give the pickled sayote that signature orange "pickled" look in a few days.

Transfer the sayote along with the the syrup into containers. If the sayote are floating above the syrup, place a small bowl or dish under the lid before you close it so that the pickling sauce is touching every slice.
Notes
Store in the fridge and they should be ready to eat in about 2 days.
Don't use wet/damp utensils, spatulas, bowls or containers. The water can affect and spoil the pickling process.
Hawaiian sea salt is required. Don't substitute this since it will affect the taste.
You can use any sugar or sugar combination that you like. However, Mom believes the brown sugar gives it that rich dimensional flavor and nice coloring.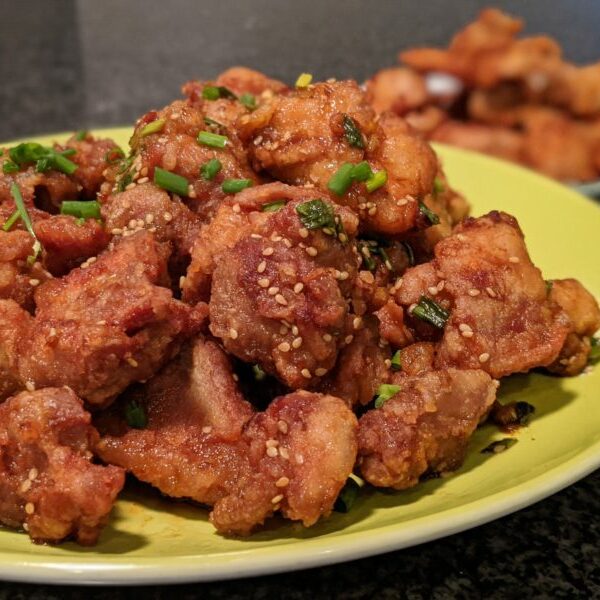 Get my latest recipes with a spoonful of aloha!