I think most of you are wondering: what's daikon? Daikon is radish in Japanese, so in English it's often called Japanese radish. Daikon is used everywhere in Japanese cooking. Garnishes, soups, salads and even in cooking aesthetics since daikon is so flexible when it's cut thin. In Hawaii, most people know daikon as takuan (bright yellow pickled daikon), which is eaten as a side dish with rice (or even by itself!).
My Mom loves it when she can put the whole vegetable to good use. With daikon, most people end up just throwing them away because they have no idea that it's edible. She'll go for the one with the prettiest leaves so she can make this awesome side dish for my Dad. While the daikon leaves are pickled, you do also have to fry them so get a fry pan ready. In the above picture, Mom has already cut the leaves off and added Hawaiian sea salt. Why Hawaiian sea salt? I asked her. She tilted her head, thought for a bit and said "I think it's sweeter than regular salt. I always use sea salt for pickles."
The next step is to squeeze the water out like a rag. The salt will draw the water out and just like a pickle make the leaves crunchy, which is what we're going for. If you were to throw them straight into the fry pan, you'd just get stir fried leaves and not a whole lot of crunch.
Once you've gotten out as much water as you could, go ahead and cut the leaves into small pieces. For us, we use these as a garnish when we eat our rice so we prefer tiny pieces.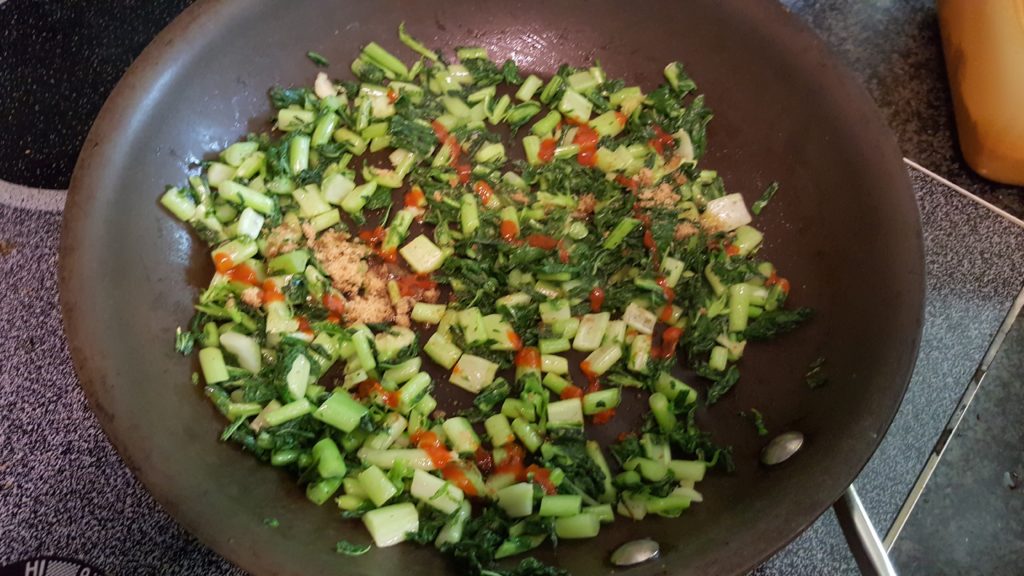 Now you can stir fry the leaves. In the pan, she's added olive oil, a dash of brown sugar (any sugar is fine, but she prefers brown because "it's tasty"), a bit of shoyu (soy sauce) and sriracha for taste on medium heat for about 2-3 minutes. Once it's done, add in a few drops of sesame seed oil for that fragrant taste. You can also add green onions once you take this off the stove, but this is optional.
Mom also wanted to mention that the shoyu is actually optional. It will change the bright green color by tinging the edges with brown, and if the presentation is important to you, then just leave this step out. But if the taste is what you're going for, then adding the shoyu will be a good idea since it will add saltiness and shoyu's own unique flavor.
And there you have it! Pickled daikon leaves. Ready to put on top of your rice and eat with your main meal. Quick, easy and resourceful with a leaf that you'd have never thought was edible.