This post may contain affiliate links, which means I'll earn a small commission if you purchase something through these links. You won't pay any extra; instead, you'll be helping Aloha With Love to thrive. Thank you! Learn more.
COVID-19 has affected many of Hawaii's businesses and events. Please double check their dates and times before you go or make plans. Visit HawaiiCOVID19.com for more information.
--
Pickled daikon leaves is one of my Dad's favorite toppings on his rice. It's a simple taste and each bite adds a flavorful crunch. I haven't yet met another family that eats daikon leaves like we do, so it's definitely high up on the unique list despite how easy it is.
Daikon is the Japanese word for their long, white radish. It's often used in Japanese cooking and in Hawaii most people will say daikon. You probably won't find daikon with their long, stemlike leaves still attached at your usual grocery store. But so far, Mom has almost always found them at local farmers' markets. Also, the Korean markets in Hawaii sell young daikon leaves in the vegetable section, too.
Aloha with love,
Amy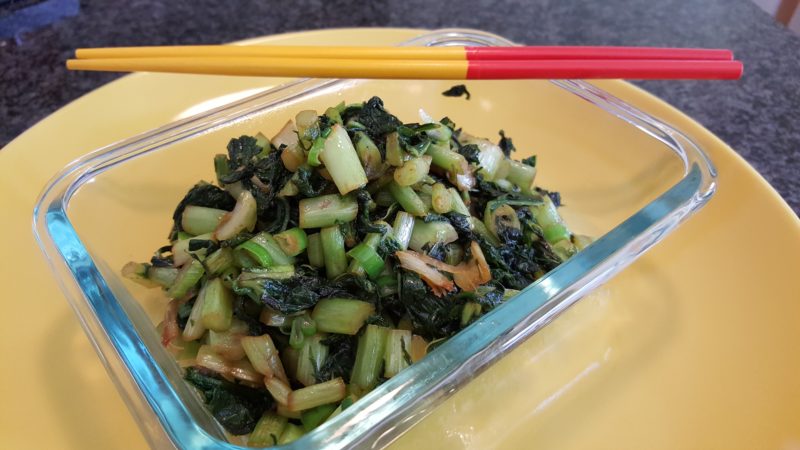 Ingredients
Daikon leaves

1 – 2

tbsp

Hawaiian sea salt

1

tbsp

olive oil

brown sugar

shoyu

Optional. Soy sauce.

hot sauce

Optional.

sesame seed oil

Small handful green onions

Optional.
Instructions
Separate the daikon leaves from the daikon. Try farmers' markets for daikons with intact leaves if you can't find these at your local grocery. Mom often gets hers at Palama Market.

Add Hawaiian sea salt to the daikon leaves. Let it sit for a while, then mix and massage to get most of the water out. After about 15 minutes, give it a final twist and squeeze like an old rag.

Cut the daikon leaves into small pieces. They should be crunchy and the knife should chop into the leaves with a "crispy" sound.

Heat up a pan with some oil and add the daikon leaves to let them brown a bit first. Add brown sugar, shoyu, and hot sauce. Mom used sriracha since it was available and easy. If you do add shoyu, it will tinge the daikon leaves brown. So if you're going for looks, it might be better to leave it off. However, she recommends using it as it contrasts with the brown sugar nicely and has it's own unique flavor. Cook on medium heat for 2 – 3 minutes.

Right before turning the stove off, add a few drops of sesame seed oil. This will enhance and deepen the flavor. Turn off the stove and add the green onions. Stir and serve.
Notes
When I asked Mom why she used Hawaiian sea salt (she was adamant that it had to be Hawaiian sea salt), she thought about it for a while and said "I think it's sweeter".
I did not include many measurements in this recipe. That's because Mom didn't measure anything and threw in pinches of each ingredient once or twice and went by taste.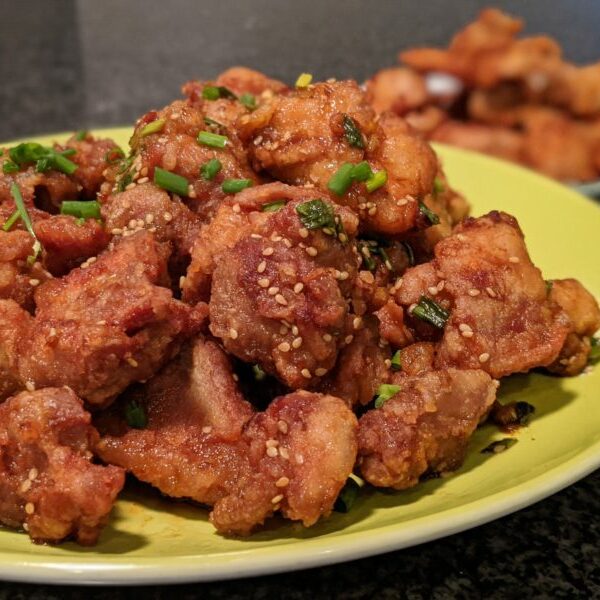 Get my latest recipes with a spoonful of aloha!