This post may contain affiliate links, which means I'll earn a small commission if you purchase something through these links. You won't pay any extra; instead, you'll be helping Aloha With Love to thrive. Thank you! Learn more.
COVID-19 has affected many of Hawaii's businesses and events. Please double check their dates and times before you go or make plans. Visit HawaiiCOVID19.com for more information.
--
The Pearl Harbor Aviation Museum is for people who are ready to geek out and have their minds blown! If you grew up reading and studying flight magazines growing up, the collection here is sure to wow you.
As some of you know by now, I am definitely not your lifeline when you get asked about planes on Who Wants To Be A Millionaire. That privilege belongs to the #1 geek in my life, Dad.
He rattled off plane names, why they were famous, which wars they were used in, who used them…the info was neverending. So if you've got someone who loves planes, be sure to hang out with them on your visit to the Pearl Harbor Aviation Museum. They'll make it an experience to remember.
Aloha with love,
Amy
I'd like to send a big MAHALO out to the Pearl Harbor Aviation Museum ohana! They hooked Dad and I up with this cool learning experience about the history of planes and WWII. It was a terrific father-daughter activity in addition to being a great history lesson. Thank you!
The Pearl Harbor Aviation Museum Houses Planes, Relics And Bullet Holes From WWII
There are 2 hangars at the Pearl Harbor Aviation Museum, but the one you get dropped off at first definitely has more of a museum feel to it. There's a front desk where you show your ticket(s), a large souvenir shop and a short, but informative video plays in their mini theatre every 15 minutes on the dot.
From there, you're on your own and you get to explore to your heart's desire. The 1st hangar has several airplanes displayed along with historical event descriptions. There are a couple of interactive activities such as touchpad screens and even flight simulators (an extra charge).
Local Tip: I noticed a large seating area that was blocked off with a sign that indicated the area was for big events. That means you could potentially reserve the Pearl Harbor Aviation Museum for a big party. Something to consider for corporate businesses or large wedding parties visiting Hawaii!
Hangar 2 is a bit more unique. I had heard rumors from a coworker (thanks, Pat) that the area was haunted. After seeing the bullet holes still remaining in the glass panels from the Dec. 7 attack, I can believe it. It's easy to forget that you're not here to "just see planes". Many people lost their lives here violently, so moments of solemn silence are appreciated.
I especially enjoyed seeing an actual B-17 Flying Fortress relic. It was by far one of the largest planes there and what a beast it is! I thought each propeller was a separate plane and it wasn't until I was looking at it directly that I realized they were all one and the same.
Local Tip: I think kids will enjoy the Pearl Harbor Aviation Museum, but take caution if you know your kid loves to run around and touch everything. This is not the best place for them to let loose.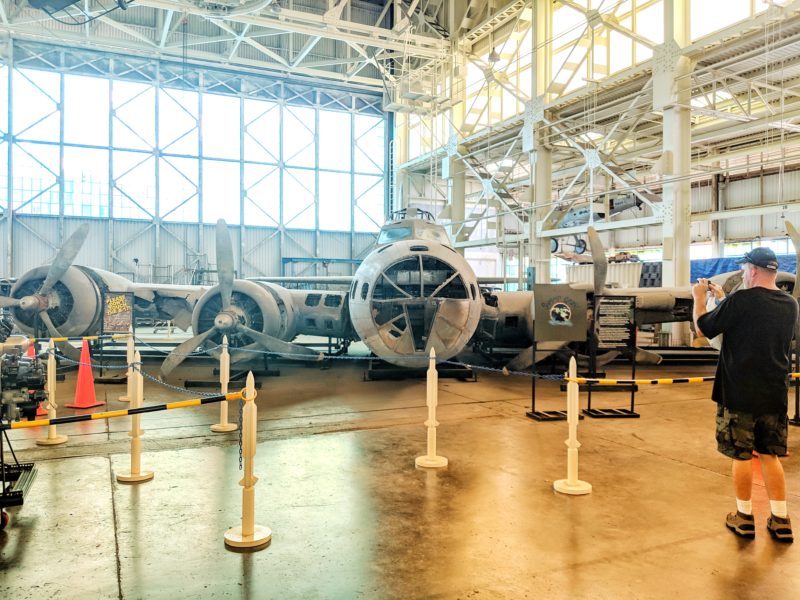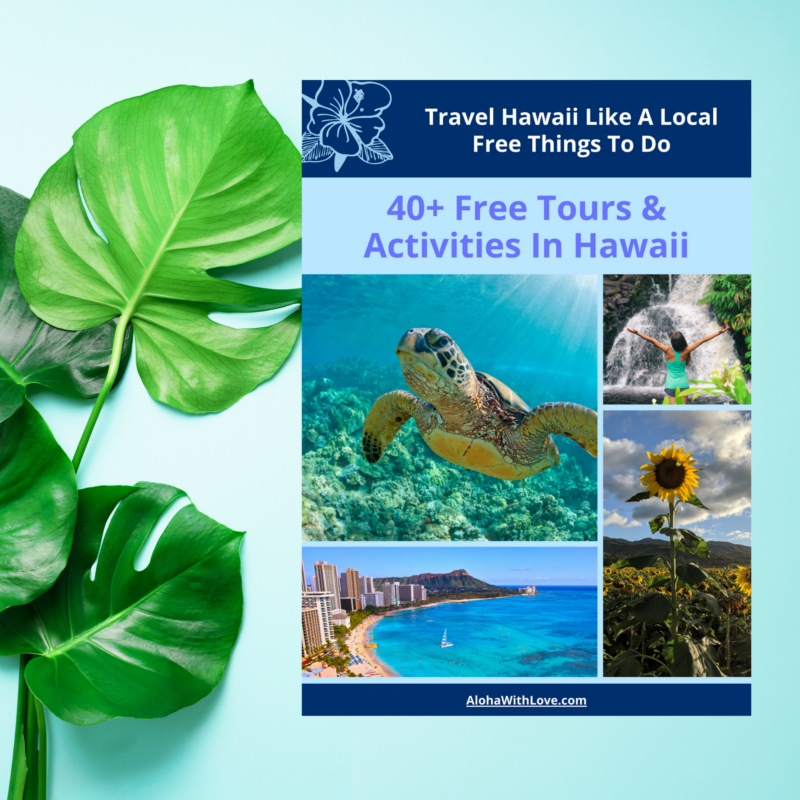 Want to go on a free tour in Hawaii?
Outside The Pearl Harbor Aviation Museum's Hangars And MathAlive!
On the walk from Hangar 1 to Hangar 2, there are several helicopters and small planes to look at. These were really neat to see since helicopters are even more foreign to me than planes. I'd never been close to one before, either.
Dad had a chuckle when I mentioned they all looked like grasshopper heads all lined up in a neat and tidy row. He had just gone through pointing out several of the different helicopters and how they were used in great detail. Proof of how different our minds are from each other!
Despite my obvious inexperience, I saw the different styles and noticed structural designs that gave each helicopter their tactical advantage. There were also a few pretty cool paintings like this toothy shark AH-1 Cobra in the picture below.
The Pearl Harbor Aviation Museum was also hosting MathAlive! – a visiting exhibit for kids where they can see all the cool things you can do if you have math. From building the world's tallest buildings to designing computer games, the whole exhibit was a large playground with interactive math-related activities. Mahalo, MathAlive!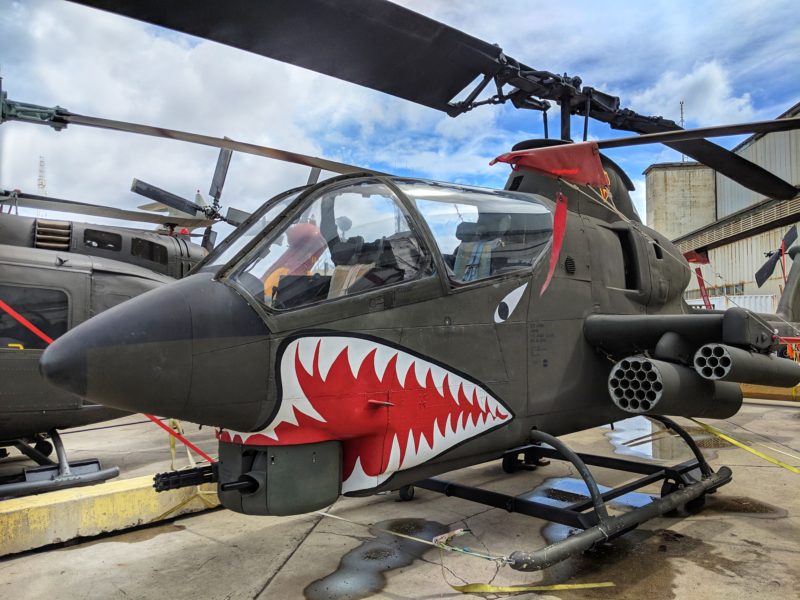 How To Get To The Pearl Harbor Aviation Museum (Most Of You Need To Take A Shuttle)
There is a bridge connecting Ford Island to Oahu, but access is restricted to military or retired military. If you know someone who can come with and escort you, that is acceptable, too.
For the rest of us common folk, the only other way to access the Pearl Harbor Aviation Museum is through Pearl Harbor, which is right next door. You can enter Pearl Harbor for free, pick up or claim your Pearl Harbor Aviation Museum tickets at the visitors booth, then show your tickets or receipt to the guard at the shuttle stop (past the white rockets on the right).
The shuttle stops at the USS Battleship Missouri first, then the Pearl Harbor Aviation Museum. The ride will take about 15 – 20 minutes.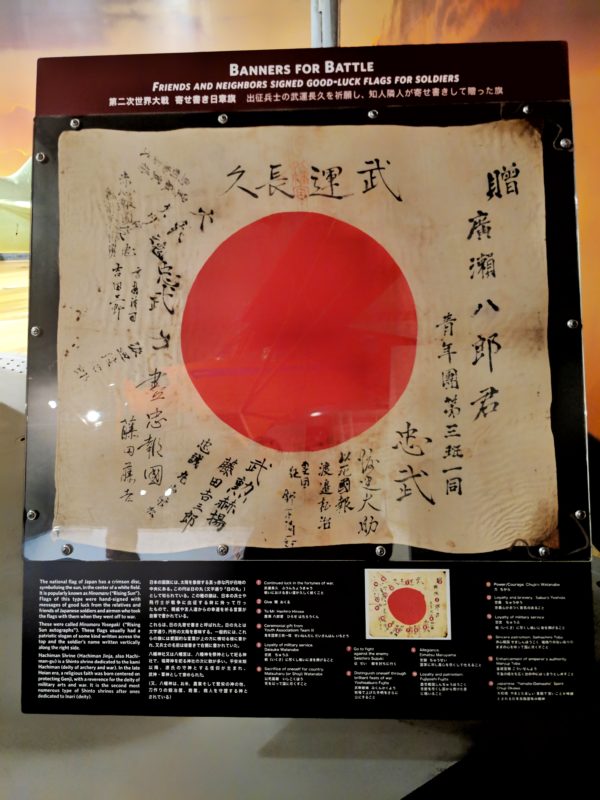 Helpful Info On Enjoying Your Day At The Pearl Harbor Aviation Museum
For more info on scheduling, events and tickets, check out the Pearl Harbor Aviation Museum website.
There are guided tours led by docents, but only a few at particular times throughout the day. Plan accordingly. Of course, you're also free to wander like we did.
While the Pearl Harbor Aviation Museum has an entrance fee, there are local kamaaina and military discounts provided.
Interested in the complete Pearl Harbor experience? Check out these prices first to see if there's a current discount happening. Compare it to the Pearl Harbor visitors bureau website.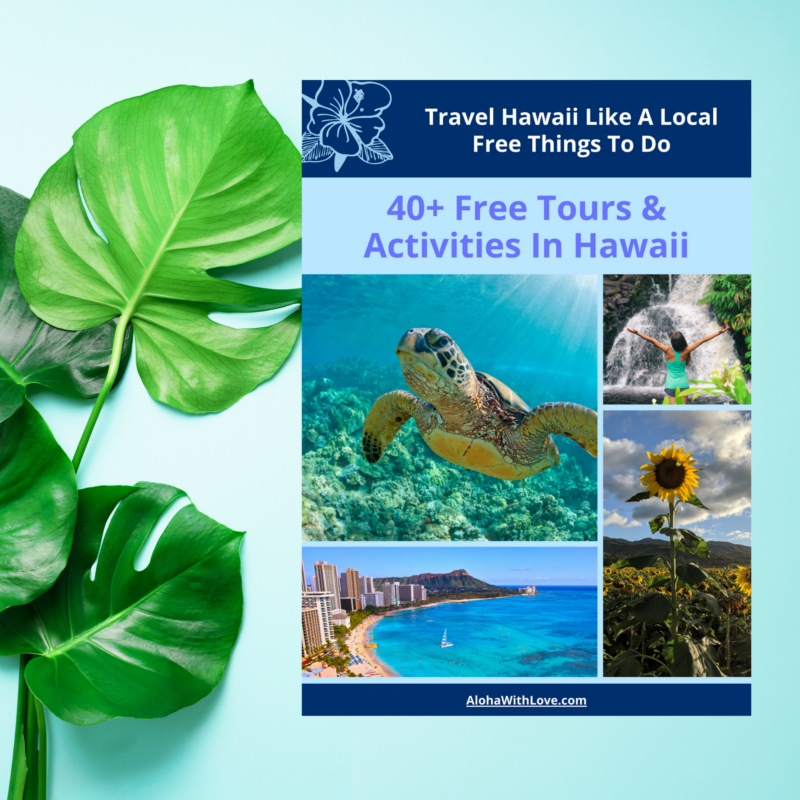 Want to go on a free tour in Hawaii?