This post may contain affiliate links. That means I'll earn a small commission if you purchase something through these links. You won't pay any extra; instead, you'll be helping Aloha With Love to thrive. Thank you! Learn more.
--
Once when I was abroad, a friend and I landed on the subject of papayas and she mentioned how in her culture papayas are known as "the poor man's mango." I remember thinking, "what?!" – It's a totally different fruit!
I was surprised that this fruit that I often eat for breakfast was regarded as a lesser mango. If you've been to Hawaii before, you've probably seen fresh papaya as a breakfast choice on the menu or seen it served at farmers' markets with chunks of fresh pineapple.
Personally, papayas are awesome and starting your day off with a fresh papaya really can't be beat – try one out for yourself when you get here!
Local Tip: Zippy's is a local 24/7 family restaurant where you can get your fresh papaya kick!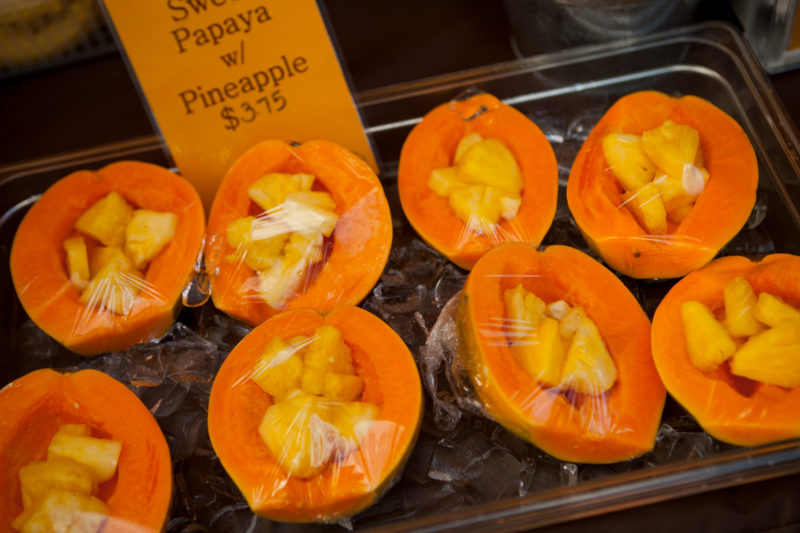 Where Are They?
Papaya trees are found EVERYWHERE in Hawaii. You'll see them growing wild on the side of the road or in farms with row after row of papayas. But you'll really see them most often in everyone's front and back yards. Papaya trees take up very little space, grow fast and bear plenty of fruit per tree.
Local Tip: AirBnB accommodations in Hawaii with yards that state they have fruit trees will most often have papaya trees!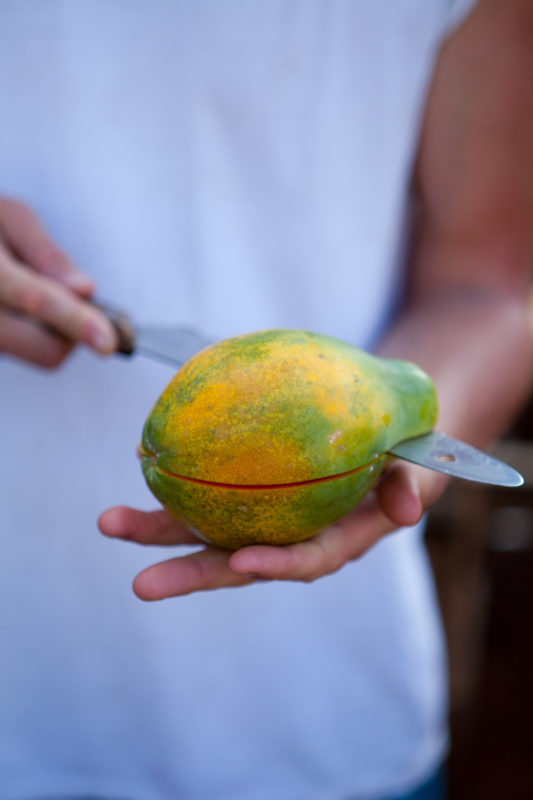 How Do You Eat A Papaya?
They're extremely easy to prepare as well. All you need is a knife and a spoon and you're set! Cut the papaya in half, spoon out the seeds and you've got breakfast for two in the palms of your hands.
Papaya is commonly eaten as is with a spoon (as if you were scooping out ice cream), but many locals prefer to squeeze a lemon or lime slice on it to give it an extra punch of flavor.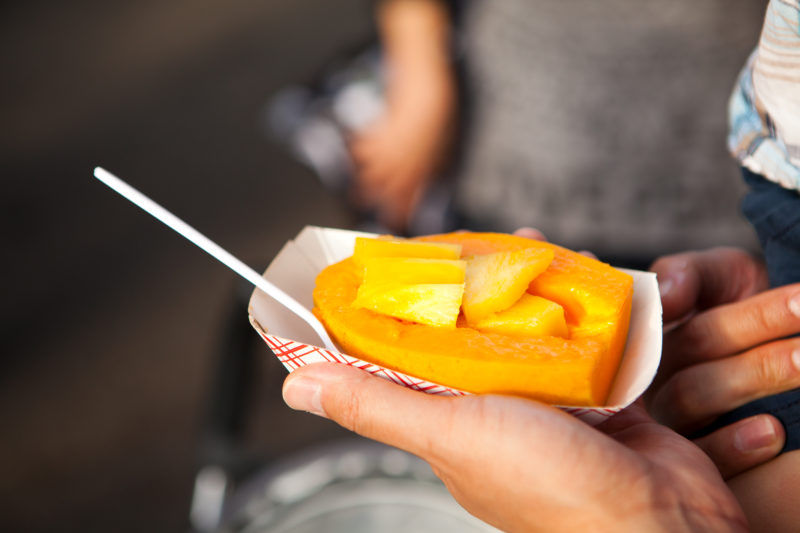 How do locals eat their papayas?
Besides adding a slice of lime or lemon? Hmm…let me count the ways…
If you happen to have fresh pineapple or some other fruit at hand, serve those where the seeds once were and you'll have plenty of fresh fruit to enjoy for breakfast. Mixing in yogurt is a recent delight that some people are enjoying and if you want to add a local twist to this, sprinkle on some li hing mui that you can get from most grocery stores in the crack seed section.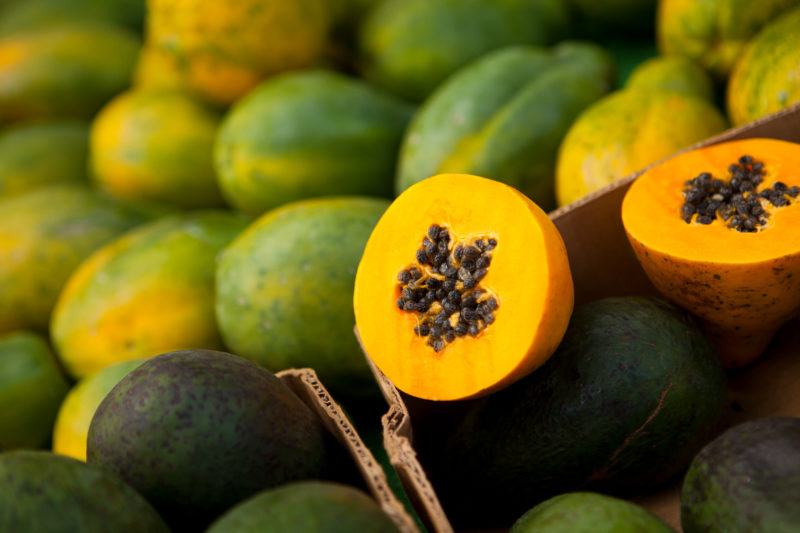 My Recommendation
If you're interested in visiting a farm and are in Maui, there's a great fruit farm where you'll get to explore the various fruit grown here, including the dragonfruit which are spectacular to see when in season. The farm also has aquaball and zipline activities so it's good fun for the whole family.
Need More Aloha With Love?
Visit the Aloha With Love homepage! There are plenty of resources, posts and tips to help you get started on planning your trip to Hawaii.
Check out Aloha With Tours for all the tours and activities that I personally recommend. I support responsible companies that provide authentic experiences.
Visit Hawaii Activities to see all the tours and activities that Hawaii has to offer.
Discover More
Help Aloha With Love Thrive!
Want me to check out a new place? Contact me and let me know about it!
Share this post with a friend so you can start planning your Hawaii trip together:
Subscribe to stay updated on my Hawaii travel tips, blog posts, events and local news that could affect your travel plans.
Get my local tips and find out what you need to see, eat, do and avoid while in paradise.