This post may contain affiliate links, which means I'll earn a small commission if you purchase something through these links. You won't pay any extra; instead, you'll be helping Aloha With Love to thrive. Thank you! Learn more.
COVID-19 has affected many of Hawaii's businesses and events. Please double check their dates and times before you go or make plans. Visit HawaiiCOVID19.com for more information.
--
Most of my friends that I hike with plan a meal after a hike especially if it's a morning hike. So I'm always on the lookout for great breakfast/brunch/lunch spots near my favorite trails. On this particular sunny day, my friends and I hiked the Aiea Loop Trail (one of my favorites) and I'd been wanting to go to Waimalu's Pancakes And Waffles BLD for a while. I had gone for the first time with my Dad after a morning visit to the Pearl Harbor Aviation Museum, but really wanted to go back to try their chicken and waffles. So when someone asked "where should we eat?" I immediately suggested this place. Just like the first time, the food was fantastic and hit the spot – so yummy!
Aloha with love,
Amy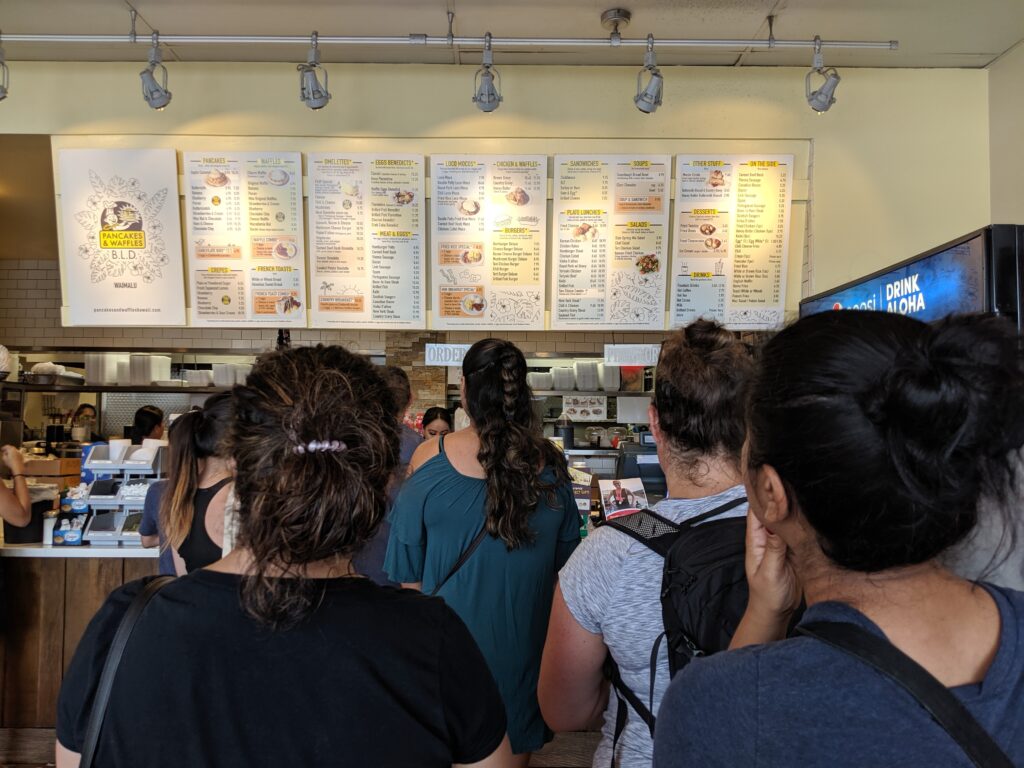 The pancakes and waffles
I've had both the pancakes and waffles and I have to say, Pancakes and Waffles BLD live up to their name. They do a great job on both and it just makes it that much harder to answer that incredibly difficult question: "hmm, what should I order?". I love that you can see the kitchen from the ordering area so you know everything is being made fresh for you. The food always comes out hot and that first bite is just so good and satisfying. The wait wasn't too long both times I've been here. Despite the crowd, I didn't have to wait more than 15 to 20 minutes for my food, which I think is acceptable for a smaller restaurant this size.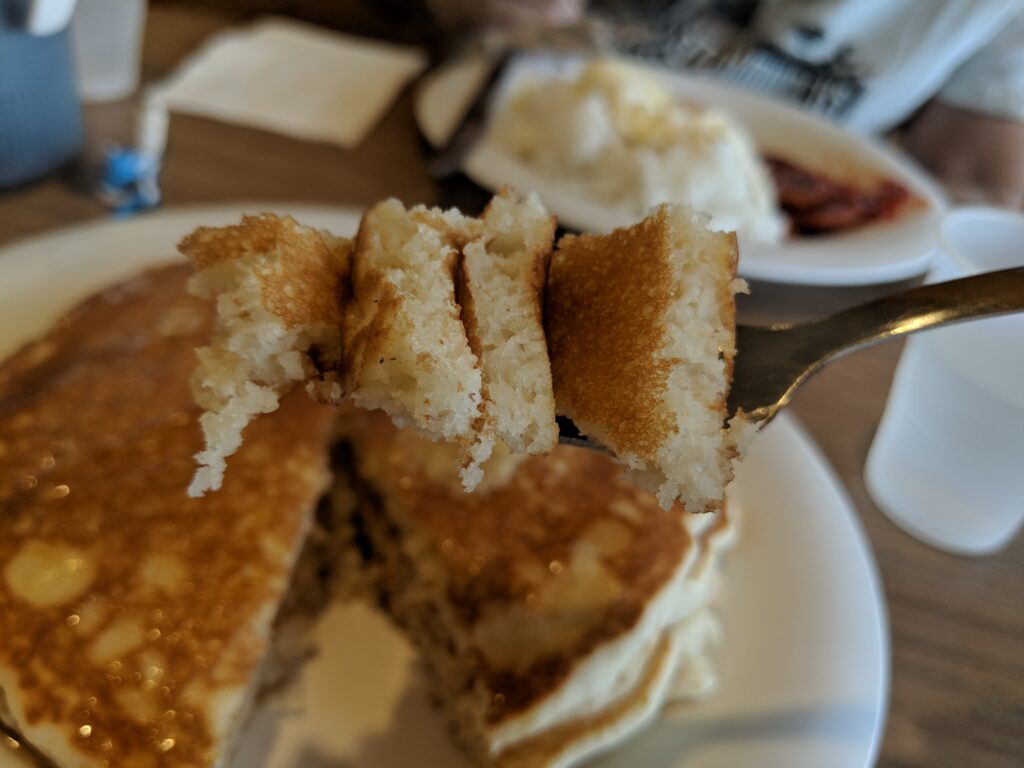 Along with my pancakes, I decided on over easy eggs and Scottish bangers. Do I know what Scottish bangers are? Not really – just that they're some kind of sausage. But it was something different and I'm always in for trying something new. They were more dense than what I was expecting (compared to Portugese sausage), but still delicious. I enjoyed their heavy bite and they complemented the sweet and fluffy pancakes I ordered.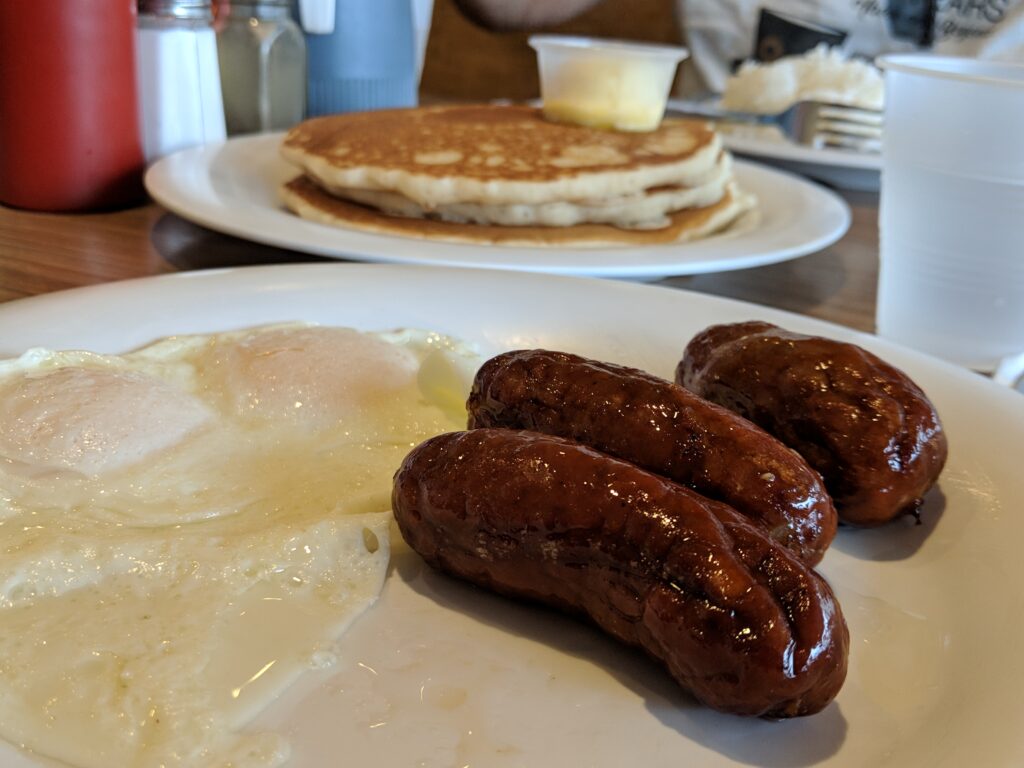 Popular favorites
My Dad and friends ordered some local favorites. Portugese sausage, egg and rice is always a big hit and a must for any local breakfast place in Hawaii. Even the McDonalds in Hawaii have this meal on their breakfast menu! Of course, if you want to spice it up, you can substitute your white rice for fried rice, which is a common choice in breakfast joints in Hawaii. And if you're really looking for something to fill you up, Pancakes and Waffles BLD has a whole range of loco mocos for you to fill up on. Besides their original loco moco (which is already big and filling), they also have double patties, roast pork, chili, fried rice, corned beef hash and chicken cutlet loco mocos for you to try out. My friend ordered the corned beef hash and I couldn't resist asking her for a bite (I love corned beef hash).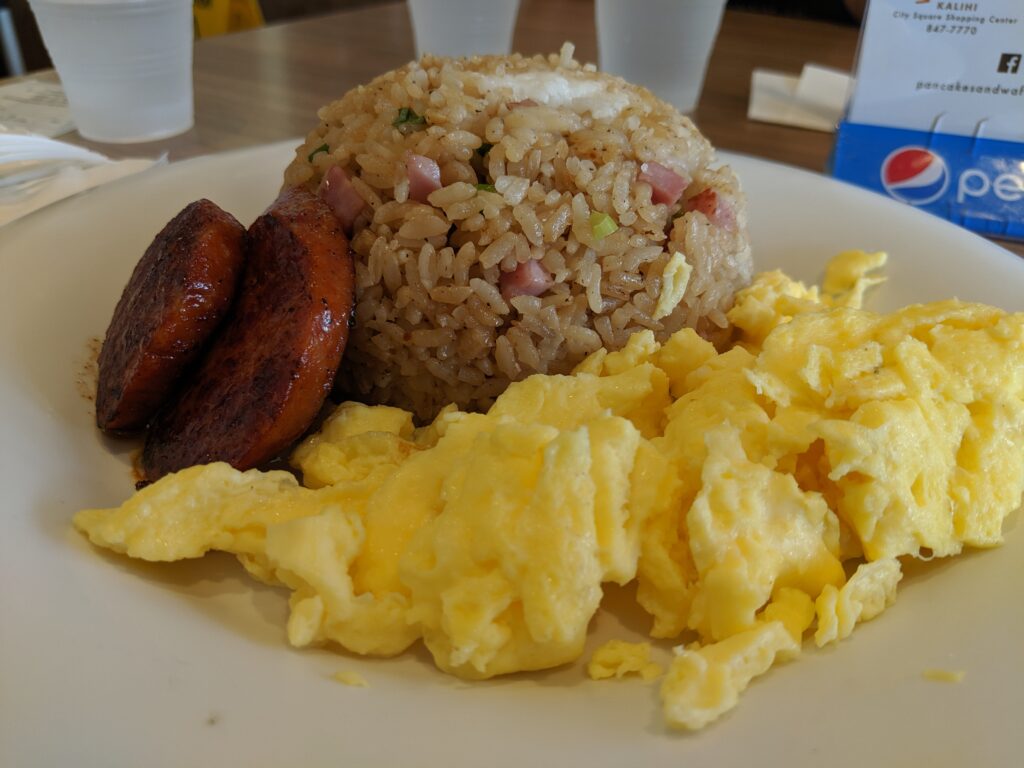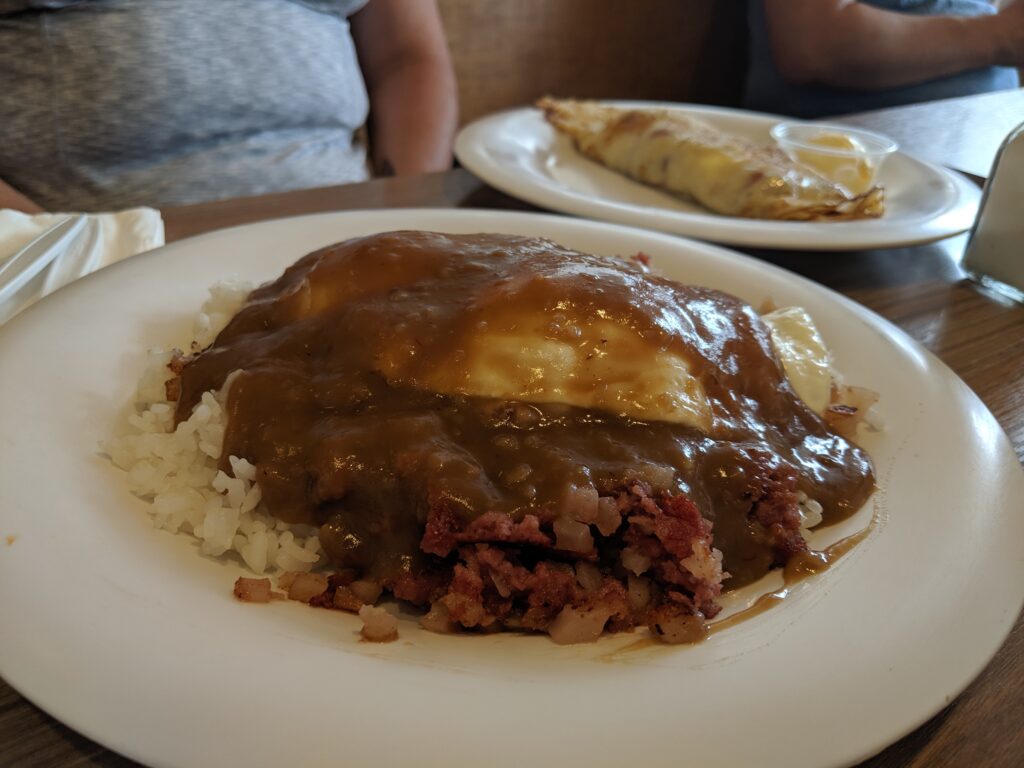 The menu
What I really, really like about Pancakes and Waffles BLD is their menu. It feels like it's got everything, but it isn't overcrowded with options and I don't feel overwhelmed when trying to choose. It's well-rounded and it really does feel like I could get breakfast, lunch, and dinner here. You'll find the usual omelettes, eggs benedict, meat and eggs, crepes, french toast, and pancakes and waffles for breakfast, but they've also got burgers, sandwiches, plate lunches, soups, salads, and even dessert to top it all off!
One of my absolute favorites has got to be the honey butter chicken and waffle. What a sweet a savory combo! It's definitely not the healthiest thing I could get after a morning hike, but that crispy fried skin with a sweet and salty tang is too good to pass up. I actually didn't know that chicken and waffles were a thing on the mainland (thank you to my coworker for telling me all about chicken and waffles!) but now I'm eager to discover some on my next flight over the pond. If you're craving for some homestyle chicken and waffles like back at home or are a fan of fried chicken like I am, order these because they'll do your craving justice.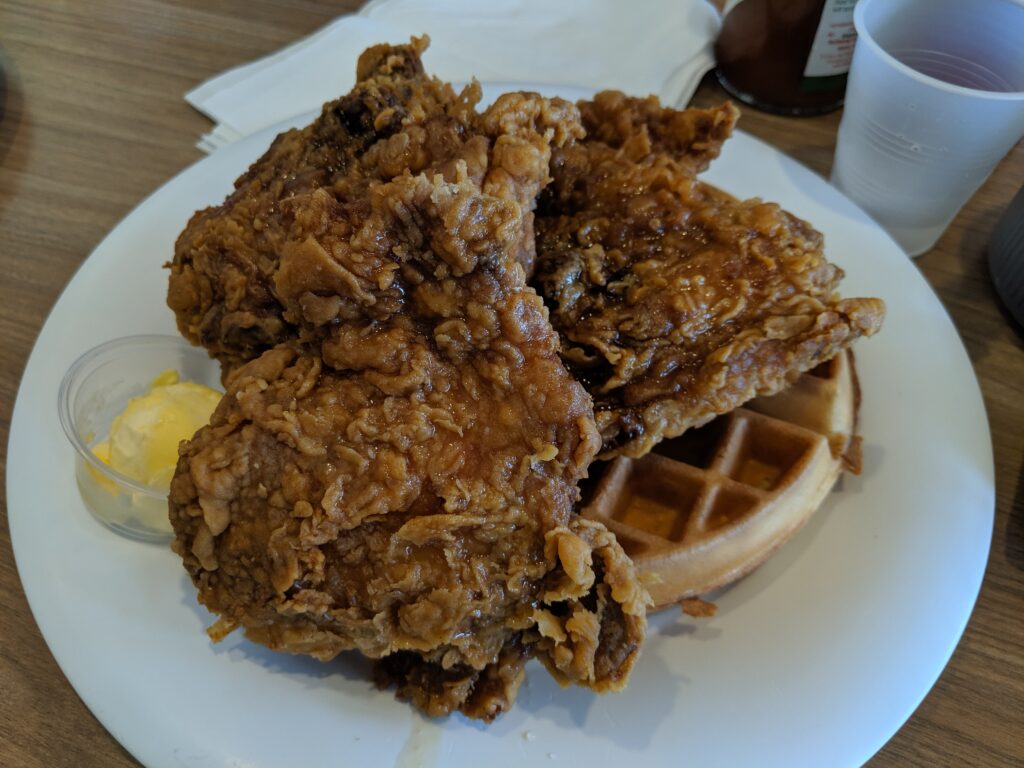 I also really like the variety of meat options they have. Most local breakfast places in Hawaii will have spam, Portugese sausage, vienna sausage, corned beef hash, bacon, and link sausage – these are the basics and must-haves. But at Pancakes and Waffles BLD they go above and beyond with grilled fish, bone-in ham steak, kalbi, Scottish bangers, Canadian bacon, vinha d'alhos (Portugese pork), New York steak and country gravy steak. Just having these choices available to me makes me want to visit again because you don't often see some of these options in other Hawaii restaurants.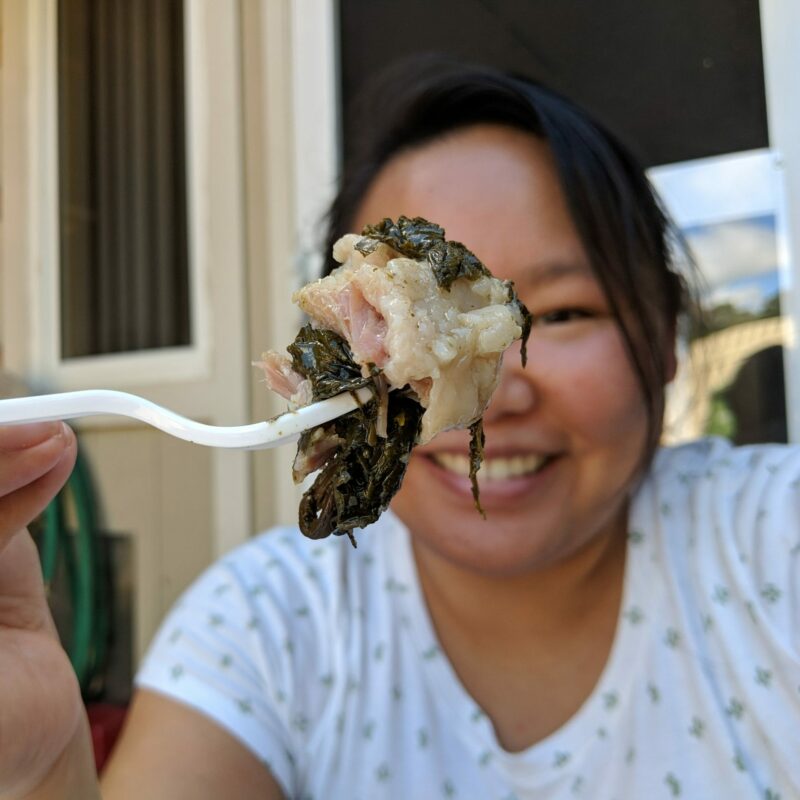 Discover more restaurants, bars, cheap eats, and mom-n-pop shops in Hawaii!