This post may contain affiliate links, which means I'll earn a small commission if you purchase something through these links. You won't pay any extra; instead, you'll be helping Aloha With Love to thrive. Thank you! Learn more.
COVID-19 has affected many of Hawaii's businesses and events. Please double check their dates and times before you go or make plans. Visit HawaiiCOVID19.com for more information.
--
For those that know me, tasty cheap eats is what drives most of my travels. I want those yummy meals that you find only after you've lived in an area for a while. Palama Supermarket is one such place. It's a small grocery store marketed toward Koreans and they're not afraid to show it.
More often than not, the cashiers they hire speak only broken English and food labels will have Korean first, English sometimes. The fresh vegetables they serve can be found in most Hawaii groceries, but they have a few special items like green peppers, round Korean radishes and sweet Korean pears that are used heavily in Korean cooking.
If you like to explore grocery shops when you travel to a different country (my Mom can spend hours in a foreign grocery store), this is one shop that you should to visit. You'll wonder how they can have so many different kinds of noodles and what each snack tastes like.
You may even be tempted to buy lunch here (which I recommend)!
Aloha with love,
Amy
Palama Supermarket Is Where You Can Find Everything Korean
There are currently three Palama Supermarket locations, but I prefer the Honolulu branch over the Waimalu and Kalihi locations. I feel the food they prepare is more authentic since it's usually middle-aged Korean women preparing the kimchee and bulgogi. The area surrounding Honolulu's Palama Supermarket is unofficially known as "Korea Town" as there are a high number of Korean restaurants and Korean residents in this neighborhood.
A large part of Palama Supermarket is devoted to providing fresh Korean food and side dishes (banchan) that are ready to eat. And it's delicious! If you love spicy side dishes, Palama Supermarket is a stop that you need to put on your list.
There are a ton of options to choose from. Some popular choices include their spicy crab that you can chew and suck the tender meat out of, spicy tofu steaks, pickled seaweed and my favorite – taegu – dried and chewy seasoned codfish that goes well with rice.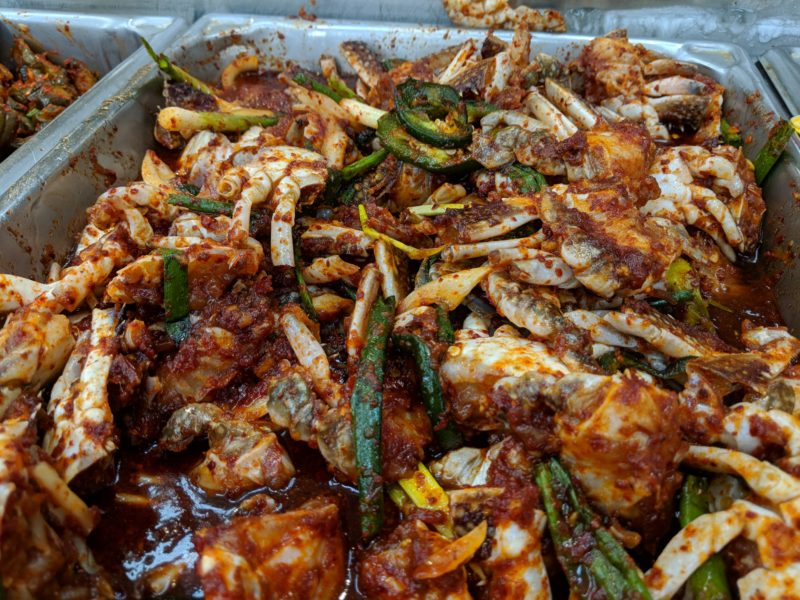 The prices are marked clearly for each dish and calculated by weight. The process is easy especially since you'll be serving yourself. Where it gets really difficult is when you find yourself itching to add just one more side dish to your stash. There are just so many options and you'll find yourself wondering what that next dish tastes like.
Local Tip: My favorite serve-yourself side dishes are the spicy taegu, regular kimchee, cucumber kimchee, cubed daikon (radish) kimchee, spicy squid and spicy beansprouts. Give them a try and let me know what you think!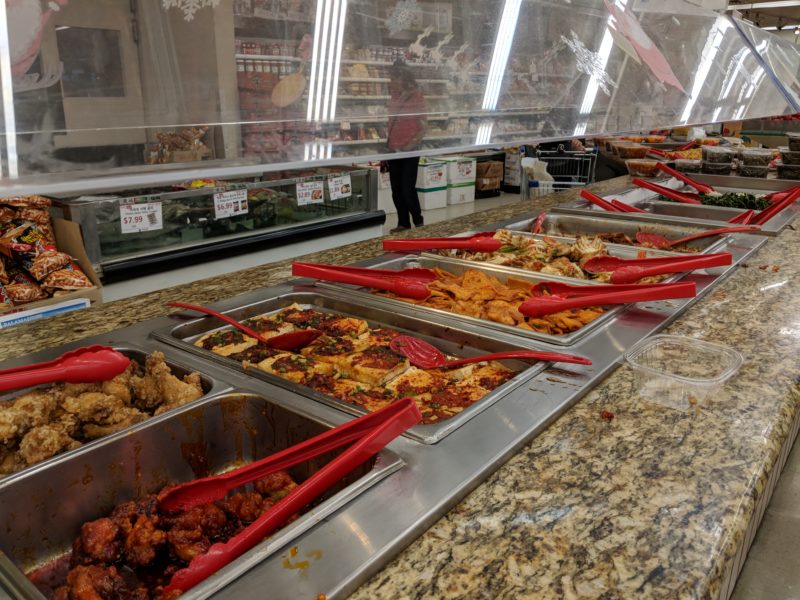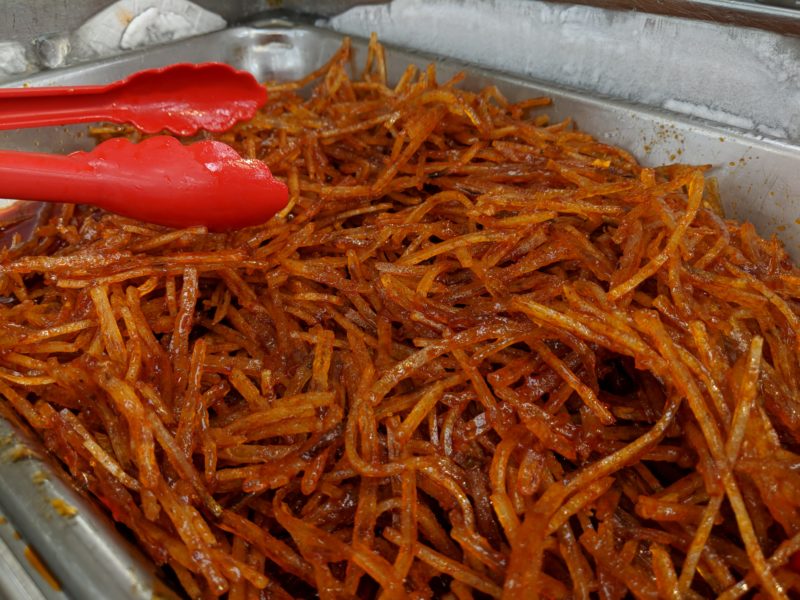 Try Palama Supermarket's Prepackaged Side Dishes
In addition to the side dishes where you serve yourself, there's also a large table for side dishes that are sold in sets. These are a great option because you can pick up a few different choices and you'll have a nice mix-and-match meal.
The spring and summer rolls are always a common choice, but I really love the "jun" (Korean pancakes). Kimchee jun has that nice spicy flavor and if you're a vegetarian, even better! Meat lovers can also rejoice as there are several meat side dishes, too.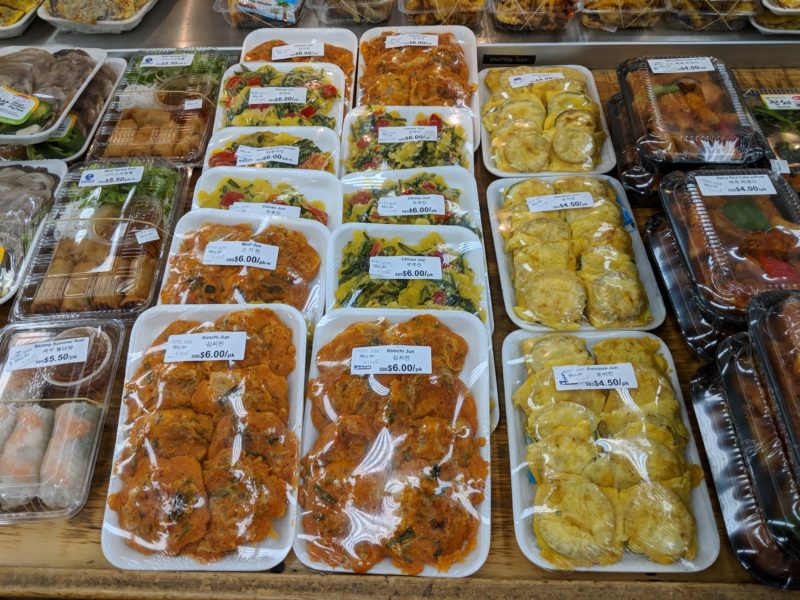 Here in Hawaii (and in most Asian cultures), rice often makes its appearance in a dish. Korean food especially matches well with plain rice to balance out the salty, pickled and spicy flavors commonly found in their cooking. If you don't have any rice, but want to try the side dishes, go for some kimbap (Korean sushi).
Local Tip: If it's inconvenient to cook or buy a whole bag of rice, there are microwaveable rice packets that make perfect 1-servings. They're great for quick meals when you don't have the time, energy or rice cooker to cook fresh rice.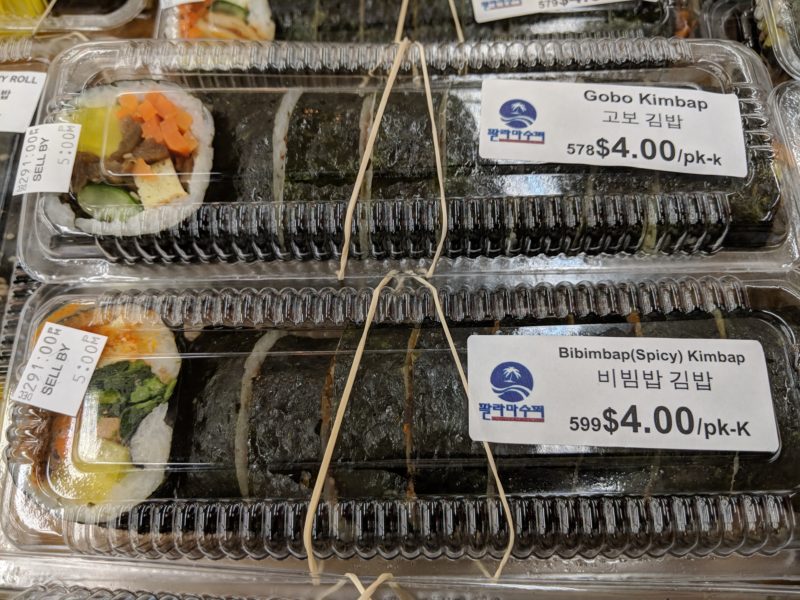 What Else Can You Find At Palama Supermarket?
Besides the fresh vegetables, fruits, side dishes and hot plate lunches, Palama Supermarket also sells a variety of fresh meat cut into all shapes and forms. They also have a well-stocked freezer packed with all sorts of treats from frozen and dried fish for soup stock to microwaveable instant dumplings.
Then of course, there's all of the snacks! Korean chocolates, chips, crackers, rice biscuits…there are plenty of sweet and salty snacks here just waiting to be discovered (eaten).
Local Tip: Palama Marketplace has a good deal on bread, donuts and pastries that sit on a sectioned-off shelf. A bag makes for a good breakfast with a hot cup of coffee.
Palama Supermarket also has a small cafeteria where they've managed to squeeze in a few small takeout restaurants and tables for customers to eat at. But the main attraction are Palama Supermarket's plate lunches. They're made to order, affordable and tasty.
Read More: If You're Craving Korean Go To Palama Market Where Ajummas Cook
Beware Of The Tight Parking At Palama Marketplace
The only problem the Palama Supermarket has is the tight parking. The lot is small and demand is high for a parking spot. Luckily, Palama usually employs a parking lot attendant who waves drivers in and helps reversing cars.
You'll get a spot pretty quickly since turnover is high, but if all the spots are taken on the ground level, go to the ramp and head up to roof where there should be more parking spaces available. The ramp isn't noticeable unless you drive all the way into the parking lot.
Local Tip: I prefer the Honolulu Palama Supermarket as it sits in the middle of Korea Town, but a close second would be their Kalihi location, followed by their Waimalu branch.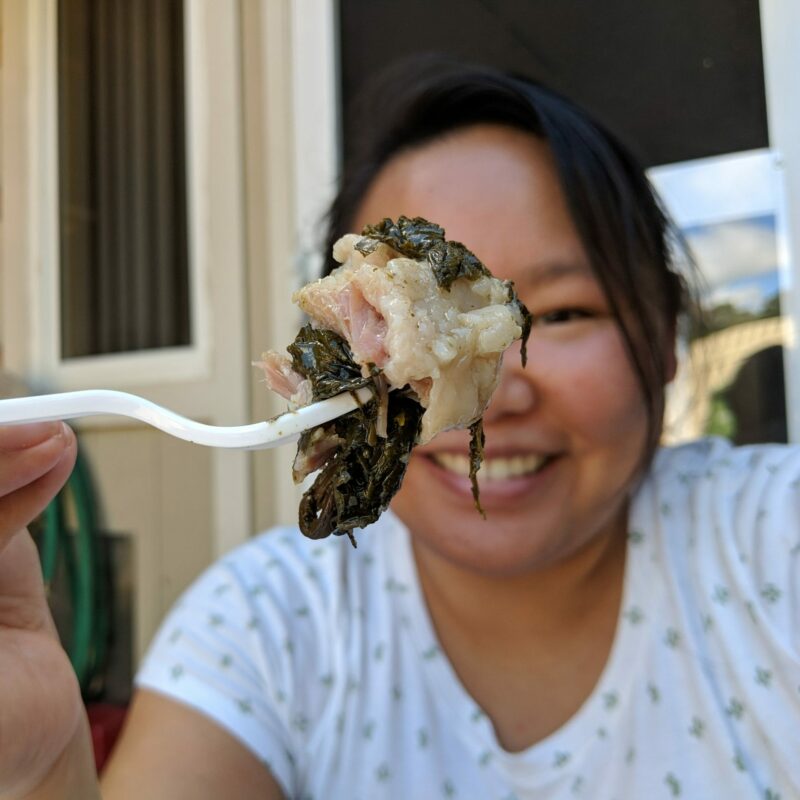 Discover more restaurants, bars, cheap eats, and mom-n-pop shops in Hawaii!