This post may contain affiliate links, which means I'll earn a small commission if you purchase something through these links. You won't pay any extra; instead, you'll be helping Aloha With Love to thrive. Thank you! Learn more.
COVID-19 has affected many of Hawaii's businesses and events. Please double check their dates and times before you go or make plans. Visit HawaiiCOVID19.com for more information.
--
One of my coworkers (hi, Pat!) suggested I make the drive out to Waialua to check out the old sugar mill. It's been converted into a coffee and chocolate production with the help of Dole Plantation and it is well worth the drive!
Bob McLeod is the guy in charge of the tours. He'll round you up and gather you at the back door for a fun and informative 15-20 minute tour. If the current tour is out in the back, don't worry. Bob will be back in a few minutes and you can jump right in.
Bob's tour is extra special. He knows this place and its history beginning to end and can answer any questions you throw at him. It's not textbook answers that would come out of a well-trained tour guide, either. This is experience and years of knowledge talking.
If you're looking for an off-the-beaten-path activity, stop here.
Aloha with love,
Amy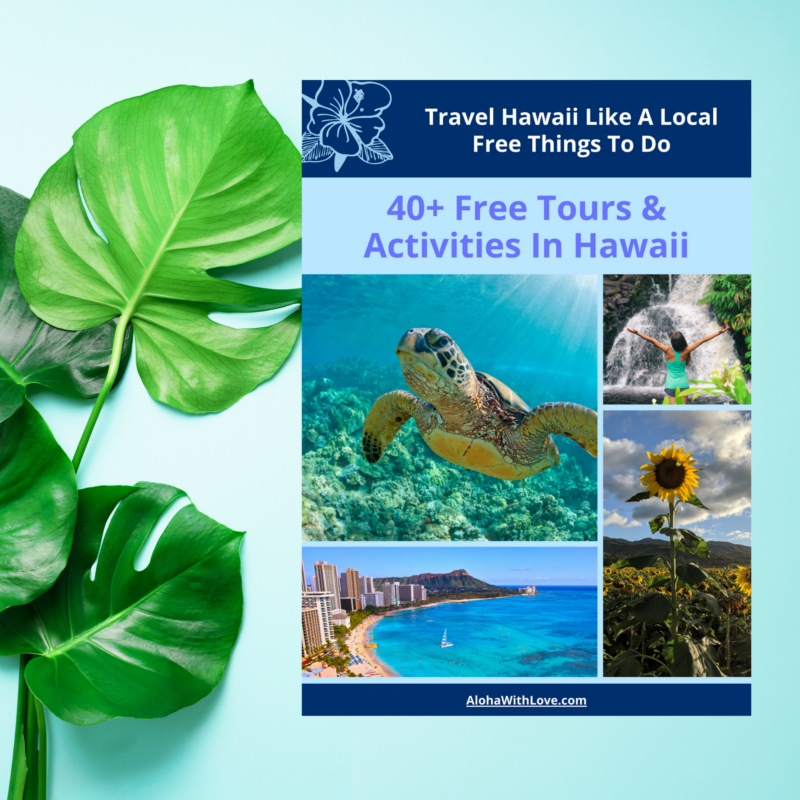 Want to go on a free tour in Hawaii?
The Old Waialua Sugar Mill Tour Is Short But Will Leave You Believing You're An Expert
The coffee and chocolate tour at the old Waialua sugar mill begins with Bob finding every person in the store and letting them know he'll be starting the tour at the back door. He's pretty easy to find. Look for the white-haired gentleman with a short ponytail sporting a WAIALUA shirt and you've got him.
The tour itself is only about 15 – 20 minutes long, but Bob will go over the history, the decisions that led up to today's Waialua product lines, the fermentation and drying process, and even delve into the science of it all.
You'll get to sample a lot of things, too. From the cacao "fruit" to chocolate nibs, the flavors will wow your tongue. My eyebrows must have popped up into my hairline at least a dozen times with all of the flavors and scents we got to taste and sniff.
I really loved that Bob knew his stuff. There was no sensationalism or over-the-top performance. Just facts and results about the coffee and chocolate production through trial and error, and a wealth of information to be shared with anyone who wanted to know more.
No big deal if you arrive late. Just hang out near the back door and when Bob brings the tour full circle, you can join in and he'll take the newcomers back out again.
Local Tip: If there's one thing that I remember from Bob's old Waialua sugar mill tour, it's that Hawaiian peaberry coffee dried via the natural process (rather than the washed process) can only be done in Waialua. All of that cooler weather on the Big Island and Maui where the more famous Hawaiian coffees come from can only do peaberry coffee with the washed process.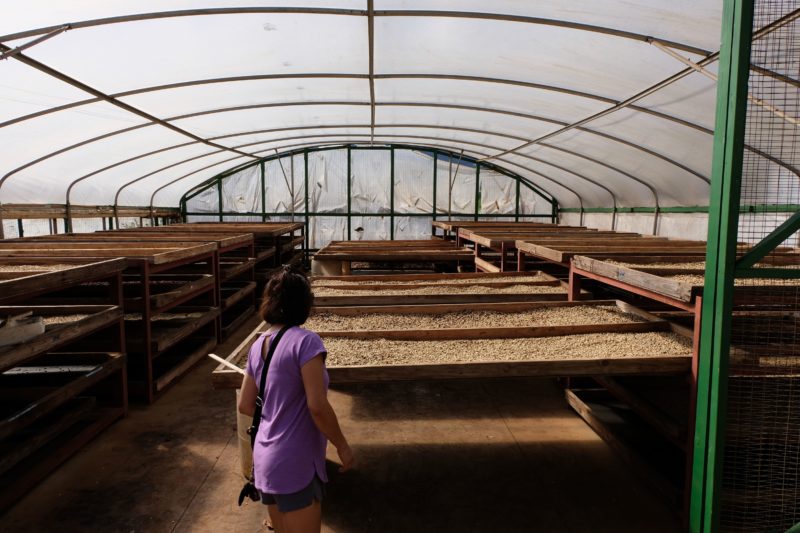 Try The Coffee Samples And Don't Miss The Natural Shave Ice By Reba Martin
The coffee sample station is superb. While the majority of the coffee beans and cacao are not grown at the old Waialua sugar mill, the coffee beans for the sample station are grown, fermented and dried outside.
There are 4 types of coffees for you to try – all of them come from the same bean, but the fermenting and roasting methods for each differ. The taste in flavor is obvious and once you find a favorite, you can drink as much as you like. Conveniently, bathrooms are right outside in the back and you don't have to worry about a line.
One stall that attracts plenty of attention is their shave ice stand. Don't miss out on the old Waialua sugar mill shave ice because you won't find another like it anywhere else on the island. You can ask for a sample to make sure you like the flavor. The flavors are natural and were made by Reba Martin, wife of Bill Martin.
Fun fact: Bill Martin is kind of famous in Japan among Hawaii enthusiasts due to a long running travel show. Ask him about it because I did!
Local Tip: If you're lucky, you'll spot the owners, Bill and Reba Martin. Bill is hard to miss as he zooms around in a wheelchair taking care of customers, but even more recognizable is his face in several of the photos all over the store. He's a lovely person to talk to and will share everything he knows and the changes to this place over the years. You only have to ask.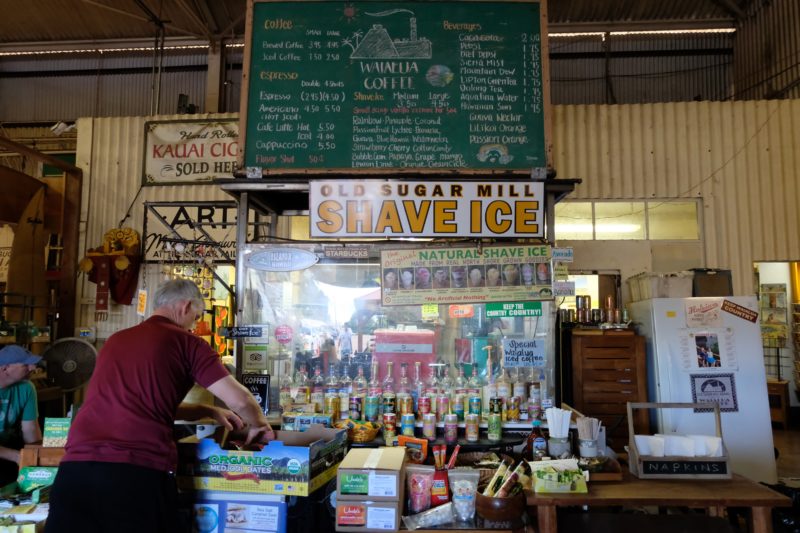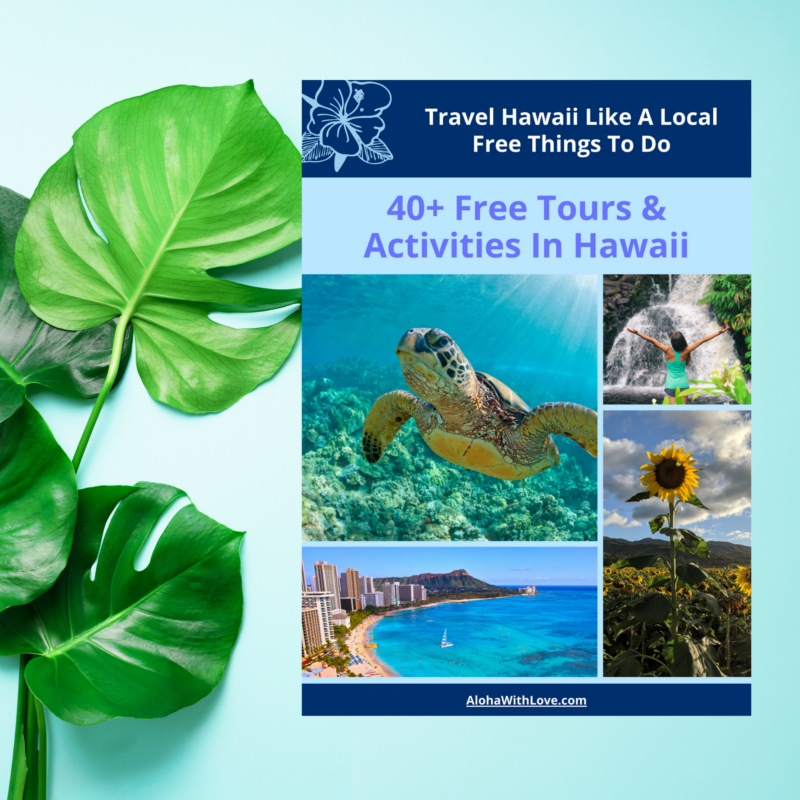 Want to go on a free tour in Hawaii?
I Recommend The Nut Butters And Flavored Sugar. Don't Miss The Art Galleries.
The nut butters were ah-mazing. Just to give you an idea of how amazing I thought these were:
In Hawaii, we don't have a Trader Joe's. But everyone knows about it and it's one of the first and last places we stop at when we visit the mainland. Why? Because we have to bring omiyage (souvenirs) back to all our friends, family and coworkers.
One of the biggest requests are the nut butters from Trader Joe's. But you know what? Old Waialua sugar mill's nut butters totally blew that out of the Pacific Ocean for me. It was SO GOOD. Yes, the bottles are smaller. And yes, they're priced at $10. But to bring back as an awesome memory/souvenir from Hawaii? Priceless.
The good thing for penny pinchers like me, is that Bob will let you try all 4 during the tour. I promise, your hand will be itching toward your wallet!
You can also sample their cane sugar, salt and rubs, too. The salt and rubs were more normal for me, but it was the sugar that rocked my world (mango or pineapple anyone?). The flavors were really pronounced and I had visions of adding them to various baking and marinade recipes.
Behind the shave ice stall are 2 rooms of local art. These are extremely easy to miss because they look like entrances to administrative offices at first glance. But you're free to enter and explore the different artworks in these rooms. Definitely a cool stop for anyone interested in truly local art.
Local Tip: The first tour of the day (we got there early) had maybe 10 – 15 people in total. But I noticed later that Bob was just showing 2 people around. This was probably because everyone was busy shopping. If you want a more private tour with Bob, wait a few tours and jump in when the crowd looks small.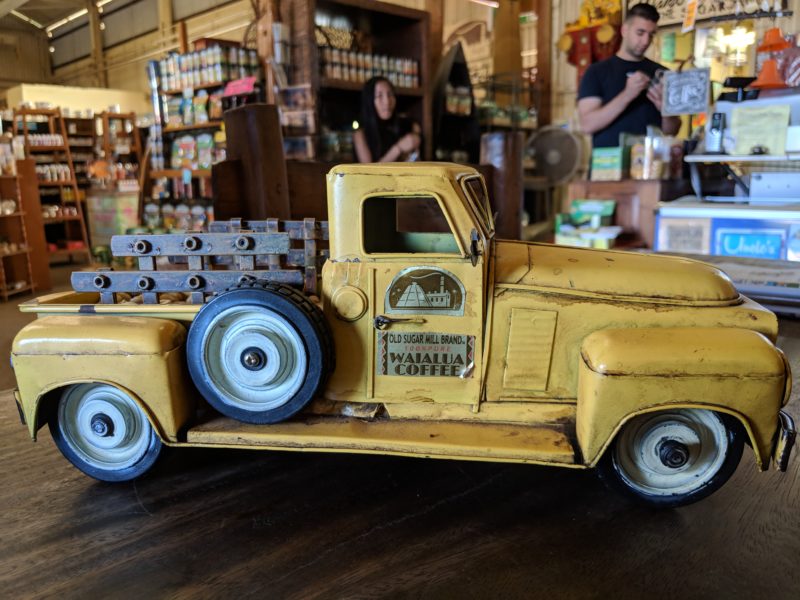 Old Waialua Sugar Mill Checklist
If you talk to locals and scan the internet, you'll see that most people still refer to this place as the "old Waialua sugar mill". But they also go by the name Island X Hawaii and Waialua Estate Coffee and Chocolate.
The Kaena Point hike (Mokuleia entrance) or the Kealia trail are good hikes to pair with the old Waialua sugar mill since they're in the same area.
For those sensitive to caffeine, you'll want to taste the dry roast, which has less caffeine than the medium or mild roasts due to the caffeine burning out.
The Waialua People's Market (a small farmers' market atmosphere) shares the same parking lot with the old Waialua sugar mill. It's mostly vegetables and fruit, but closer to lunchtime there are some nice plate lunches being sold. I even saw huli huli chicken, an old-time favorite.
Also sharing the same parking lot is the North Shore soap factory, which I recommend you visit. You'll get to see the soap-making process through the glass windows and when the crowd dies down, the staff are happy to give you a small mini tour of their soap production.
Local Tip: Ask who Jojo is at the soap factory and give a wave!
The Old Waialua Sugar Mill Is Off The Beaten Path. Let Me Know If You Go!
Whenever I travel, I'm always looking for the off-the-beaten-path attractions. I don't mind other tourists or crowds, but occasionally I do want to get to know a place at a more personal level. The old Waialua sugar mill gives you that. There's plenty of history in the building itself and the staff have your enjoyment of the facility on the top of their list.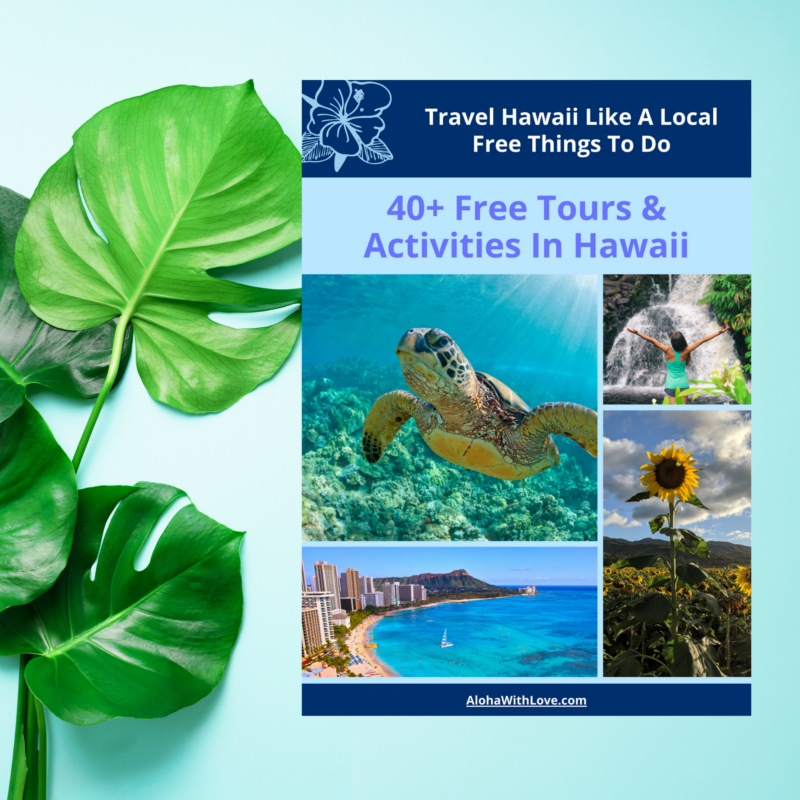 Want to go on a free tour in Hawaii?