This post may contain affiliate links, which means I'll earn a small commission if you purchase something through these links. You won't pay any extra; instead, you'll be helping Aloha With Love to thrive. Thank you! Learn more.
COVID-19 has affected many of Hawaii's businesses and events. Please double check their dates and times before you go or make plans. Visit HawaiiCOVID19.com for more information.
--
When you talk to people who have done an Oahu helicopter tour, many of them say the flight was the highlight of their Hawaii vacation! Besides the crazy-amazing view, you'll get to see Oahu from a different perspective and in its entirety. The people, lines and crowd melt away and you're met with green mountain ranges, a deep blue surrounding ocean and hidden vistas that most Oahu visitors (and even locals) have never laid eyes on.
The coolest part about an Oahu helicopter tour is that your pilot will provide commentary about all the places you'll see and point out important spots on the island. The constant flow of history, Hawaiian folklore and local tidbits will enhance your mental map of Oahu and I'm sure you'll be dazzled by Oahu's natural beauty.
Aloha with love,
Amy
Oahu Helicopter Tour With The Doors Off (Waikiki)
If you're a skilled photographer or just want photos without getting the glass or helicopter frame in your shots, choosing Magnum Helicopter's Oahu tour is the one you want to go with. You'll get clean and crisp shots and it's just so much more exhilarating!
They've got 50-minute tours where you'll visit historical sights, get some local insight and even get a close-up view of valleys and waterfalls that are unreachable by foot. Plus, you'll be riding in a Magnum P.I. helicopter replica. How cool is that?
Book A Tour: Magnum Oahu Helicopter Tour With Doors Off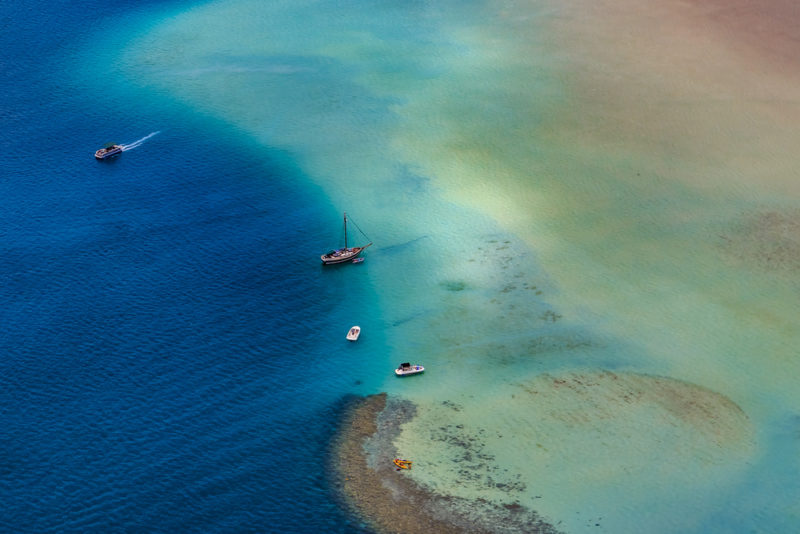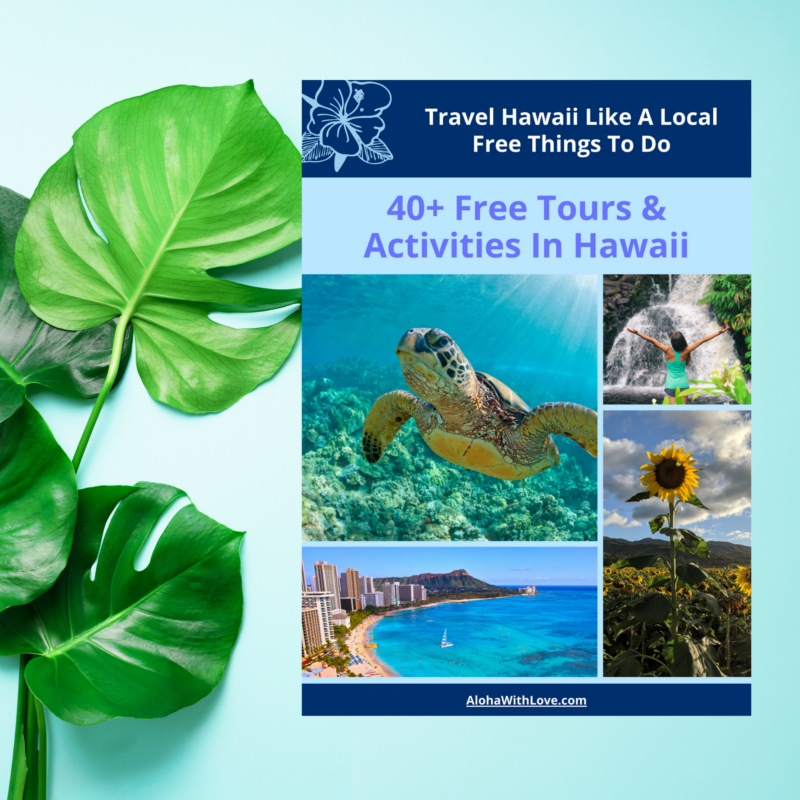 Want to go on a free tour in Hawaii?
Oahu Helicopter Tour With The Doors On (Waikiki)
If you're not feeling the open-air experience and would much rather prefer the doors intact, Blue Hawaiian Helicopters offers an Oahu helicopter tour that you'll enjoy. The experience is still amazing and you won't have that I'm-going-to-fall-out-of-the-helicopter feeling.
Blue Hawaiian's Oahu Tours do have larger helicopters compared to Magnum's Door Off tours, so it's something to consider if you've got more people in your group. Take off is at the outskirts of Honolulu International Airport on Lagoon Drive.
While the Blue Hawaiian tour is more expensive than the Magnum tours, there are a few perks. Blue Hawaiian has a higher weight limit, children under 5 can ride (infants 0 – 1 are free) and they have different packages: 30, 45 and 60-minute tours. Also, because there are more seats, if you're with a smaller party, there's a chance you'll be booked with another group. Just a heads up!
Book A Tour: Blue Hawaiian Oahu Helicopter Tour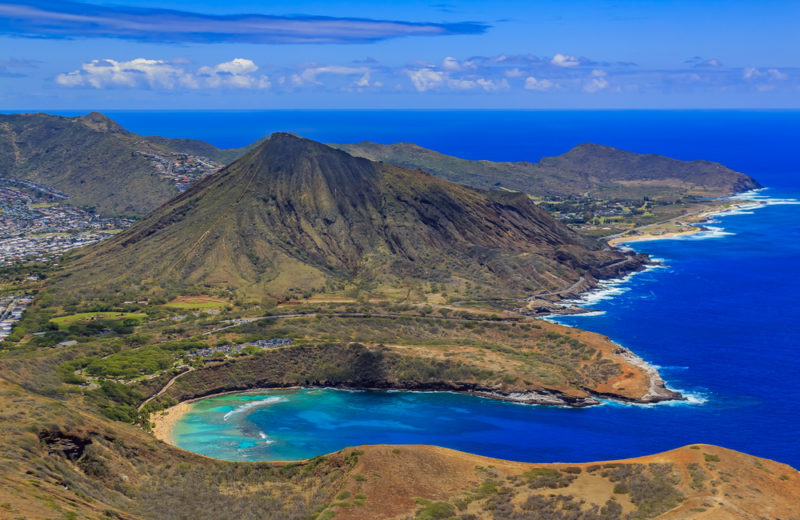 A Romantic Oahu Helicopter Sunset Tour (Waikiki)
To spice up your honeymoon, anniversary or nuptials, there's only one company that runs Oahu helicopter tours during sunset. Novictor Aviation will get you up into the air and you'll watch as the sunlight dims and the city lights twinkle on. Highly recommended as you'll get to experience aerial Oahu during the day and night in one ride.
Book A Tour: Honolulu's Only Sunset Oahu Helicopter Tours By Novictor
The neat thing about Novictor Aviation's Oahu helicopter tours is that they offer several packages and are highly customizable. Besides just seeing the different sights all over the island, you can arrange an evening flight during Waikiki's weekly fireworks show, organize a private charter from island to island, plan a luxury picnic and even work with staff to make a proposal happen!
There are a ton of options with Novictor, which means they come with a higher price tag. But it's worth it for those who are coming to Oahu for a specific purpose and wants to do or see certain things. See Novictor's site at the link below to get an idea of the range they have to offer.
Visit Novictor's Site: Plenty Of Customized Oahu Helicopter Tour Options
Tip: Novictor's doors are removable so you can request them to be on or off at no extra cost! Remember, if you're going to be taking photos, take those doors off.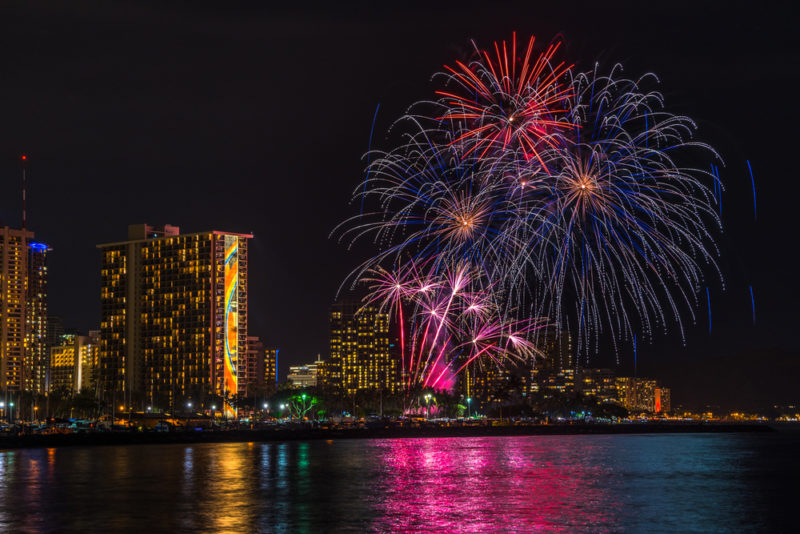 Oahu Helicopter Tours From Ko Olina
Oahu's 2nd biggest resort area is on the west coast in Kapolei. The grounds are beautiful as can be expected of resorts like Aulani, A Disney Resort and Spa or the Four Seasons Resort Oahu at Ko Olina. There's a gazillion things to do on this side of the island including Oahu helicopter tours.
For convenience, schedule a ride with Paradise Copters so you can depart from Kalaeloa Airport, which is also located in Kapolei. They have a great circle island tour and their helicopters can take children of all ages. Plus, they can also take heavier guests even over 265 and 316 pounds (at different price points).
Book A Tour: Paradise Helicopter Deluxe Circle Island Experience From Ko Olina
Local Tip: If you're staying in the North Shore and want to do an Oahu helicopter tour, don't worry! Paradise Helicopters also has a Valleys and Waterfalls tour that lifts off from Turtle Bay Resort's parking lot. It's very close and convenient for visitors who are determined to avoid Waikiki.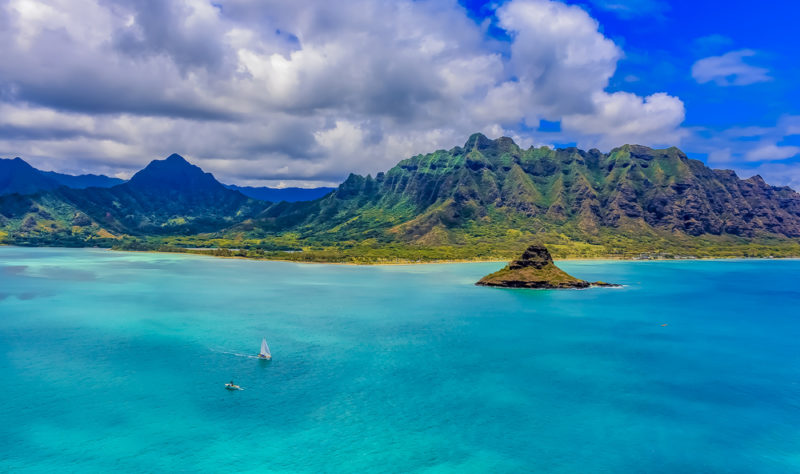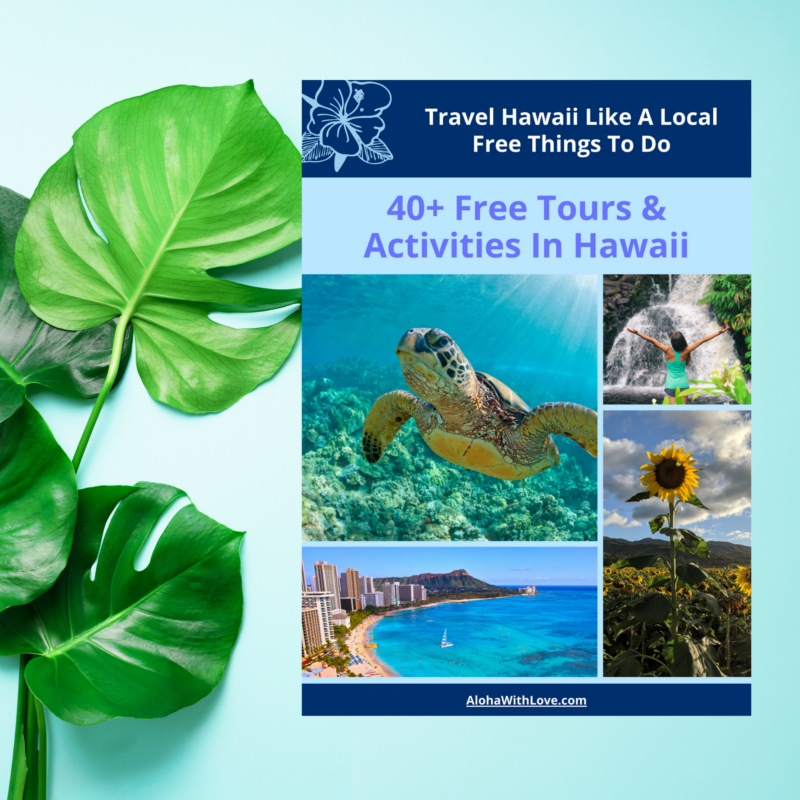 Want to go on a free tour in Hawaii?
Neighbor Island One-Day Visits With Helicopter Tours
If you're short on time, consider doing a one-day escape to the neighbor islands. These particular tours include the roundtrip airlines fees, a helicopter ride, and a couple of guided tours for the rest of the day. It's a great way to visit the other islands when your Hawaii vacation time is limited.
Plus, since a guide will be with you the whole way, you'll get to know the island on a more intimate level than if you were to arrange a one-day flight by yourself. While pricey, it is an option to consider if time is of the essence.
Book A Tour: Day-Trip Helicopter Tours From Oahu To Neighbor Islands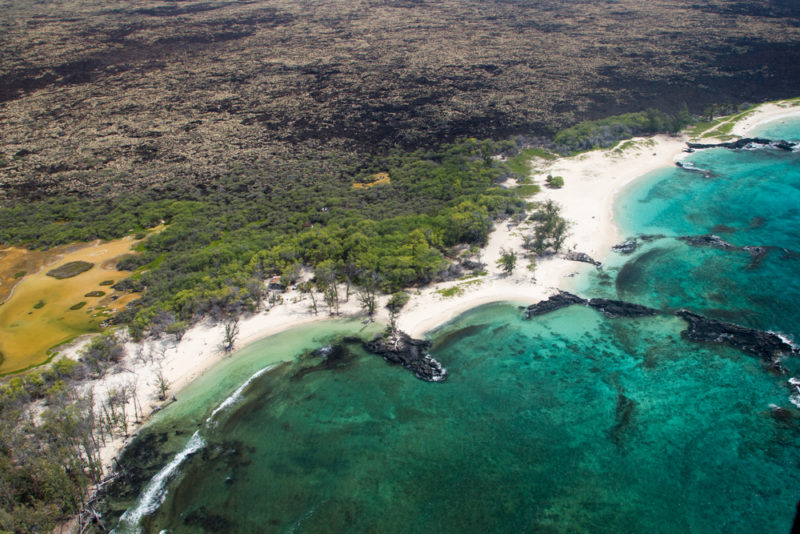 Fly Something A Little Different
There are also a few flight options that aren't your conventional helicopter tour. If you've ridden plenty of helicopters before or are looking for something specific, check out this list to see if one catches your interest.
Really short on time? Or maybe you don't want to be in the air too long? Here's a 20-minute express Oahu helicopter tour that will show you around the Waikiki and Pearl Harbor area.
Those on a budget traveling in large groups should look into an aerial tour by small plane over Oahu. The biggest difference is that riding a plane won't allow any "hover" opportunities, but it's a good choice if you want a cheaper experience.
Here's a neat helicopter bundle tour for history buffs. The Pearl Harbor and helicopter combo tour includes a pickup from Waikiki by your guide, a guided tour through the Pearl Harbor facilities (including getting a closer look of the USS Arizona), admission to Mighty Mo (which I highly recommend), and finally ending with a helicopter tour. It's a great way to keep you busy all day!
Read More: Visit Pearl Harbor: Everything You Need To Know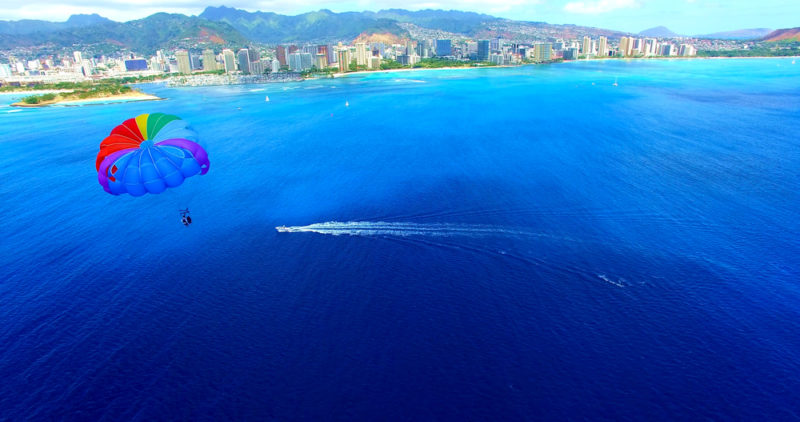 Your Oahu Helicopter Tour Checklist
Tipping your pilot depends entirely on the company you book with. Check their policies because some state tipping is appreciated while others state that the tip is already included in your payment.
Loose articles of clothing such as scarves, hats and even slippers are not allowed. Wear items that won't fly off and tie long hair up into a ponytail or braid.
Your camera or phone MUST have a strap and be secured. If you don't have one, buy one in advance or you'll have to buy it before takeoff.
Every company has their own weight limits/requirements. Check the company policies carefully so you won't run into any surprise fees. Each company has different helicopters, which can only take a certain weight.
Helicopter Tour Tip: Do not lie about your weight when making your reservation. Everyone's safety depends on this information and the staff have the right to deny you your tour if you're caught lying (without a refund!).
If you're flying with the helicopter doors on, wear dark clothing to reduce the glare on the glass. But I really recommend doors off!
It's possible to get motion sickness, but I don't think it's as bad as being on a boat for most people. If you're extremely sensitive, consider taking your preferred motion sickness preventative beforehand.
Have You Been On A Helicopter Tour Before?
For those of you who are helicopter pros, let the rest of us know your tips and tricks when it comes to helicopter tours. Personally, I love how you can get a great visual map in your head of all the places you visit while on the road. Being able to recognize different landmarks from above really help to give you a better sense of direction while you're traveling.
If you enjoyed this post on Oahu helicopter tours and plan to visit Hawaii someday, sign up below to get my local Hawaii tips. It's free and I can't wait to help you plan the perfect Hawaii vacation.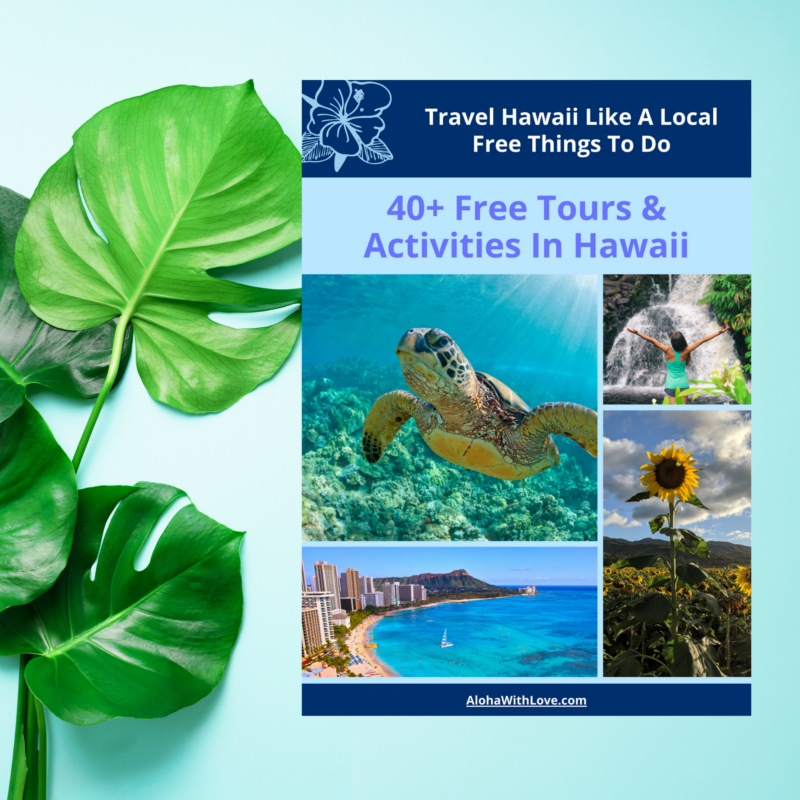 Want to go on a free tour in Hawaii?