This post may contain affiliate links, which means I'll earn a small commission if you purchase something through these links. You won't pay any extra; instead, you'll be helping Aloha With Love to thrive. Thank you! Learn more.
COVID-19 has affected many of Hawaii's businesses and events. Please double check their dates and times before you go or make plans. Visit HawaiiCOVID19.com for more information.
--
The Nuuanu Pali Lookout is one of those stops along the way that you won't regret. The view of windward Oahu is astounding and pristine and it's unlike any other view you'll find on Oahu.
Plus, the really fun part about the Nuuanu Pali Lookout is the wind! Can't you tell from the smiles on my Mom and Aunty's faces? On most days the wind will blow your hair around and make you smile. But even better are the windier than normal days where you can lean into it if you're brave enough!
What makes the Nuuanu Pali Lookout even more interesting is its history. The Battle of Nuuanu took place here – one of Hawaii's most famous battles and a pivotal win for Kamehameha I.
Aloha with love,
Amy
Nuuanu Pali Lookout's History
The Battle of Nuuanu may just be the bloodiest battle in Hawaiian history. On his quest to conquer the Hawaiian islands, in 1795 Kamehameha I headed to Oahu with 10,000 warriors and finally gained victory here at the Nuuanu cliffs.
Kamehameha I forced Chief Kalanikupule of Maui up Nuuanu valley and trapped them on top of the cliff, where they were forced off and fell to their deaths. In the late 1800s, highway workers discovered 800 human skulls, which we can only suspect are the remains of Chief Kalanikupule's men.
Local Tip: "Pali" in Hawaiian means cliff so you'll see this word commonly where there's a sheer drop. Ever heard of the Na Pali cliffs in Kauai?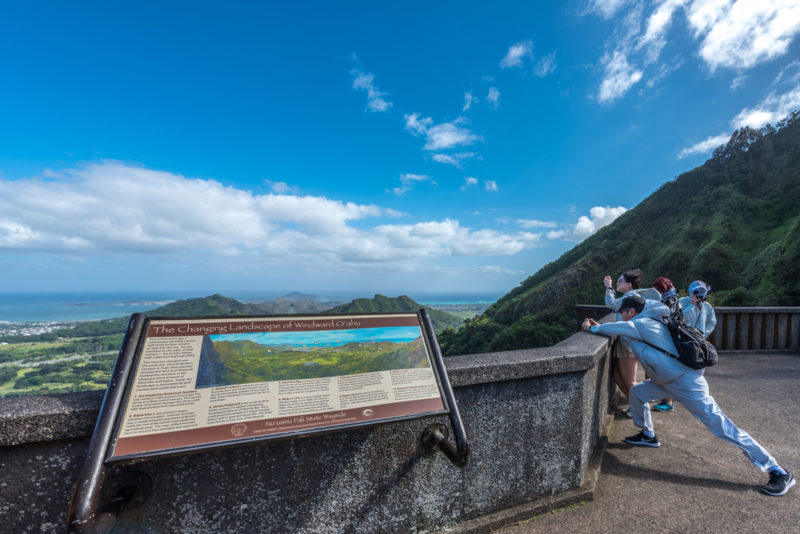 At the Nuuanu Pali Lookout, there are two informational placards posted on the upper level of the viewpoint. One describes the Battle of Nuuanu and Kamehameha I's win that took place here. The other placard highlights points of interests that you can see from the lookout. Going on a clear day is always recommended so that you can see all the way out to the horizon.
Unfortunately, the placards are only in English and there aren't any informational brochures for you to grab and read. If you're coming with a guided tour though, most likely your driver will have some history facts and stories up their sleeve!
Local Tip: On bad weather days, you still might want to chance visiting the Nuuanu Pali Lookout because the clouds fade and disappear moments at a time like magic. Plus, the wind is usually a little stronger on these days, which always adds a bit of extra fun to this lookout.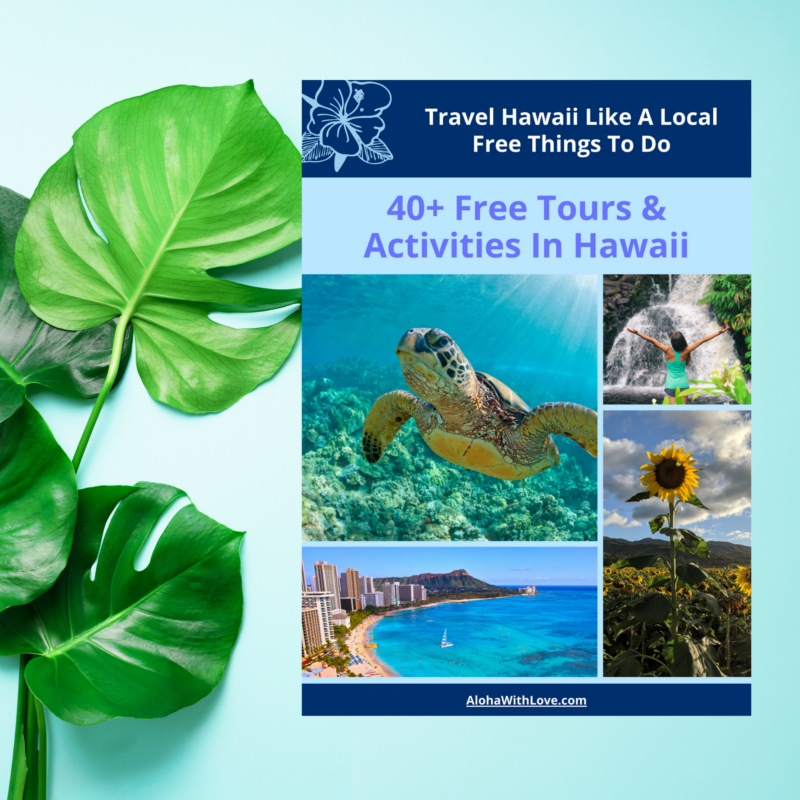 Want to go on a free tour in Hawaii?
Sightseeing Tips For Nuuanu Pali Lookout
Nuuanu Pali Lookout is named after Nuuanu valley, which was a common pathway between the leeward (Honolulu) and windward (Kailua/Kaneohe) side of the mountains. Because it is a relatively low area, it was easier to cross by foot for ancient Hawaiians.
Since the Nuuanu Pali Lookout is up in the mountains, you may literally run into clouds up here. The haze will drift right by you and some moments you'll have a hard time seeing the person right next to you! But if you're patient, keep looking in front of you and you may see the Windward Oahu view open up before you.
Do you need to bring a jacket, umbrella or poncho to Nuuanu Pali Lookout?
Unless the rest of Oahu is pouring, I wouldn't worry about packing a jacket or poncho. However, it wouldn't hurt to throw these in your car just in case. Just remember to stow them away nicely for the rest of your pitstops to deter potential car thieves from wondering what's underneath that jacket.
Although bringing a rain jacket is up to you, it can get quite cold up here especially during the winter and assuredly when the weather is bad. My aunties were freezing and we were lucky they all brought their colorful jackets to keep warm (and take cute pictures!).
Local Tip: Bringing an umbrella to the Nuuanu Pali Lookout is almost useless. If there's rain, there's bound to be wind and you'll probably spend most of your energy fighting it instead of paying attention to the view.
I would also avoid bringing hats and other loose and light items that could fly away easily. Once something flies off the Pali lookout, say goodbye to it forever because it isn't coming back.
Local Tip: Hats aren't the only things that fly. There's a sign at the lookout that warns you about bees during high winds. I haven't personally run into any bees yet, but it's something to keep in mind if you're allergic to them. I can see how bees would mistakenly run into you when the winds are too strong for them.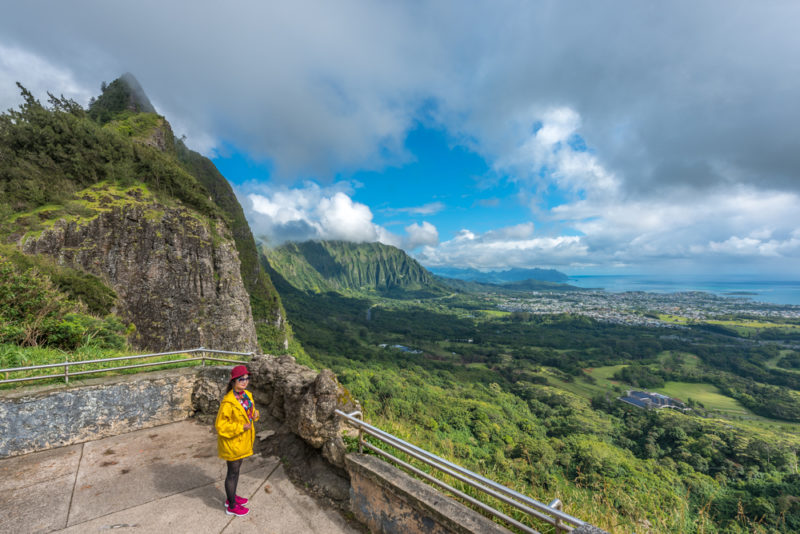 How much time will you spend at Nuuanu Pali Lookout?
Unless you're waiting for the clouds to clear up for a better view, most people won't stay here longer than 30 minutes. It takes just a minute to walk from the small parking lot to the viewpoint and it's all asphalt and concrete. You won't be walking on loose rocks or a dirt path unless you're wandering around where you aren't supposed to.
Who can go to the Nuuanu Pali Lookout?
For those who have difficulty walking, the Nuuanu Pali Lookout is a great stop. The walkway is smooth, the lookout is close to your vehicle and the view is jaw-dropping. If you're worried about the wind being too strong, there are metal railings that you can hold on to for support.
Local Tip: Keep an eye on your children especially if they have a tendency to wander off and explore. Sometimes children (and I've seen adults, too) will go off the concrete path and start climbing or walking on dirt paths that are easily accessible. They need to stay on the concrete. This area is known for rain and slippery rocks and the last place you want to lose your footing is on a cliff.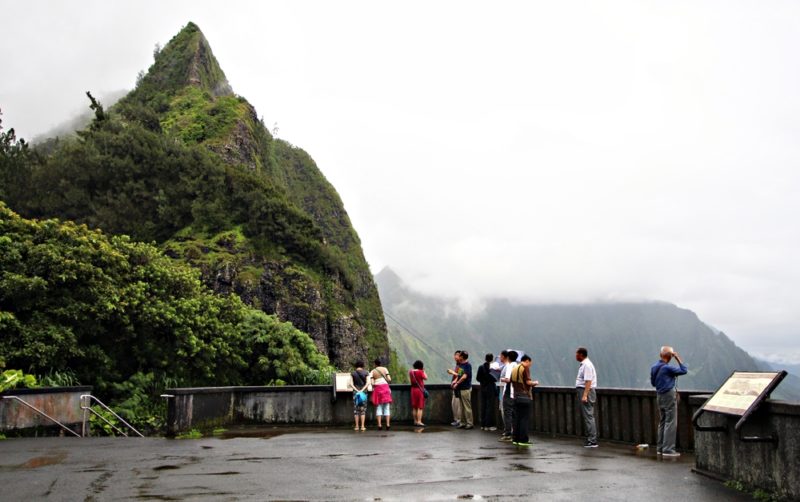 Local Tip: There's a lower level just beneath the main viewpoint that you can get to with just a short flight of stairs. It's fun to go down for the different vantage point, but I personally prefer the upper level for a better view of everything.

Why do some locals refuse to carry pork when traveling on the Old Pali road?
There are many adaptations of this Hawaiian legend, but it is said that the Goddess of volcanos, Pele, and the half-man-half-pig God, Kamapuaa, decided to break up and agreed to stay on their respective sides of the island. Pele's side was Leeward Oahu (Honolulu), while Kamapuaa had Windward Oahu (Kailua/Kaneohe).
Since pork is essentially a form of Kamapuaa, this taboo is often met with local stories of how Pele has stopped her ex from entering her domain. Everything from cars being stalled until the pork is thrown away to creepier versions where an old woman or white dog (supposedly Pele) appears, to whom you'll need to surrender the pork to.
If you ever decide to attempt this yourself, don't forget to let me know how it goes! I'd love to hear about it.
Directions To Nuuanu Pali Lookout
The Nuuanu Pali Lookout is on the Pali Highway and can be accessed from either direction. Follow the large green signs and when you exit onto Nuuanu Pali drive, it shouldn't take more than a minute to arrive at the parking lot.
Local Tip: Besides "Nuuanu Pali Lookout", you can also input "Nuuanu Pali State Wayside" into your GPS. They look like they're right next each other on Google Maps, but it's actually the same place.
Although short, the drive through Nuuanu Pali drive is a nice one. The hanging tree branches are beautiful and provide a quiet atmosphere – totally different than the loud hustle on the Pali highway.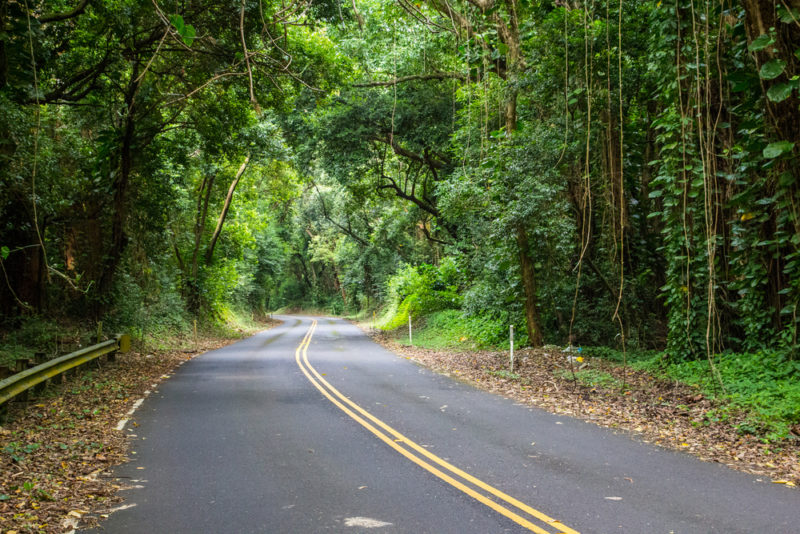 Parking At Nuuanu Pali Lookout
Local Tip: If you're coming to the Nuuanu Pali Lookout with a guided tour, the parking lot for tour vehicles is separate, but still close to the viewpoint. Coming with a guided tour only adds about an extra 100 steps or so to your walk.
For those driving to Nuuanu Pali Lookout themselves, you'll probably have to pay $3.00 for parking. I say probably because here's my personal experience with the parking system at this park:
There are non-obvious signs that say there's a $3.00 parking fee for non-residents. (It's easy to miss the signs)
From what I've experienced and heard, if you are a resident of Hawaii, you're supposed to show your Hawaii State ID or Hawaii Driver's License to the attendant in charge. The one time I saw the attendant standing next to the payment machine, he didn't really look at my ID or acknowledge that I was good to go. Needless to say, it was awkward.
In the past year, twice I saw them in their car on their phones and another time I saw someone who wasn't in uniform, but was watching the payment machine from the back of their truck. Granted, this could have not been a parking attendant, but they certainly didn't look like your average visitor just sitting on the back of their truck.
If you end up with a not-so-attentive parking attendant, I'm not sure how else they would prove you're a resident or not if they have no interest in checking your ID.
Even with my one parking attendant who "checked" my ID, there were visitors who walked passed him because they either didn't realize they were supposed to pay or they were unsure why he was there.
There doesn't seem to be any enforcement. I've never seen anyone get ticketed for not paying the fee, nor have I heard of it. I have heard of many visitors not realizing there was a parking fee until they leave. I see and hear it all the time as people return to their cars.
Local Tip: There are policemen in their police cars parked here often, but I think they're here mostly to deter car break-ins and thefts – not to enforce parking. Break-ins are common so make sure to stow away any valuables.
Should you pay the $3.00 parking fee?
Although I usually don't pay the $3.00 parking fee because I'm a resident, I feel the $3.00 is worth the short visit. (I have paid the parking fee upon occasion, when I feel like it.) You won't get a view of Windward Oahu quite like this anywhere else. The state does collect some of the money (the parking is managed by a parking company) and maybe one day that money can be used to maintain other parts of Oahu that may need it more.
Local Gem Viewpoints Like Nuuanu Pali Lookout
Punchbowl – The National Memorial Cemetery of the Pacific is a beautiful burial ground for our United States Armed Forces. Don't let this being a cemetery stop you from visiting. The grounds are gorgeous and there's a fantastic view of downtown Honolulu.2177 Puowaina Dr, Honolulu, HI 96813
Tantalus – Puu Ualakaa State park is another gem with a beautiful view and small parking lot that I recommend you check out. Plus, the drive to and from is beautiful.
Nutridge St, Honolulu, HI 96822
Christmas Tree Park – Puu O Kaimuki Mini Park is even more of a hidden gem! It's a small neighborhood park tucked away in a residential area with panoramic views.
951 Koko Head Ave, Honolulu, HI 96816
Local Tip: All of the viewpoint suggestions above are located in the general Honolulu area.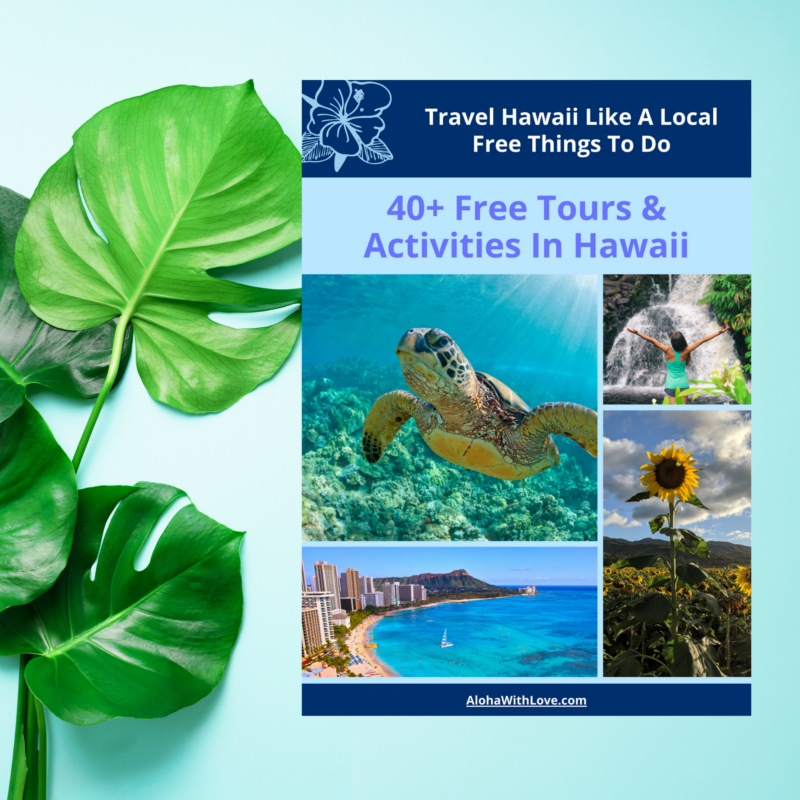 Want to go on a free tour in Hawaii?