This post may contain affiliate links, which means I'll earn a small commission if you purchase something through these links. You won't pay any extra; instead, you'll be helping Aloha With Love to thrive. Thank you! Learn more.
COVID-19 has affected many of Hawaii's businesses and events. Please double check their dates and times before you go or make plans. Visit HawaiiCOVID19.com for more information.
--
Among Japanese families in Hawaii, you'll often find nishime being served at a New Year's family party. It's a once-a-year holiday treat for me! This dish is on the sweeter side, so Mom usually tries to tone the sugar down when she prepares this.
Mom usually only cooks nishime during the holidays. From Thanksgiving thru New Year's, we'll probably see this dish in the kitchen about 2 – 3 times. When visiting other friends and family holiday parties, there's also a high chance I'll see nishime especially if it's a Japanese family. The flavor is sweet and savory and while many of the ingredients are unique to those of you unfamiliar with traditional Japanese holiday dishes, it's really very easy to make.
Aloha with love,
Amy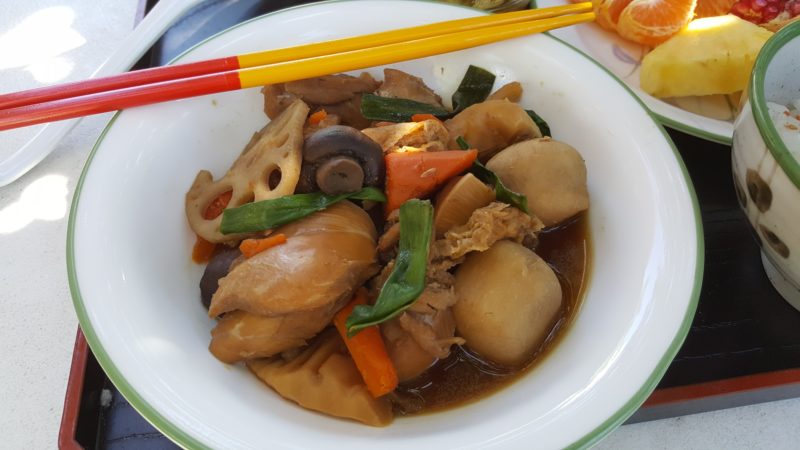 Ingredients
Ingredients in the pot
2

lbs

boneless chicken

Dark meat recommended.

2

medium carrots

1

can

bamboo shoots

1

bag

frozen taro balls

Fresh preferred.

1

bag

frozen lotus root slices

Fresh preferred.

1

bag

Fried tofu skin

Aburaage.

1½

c

dried shiitake mushrooms

We used fresh because we happened to have it. Dried shiitake is preferred.

1

pack

konnyaku

Konjac. Not included in this particular dish.

1

tbsp

grated ginger

2

c

water

1

c

shoyu

½

c

mirin

¾

c

sugar or sweetener

Add by taste
Right before turning off the stove
1

handful green onions for color

1

tbsp

grated ginger

1

small bag of katsuo flakes

aka bonito flakes
Instructions
Cutting the ingredients

Cut carrots, bamboo shoots, taro, and konnyaku (if you have it) into bite-sized, asymmetrical chunks. This will enhance food presentation.

Note: The frozen taro already came in bite-sized pieces.

Peel and slice the lotus root, cut the deep-fried tofu skins into sections, and cut the shiitake mushrooms into chunks. Mom usually uses dried shiitake mushrooms, which she recommends over the fresh ones as they soak up the sweet shoyu base. If using dried shiitake mushrooms, soak them in water for at least an hour before cooking, then squeeze them out like a sponge before adding them to the nishime.
Cooking the nishime
Add carrots, bamboo shoots, taro, lotus root, aburaage and shiitake mushrooms to the pot on high heat.

Add the first tablespoon of grated ginger.

Add water, shoyu, mirin and sugar/sweetener. Continue to stir occasionally until it reaches boiling. Reduce to medium-low and simmer for 20 – 30 minutes with the cover on.

Uncover the pot and check that the carrots, taro and chicken are cooked. If so, do the next steps quickly:

Add katsuo flakes (aka bonito flakes).

Add green onions (cut into three sections).

Add second tablespoon of grated ginger.

Give it one final good mix to incorporate flavors and immediately turn the stove off. You do not have to move the pot from the stove. This is to avoid cooking the ginger so that you'll have that slight hint of ginger as you eat this dish.
Notes
Mom usually uses fresh lotus root and taro. We just happened to discover these frozen packs at a new grocery store and decided to give it a try. Not a good idea – we recommend going fresh. The lotus root are a lot crispier when fresh and the fresh taro just tastes better. We rarely use fresh bamboo shoots as we don't often get them, but so far we've been fine with the canned bamboo shoots.
Lotus root is often called hasu in Hawaii.
Use regular Kikkoman Shoyu (soy sauce) as it's better suited for cooking.
We prefer using dried shiitake mushrooms instead of fresh. The dried shiitake mushrooms are a lot more flavorful and soaks up the shoyu base while cooking. If you decide to go with dried, soak about 2 handfuls in a large bowl of water for at least an hour before you begin cooking.
The ingredient amounts are not strict. This is a very forgiving recipe – you can add or takeaway any ingredients you do not want or do not have access to.
Konnyaku (aka konjac) is a traditional nishime ingredient that we often add to this dish. However, we forgot to buy it. You can cut it into asymmetrical pieces like we did the carrots. Or, you can buy it in noodle form (which I prefer).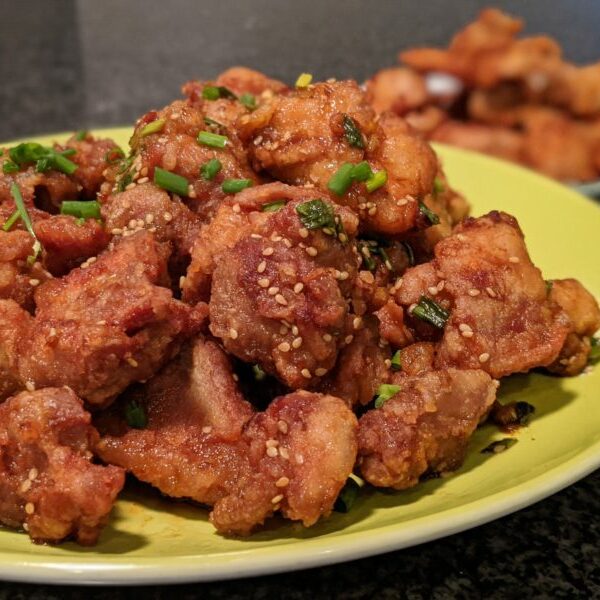 Get my latest recipes with a spoonful of aloha!