This post may contain affiliate links, which means I'll earn a small commission if you purchase something through these links. You won't pay any extra; instead, you'll be helping Aloha With Love to thrive. Thank you! Learn more.
COVID-19 has affected many of Hawaii's businesses and events. Please double check their dates and times before you go or make plans. Visit HawaiiCOVID19.com for more information.
--
If you're in the Kakaako area in Honolulu and looking for somewhere trendy and hip to eat, Merriman's Honolulu is a good place to hit up. A friend wanted to celebrate her new job, so she made a reservation and we enjoyed a classy yet casual dinner for two with some live music in the background. Merriman's is known for their farm-to-table approach and even a year into COVID-19 with limited capacity, this place was hopping with happy patrons. I was surprised at how busy they were and everyone seemed happy to be out enjoying the good food, good drinks, and great music.
Aloha with love,
Amy
The menu
I was in the mood for something light so I got the taro falafel, which was surprisingly filling! I adore falafels but usually save them for lunch wagons and small takeout shops. This was the first time I ordered falafels at a restaurant, but I'm so glad I did. The flavors were well put together and I cleaned up my plate quickly. The lentils mixed with other local vegetables went well together and my tummy was happy after the meal.
Sarah decided on the housemade pierogis (Polish ravioli), a salad, and a side order of chowder. She had eaten a big lunch and was in the mood for something light so these were a perfect complement for her salad. We shared the chocolate purse and there was a very satisfying crack when I hit it open with my spoon. The dark chocolate flavor went superbly well with the vanilla bean ice cream and I know I'll be ordering it again on my next visit.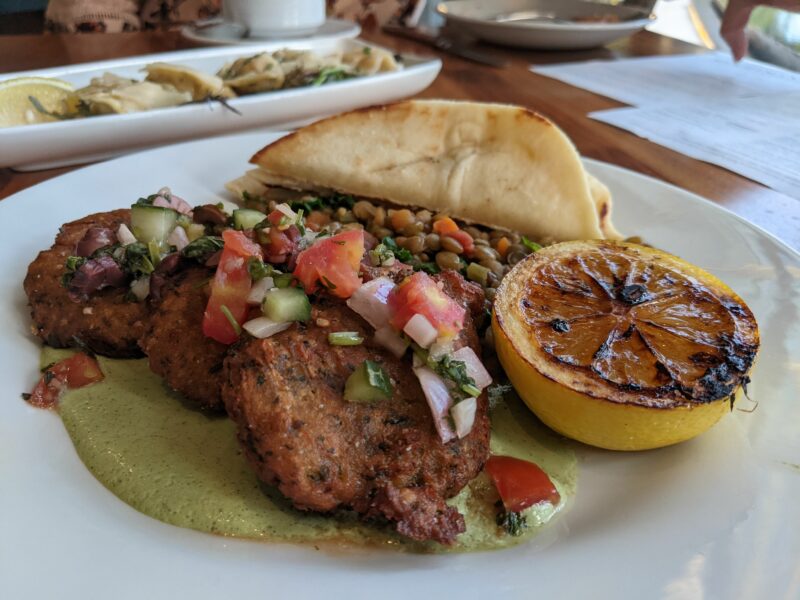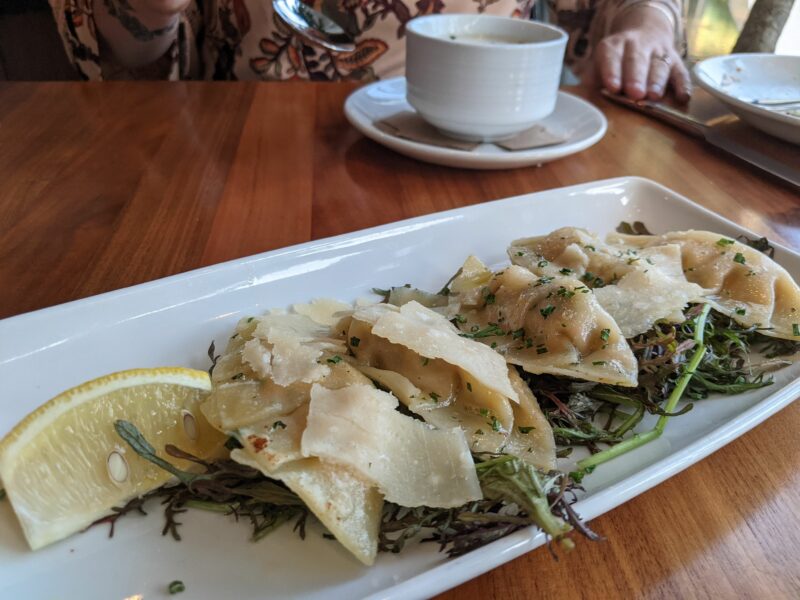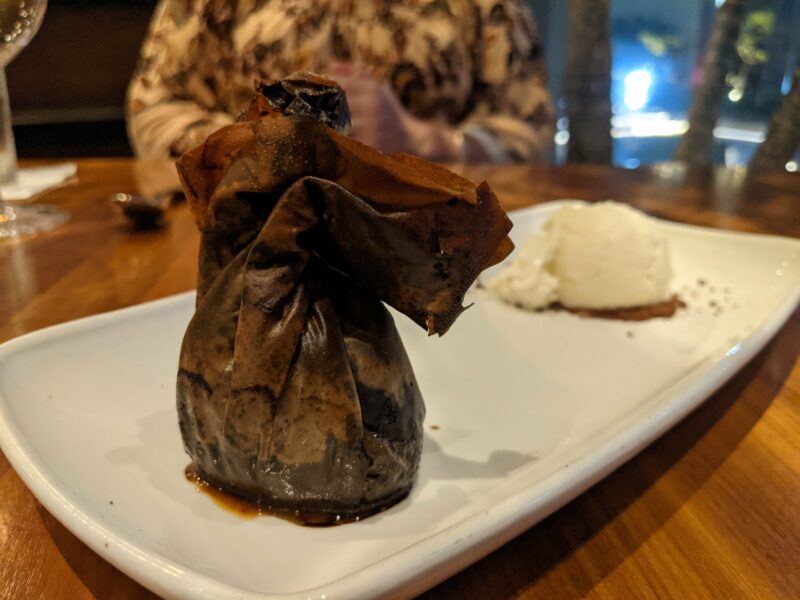 While the menu at Merriman's Honolulu did feel a little small to me at first (everything could fit on one paper), there was actually something for everybody: vegan, vegetarian, pescatarian, meat eaters, and burger lovers. As a farm-to-table dining experience, you can expect a variety of fresh seafood options, salads, and vegetarian-friendly dishes. For meat eaters, look forward to lamb chops, filet mignon, and wagyu beef! I had a look on their Yelp page and the next time I go, I'd really like to try their lobster pot pie! I'm not a big lobster fan because I used to work as a server on a sunset cruise ship cracking lobsters all night for the customers. After a few years of that I'd be happy to never see a lobster again…but I could handle them in a pot pie and that dish looks so appetizing!!
The atmosphere
Merriman's Honolulu is a culinary eating experience with a casual and classy feel to it. You don't come here for one huge meal, eat, and go. Instead, you order a fun cocktail, enjoy a couple of appetizers, and talk story with your friends as the music plays. By the time dinner has passed you (might) still have just enough room for dessert. The ambiance is fantastic and this makes Merriman's Honolulu a great choice for "that fancy place you go to with your friends" a few times a year. I can also see this being a great place to take your visiting friends to. It's easy to find, won't break the bank, and has that easy and fun vibe to it that everyone will enjoy.
There's both indoor and outdoor seating and I love that they allow dogs in their outdoor seating. The live music was set up outside right next to the entrance and I could still hear it from our table indoors. As Sarah and I were leaving through the front door, the music wasn't too loud even for patrons eating outside. In fact, the customers waiting outside for a table to open up were also listening to the music and judging from the flowing conversation and laughter, they were having a blast before they even stepped in the door!
Review
I really enjoyed my meal at Merriman's Honolulu. The food was fresh and tasty and the atmosphere allowed me to sit back and relax so I could enjoy talking with my friend and celebrating her new job. I can definitely see myself going again and would probably even recommend it for a fun girl's night out or fancy date night. Is it someplace I'd go every weekend for a meal? Probably not, but I'd love to come a few times a year for special occasions or when I need a break from the usual "dine 'n' go" experience. I had a lovely time and will be back! Lobster pot pie, I'm coming for you next!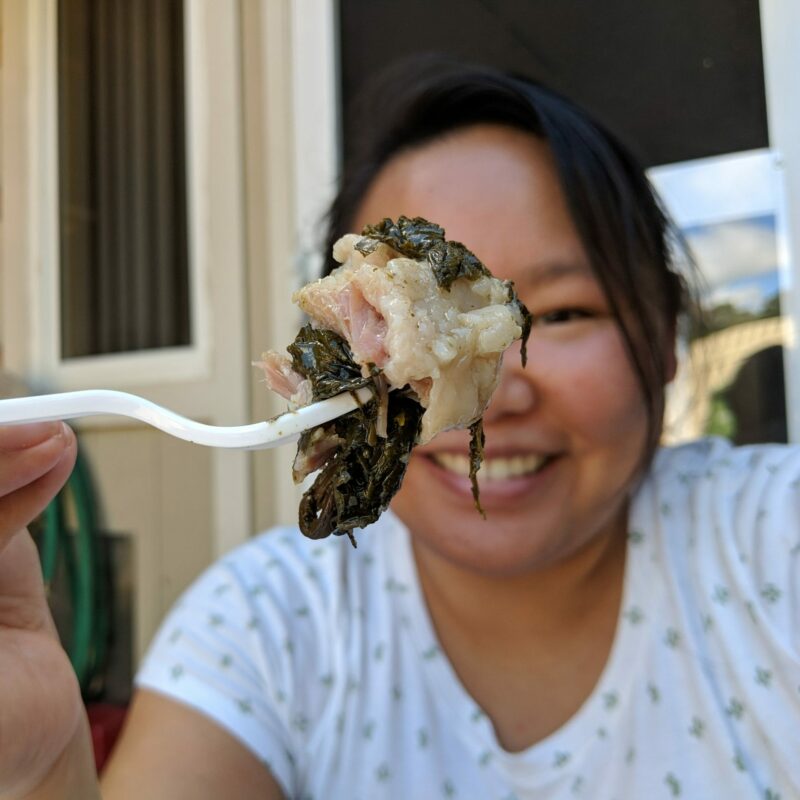 Discover more restaurants, bars, cheap eats, and mom-n-pop shops in Hawaii!