This post may contain affiliate links, which means I'll earn a small commission if you purchase something through these links. You won't pay any extra; instead, you'll be helping Aloha With Love to thrive. Thank you! Learn more.
COVID-19 has affected many of Hawaii's businesses and events. Please double check their dates and times before you go or make plans. Visit HawaiiCOVID19.com for more information.
--
If you ever find yourself starving near Moiliili Neighborhood Park on the corner of Isenberg and South King street, be sure to stop at Maple Garden – a Chinese Szechuan restaurant that has been around since I was a little girl.
The extended Fujimoto family would have our annual Chinese dinner at Maple Garden. I remember sitting at a large circular table covered with a white cloth and those extra slippery, fancy chopsticks. I'd rotate the glass disk in front of me to nab another serving of the sweet egg flower soup or the awesome spareribs smothered in a shiny glaze with the steam still rising from it. And don't even get me started on their crispy string beans!
The grandmas and aunties would smile indulgently and help me turn the glass so I could reach the fragrant shrimp chips. My brother was always eager to piggyback on the fun for another crispy peking duck steamed bun that he wouldn't get to taste for another year.
When a few of our older family members passed away (some chose to stay on the mainland due to their age), our annual Maple Garden dinner drew to a close. A few years later I'd heard that Maple Garden had changed owners, so even more so we were reluctant to return and be disappointed.
More than 20 years later, I was invited to attend a party at Maple Garden that was just a few weeks ago. I hung out with a group of 50 – 70 year old men, who (for the past few months) have been telling me where to eat the best fried chicken in Las Vegas – the "9th Hawaiian island". But on this night, they repeated several times before dinner: "Amy, you're going to have the best fried chicken in Hawaii."
Call me intrigued, I bit the bait. And I hope you will, too. Come for the buffet, stay for the fried chicken.
Aloha with love,
Amy
The Fried Chicken, OMG! One Of The Best
There's something delightful about the fried chicken at Maple Garden.
It's certainly not Chinese, but it's a common favorite among patrons. They run out fast, but the staff knows to keep them cooking so they're all piping hot. I brought back a few pieces for our group and it was so hot we waited a long 5 minutes for them to cool down. I wasn't patient enough though so I burned the roof of my mouth a few times!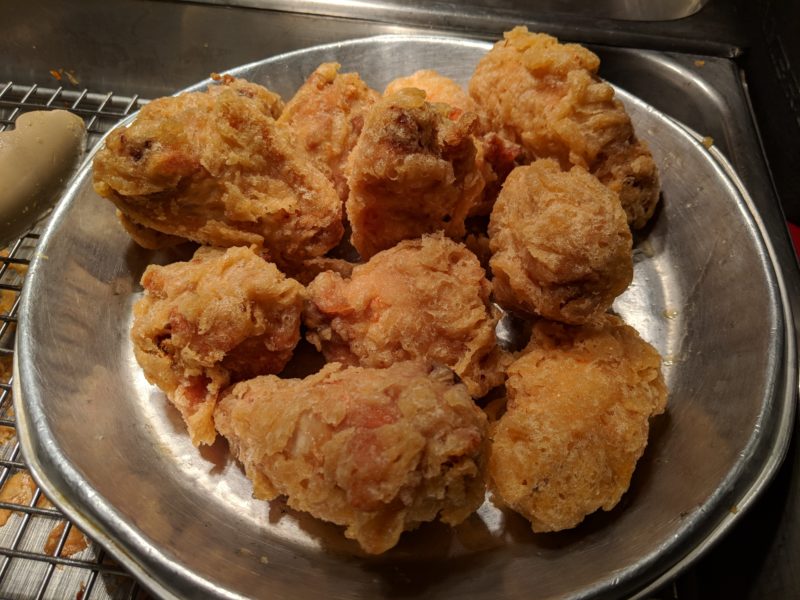 The best way I can explain their fried chicken is in 2 layers. The first layer of batter sits right on the skin – crunchy, savory, salty – just the way I like it. I don't think there are any herbs here. Just simple salt and pepper, that crunch and hot chicken juice overflowing with each bite.
The 2nd layer is light and delicate and reminded me of the hanaage frying technique for tempura (making the tempura batter "bloom" like a flower). The 2nd layer is so fragile that it breaks apart on your tongue spreading tasty batter around your mouth.
This isn't original KFC and their crispy version doesn't even compare. It even blows Popeyes chicken out of the stratosphere – be prepared to gobble up several pieces if this makes you salivate. I almost wished I didn't eat so much of everything else because I really wanted another piece of that chicken…almost.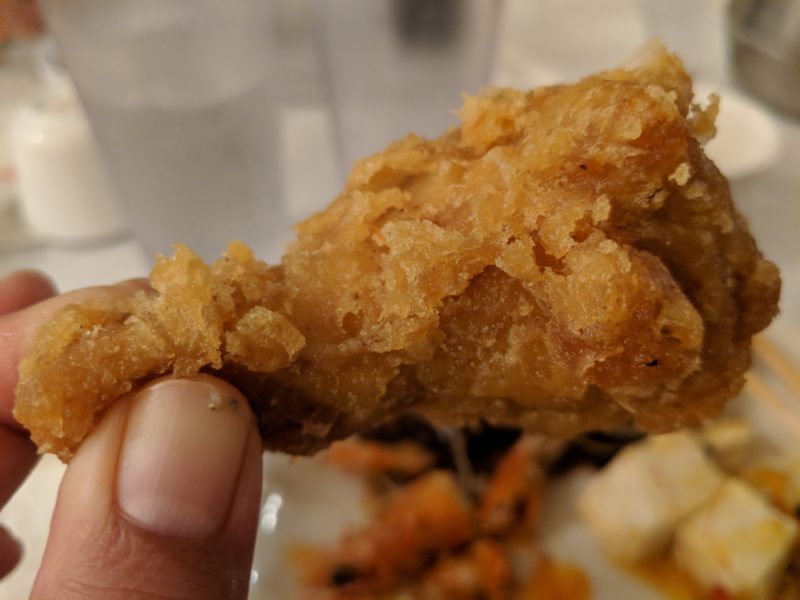 What I Ate, What I Liked
I filled my stomach with 2 loaded plates, a serving of almond tofu for dessert and a few extra pieces of fried chicken. It was more than enough food and I barely had room to try every single thing.
The only thing I didn't eat was the white rice and fried rice. The white rice is self-explanatory – it's the staple carbohydrate in most Hawaii households. As for fried rice, I grew up eating it for breakfast because that's what Chinese moms do when there's day-old rice and leftovers in the fridge (can anyone relate?).
There were flavorful marinated meats and the stir-fried greens were refreshing and made me believe I was being healthy while stuffing my face. If you love Panda Express' beef broccoli, you won't be disappointed with what Maple Garden has to offer. I also like the eggplant (I almost always love eggplant) and I couldn't resist going back for seconds for my favorite crispy gau gee and lumpia (spring roll).
On this particular plate (below), I'd say the fish was the most disappointing. It tasted fine, but there was nothing special about it. Just normal white fish with normal light flavoring – the texture was similar to the frozen swai filets that they sell at Costco.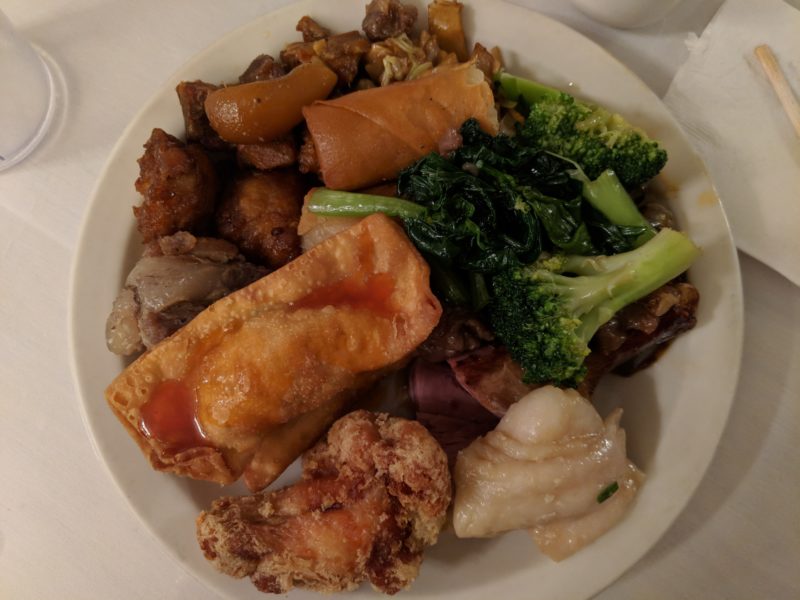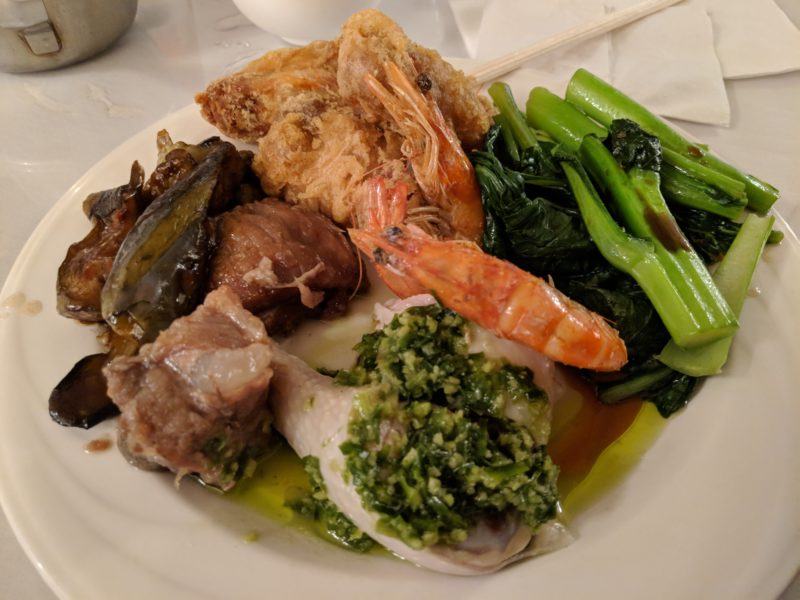 The cold ginger chicken is similar to Hainan chicken
Another local favorite that's done well is the cold ginger chicken (a local dish that often appears at family potlucks). The chicken is served cold (which probably sounds strange to most people), but it's topped off with a salty mix of chopped green onions and tons of ginger for that raw bite, preserved in oil – it's great.
Local Tip: That green onion and ginger topping goes great on rice – promise. Dad and I do it all the time. It's easy to make a batch of it at home and use it as a rice topping, dip or to spread on sandwiches.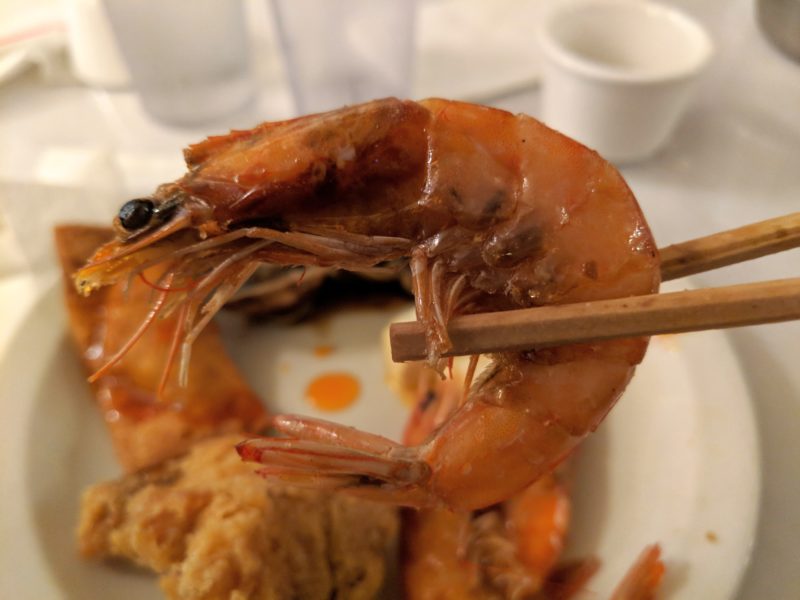 Personally, I didn't care for the shrimp. But others did!
I adore salt and pepper shrimp, so it was disappointing when Maple Garden's version didn't hit the spot. I love my shrimp so crunchy that I can just tear off the head and eat the whole thing. You feel that crackle in your mouth and the shell pops under your teeth. Salt and pepper shrimp in Chinatown usually works for me.
Fun fact: I don't suck shrimp heads like my Mom or brother. Do you? Gross. On the other hand, I love eating tails so those get passed to me.
These weren't under or overcooked – just not crunchy enough for me. There's a chance that the batch I had was frozen and a little dry to begin with though. I've found that if you freeze shrimp too long and moisture escapes, the shell tends to stick to the meat even after cooking. But, I know several people that night loved the shrimp, too. So if you like your shrimp on the softer side, these are sure to treat you well.
The crispy gau gee were a winner
Crispy gau gee is usually found at dim sum and manapua shops, so I was gleefully surprised to find them here. I love crispy gau gee – deep fried dumplings that probably shoot my cholesterol up. These had a good pocket of meat inside and were perfectly cooked since it was still moist inside. I could tell they were fresh out the fryer because the outside layer wasn't soggy and spongy due to the juicy filling.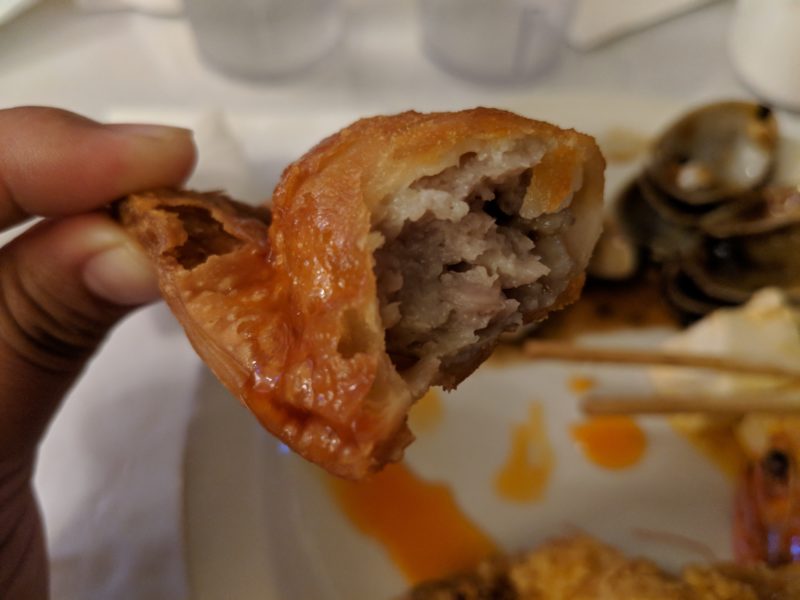 Fresh crab and lobster
If you're looking for super fresh seafood, there is a tank of crabs and lobsters near the entrance. Lobsters in Hawaii are pretty much the same size no matter where you go in the islands. If you've eaten the huge Maine lobsters though, these guys will be puny to you.
Local fact: If you order a lobster (or crab) in Hawaii, you may be surprised to find a female with bright orange eggs (roe) in them. Unfortunately, it will get over all the meat and they'll be difficult to avoid. Roe in this form is not so popular among Western tourists, but it is a delicacy for many Asians. Hawaii has a huge local Asian population and many Japanese, Chinese and Korean tourists visit the islands.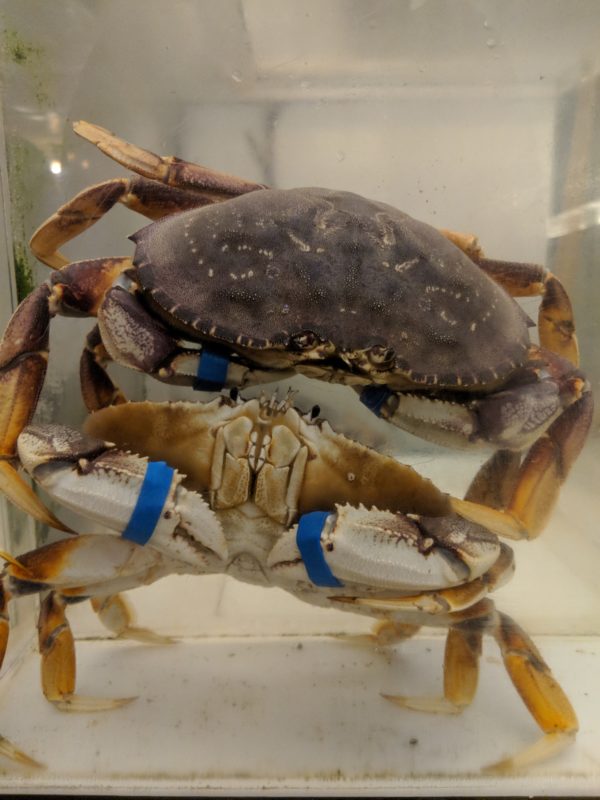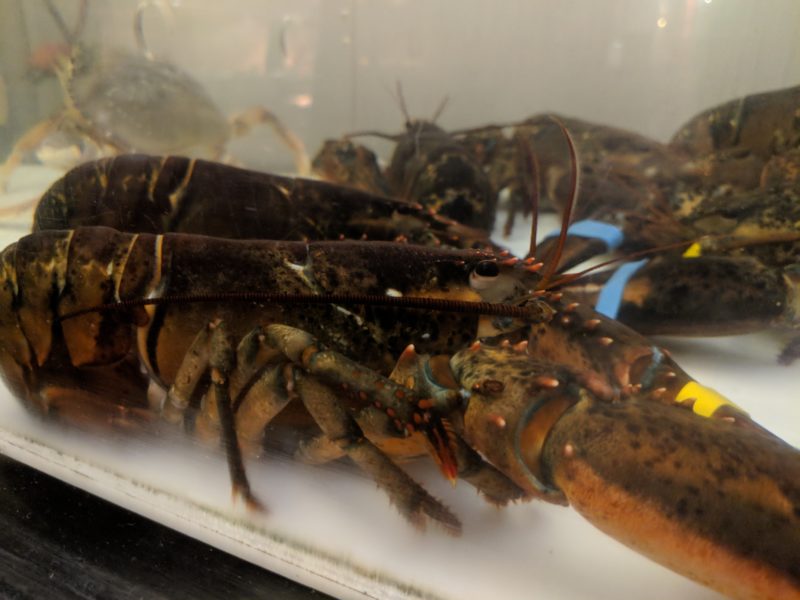 Maple Garden Tip: Ordering is easy. This may be a Chinese restaurant, but the staff all speak English. It's not like many of the Chinatown restaurants where you're often limited in your choices because of the language barrier, cultural barrier and "read the menu" barrier. Their menu has traditional Chinese, Japanese and English and the translations aren't those weird translations you often see on the internet. I'm fairly sure Richard speaks Chinese, too. I caught a slight Chinese accent whenever he talked to us.
The Buffet Line
Short, simple, plenty of food. The pans and plates are on the small side, so the line moves quickly and the food stays hot. The staff are constantly prepping refills. If you do happen to find a dish running low, ask one of the staff and they'll hop right on it. They'll even let you know when they bring it out. Everything is labeled and the protective glass ensures that your plate won't be contaminated with anything flying around.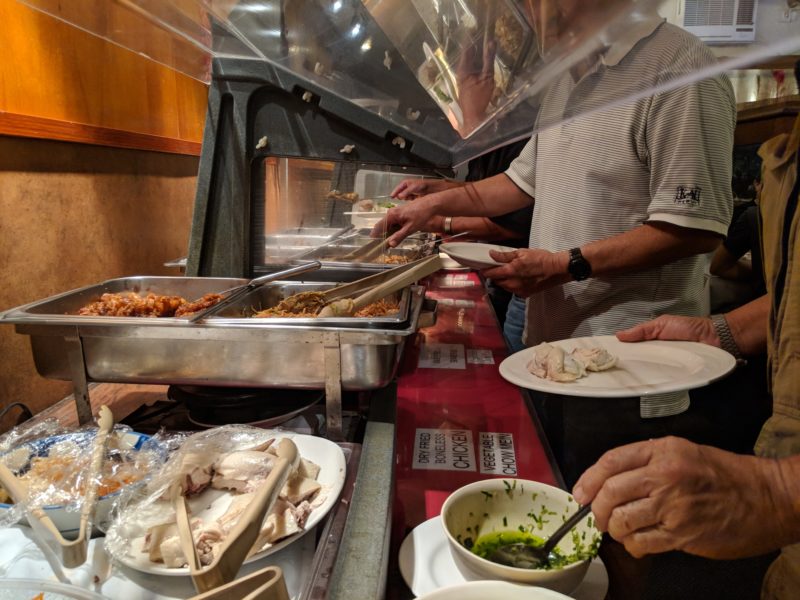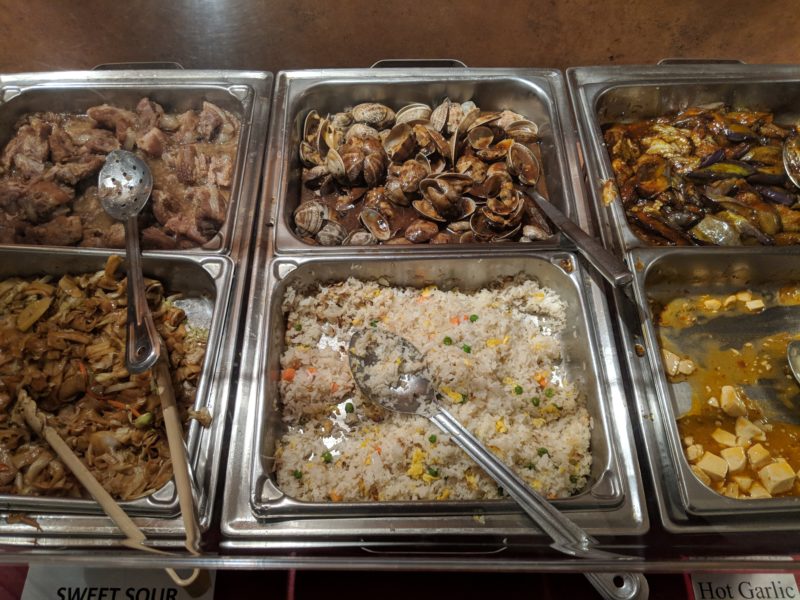 The duck was too dry for my tastes
I didn't really like the duck. In fact, I only had a bite and then pushed it around on my plate. I've had awesome duck before. With all that extra oil in them, their meat is often dripping with juicy tenderness. But this batch was just too dry for me. It's possible that it may have been sitting under the heating lights for too long, but I found that a little hard to believe since we were eating at 6:30 PM – prime time dinner time.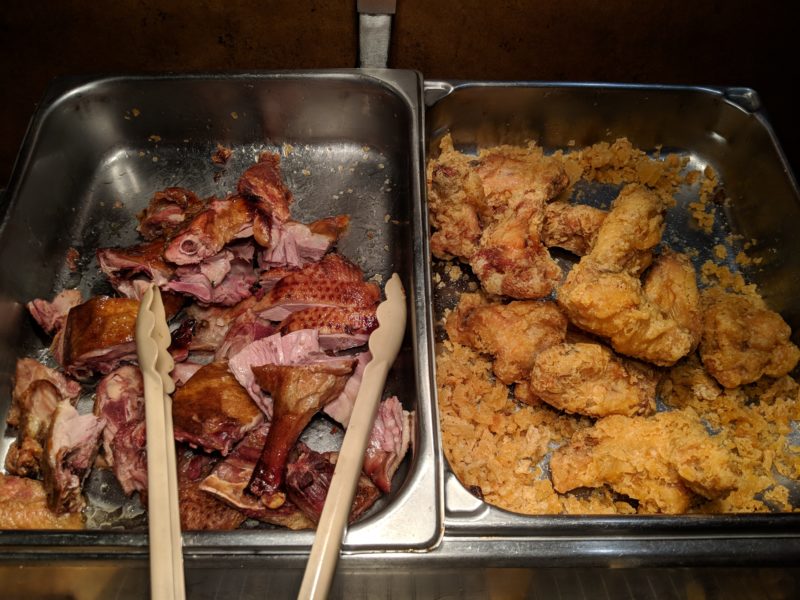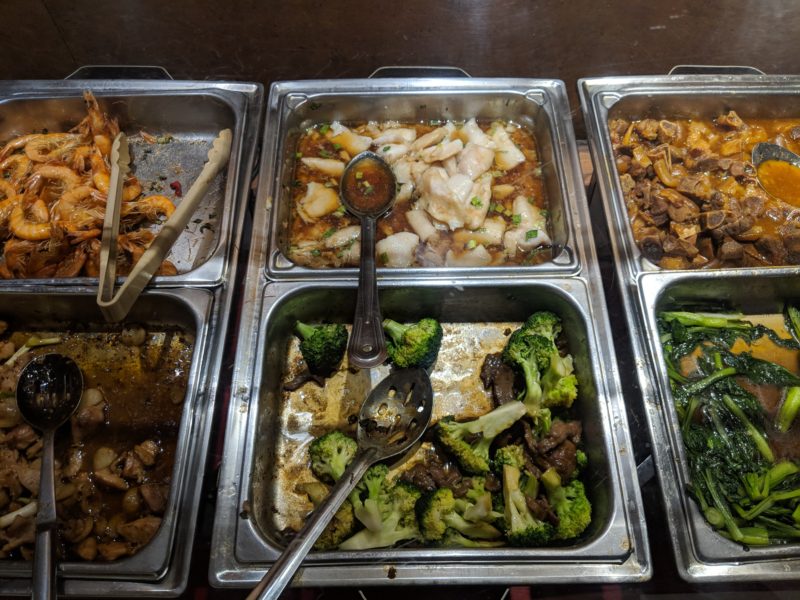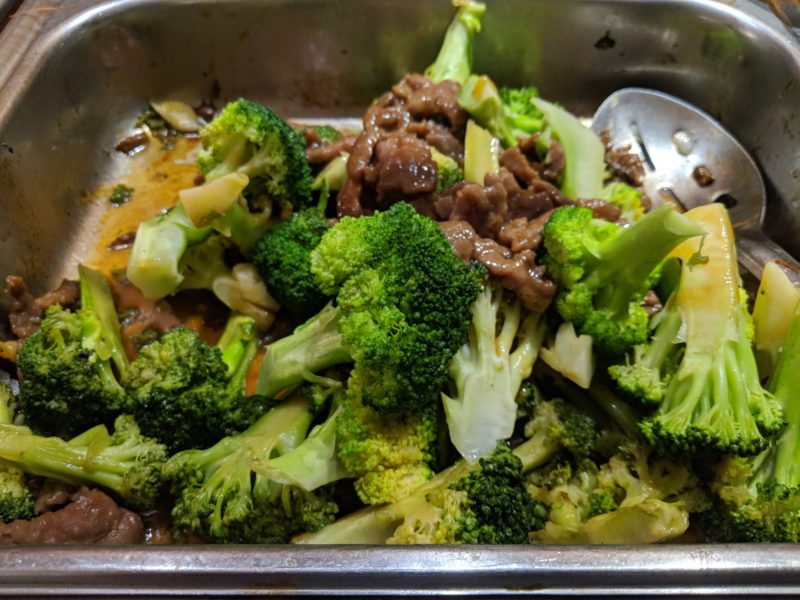 I miss the almond float and will have to make do with the almond tofu
I hate to say it, but there is one thing I really miss from the Maple Garden of my childhood. They had a really good almond float dessert that was light, sweet, fruity and delicious. The menu and buffet line now offers almond tofu – it's almost the same…so close, and yet so different.
If you've had almond float before, you know it looks pretty close to this almond tofu. Visually, the only difference is that almond float is usually served in a sweet, fruity juice. Texturally, it's the almond gelatin that feels weird to me. The almond tofu is like biting into too much gelatin. The float on the other hand was soft with a barely-there glide down your throat.
Does it taste good? Sure! It isn't too sweet, which is great. I just prefer the softer jello that you would find in an almond float. Would I eat it again? Of course, it's dessert!
I'll miss you almond float! But don't worry, I'll still eat you during the holidays and make you on hot summer days.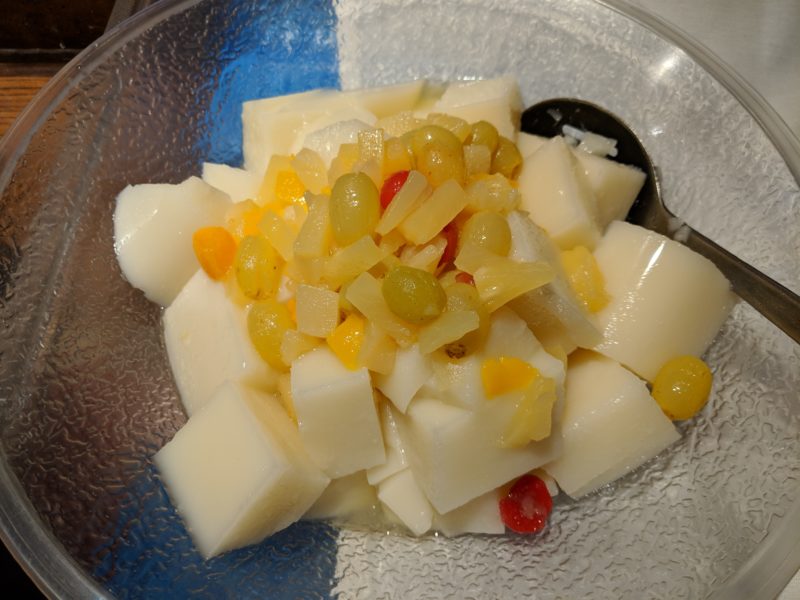 The Food, The Owner, The Atmosphere
There are 2 options when eating lunch or dinner at Maple Garden: Order by menu or head to the buffet (you could also do both if you were really craving something off their menu).
The buffet is $15 per head and generally stays the same except for a couple of variations day to day. Don't expect the huge Sizzler's or Las Vegas hotel buffet layout. The Maple Garden buffet is small in comparison, but packed with about 20 different dishes – more than enough to satisfy my belly.
In fact, the smaller buffet guarantees fresh dishes hot out of the kitchen. The line moves quickly and it was hard to grab a picture of the buffet itself, so I got this lovely photo of my friends discussing the benefits of each dish.
Fun fact: In case you were wondering, the man on the far left was the most adamant about Maple Garden's chicken and took it upon himself to educate us all on each dish and how he rated it.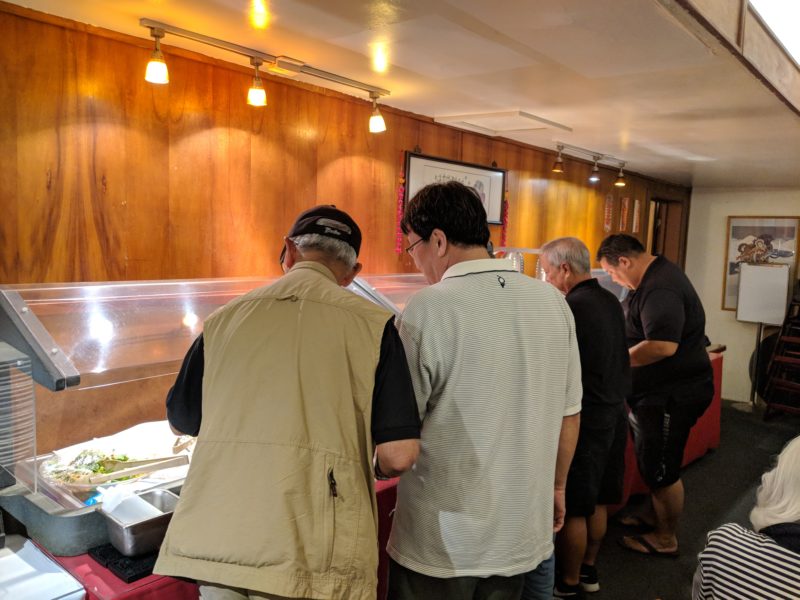 Popular menu item favorites
Kung pao chicken – Usually spicy, but varies probably because of whoever is cooking it.
Crispy peking duck in a steamed bun – My brother's favorite.
Fried chicken – Definitely not your typical Chinese dish, but I loved it.
Egg fu-young – One of those local dishes you rarely see these days.
Fried oysters – 5 in a dish so order enough for your group. They're big!
Spring rolls – AKA lumpia, light, crispy with a great filling
Deep fried gau gee – A personal favorite that's done well at Maple Garden
Sautéed crispy string beans – Another personal favorite if you need green.
Local Tip: Maple Garden has a great daily plates special – $9 for lunch, $10 for dinner. Both come with hot and sour soup, rice, tea and your choice of 2 entrees.
The Owner
Local Tip: Most likely the owner will be taking your order. He's super helpful and if you ask him for suggestions he'll whip out his phone to show you pictures of the dishes.
Richard was fantastic with our party. About 30 of us crammed into their private room and he and his staff were constantly in and out clearing plates, refilling waters and checking on our hot tea. We didn't even need to wave them down because making eye contact was enough to bring them over.
Maple Garden has been around for a long time. It was already well established when I was in elementary school, almost 30 years ago. It was a restaurant that catered to customers wanting good Chinese food and service without driving all the way through downtown and finding parking on the street in Chinatown.
Richard became the new owner, but despite the change, I found that most of the dishes I loved when I was a little girl are still delicious now (even though I haven't been here in at least 20 years!).
From what I can tell, Richard is big on service. Our big party was asked at least 5 times if we were done with the buffet. The closing hour was creeping up on us, but he and his crew didn't want to pull the buffet line until they were absolutely sure that we were stuffed.
Maple Garden, at first glance
Maple Garden is 30+ years old and she shows her age. The bathroom is simple, clean – nothing fancy, but better than what you'll find in a lot of Chinatown restaurants. My eyes kept wandering up to the iron bars on our tiny window in our private room. They were painted white to match the wall but still made me think of a jail cell (although I'm sure these were installed to keep thieves and troublemakers out – this is not the safest area to walk around in at night).
The main sign outside facing the street is dated and it makes me wonder if it's the same exact sign from 20+ years ago. It's easy to spot and read though, which is all that matters if you're on the hunt for good Chinese food/fried chicken.
On the side of the building is a single maple leaf outlined in a neon orange/yellow glow. Easy to see and somewhat a bit lonely, but at least you'll know you're in the right spot when you see the crowd.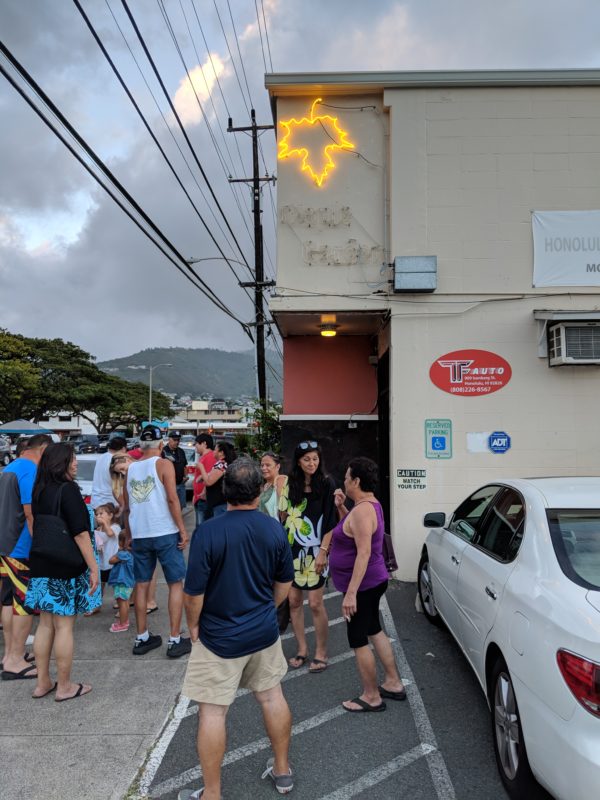 Local Tip: Moiliili park (across Maple Garden) has a homeless problem, but I wouldn't worry too much about it. It's a pretty enough park during the day that could use some cleaning up, and its residents mainly stay near the bathrooms that are farther in. Isenberg street sits between Maple Garden and the park and the wide 4-lane road provides enough of a deterrent.
Directions And Parking
Sometimes it's difficult to find decent parking at Maple Garden. This area is mostly businesses and a big percentage of those are restaurants. I'd suggest getting here early or on a weekday to avoid a large crowd. My group went on a Saturday and we plugged up the private room. Another group took up half the restaurant and even had their own MC as entertainment.
There's no shyness here. Most diners are repeat visitors and Richard spent time talking to all of them. The Chinese culture comes to life as you eat and you'll hear conversation and laughter bounce around the room as everyone enjoys the food, drink and companionship.
Local Tip: King street has plenty of small, family-owned restaurants that are treasures in disguise. It's worth it to visit if a restaurant with excellent reviews catches your eye.
Maple Garden parking lot
Ideally, this is where you want to park. It's right next to Maple Garden and you'll feel confident that your car won't be towed away for illegal parking. Not to mention that short walk to the front door. Unfortunately, there's probably only about 10 parking spaces in here – not so convenient since once a car is parked there, it will probably stay there for more than an hour or so.
Local Tip: If you don't mind waiting until 8:00 PM to eat, you'll have a better chance of great parking. Big parties usually stay until closing time (10:00 PM), but the small groups will go as soon as they're full.
This is best for older guests that have difficulty walking. Coincidentally, many of Maple Garden's repeat customers are older clientele who have been coming here for years. You'll have to get there early though. I thought I came early and had to park next door:
Taekwondo dojang (dojo)
Literally right next door to the Maple Garden restaurant is a skinny stone wall and a 2-lane asphalt driveway. This is the parking and entrance to a popular neighborhood Taekwondo dojang. The dojang was closed when I went and apparently the owner told my friend who told me that I was OK to park there (according to my friend). Nevertheless, I told my friend that if my car was towed they were footing the bill ("no way!" was the reply).
Only 3 – 4 cars can fit here. You'll have to go in and do multiple back and forths to turn your car around to face the street. Hug the wall on your passenger side and you'll be good to go. The last car (where I parked) may have to maneuver a bit because there's a huge leafy bush growing in the back corner.
Local Tip: There are no signs at Maple Garden indicating that you can park here. If the dojang is closed, make sure you ask the owner if it's OK, otherwise you'll have to move your car.
First Hawaiian Bank
There's a sign in the Maple Garden parking lot that says you can park at the First Hawaiian Bank on the corner if the lot is full. It's only about a 1-minute walk and between Maple Garden and the bank is just one building, so it's still convenient.
Street parking
This is usually the worst option. Not only is it humbug to go out and hunt for an open spot, there's always that risk that a passerby will spot something in your car and decide they want it. The street parking here is still in the dark ages, too, as you'll have to bring your quarters and worry about running out of time while you eat.
Unfortunately, finding street parking also means that Maple Garden is packed. If their lot, the dojang's and the bank's are completely full, it might be better to come back another day.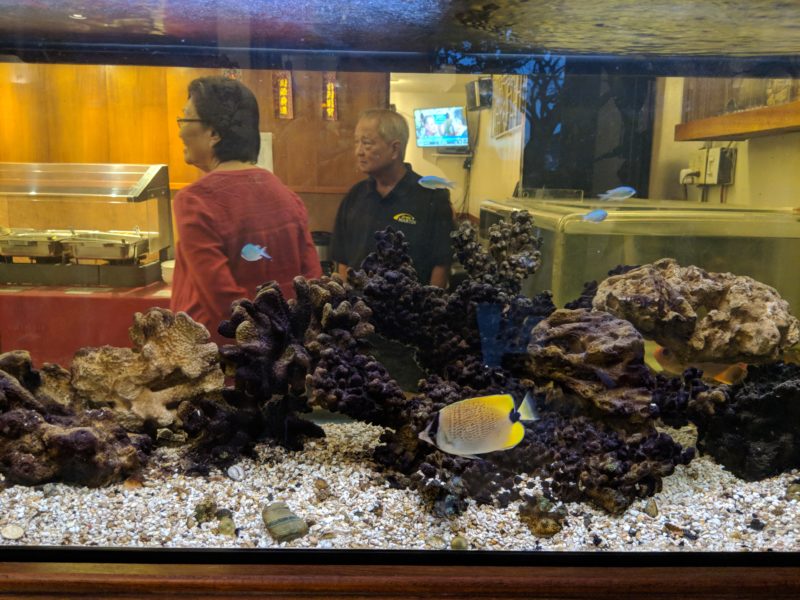 The Typical Maple Garden Crowd
When I think about Maple Garden diners, I think "repeat customers." These guys are the definition of loyal. They're usually on the 2nd half of their life and I imagine that have a set schedule of their Maple Garden dinner dates and do not deviate. They're here to eat the fried chicken, hot and sour soup starter, talk to Richard and end their night with the almond tofu dessert.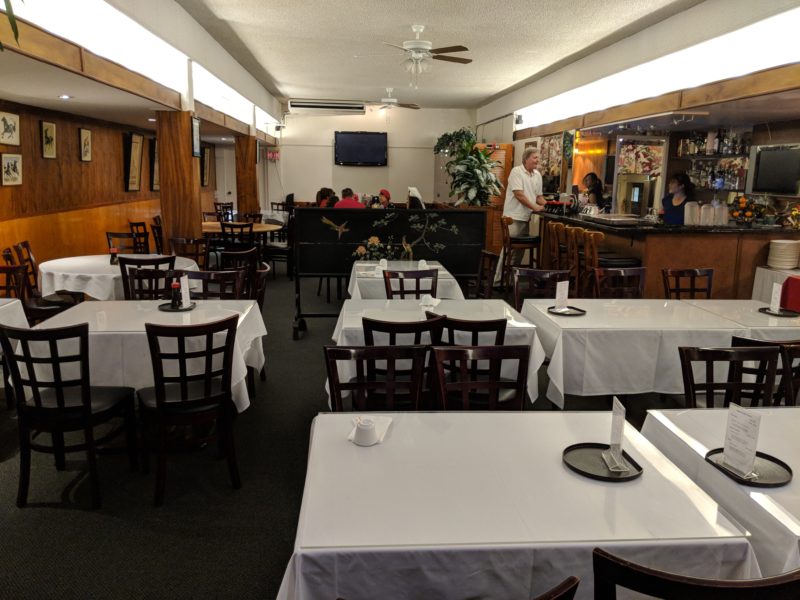 Consistency plays a huge part in any restaurant's success. McDonald's is consistent in their speed. Teddy's Bigger Burgers is consistent in their (you guessed it) bigger burgers. Maple Garden nails the good Chinese food, easygoing atmosphere and clean interior. Honestly, Maple Garden has barely changed to me, even though it's been more than 20 years. Now there are more square tables than round, but that's about it.
Side story: As I was looking through the photos, I realized my pictures captured the ink paintings of wild horses that hung on the wall. I distinctly remember those from my first meals here when I was small. I associated them with Maple Garden for no rhyme or reason, so it was good to see that they were still there hanging proudly.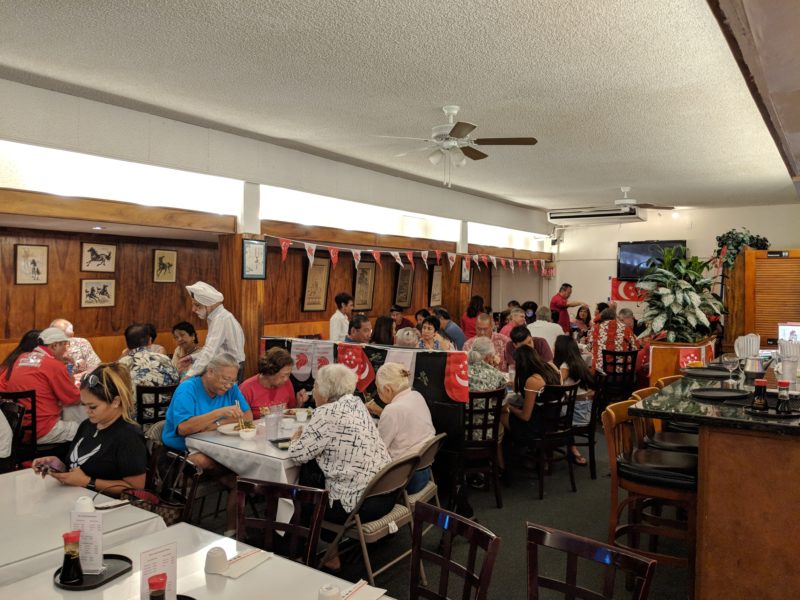 Even with the 2 big parties and the craziness that often tags along with Saturday nights, there were still a couple of smaller tables open. One lady ordered takeout and sat on the side to wait for her food. So don't be discouraged if you see a line outside. You may be able to squeeze in if your party is small enough.
And if all tables are taken, there's even a bar to sit at! I wouldn't expect too much from this bar though. There's a TV in front of you and a decent selection of alcohol if you want a drink or 2. Don't expect a bartender to be waiting on you. The staff is kept busy and you won't catch them standing around when there's work to be done.
Local Tip: I wouldn't recommend this place as a potential "secret" local sports bar. The conversation behind you is too loud and Maple Garden isn't the place to get rowdy. However, if you've got a large group between 20 – 30 people, you may want to consider using Maple Garden's private room (the same room we were in). We were using the TV to watch the local elections – but the volume was low. I'm not sure if it could have gone louder, so that would be a question for Richard when you get in touch with them.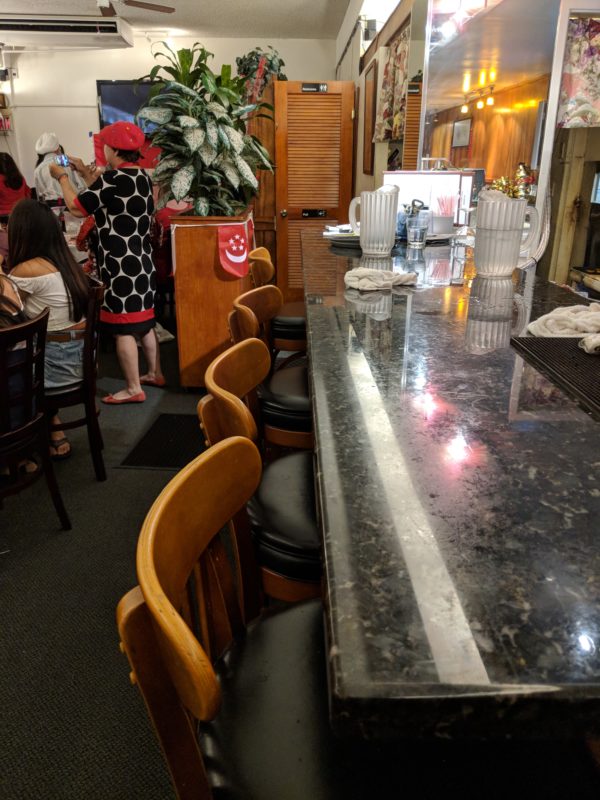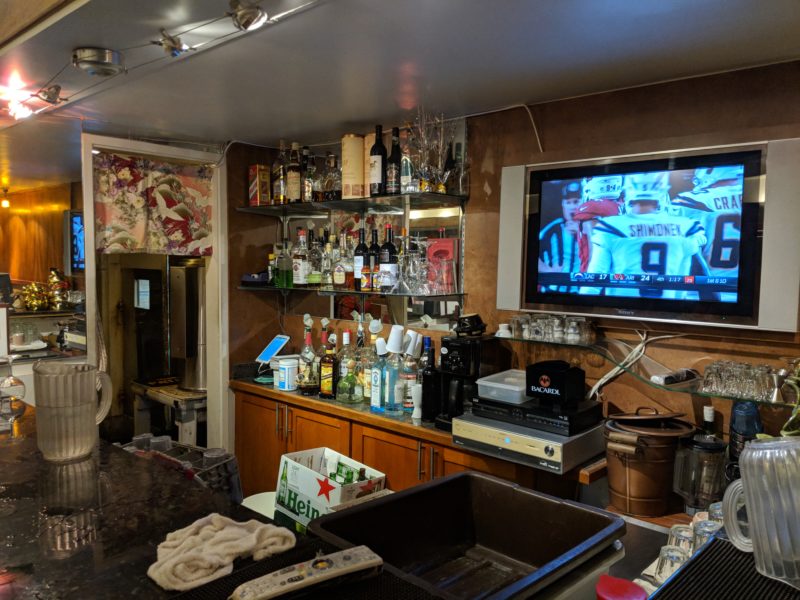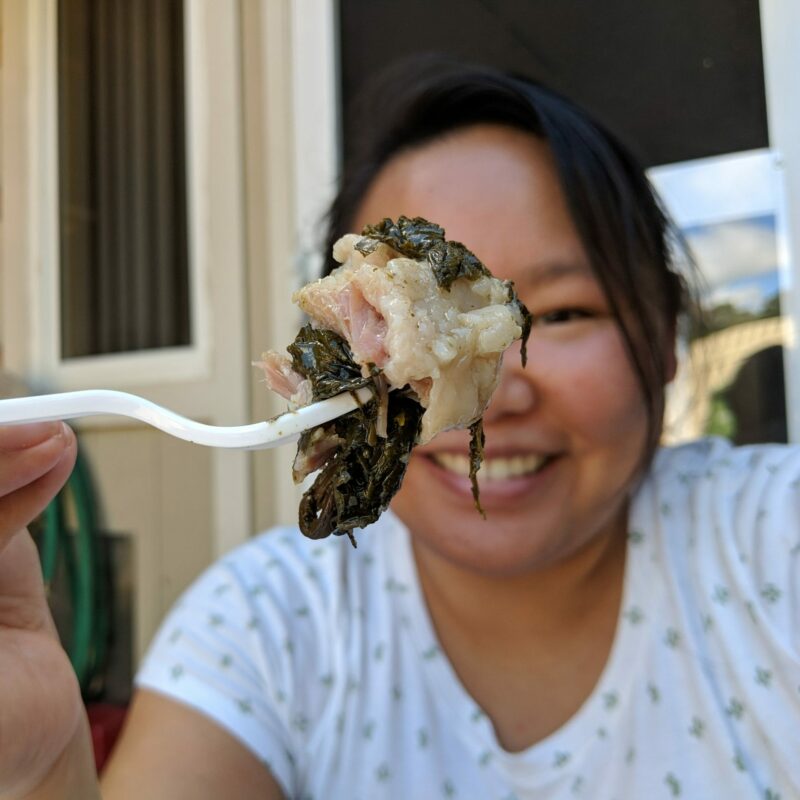 Discover more restaurants, bars, cheap eats, and mom-n-pop shops in Hawaii!