This post may contain affiliate links, which means I'll earn a small commission if you purchase something through these links. You won't pay any extra; instead, you'll be helping Aloha With Love to thrive. Thank you! Learn more.
COVID-19 has affected many of Hawaii's businesses and events. Please double check their dates and times before you go or make plans. Visit HawaiiCOVID19.com for more information.
--
If you're looking for a hike in Oahu that's uncrowded, will take you at least 2 hours, has plenty of shade and pretty mountainous views and won't send you away huffing and puffing in tears, then I'll have to point you to Manana trail hidden in the Pearl City neighborhood.
Rather than a switchback trail up a mountain that will literally take your breath away (from your lungs), the Manana trail will have you walk through sloping hills of trees with the occasional peek over green valleys. Wild shrubs of strawberry guava line the pathway and if you're lucky, you'll find a ripe passion fruit growing off a vine, ready to pick.
The Manana trail actually extends to a ridge trail if you continue on further, but I aim for the picnic table that sits right when the going gets tough. You'll have shade, awesome views in every direction and if you bring snacks and drinks, it makes for a great resting spot before you begin the return to your car.
Aloha with love,
Amy
Local Tip: For those adamant about getting your exercise, the trail forks off to a 2nd trail leading down to Waimano Falls. One particular slope leading to and from Waimano Falls is fondly referred to as "Cardiac Hill" so prepare for a workout on your uphill return.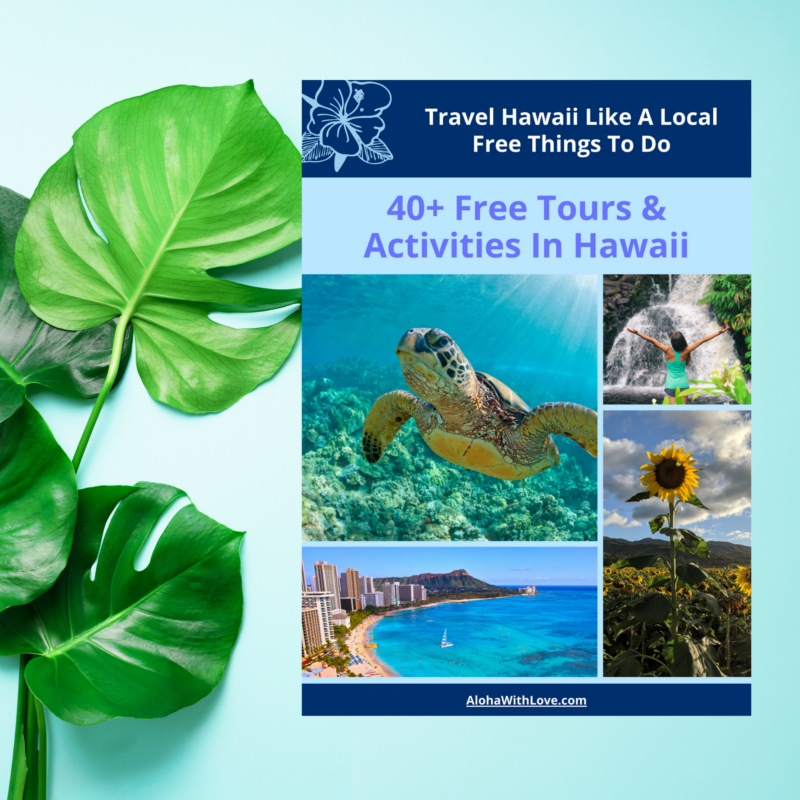 Want to go on a free tour in Hawaii?
Manana Trail Has A Little Bit Of Everything And It's Off The Beaten Path
What I really love about Manana trail is that you get those awesome mountain views right from the start. There's a small clearing to the left when you begin and you're welcomed by a refreshing view of a green valley and the next mountain ridge.
(Don't be surprised when you feel that spark of jealousy for the residents who wake up to this view everyday! When you walk from your car to the trailhead, each house on this hill has a stellar view for their backyard.)
The first third of the trail is along dirt and paved pathways on soft, sloping hills. Every so often the trees and bushes break apart and you can see to the next ridge. The trail splits uphill in some places for even better views and large clearings on the side give you a glimpse of what you'll see for the rest of the trail.
The 2nd and longer part of the Manana trail is through a forest of thin trees, strawberry guava bushes and California grass as high as my waist in some places. This shadier section is all dirt embedded with tree roots, nature's answer for anti-slip walkways. The hills are steeper in this 2nd area, but isn't overkill unless you want to book it and make a workout out of it.
So far I've only come across other hikers 5 – 10 times whenever I've hiked here. You can expect to run into the occasional person every 20 minutes or so, which I think is a plus. It's great for safety since you know someone will be along soon, and many of the hikers here are veterans so they can answer any questions you might have.
Local Story: The very first time I hiked to the picnic table, I shared the table with a veteran Hawaii hiker who told me about many of the old Hawaii hikes he had climbed when he was younger. It was awesome to pick his brain and I can only hope I have his enthusiasm for the outdoors when I'm his age.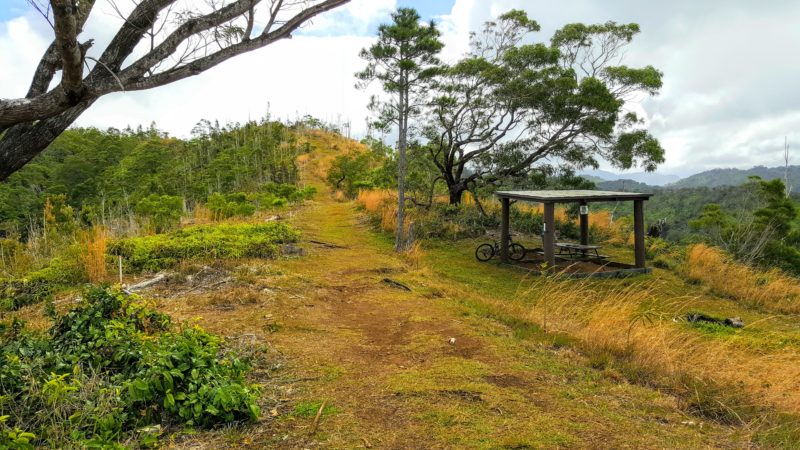 When You Hit The Dirt Roads, You Know You're Close
While the 1st and 2nd part of the Manana trail is under trees and glorious shade, the 3rd part right before you hit the picnic table is under the sun. (Can't win 'em all.)
The forest will open up to a grassy trail and the trees will shrink down to short bushes and ferns. It reminds me of those mazes you see in movies, except that I could see over these bushes and the fantastic views on both sides.
At some point, you'll reach a plain bench and a humongous clearing with 360-degree views. Mom and I had a FABULOUS time here laughing and twirling like we were high our first time here. It was one of those moments where the immense views blew away my expectations like twigs.
For me (and Daisy the dog), the dirt roads were the most strenuous part of the Manana trail. At this point, I'd start calling this a hike more than a trail. The trees draw away and you'll be taking boulder-sized steps. After the dirt path, you'll end at a slight incline leading up to the picnic table. And really, if my dog can waddle and do this hike, you can too!
What's really great about this section is that there are no trees blocking your view; the uninterrupted views you get are so beautiful! At one point, we were just standing in the sun admiring the clean landscape because it was even better than when we were in the forest.
Local Tip: I'd rate Manana trail (to the picnic table) as beginner to intermediate. The dirt part of the hike is not that bad especially since you'll be under the shade for the better part of the trail in the beginning.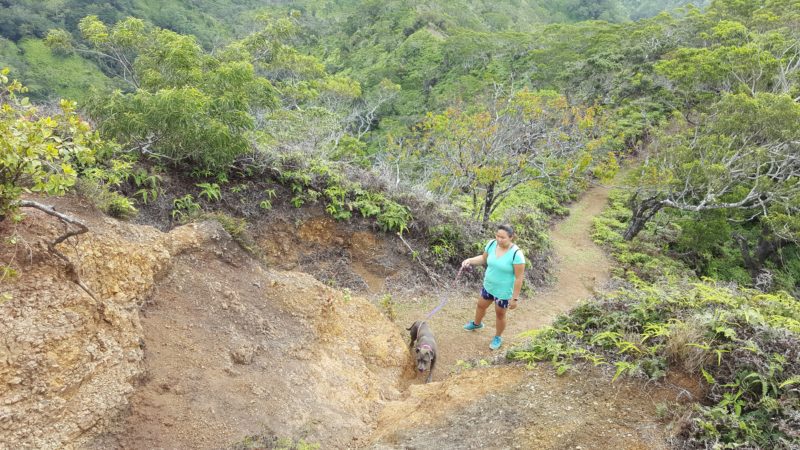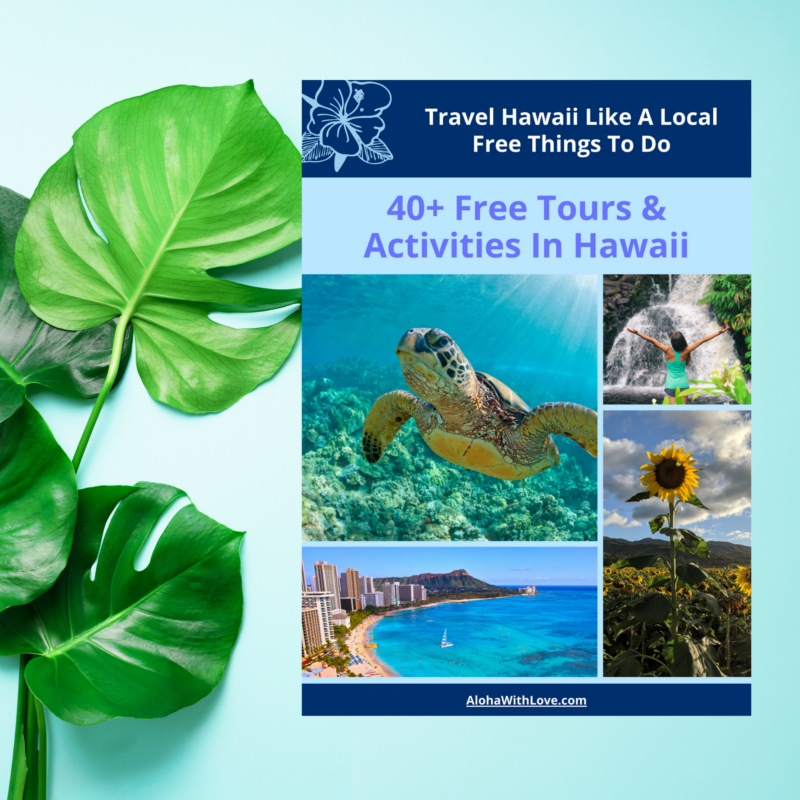 Want to go on a free tour in Hawaii?
Pick And Eat Strawberry Guava. But Can You Find The Uncommon Yellow Strawberry Guava?
The season for strawberry guava begins around September and you'll find many forest hikes throughout Hawaii loaded with these delicious red gems. Manana trail has plenty of strawberry guava bushes growing on both sides of the path and we took the opportunity to pick and eat our fill.
Local Tip: According to my Mom, the green thumb in the family, the sweetest strawberry guavas are on the bushes that have direct sunlight all day. I tasted a few to test and it seems to ring true!
Most of the strawberry guava shrubs grow in the 1st and 2nd section of the hike and you'll learn to pick out the bushes based on the unique coloring of their leaves. Most of the leaves are green as expected, but a few leaves on each bush turns a bright red to give the ripe strawberry guavas a run for their money.
By chance I spotted one sparse bush a couple of meters off the main trail decorated with bright yellow fruit slightly larger than these red strawberry guava. Turns out we stumbled on the uncommon yellow strawberry guava. Who would have thought?
Initially, I was just surprised they were such a bright yellow because up until then I had only seen unripe green guavas and a few red ones. Once we got a little closer though (and did a quick taste test), we realized how lucky we were and picked a few to bring home.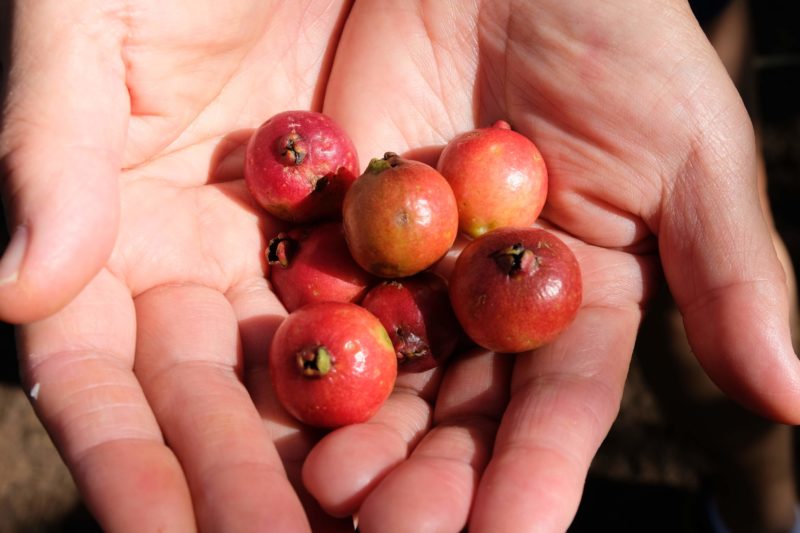 How To Get To Manana Trail, Pearl City
Manana trail is located in Pearl City on Komo Mai drive. It's a neat uphill drive through a residential neighborhood and the road is actually one very long cul-de-sac. It will take several minutes to drive to the top, so I suggest driving to the end of the cul-de-sac, turning around and finding a good parking spot on your way down.
The trailhead is right at the end of the cul-de-sac, next door to the last house on the road. You can't miss it.
Since this is a residential area, take extra precaution in keeping quiet as people live here and hear hikers coming and going everyday. Volunteers maintain the trail and provide trash cans recycle bins at the trailhead, and although I can't confirm if it's someone who lives on Komo Mai drive, it's still respectful on our part to keep this hike as beautiful as we found it.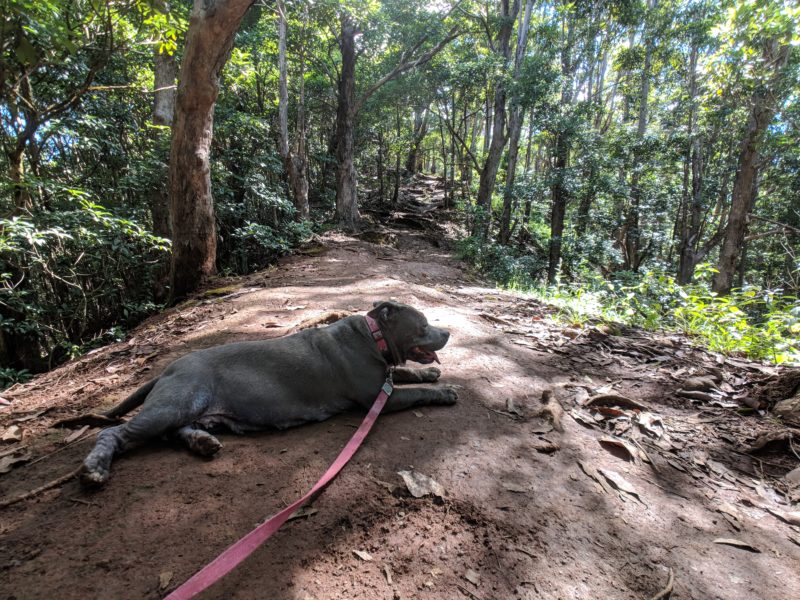 The Manana Trail "Things To Know" Checklist
Manana trail shares the same trailhead as Waimano Falls. About 20 minutes in you'll come to a fork with signs pointing you downhill to the right.
Almost all of the online reviews and instructions for Manana trail is for Waimano Falls. It's easy to become confused if you don't realize that the trail forks off into a ridge trail and waterfall trail.
The trailhead is at the very end of the cul-de-sac. Do not park anywhere at the end or your car will probably be towed. Residents will also be upset if you do so.
Park respectfully along the curb but don't make too much noise, especially early in the morning. Residents may be sleeping, especially on the weekends.
There are no bathrooms, but there are rubbish cans and recyclables at the trailhead.
Dogs on leashes are allowed on this trail.
Manana trail is also a hunting trail. Don't stray from the path and wear bright clothes.
Beware of pig poop! Every time I've hiked here I've seen at least one pile. They're pretty easy to see and you'll smell it before you see it.
The best time for guava hunting is September thru October in my experience.
Manana trail also makes for a good workout for mountain biking. Occasionally you'll see bikers zooming down or climbing up hills.
One of the better trails after a rain. You don't have to worry too much about mud as the water naturally drains down or dries up. Most of the dirt paths here are very stable due to the roots holding everything together.
Planning On Making A Stop At Manana Trail?
There are plenty of reasons to put Manana trail on your itinerary. It's not as famous as Diamond Head or Makapuu, but it's less crowded and a very beautiful hike to enjoy in a non-touristy city on Oahu. The views are spectacular and it's roughly a good 2 hour hike that will make you break a sweat without wearing you down.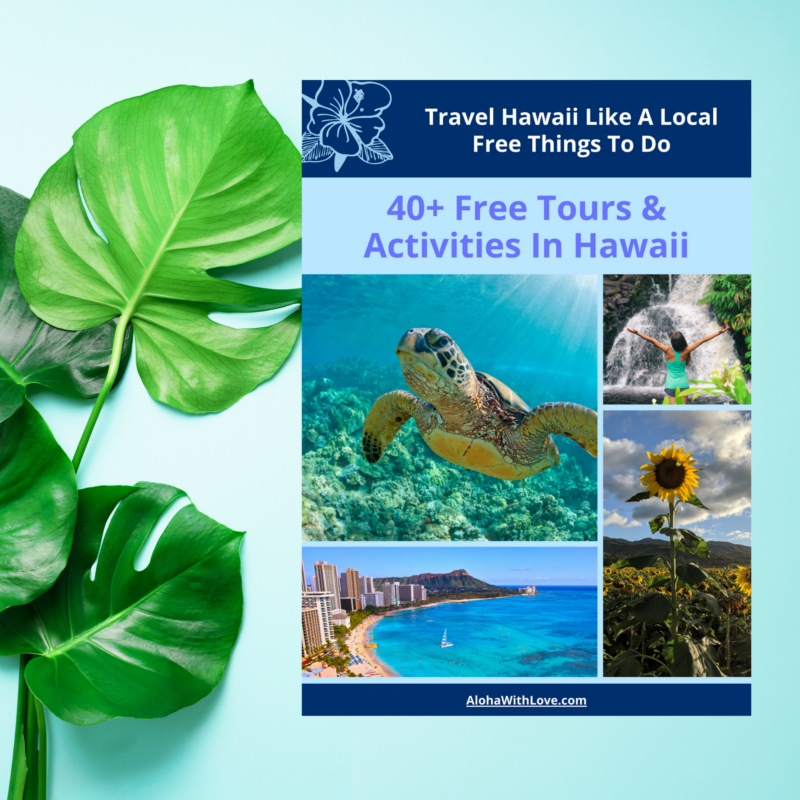 Want to go on a free tour in Hawaii?