This post may contain affiliate links, which means I'll earn a small commission if you purchase something through these links. You won't pay any extra; instead, you'll be helping Aloha With Love to thrive. Thank you! Learn more.
COVID-19 has affected many of Hawaii's businesses and events. Please double check their dates and times before you go or make plans. Visit HawaiiCOVID19.com for more information.
--
It's January and time for me to get some Oahu whale watching in!
The awesome folks over at Atlantis Adventures invited me to experience The Majestic whale watching cruise and I have got to say – the cruise was AMAZING! Their new ship is beautiful, comfortable and classy and you'll travel in style as you glide along the Waikiki coast on the search for humpback whales!
If you end up on The Majestic whale watching cruise like I did, be on the lookout for sea turtles, flying fish, dolphins, and a variety of sea birds that will add even more fun to this fantastic cruise. In fact, this may be one of the best memories you'll ever make in Hawaii. Enjoy!
Aloha with love,
Amy
The Majestic Whale Watching Cruise in Waikiki
I hear a lot of questions about where the best Oahu whale watching is done. There are a variety of choices boasting the best whale watching experience such as on a Waikiki cruise, the Makapuu hike or along the Waianae coast on a snorkel excursion. If Oahu whale watching is your only option, then I personally think a Waikiki whale watching cruise is your best bet.
Book your tickets for The Majestic whale watching cruise.
Read More: A Short And Basic Guide For Whale Watching In Hawaii
What To Bring To The Majestic Whale Watching Cruise
A light jacket. Even the hottest days can seem too cool with the constant ocean breeze and indoor AC.
Sunscreen, hat and sunglasses. On the sunniest of days, these will be a lifesaver. Hats can be blown off easily so make you've got these firmly secured.
Comfortable shoes. You'd be amazed at how many people where high heels to a cruise. The Majestic whale watching ship is not a huge cruise liner where you'll barely feel the waves. The last thing you want is a twisted ankle.
An empty stomach. The buffet lunch provided by The Majestic whale watching cruise was great. Anybody can find something to eat and you may find yourself returning often to find something to nibble on.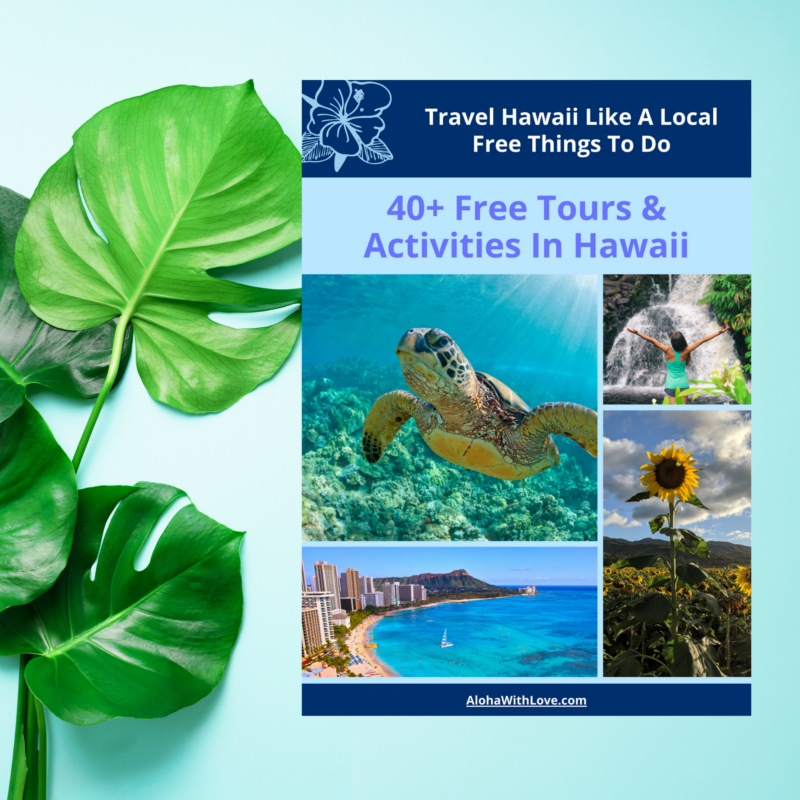 Want to go on a free tour in Hawaii?
Other Oahu Whale Watching Opportunities
My Majestic Whale Watching Experience
You can reserve your tickets at Hawaii Activities, which also has occasional discounts. Children 6 and under are free and I highly suggest you take advantage of their complimentary shuttle service if you're within the Waikiki area. The "shuttles" are actually those large tour buses with AC, so you'll get a free and comfortable tour through Waikiki.
Local Tip: If you manage to grab a seat behind the driver, don't be afraid to ask them any questions you have about Hawaii – many of them have been driving around Oahu for several years and know all the secrets!

Another Local Tip: If you decide to come on your own, parking at Pier 6 will cost you about $12 at minimum for the length of the cruise.
When you arrive at Pier 6 (near Aloha Tower), you'll be dropped off near the front of the ship with an easy walk in. The Majestic certainly earns its name with its eye-catching design and gorgeous outdoor and indoor decks. The ship also features plenty of viewing space even with a full crowd so you don't have to worry about finding an open spot on the sides.
Local Tip: When a whale is spotted, the captain will turn the boat so that the whale is at either 10 or 2 o'clock (pretend the ship is a big clock with 12 o'clock being straight ahead).
The Majestic's 2nd deck is the first place you'll get to explore. There's a snazzy drink bar, plenty of food to fill you up, a restroom, large windows and a relaxing atmosphere with a lounge feel to it. The entire room is cooled with AC, but you'll have easy access to the outside deck (right behind the bar). There is also a live musician here and their tunes will play throughout the ship.
Local Tip: The 2nd deck's restroom often has a line, so head to the 1st deck's restroom instead (the 1st deck is normally closed for whale watch excursions).
The Majestic's 2nd Deck Seating
If you have very young children who like to wander off, get seasick easily, like the idea of relaxing on the lounge chairs or want to avoid the sun and wind, then the indoor 2nd deck is for you. Keep in mind that most people will rush outside whenever whales are spotted so you'll have most of this room to yourself to enjoy the view!
Local Tip: Find a seat in the middle if you're really sensitive to the ship's rocking motion.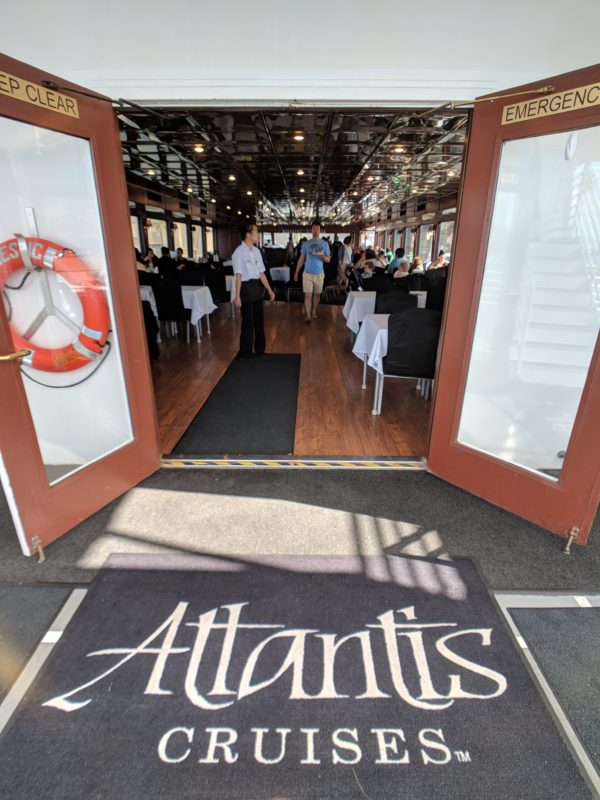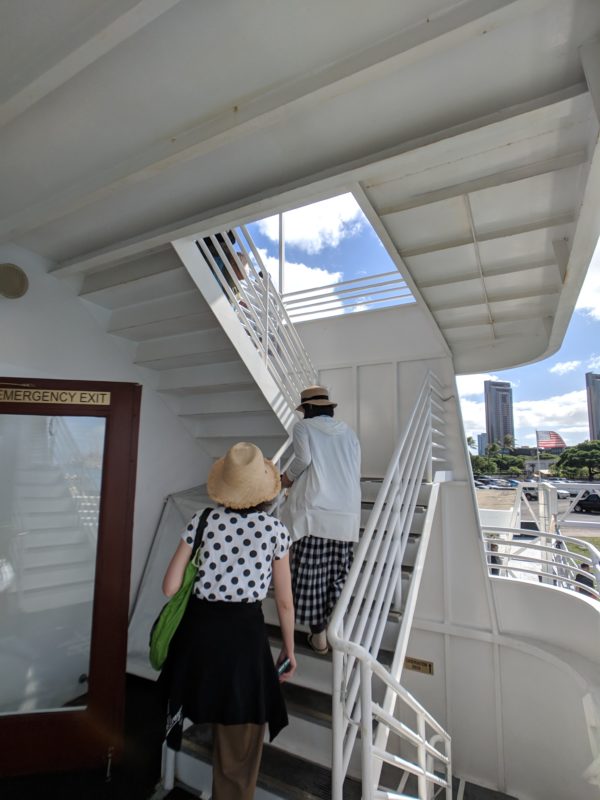 The other deck you can choose to sit at is the outdoor 3rd deck. From the entrance/exit of the 2nd deck, take the stairs up to a fantastic outdoor viewing area complete with tables and chairs, a pleasant sea breeze and a full roof that will block the sun from burning your skin.
Personally, I liked this deck the best! The cool breeze in my face was refreshing and it felt like being on a picnic out at sea. There are no seating arrangements, so feel free to choose your favorite spot.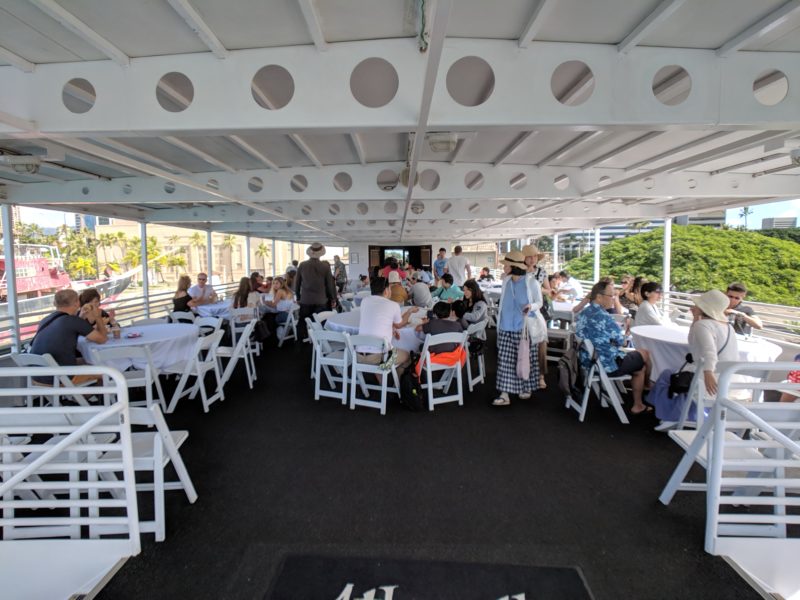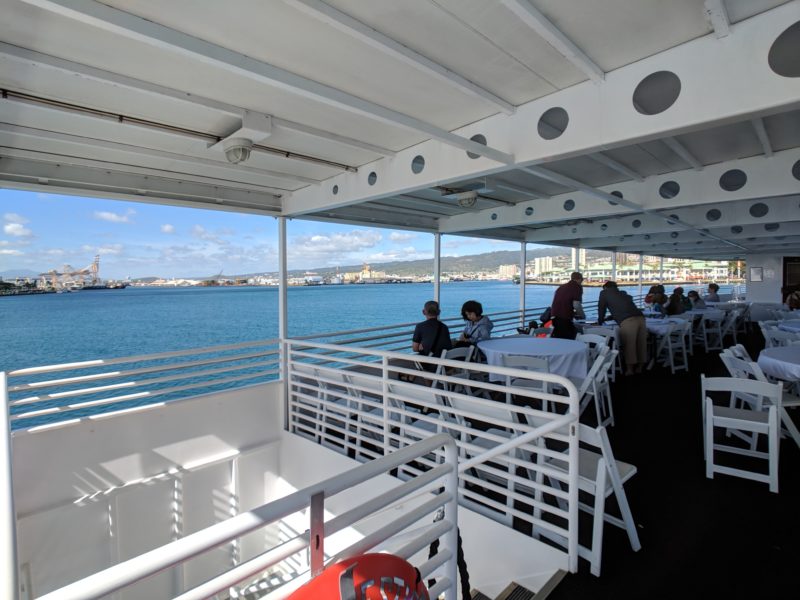 The Majestic's 3rd Deck Seating
If you're prone to seasickness, then this might be the deck to avoid. The rocking motion is noticeably stronger here. But, if you're fine with being out on the water, the view is incredible! You'll also have access to the 2nd deck outdoor viewing area (yup, the one behind the bar), so it's a win-win here.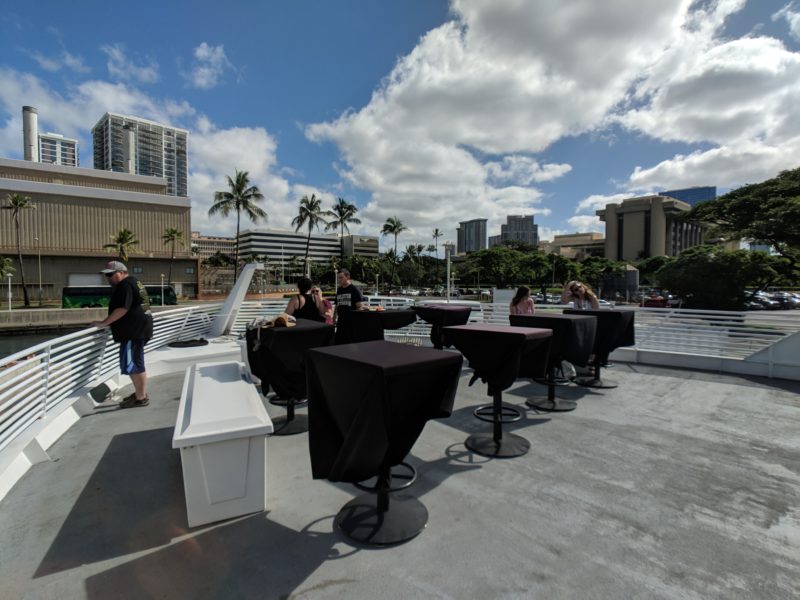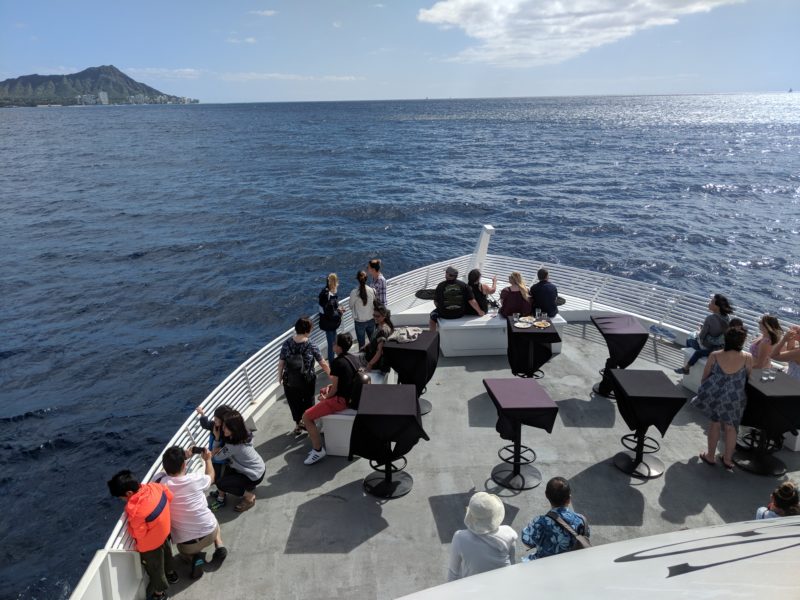 A few determined whale watchers will make their way out to the 2nd deck outdoor viewing area immediately, but keep in mind that there are no seats for the tables here. There are only 3 benches to sit on and you'll have to stand up in order to see the whales properly.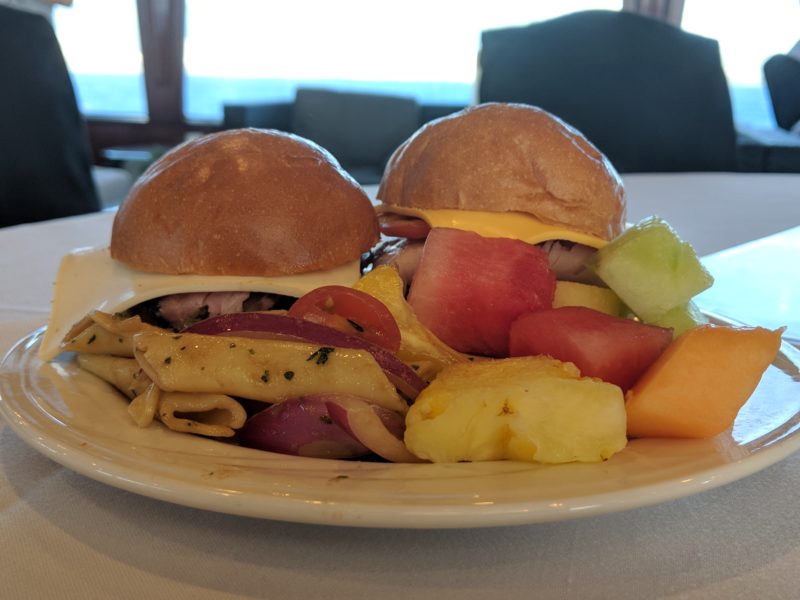 I found the food to be tasty and filling – there was nothing too rich that would potentially upset my stomach for a ride on the waves. There were various cold cuts and cheeses to choose from to make a sandwich and slices of fresh tomato and lettuce made it even better. A cold pasta and fruit salad was also enjoyable and filled me right up. There were even potato chips and cookies to nibble on to polish off my meal!
The food is available until the end of the The Majestic whale watching cruise so there's absolutely no rush. Boarding all passengers takes a while and most likely a whale won't be seen until the ship gets out of the harbor. So find a seat, pick out your food and drinks and enjoy the ride out!
A few things to look out for is when The Majestic pulls away from Pier 6. Just lean over the starboard ("right") side to watch the action. Once that's done, make your way to the back of the boat as you speed your way out the harbor. It's a great photo opportunity as you leave Oahu behind because the view is beautiful and ever-changing as you get farther away.
You may even see fishermen waving at you from Sand Island as The Majestic makes its way out (I waved back at them!).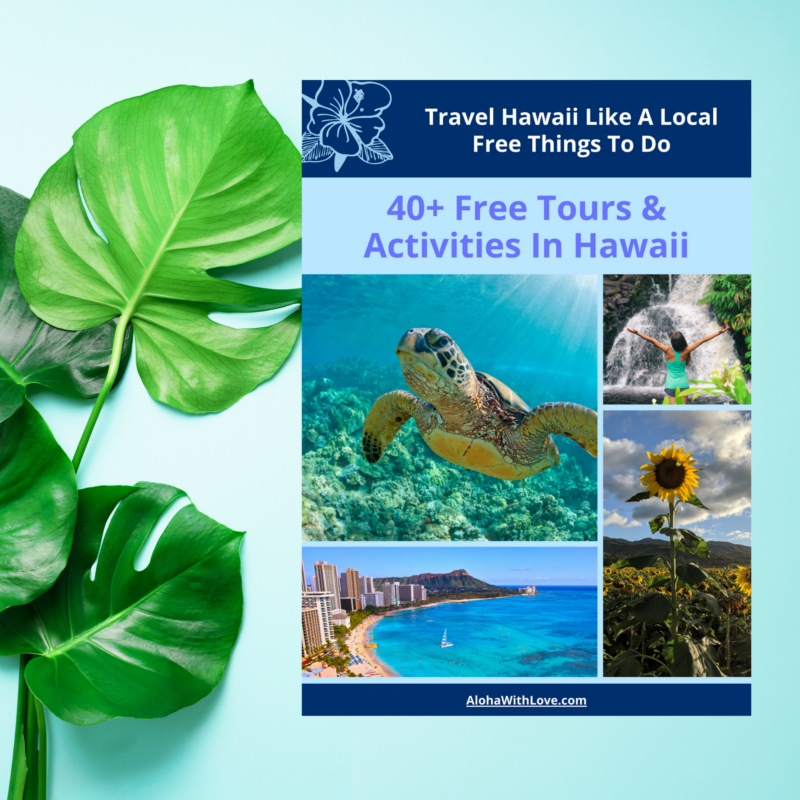 Want to go on a free tour in Hawaii?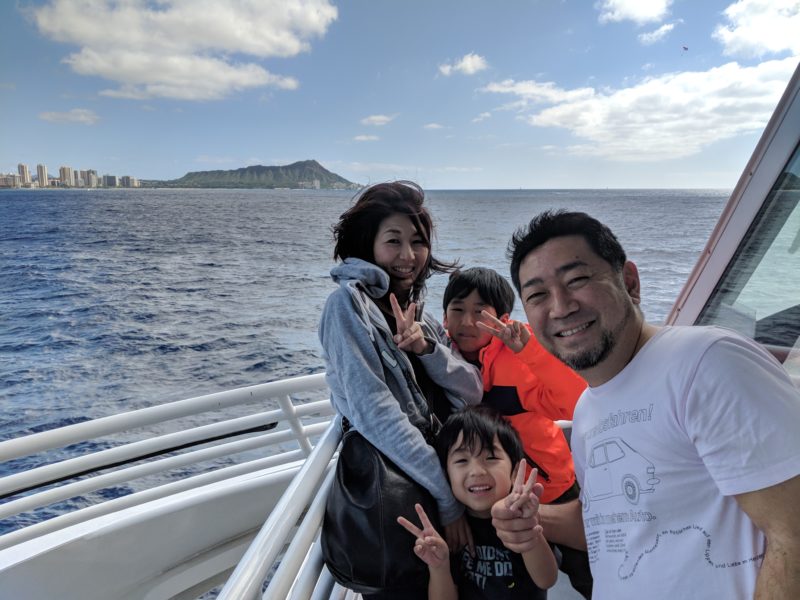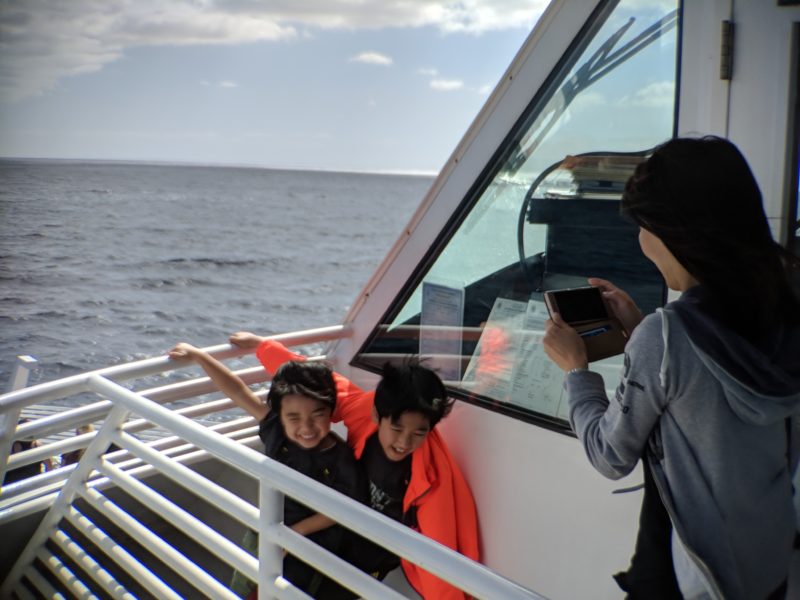 I'm sure you'll also spend plenty of time just having good old fun on The Majestic as she makes her way along the Waikiki coast. These two kids were having such a blast with the strong winds that I asked if I could take a picture of the whole family (mahalo!). With famous Diamond Head in the background, this family memory came out beautifully!
Once The Majestic has made its way out the harbor, you'll be on the lookout for whales! The best way to spot them? Scan the horizon back and forth and look for their spouts. It will look like a puff of smoke shooting out of the water and will disappear just as quickly as it appeared. The key is constant surveillance.
If the whales are feeling particularly playful, you'll see them performing a bunch of breaches, bobs and tail dives. I was lucky enough to see them breach (jump) 5 times! Definitely amazing!!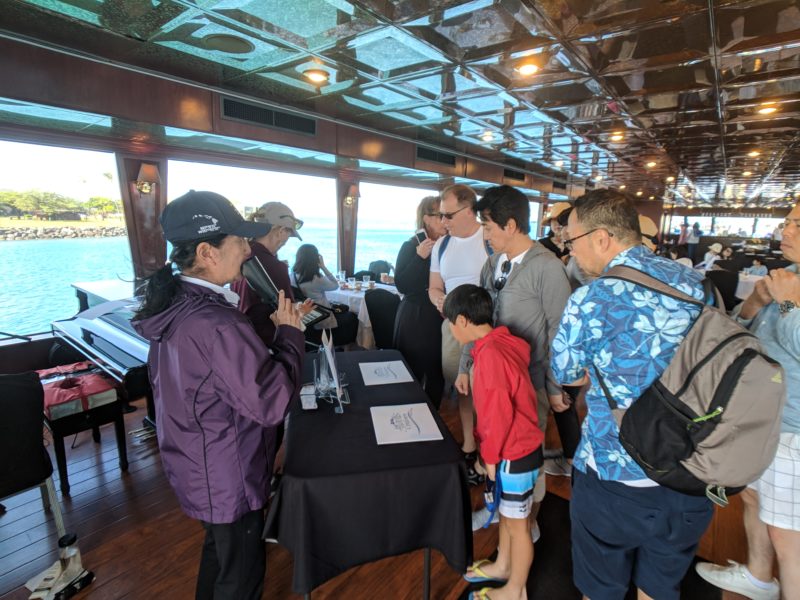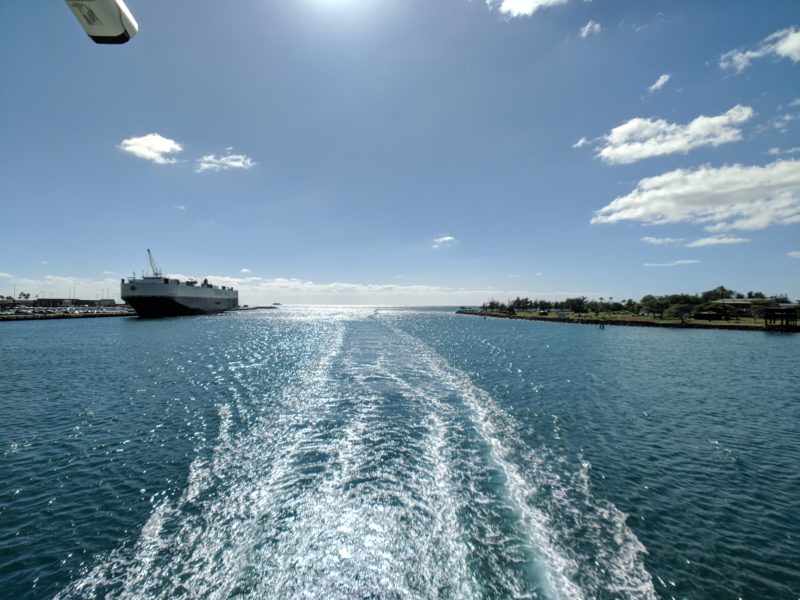 Local Tip: Speaking from experience, it's really hard to take photos of the whales since the moment they're out of the water is so fleeting. The staff will take professional and gorgeous photos of these majestic animals in motion, which you'll be able to purchase as you head back into the harbor.
Going back is also the perfect time to see the whale education room (baleen will be on display), grabbing a last minute snack, and checking out the various whale toys and books that are scattered throughout The Majestic whale watching ship. The staff will also be walking about to give kids (and those young at heart) a whale stamp on their hand to commemorate their day!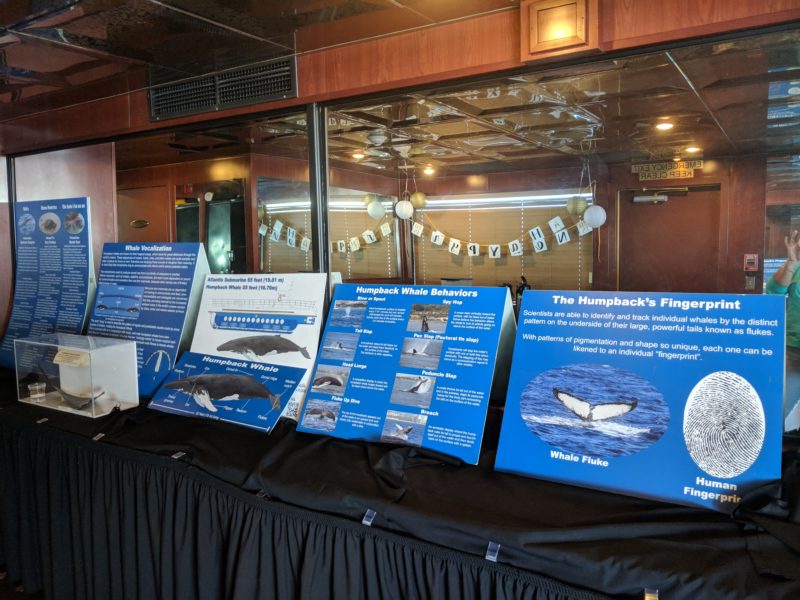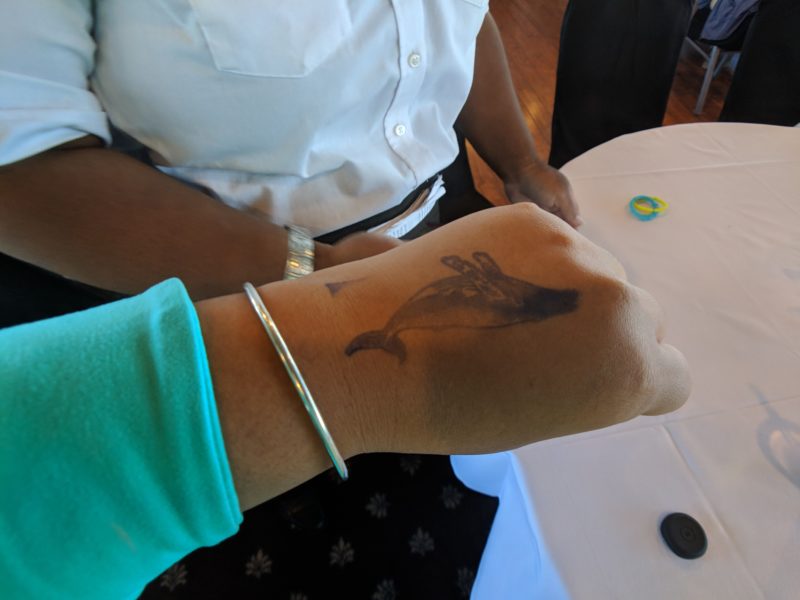 FAQs
Q: What happens if we don't see a whale?
A: The Majestic has a whale watch guarantee: if their whale naturalist does not sight a whale during the cruise, then all guests will be given a complimentary return whale watch cruise.
Q: How long is the cruise?
A: The tour is 2 hours and 30 minutes long, from 11:30 AM to 2:00 PM.
Q: Do I need to bring anything?
A: Definitely bring a light jacket. The 2nd deck's AC may become chilly if you stay in there the whole time and the 3rd deck's constant breeze may seem cold since you won't be in the sun. If you plan on hanging out at the 2nd deck's outdoor viewing area, consider bringing a hat and sunglasses since there is no shade here. Don't forget to load up on the sunscreen as well!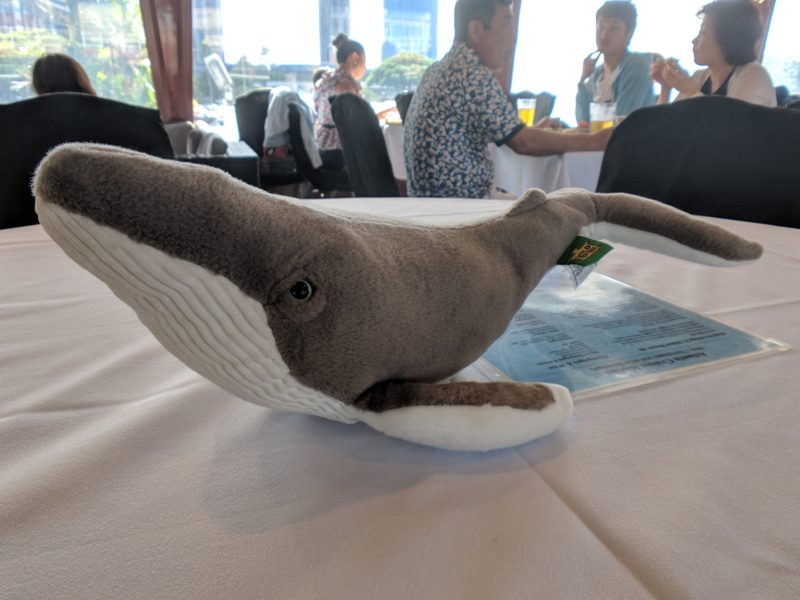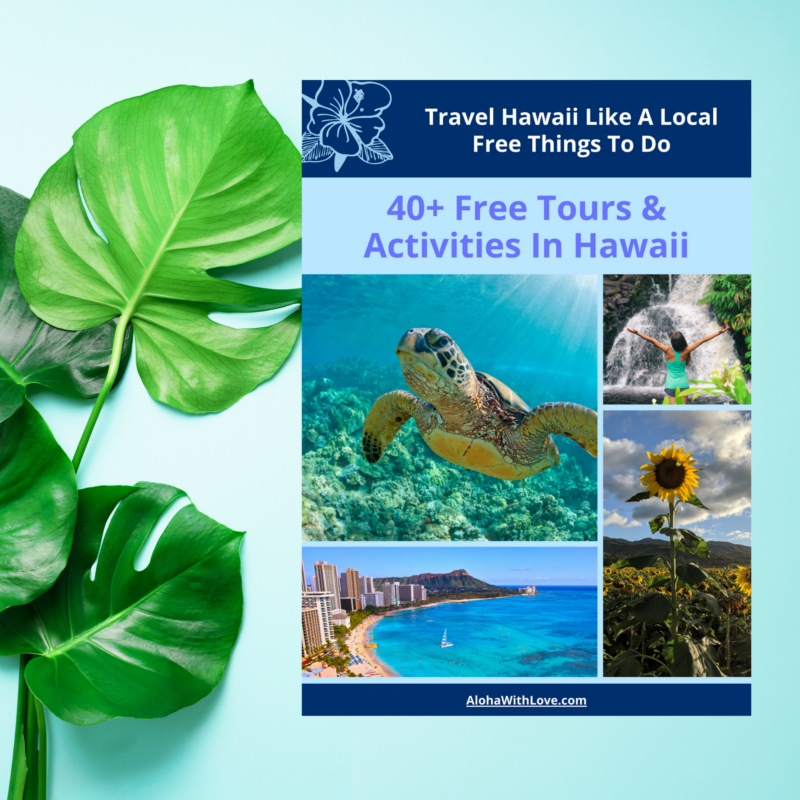 Want to go on a free tour in Hawaii?