This post may contain affiliate links, which means I'll earn a small commission if you purchase something through these links. You won't pay any extra; instead, you'll be helping Aloha With Love to thrive. Thank you! Learn more.
COVID-19 has affected many of Hawaii's businesses and events. Please double check their dates and times before you go or make plans. Visit HawaiiCOVID19.com for more information.
--
For the past few months I've been making holes in Liliha Bakery's seats due to a weekly business meeting and have been fortunate enough to have eaten at this joint at least 12 times!
Liliha Bakery is locally famous. The original Liliha Bakery on Kuakini street has been there since 1950 and it's one of those places where you have to wait in line, squeeze into limited seating and suffer as glorious scents of hot butter, sizzling breakfast meats and toasty-sweet pastries waft up your nostrils. It's an awesome place for a true foodie to discover.
Liliha Bakery finally opened a 2nd restaurant on Nimitz highway and this branch looks nothing like the original. It resembles a pretty family restaurant and offers a completely different dining experience. It's spacious with all wooden furniture, gentle lighting, a huge bakery display to salivate over, and an open kitchen where you can watch your pancakes bubble.
If you'd like to try the staple Liliha Bakery food in a more comfortable setting, put this on your itinerary!
Aloha with love,
Amy
Liliha Bakery Is Famous For 2 Things.
Pancakes and coco puffs. If you don't have a clue on what to order, go for these because they won't disappoint. They might just blow you away!
Let's talk pancakes first. I'll get to the coco puffs. I promise.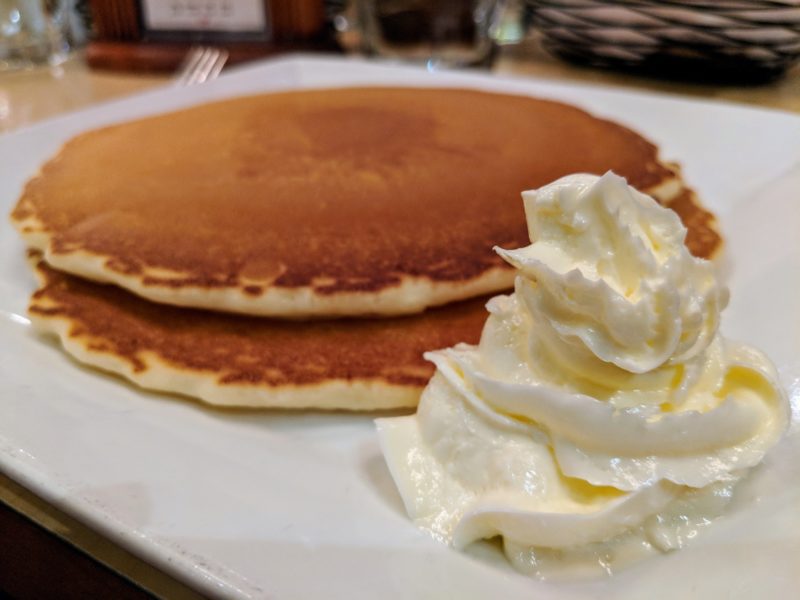 My Dad is a "pancake hunter". On occasion, the hunger for pancakes would strike him and we would go out to eat pancakes. He'd critique each pancake – comparing the fluffiness to other pancakes from different shops or expressing a disappointing frown when the pancakes weren't as good as the last time he was there.
Liliha Bakery is one of the few places on Oahu where you can get spot-on pancakes – huge, fluffy and light – every single time. They come out hot and the butter doesn't just melt. It seeps into the pancake like a sponge, giving each heavenly bite that exquisite base of salted buttery goodness.
The syrup also soaks into the pancake and instead of dripping back onto the plate with each bite, it instead holds on for dear life and bursts in your mouth as you chew and swallow.
Liliha Bakery has been doing pancakes for over half a century and I've yet to hear a complaint about their pancakes (and hope I never do!). They always hit the spot and I encourage you to try them out if you're a pancake hunter like my Dad.
Local Tip: Try Koa Pancake House for another awesome hot cake experience. My visiting friend requested "Hawaiian pancakes" (I have no idea what that means) so I took him to Koa's. Consider his mind blown!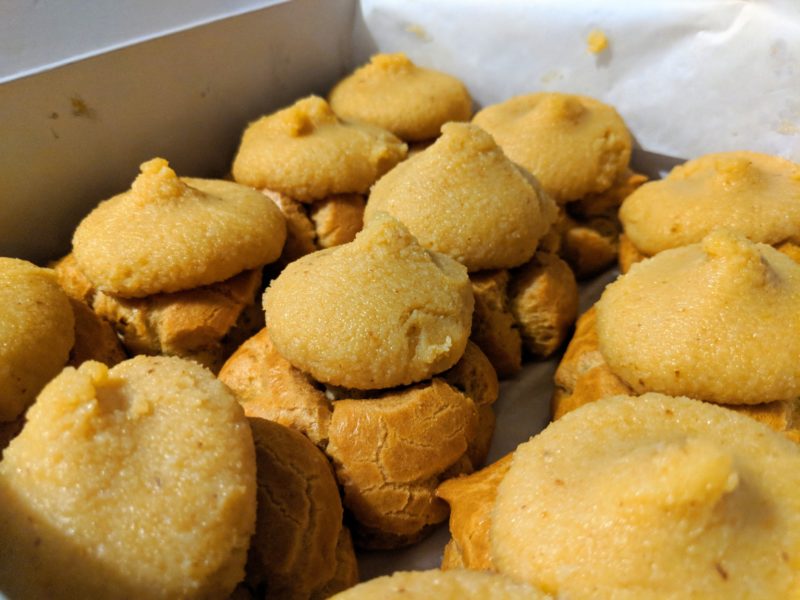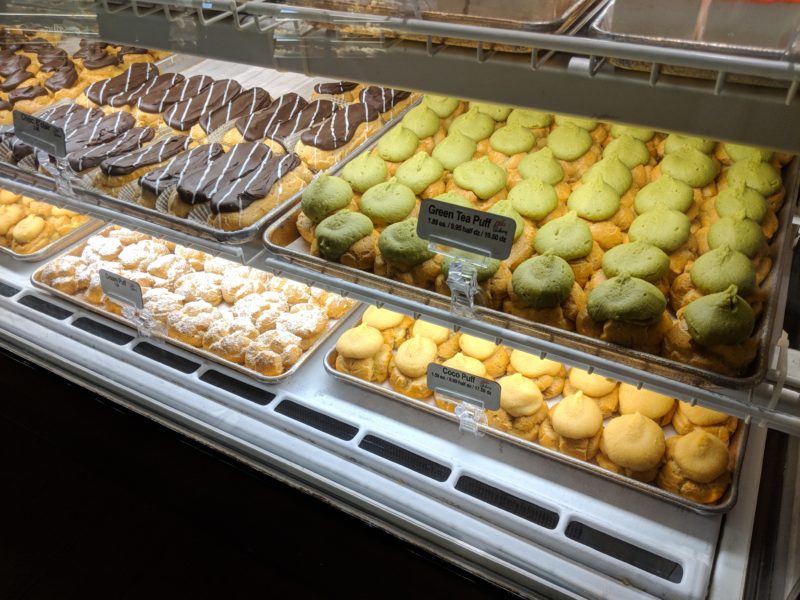 If you've made it all the way to Liliha Bakery, you cannot leave without their coco puffs. I don't care if you're full and can't eat another bite. Order a few to take home with you in a box and eat it back at your hotel when your senses have returned.
Local Tip: These delicious pastries are often brought to work and shared on special occasions. It's also common to bring these over to neighbor islands as a souvenir for off-island relatives. Pick up a box right before your flight and your friends on the outer islands will lavish you with praise – let them know you got the tip from me!
Topped with a generous dollop of macadamia nut chantilly, the delicate pastry walls are thin and give way to sweet, cold chocolate pudding. You'll finish 1 coco puff in just 2 or 3 bites and one is almost never enough!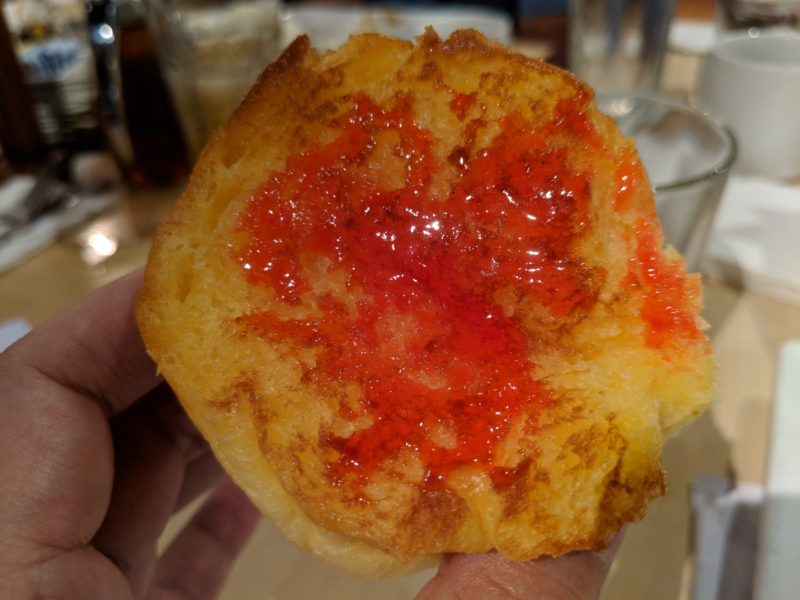 When I say "Liliha Bakery is famous for 2 things", I don't mean only these two menu items will rock your boat. There are so many things that you can order that will rearrange the stars revolving around you. Here are a few things to keep a lookout for when you visit:
Grilled butter rolls with Liliha Bakery's signature strawberry guava jam. Often served along with certain meals.
Gravy. Liliha Bakery does a fantastic job on their gravy. Try out the loco moco or the hamburger steak if you want a taste.
Chicken karaage. A crispy Japanese dish with a local twist. (Featured picture at the top of this post).
Getting To Liliha Bakery – Finding Parking Is The Trick.
Planning your visit to Liliha Bakery is essential. The parking lot only holds about 20 – 30 cars and is shared with Umamiya Shabu Shabu next door. If you come during peak hours on a busy day, you'll find yourself waiting outside for customers to leave.
On weekdays, downtown Honolulu workers on their lunch break crowd the restaurant and will sometimes deplete the bakery while there. The bakery is pretty good in replenishing their pastries though so there's usually plenty available except for maybe on holidays.
This Liliha Bakery sits on Nimitz highway between fast-moving, opposing one-way roads. Check the map in advance so you don't miss your turn, otherwise you'll have to do an awkward U-turn. Nimitz highway also gets crowded during rush hour, which makes it a popular stop if the traffic gets really bad.
Local Tip: The best times to eat and avoid the no parking game is 7:30 AM, 11:30 AM and 5:30 PM (in my opinion).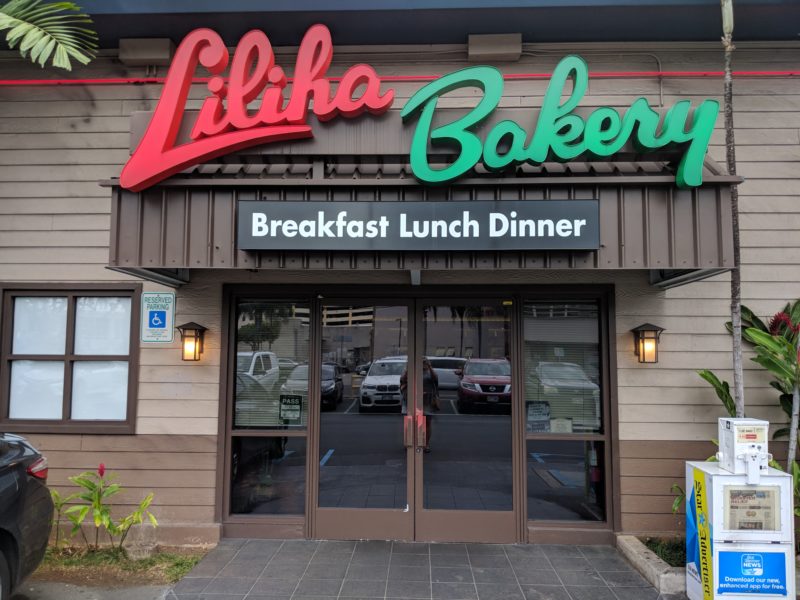 The Bakery – Pastries, Cookies, Desserts.
The bakery in Liliha Bakery is no laughing matter. Here you'll find everything from classic donuts to flaky danishes. There's always a variety of cookies (the lady fingers are my favorite) and you won't be disappointed by the flavored malasadas (lilikoi and haupia!).
Local Tip: There's often a crowd waiting to order so my best plan of attack is to order my goodies while waiting for a seat to open up. You can pick them up after your meal – just don't forget them!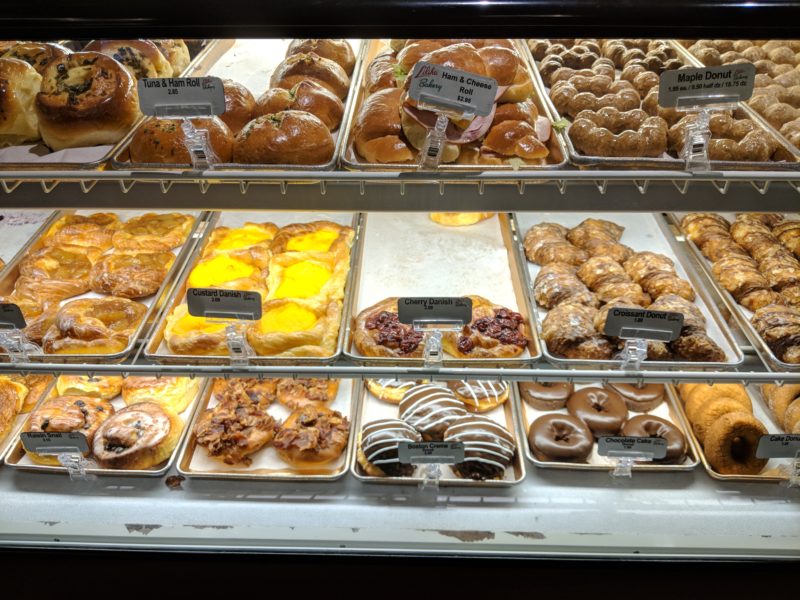 The pineapple rounds are very popular among Hawaii visitors and for good reason. With Hawaii's history closely tied to the pineapple industry, these beautiful cakes catch the eye (and snag the stomach). The glaze is spectacular and just 1 is big enough for a couple to indulge in after a meal.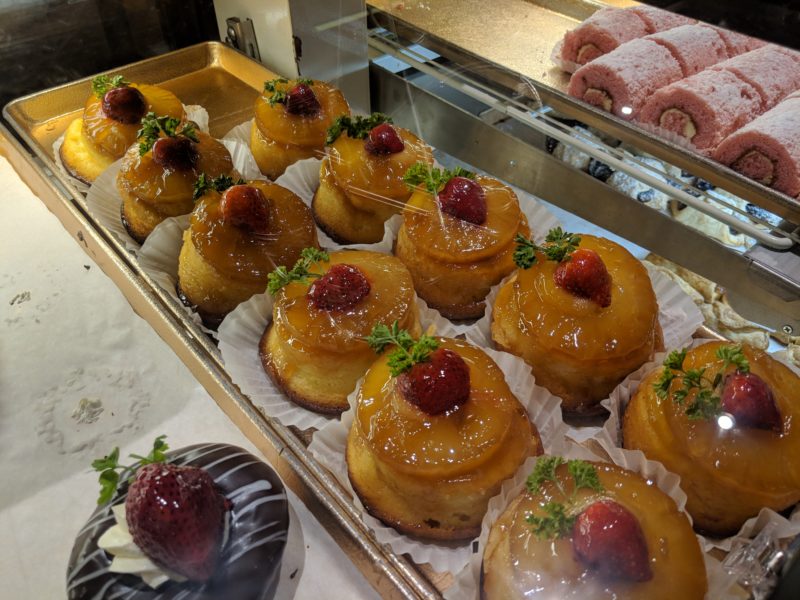 If you were served grilled butter rolls during your meal, you would have also tried Liliha Bakery's ever-popular strawberry guava jam. If you love the flavor, they've got jars of this magical topping for you to purchase. Not only can you put it on your toast at home, but you can also drizzle some on your ice cream, homemade shave ice, fruit and yogurt bowls and even add it to your shakes.
Local Tip: Wild strawberry guava can be found (and eaten) off of many of Hawaii's hikes. If you're lucky enough to find a tree, try one out! Be careful of the seeds though – they are small and tough to bite through if you're a chewer.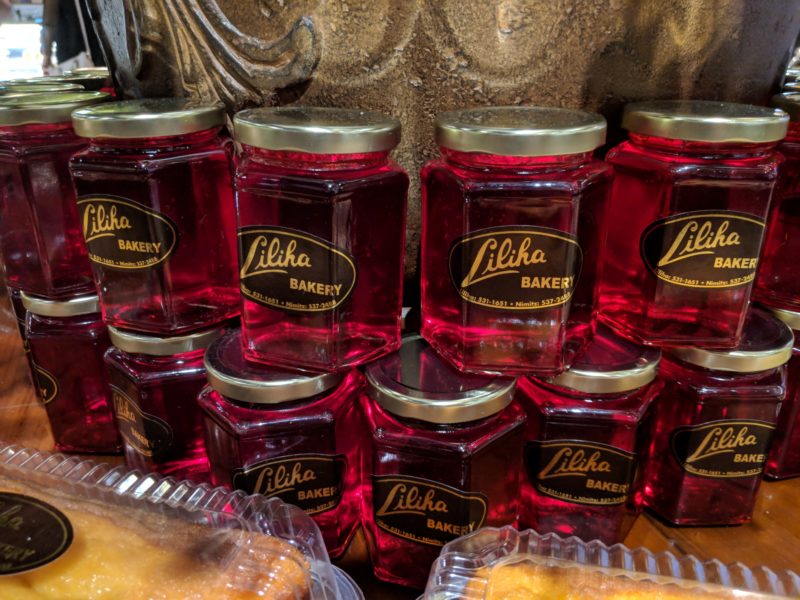 In between the bakery and the seating area, there's an extravagantly decorated table filled with the larger pies, cakes and breads available for sale. The chiffon cakes come in an array of unique flavors and are so light and soft that you may not notice how easy it is to eat the whole thing in one go.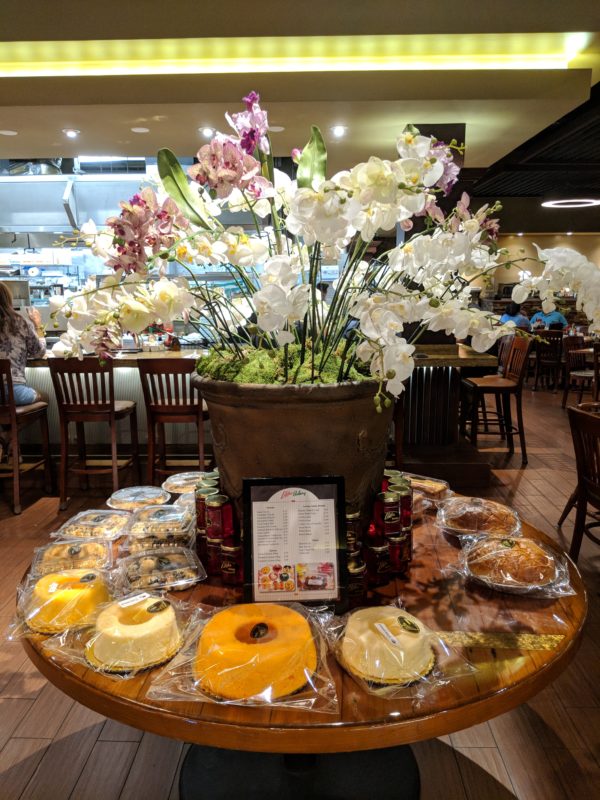 Besides the coco puffs and pineapple rounds, here are a few other personal favorites that you may want to try:
Poi donuts. Locals are always finding new ways to mix poi into everyday snacks. This is just one of them.
Long johns. An extremely popular danish filled with sweet custard and topped with a coating of powdered sugar. This is my brother's personal favorite.
Guava roll. It's not often where you'll get to try something guava-flavored…until you come to Hawaii. These creamy, cake-like rolls are great with a cup of coffee or tea.
Haupia malasada. I love haupia anything, but Liliha Bakery really takes the cake on this one.
The Liliha Bakery On Nimitz Ambiance.
I really love how the Liliha Bakery on Nimitz has made this a totally different eating experience compared to their tiny shop on Kuakini street. The original Liliha Bakery is for the old-timers enjoying a stroll down memory lane. Even my Dad has memories of this place back when they were still "young!"
But you can expect a higher quality of service at the Nimitz highway location. Waiters zoom back and forth and the bakery is always bouncing. The kitchen is visible from almost every corner and the place is spacious! Nothing like their 1 lane seating on Kuakini street with hungry onlookers standing just behind your shoulder.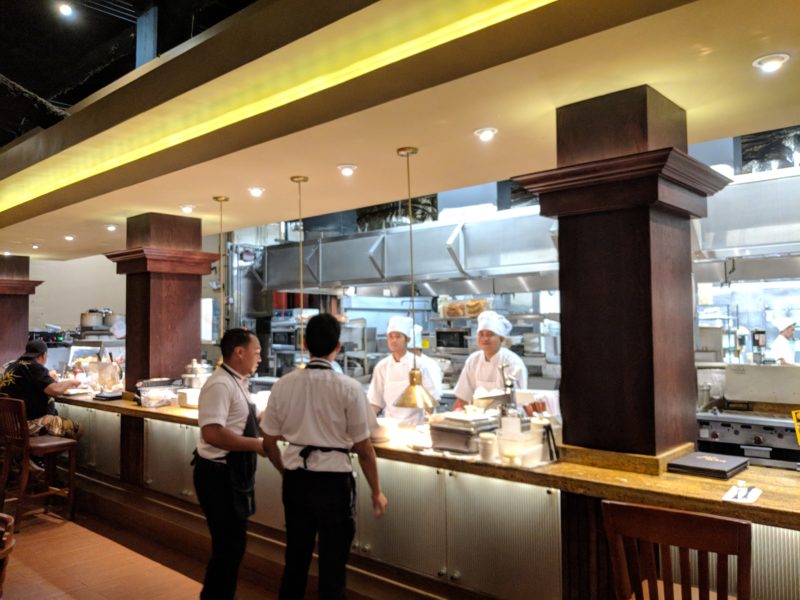 You can choose between regular table seating or "bar" seating which is right up against the kitchen. If I'm just having a casual meal with 2 or 3 people, I'll opt for this seating because I'll get to "people watch" the kitchen staff as they make loco mocos and grill burgers – it's a great way to plan my next meal here.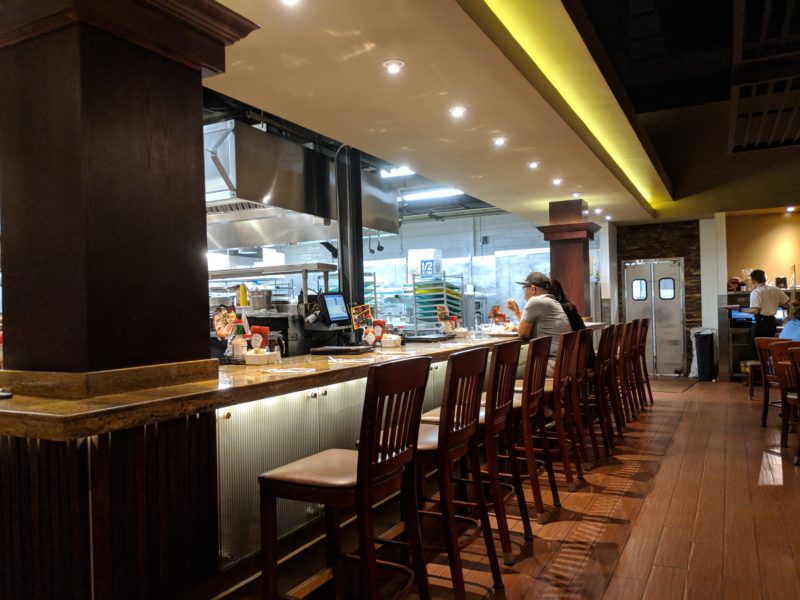 Although you'd think this place runs for 24 hours, it's not. Most days it's open from 6 AM to 10 PM, which is still great hours! You can come during "slower" hours to avoid the crowd. And since Liliha Bakery is known for its pancakes, ordering breakfast at anytime is perfectly OK.
Still Hungry? Try These Gems.
You've probably heard by now that a loco moco is a must when visiting Hawaii. The Liliha Bakery recipe is simple: a hot bed of rice topped with a juicy, handmade beef patty, covered with 2 perfectly runny over easy eggs…and smothered in gravy.
Local Tip: Fried rice is a big thing in Hawaii and you can substitute the white rice here for some fabulous kimchi fried rice. Try it!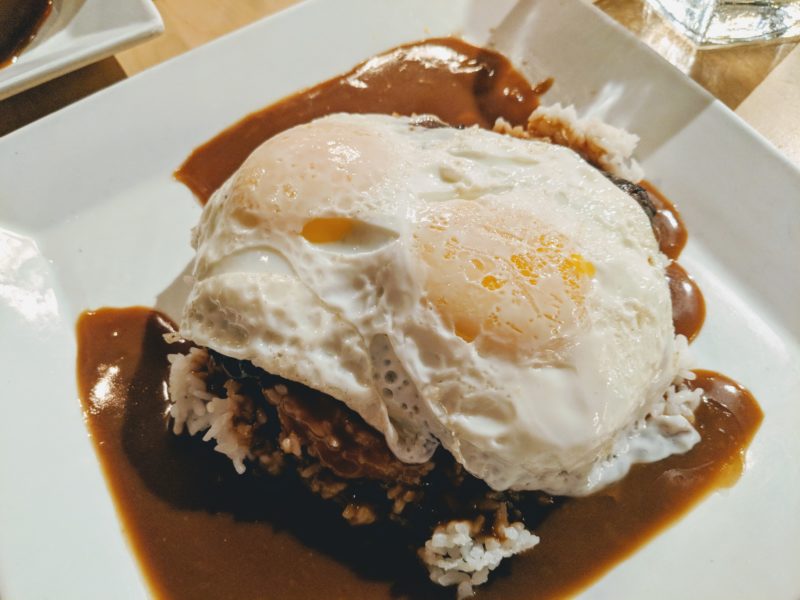 I will say that the one thing Liliha Bakery is lacking are nice, fat and crispy french fries to go with their BLT burger with avocado. I was surprised they didn't have a french fry option, but I'll forgive them since their hot cakes are out of this world.
Local Tip: You'll find mac salad or potato salad as a side dish in many plate lunch menus. The potato salad here is especially killer in my book.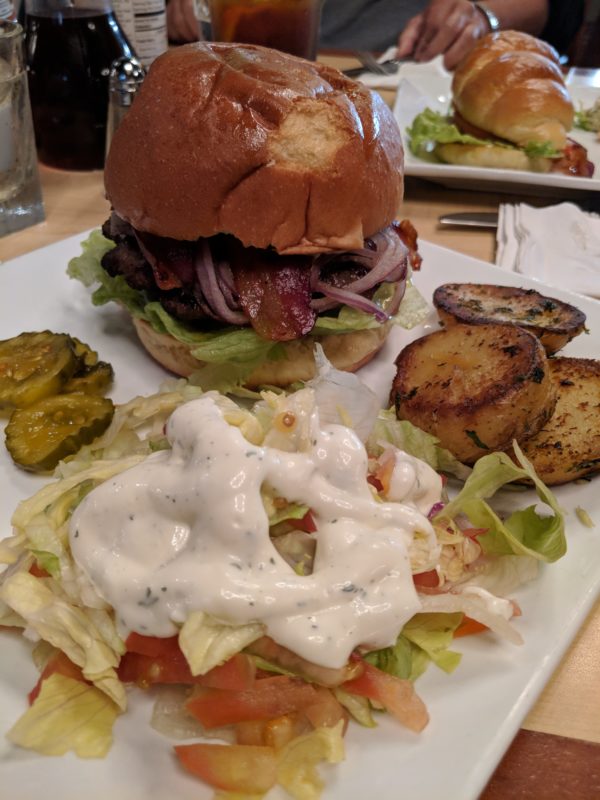 The hamburger steak is another plate lunch dish that's popular in Hawaii. But what makes this one special is that they make their own patties by hand. There's none of that frozen patty thing going on here. The pieces of bread and eggs really hold it all together and make each bite perfect and flavorful.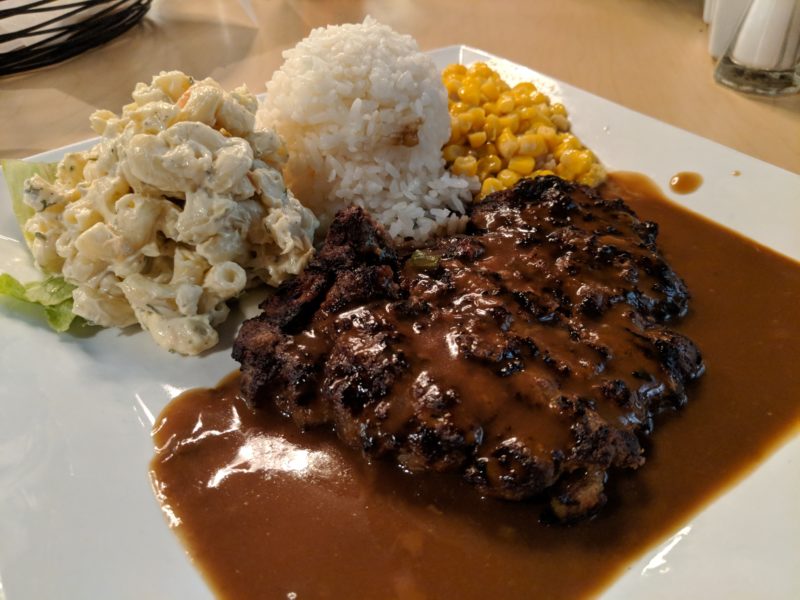 One of my first ever meals here was the chicken karaage curry. Small pieces of boneless fried chicken with a hot bowl of Japanese curry to mix and dip with. If you haven't tried Japanese curry yet, now is the time to do so. Hawaii has a plethora of Japanese curry recipes and you'll find out why Japanese curry is in its own special category.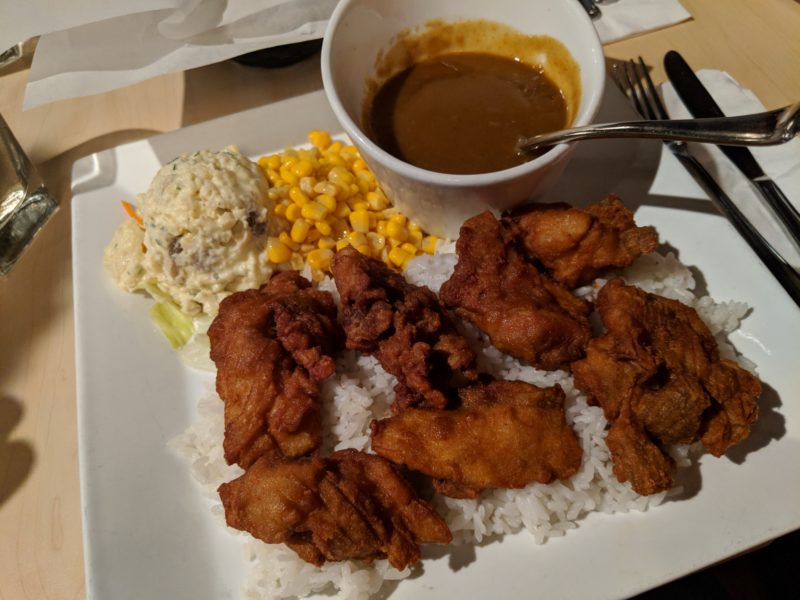 I still haven't eaten my way through the complete menu yet, but here are some recommendations from my tablemates:
The omelettes are fantastic. Most places only offer 2 egg omelettes, but Liliha's has 3. More eggs and more toppings? Can't beat that.
The BLT with avocado sandwich is not only a budget option, but it's still a hefty meal – especially with that avocado in there.
Guava juice isn't as easy to find in Hawaii these days, but Liliha has got a nice serving of it! Kids will love this fruit drink.
If you have money to splurge, try the miso butterfish. This is a local dish that is hard to find these days. I don't recommend it for those with sensitive stomachs (butterfish has been known to mess with your stomach because it's so rich), but that miso flavor will be a taste to remember.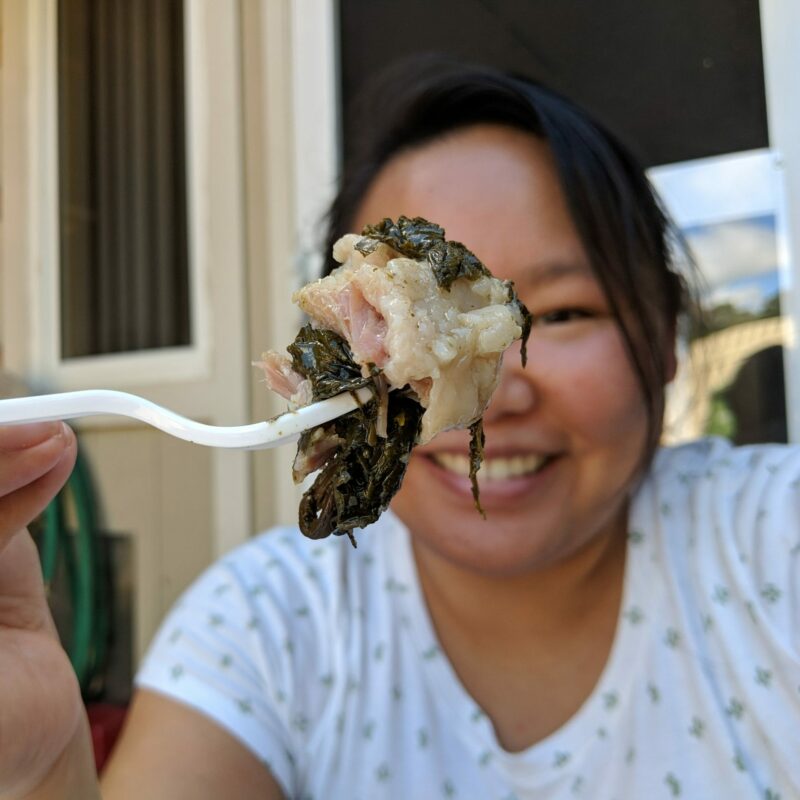 Discover more restaurants, bars, cheap eats, and mom-n-pop shops in Hawaii!