This post may contain affiliate links, which means I'll earn a small commission if you purchase something through these links. You won't pay any extra; instead, you'll be helping Aloha With Love to thrive. Thank you! Learn more.
COVID-19 has affected many of Hawaii's businesses and events. Please double check their dates and times before you go or make plans. Visit HawaiiCOVID19.com for more information.
--
My Dad is a staunch member of the "I love model airplanes" movement and my childhood was filled with parachute rockets and the smell of balsa wood. He knows the name of any airplane he sees, which boggles my mind! It's just random numbers and letters, right? He's even planning on making his own sailboat. From scratch. A 14-footer that will fit in our garage.
By now you've probably planned out your Pearl Harbor day. There's the Pearl Harbor museum, the USS Arizona Memorial, the USS Bowfin submarine tour, the Pearl Harbor Aviation museum (an ABSOLUTE MUST if the title was clickbait to you) and the spectacular USS Missouri tour.
Read More: Visit Pearl Harbor: Everything You Need To Know
I had a chance to visit Leeward Community College for a week, which is crazy because I've never walked around on campus (and I live 15 minutes away). In just a 2-minute walk, the back of the school opens up to this gorgeous panoramic view of the Pearl Harbor middle loch, Pearl Harbor ships, farmland, downtown Honolulu to your left and Diamond Head capping it off.
I now believe that Leeward Community College has the best view of many Pearl Harbor ships. In fact, you really can't see these ships from inside Pearl Harbor. They're just too far away. They (probably) aren't famous and my (best) guess is that they're parked there indefinitely. But it's a cool sight to see them so close to land without a price tag.
The view isn't the only thing to enjoy here. Later in the semester, The Pearl opens up and student chefs show their skills by cooking in a legit restaurant for the public. What can be better than supporting local students and a hot meal?
See ships. Go ballistic.
Aloha with love,
Amy
Update: A couple hours after hitting publish, I read the first few paragraphs to my Dad and showed off my snazzy ship pics. He said, "those are called mothball ships." I looked at my pic, looked back at him, and said "oh, because it has all those white circle things?" Yeah, that got an eye roll and a "no" with a sigh. Lesson of the day, mothball ships are ships that are put out to pasture, with no intention to ever use them again. Who knew?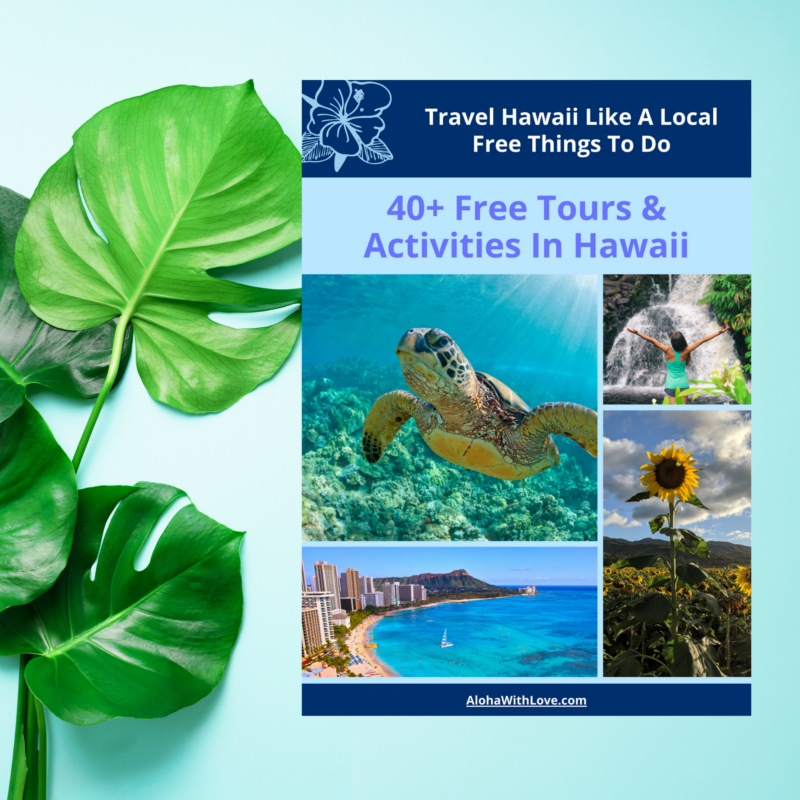 Want to go on a free tour in Hawaii?
Pearl Harbor Ships And Cattle Egrets
When I first saw the view, I was flabbergasted.
I was 10 minutes early to my appointment and ran around in the early morning sun cross-campus snapping as many photos as I could with my smartphone. I was smarter the next day and brought my Fuji and a couple of lenses to play around with.
The campus itself is really a piece of work. Most locals, including me, don't associate this area as one of beauty. Instead we probably all think of traffic. The H-1 and H-2 merge sits right in front of Leeward Community College and stretches our commute into town to over an hour on normal days, 2 hours on those really bad days.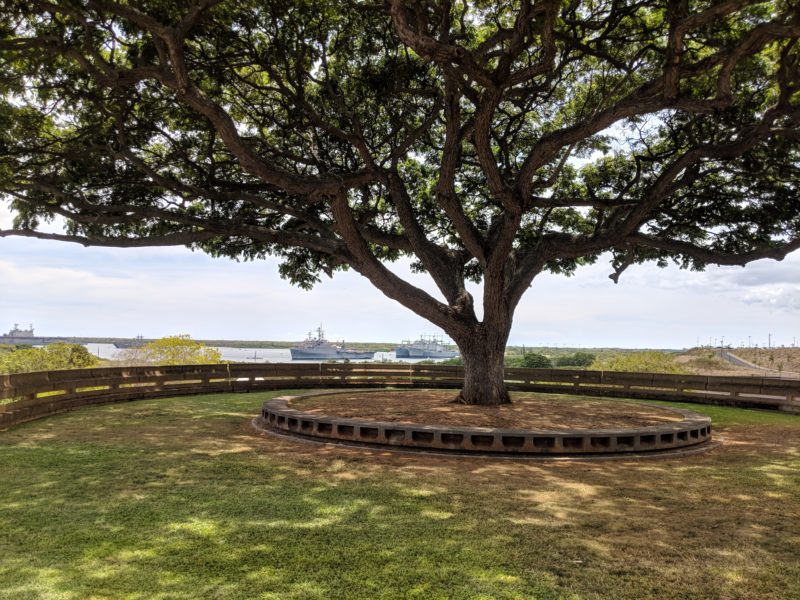 My favorite spot to view the Pearl Harbor ships was at the back of the school on the right side. You can't miss this monkeypod tree. It only takes about 10 minutes to walk across campus so it's easy to find. The shade is glorious even in the hot afternoon sun and there were only a few students here even during the busy lunch hour.
Fun story: More than once I ate a peaceful home lunch here and enjoyed some free music by a couple of students. A young man strummed on his ukulele, while the lady next to him sang harmonies. There was no shame in singing out loud to their heart's content and it put a smile on passing faces.
The sky was hazy, but my zoom lens captured little details on the Pearl Harbor ships. For avid photographers lugging around those giant telescopic lenses, this will be a fun outing to get some clear pictures. I walked from end-to-end on campus and even went upstairs for some high vantage point shots.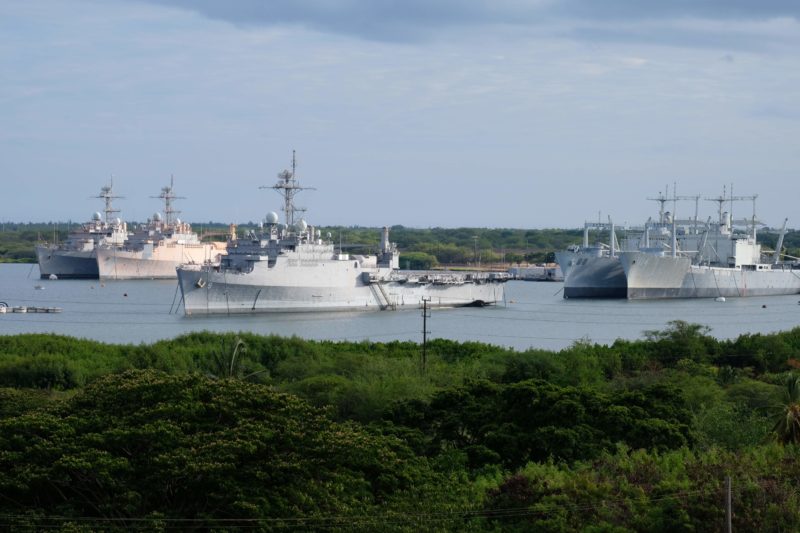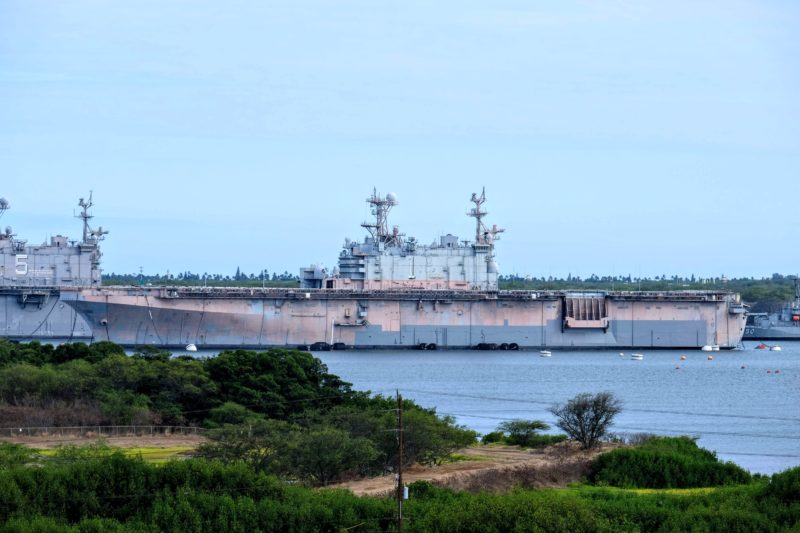 I was also surprised to see cattle egrets – everywhere! On the first day I arrived at Leeward Community College, the lawn was freshly mowed and a big flock of them were hunting for loose worms and bugs in the grass. Their "peck and flip" of the head was a telltale sign of dinner being served – in this case it was breakfast.
For more on cattle egrets: check out The Private Naturalist's post on Hawaii's Beautiful Invaders. There are plenty of cattle egrets on his home island, Maui and he has some interesting facts and personal observations about them.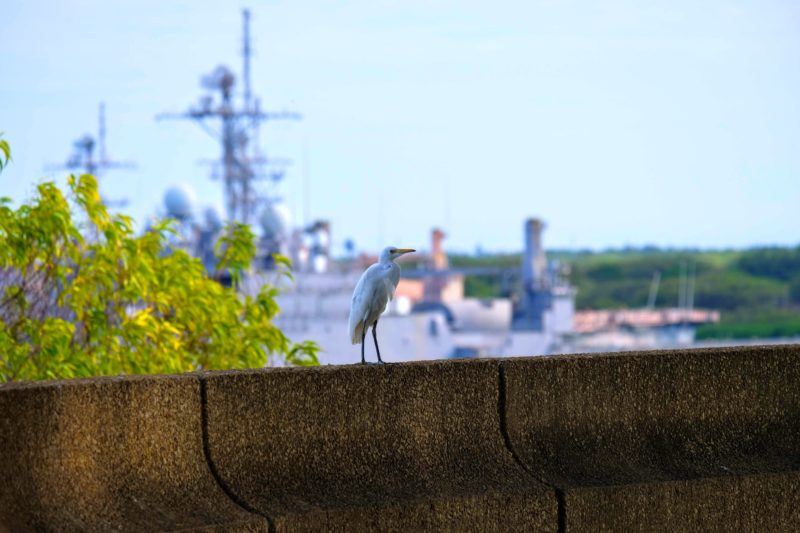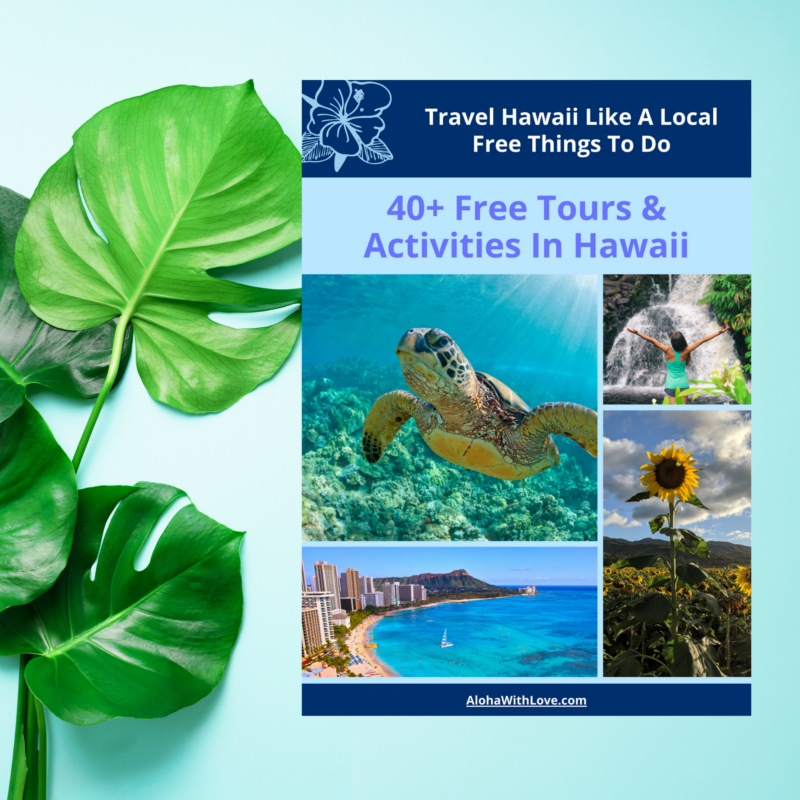 Want to go on a free tour in Hawaii?
Watercress Farms, Diamond Head And Breadfruit Trees
Oahu's largest watercress farms
On the Diamond Head side of Leeward Community College are watercress farms – something you don't see everyday. The bulk of Oahu's watercress comes from this spot. This is probably why there are so many cattle egrets in the area. All that water is a prime location for bugs and insects to swarm and lay their eggs.
Local Tip: The most well-known watercress farm belongs to Sumida Farm, next to Pearlridge Shopping Center. It's an odd sight to see in the middle of a crowded city with bad traffic issues – an oasis of bright green watercress in pools of water and a small grass shack plopped down right in the middle of it all.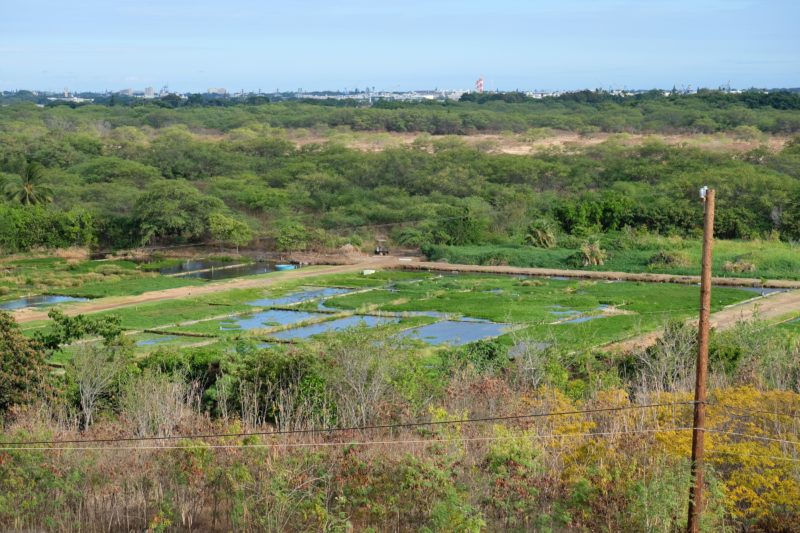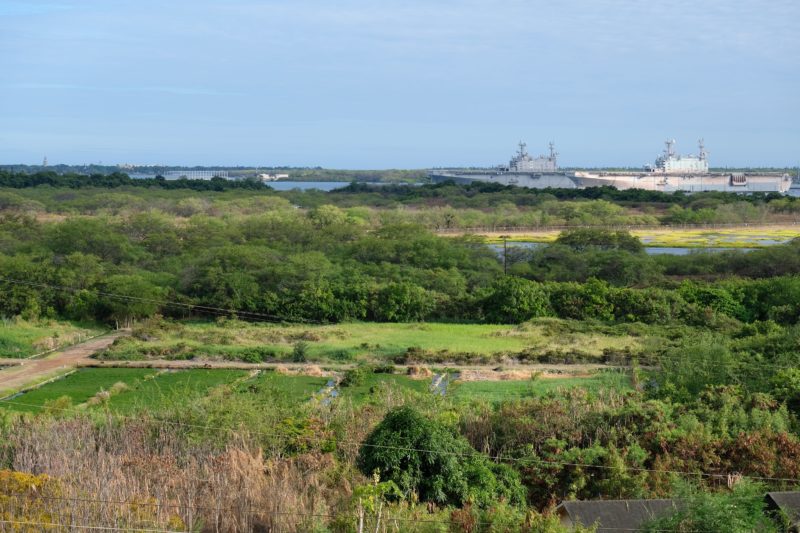 Diamond Head and downtown Honolulu
Diamond Head is far away, but you'll recognize it immediately even from this distance. It was neat to see the towering Koolau mountain range rapidly shrink towards the ocean and meet up with Diamond Head.
Local Tip: The Pearl Harbor bike path runs between Pearl Harbor and Waipahu and has a gorgeous view of the Pearl Harbor ships, the wildlife refuge and the lochs. Unfortunately, for the past several years it has been overrun with many homeless people and dangers. But don't despair! Just this past August, the City and County of Honolulu closed off the path and are currently doing one last sweep and cleaning the area up. Locals have our fingers crossed that this attempt will be successful and enforced. If all goes well, I suggest renting bikes and spending a day biking along the path.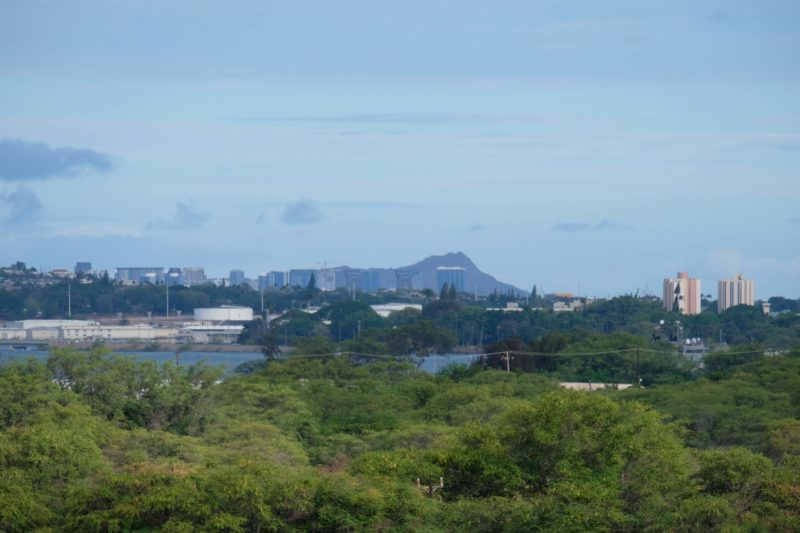 Breadfruit trees and tropical plants
Leeward Community College may be small, but there are some neat things to see as you stroll around. There are a couple of breadfruit trees that the groundkeepers look after and the school architecture has the iconic breadfruit quilt pattern built into its walls.
Similar to many Hawaii colleges, facilities and attractions, several of the plants featured descriptions of the species, Hawaiian name and interesting facts. It's so convenient when you can just lean over and read about what tree you're looking at.
Local Tip: The Shade House is a center that promotes awareness about native Hawaiian plants and trees. Once in a blue moon, they'll hold tours where you'll get to see these plants – many of which are endangered and close to extinct. If you have a chance to attend a tour, sign up for it.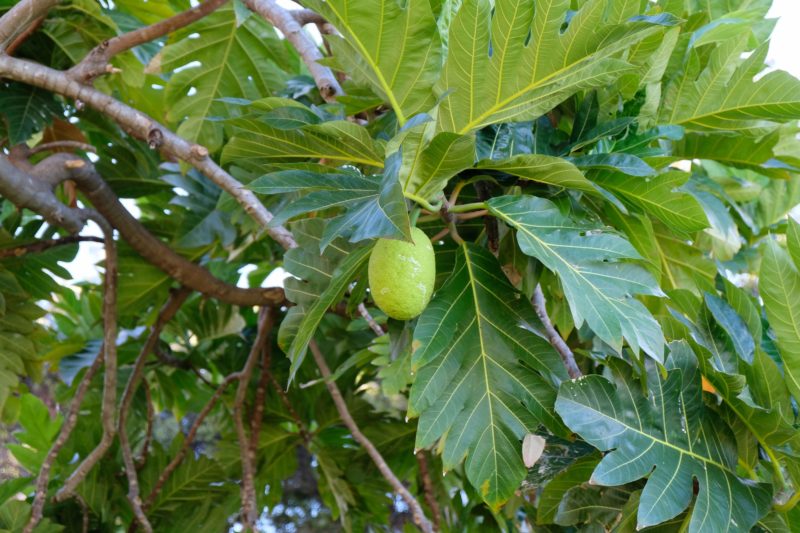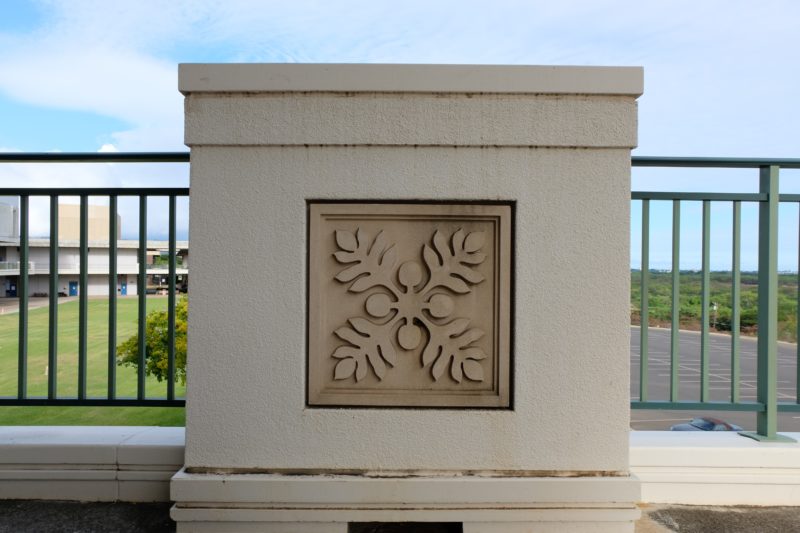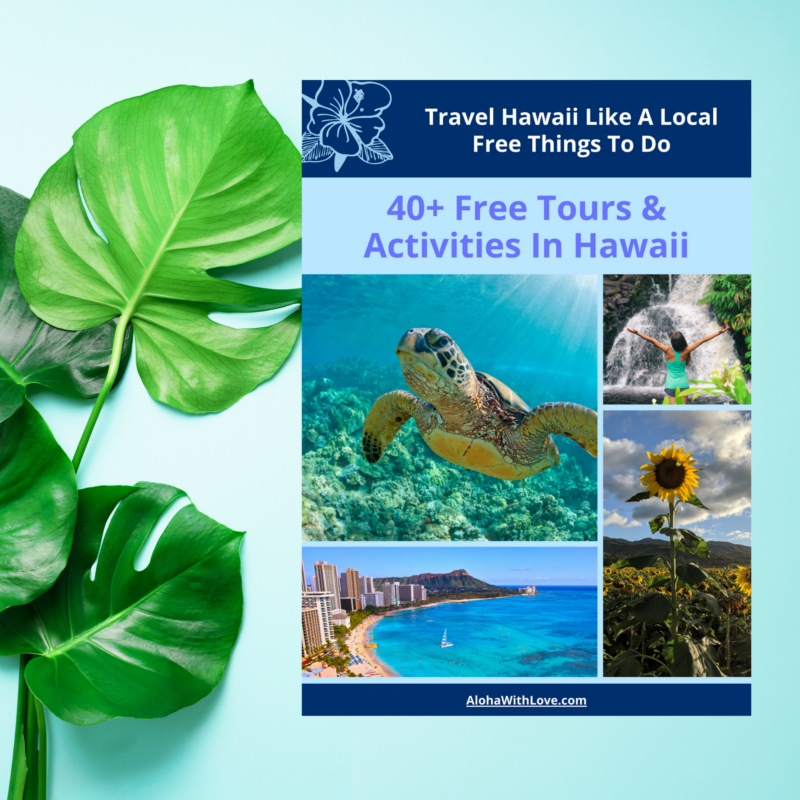 Want to go on a free tour in Hawaii?
Service At The Pearl From Young Local Chefs
I love that Leeward Community College has a classy, fine-dining restaurant for student chefs to strut their stuff! This isn't just food for the stomach. The presentation is a buffet for the eyes and easier on the wallet. The restaurant itself is also lovely. Plenty of natural sunlight comes in through the large windows and the view of Pearl Harbor is spectacular.
Each semester features a different chef that the students work with. Be prepared to salivate for menu items such as Big Island ahi tartar and Hawaiian honey cheesecake with cracked black pepper. Don't they sound divine?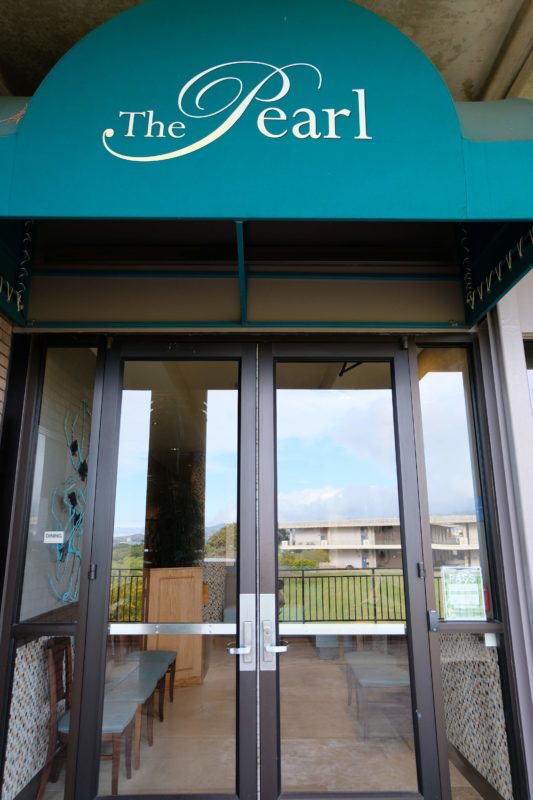 The Pearl – What you need to know before eating here
The Pearl is usually open Wednesday thru Friday from 11:30 AM to 1:30 PM while school is in session, but check The Pearl's website and Facebook page for schedules and updates. They aren't always open due to their curriculum and holidays.
Each semester is completed with the help of a featured chef that the students work with. So most of the menus you'll see are with the help of that featured chef. There are only a handful of days each semester that are reserved for student menus only. Menus change on a weekly basis.
Towards the end of each semester The Pearl will change their menu to buffet style. At only $35 per person, this is a pretty good steal where the deliciousness is almost always 5 stars.
Walk-ins and reservations are welcome! (808) 455-0475.
Cash and check only. I'm hoping one day they upgrade to cards though.
How to get to The Pearl
The Pearl is located on the 2nd floor, but it can be difficult to find if you don't know where you're going. Most students know where it is so if you stop and ask, you'll usually get right directions to the entrance.
The LCC parking lot is huge. To cut down on walking time, drive down Aka Ike road and take the 3rd left into the parking lot. This will bring you to the center of the campus. Drive straight in and if you spot a flagpole and large bus stop made of stone, you're in the right spot.
There are 2 easy ways to walk to The Pearl:
Look for the large central stairs going down. Start off to the right (Ewa) of those stairs and walk straight into the school without turning. The Pearl is all the way at the end in the corner.
Go down the central stairs and walk straight. Off to the right you'll see a large monkeypod tree – the same one in my photo above. Head toward that tree and right at the corner go up the stairwell. The Pearl will be right in front of you on the 2nd floor.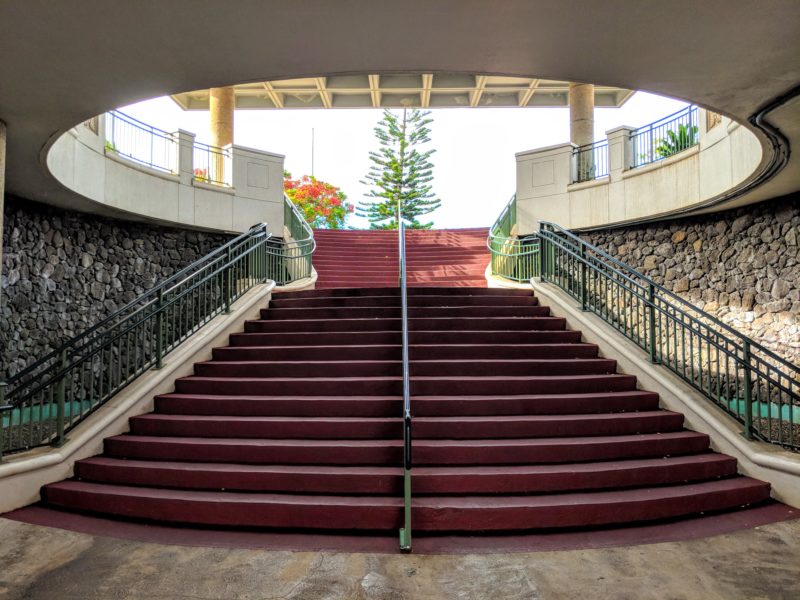 Not Feeling Fancy Food? Try These Cheaper Options
More often than not The Pearl will be closed or you just won't feel like eating fancy food. Here are a few places where you can eat on campus, but only when school is in session (spring, summer, fall):
Uluwehi Cafe – Snacks, fruits and plate lunch style servings. Nothing too amazing here – just sustenance for students to wolf down. A few days during the year, the cafeteria will have an extended menu by its student chefs. These are fun and students look forward to what's available. It's difficult to predict though so it's mostly by chance.
Subway – right next to Uluwehi Cafe.
Kimo Bean – A decent coffee shop located in the Learning Commons.
Hot Dog Hawaii – One man and his cart serving hot dogs. At most you'll spend $5 and the hot dogs are yummy! Bacon dog with grilled Maui onions, pineapple sausages, chili cheese dog – they're all great. He's not here all the time though. If there aren't many students in school, don't expect him to show up. Right in front of the library.
Vending machines – These are everywhere. I've never seen so many vending machines in one place before.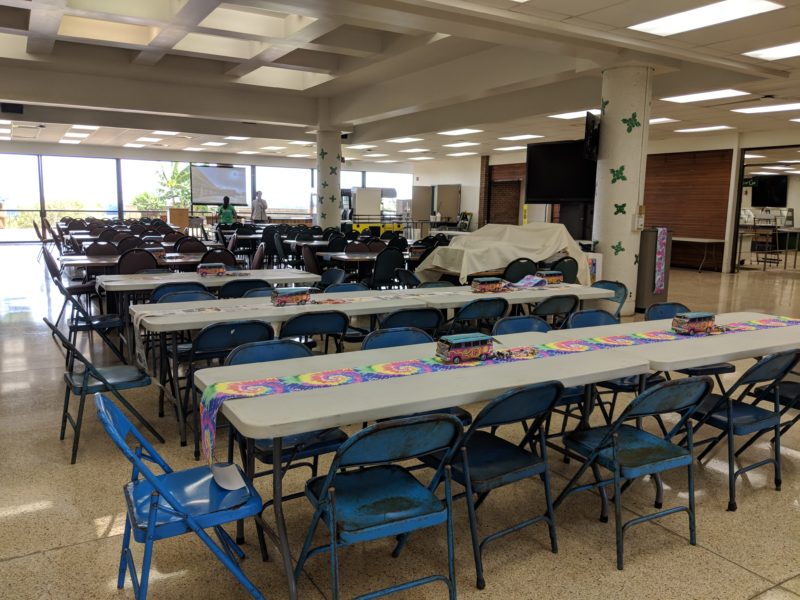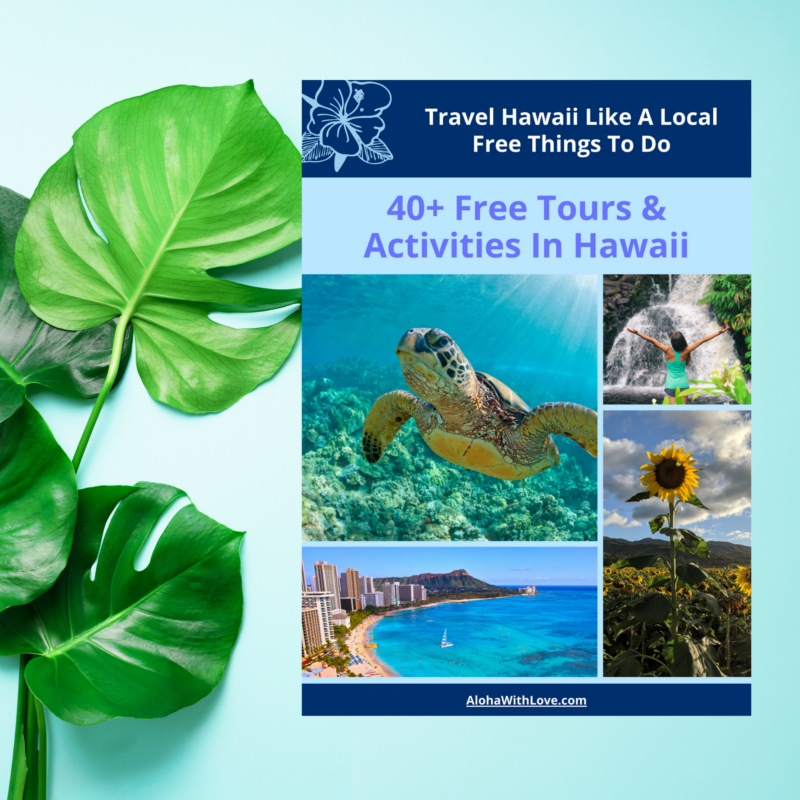 Want to go on a free tour in Hawaii?
The Leeward Community College Bookstore
All of the community colleges in Hawaii are offshoots of the University of Hawaii. In fact, many students attend their local community college for the same college courses and credit at a cheaper tuition, then transfer over to University of Hawaii for their degree.
The LCC bookstore is a fun little shop with the usual textbooks and school supplies, but they also have a decent corner dedicated to UH paraphernalia. Hats, shirts, sweaters and bags with the UH logo can be purchased to wear to your next Hawaii home game.
Local Tip: You can also find UH clothes at Costco and Don Quixote.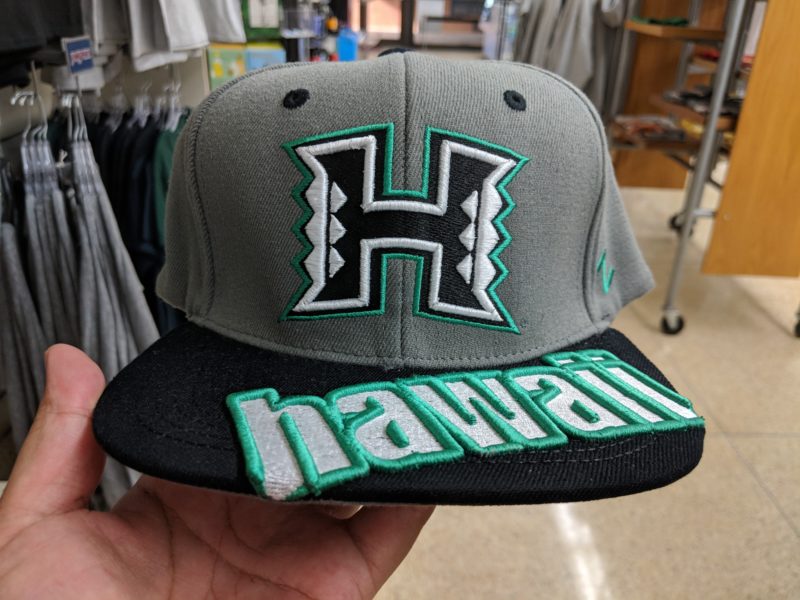 Every year, one student's t-shirt design is chosen to show Hawaii pride. University of Hawaii's colors are a dark forest green and black. But LCC's is a light sky blue and black. This a great way for each college to represent itself while staying tied to UH. This makes for a great souvenir if you happen to be visiting any college or university in Hawaii.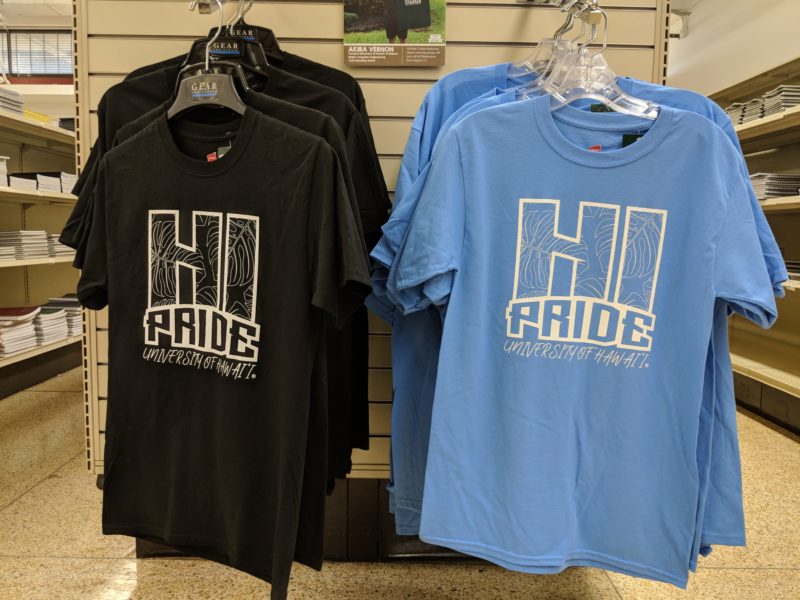 Points Of Interest At Leeward Community College
Here are a few things that caught my eye. Look for the tiled hole in the wall right above the central staircase. It's got a great view of the island, but you'll have to walk around it to see everything. I really liked the added touch of the black-crowned night heron (aukuu).
They're people shy and normally keep to themselves. But they're considered native birds to Hawaii since they came to the islands by themselves (they weren't brought over).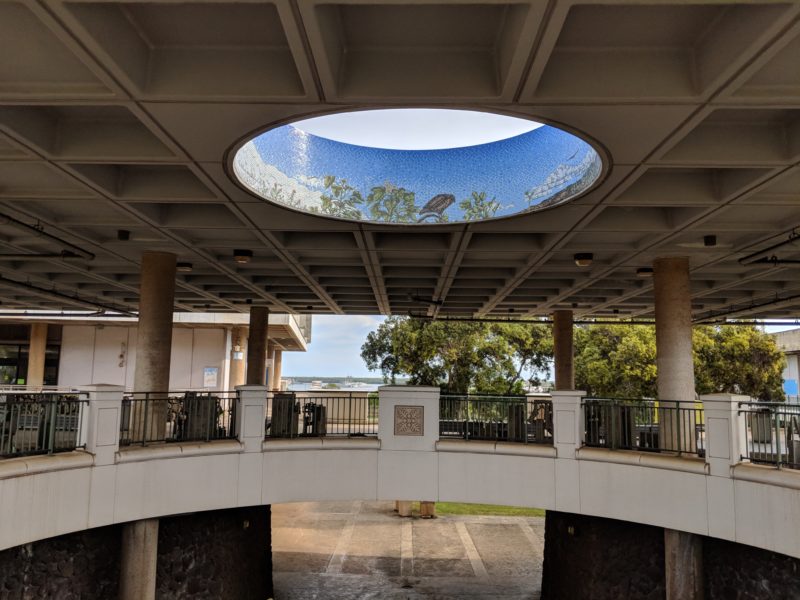 When you come down the central staircase, this is what you'll see. A huge and wide lawn right in the middle of campus. There are trees on the far end and the Pearl Harbor ships are just over that wall. This is a nice spot for a small picnic lunch.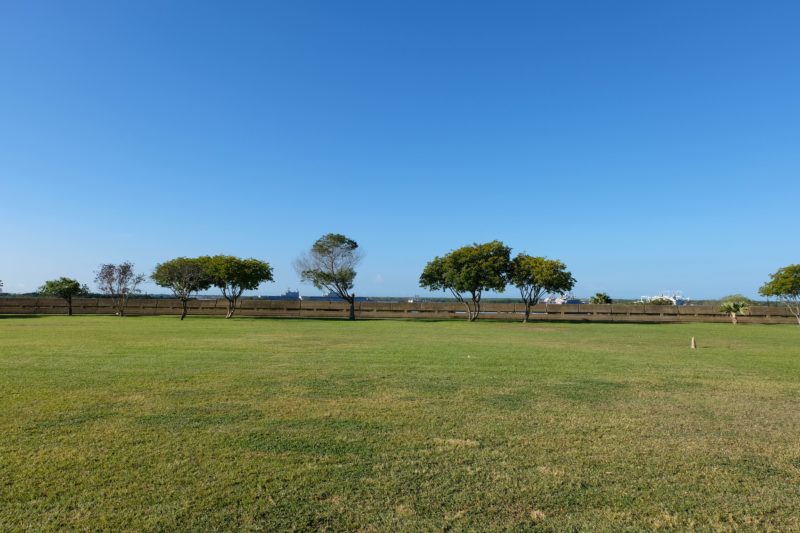 If you can see the water, you can probably see a Pearl Harbor ship. You don't have to be on that big lawn or next to that monkeypod tree I love so much. Just park and walk straight into campus in the opposite direction of your car. You'll find the Pearl Harbor ships, watercress farms and Diamond Head with ease.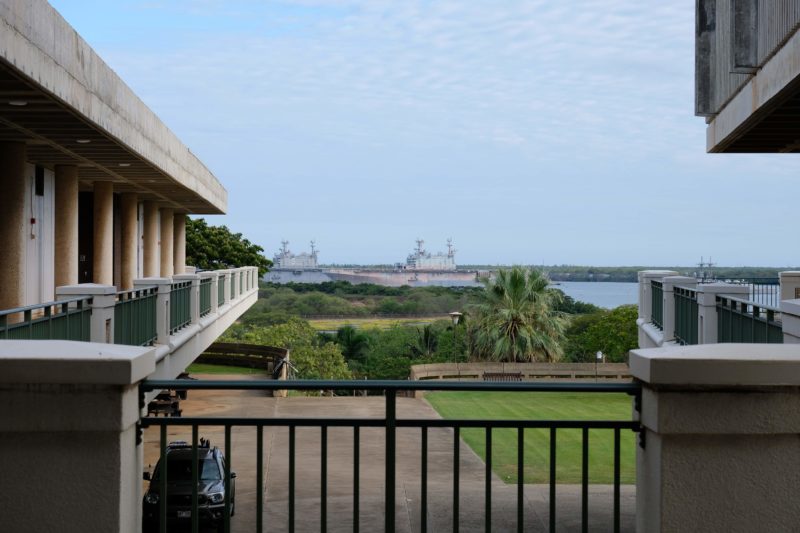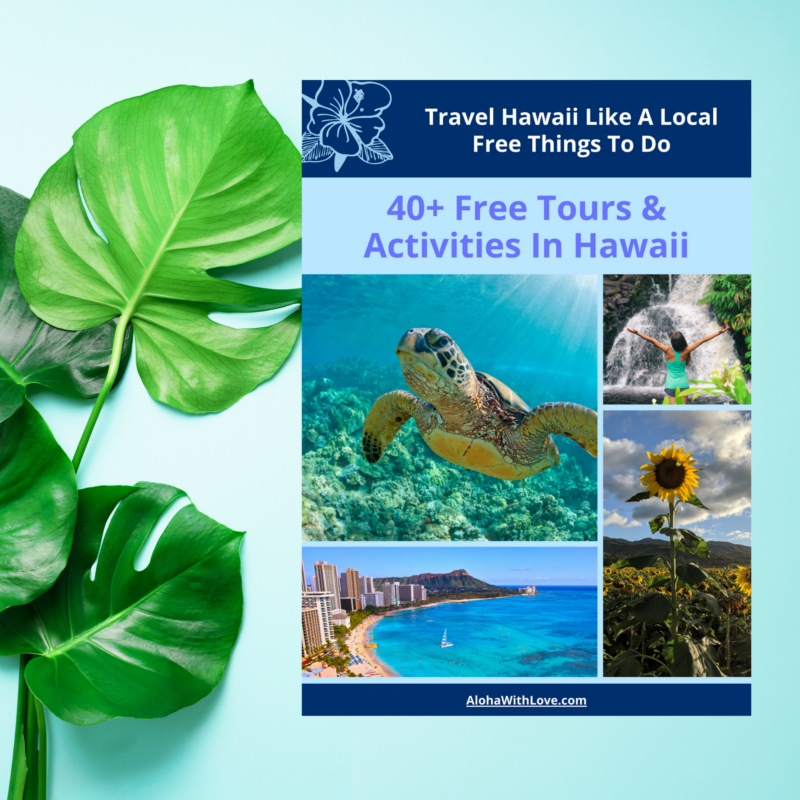 Want to go on a free tour in Hawaii?