This post may contain affiliate links, which means I'll earn a small commission if you purchase something through these links. You won't pay any extra; instead, you'll be helping Aloha With Love to thrive. Thank you! Learn more.
COVID-19 has affected many of Hawaii's businesses and events. Please double check their dates and times before you go or make plans. Visit HawaiiCOVID19.com for more information.
--
It's sometimes a chore to get people to eat dark green vegetables, so Mom has made it a habit to cook leafy greens in the same pan right after cooking a juicy, meaty dish like minced pork tofu. For this particular dinner, she plated the minced pork tofu and right away tossed in the leafy greens. They cooked in just a couple of minutes and soaked up all of that extra flavor that was leftover in the pan. This method also helps clean the pan so you don't have to scrub at any solidified meat juices when you do the dishes.
Any kind of dark leafy greens will work for this recipe. Those gigantic bags of baby spinach leaves at Costco are perfect and you'll be surprised at how much they shrink when cooked. For leafy greens with big stems (like bok choy), cook the stems in the pan first to give them a head start. You can add in the leaves about a minute later.
Aloha with love,
Amy
P.S. I wish I knew what kind of vegetables Mom used here! By the time I realized she was cooking another dish, they were already cut and thrown into the pan. When I asked her what they were she just shrugged her shoulders. Apparently, she originally bought them from the grocery then stuck the leftover root in her garden. They've been growing really well since then and she plucks a few out whenever she wants. If you have an idea, let me know!
Ingredients
1

bunch

leafy greens

Spinach, bok choy, broccoli will also work.

1

clove

garlic

1

tsp

salt
Instructions
Preferably, stir fry leafy greens right after something meaty and flavorful that was in the same pan. In this case, we cooked this in the same pan we used to cook the minced pork tofu. Put the stove on high and add about 1 tbsp oil.

Add chopped garlic and salt to cook in the oil and meat sauces. Stir. Once the garlic begins to brown, add the stems into the pan to cook first (if any). A minute later add the leaves in and stir.

Lower the temperature to medium heat and stir until the leaves have shriveled up and all the meat juices have been soaked up.
Notes
I personally love broccoli in this dish. The unique shape of broccoli means all the juices get stuck in the flower, making each bite really tasty. Since broccoli is harder, just cook it a bit longer so that it isn't raw.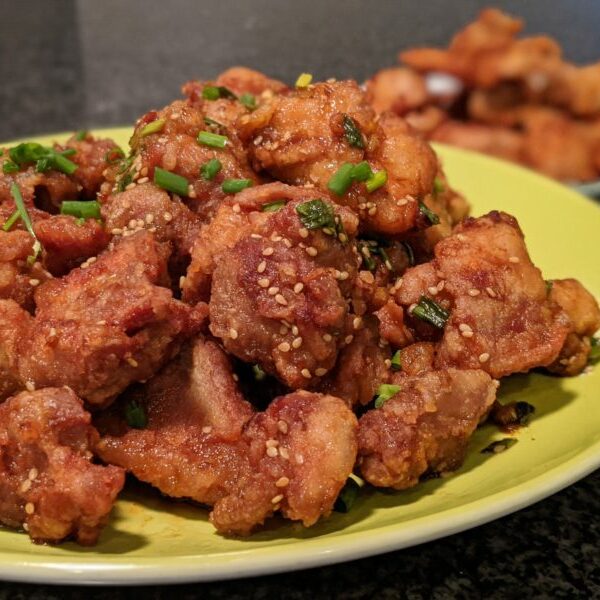 Get my latest recipes with a spoonful of aloha!