This post may contain affiliate links, which means I'll earn a small commission if you purchase something through these links. You won't pay any extra; instead, you'll be helping Aloha With Love to thrive. Thank you! Learn more.
COVID-19 has affected many of Hawaii's businesses and events. Please double check their dates and times before you go or make plans. Visit HawaiiCOVID19.com for more information.
--
As you drive along the roads in Hawaii, you'll sometimes see people selling food right from the back of their cars on the side of the road. The fruits are the easiest to see – mangoes, pickled mango and lychee are most common and sometimes even longan or starfruit will surprise me.
My favorites are the plate lunches. Local dishes like kalua pork, hulihuli chicken and pasteles are tasty and a great way to try something made by a local.
But my favorite roadside dish is probably the lau lau. This is a Hawaiian food staple of steamed taro leaves and meat (usually a nice pork butt or shoulder) wrapped and secured with ti leaves. The meat juices soak into those taro leaves and each bite will leave you hungrier for more.
Aloha with love,
Amy
All food establishments are required to have a food permit hanging or posted near their entrance. Permits come in three colors. Green means pass, yellow is a conditional pass (they have to fix something – usually something small) and red means they did not pass the inspection and need to remain closed until the problems are fixed. If you don't see the pass – ask! Food establishments can get fined if they do not post their permit. Visit the Health Inspection Portal to see the status of food establishments in Hawaii.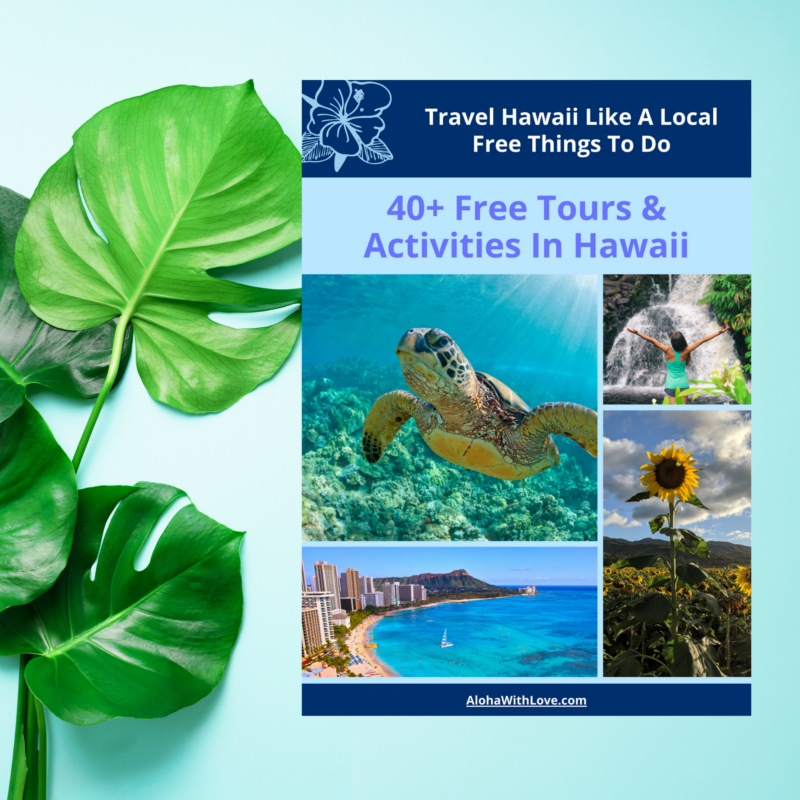 Want to go on a free tour in Hawaii?
What Is Lau Lau?
More often than not, the meat in lau lau is some kind of pork or chicken. Pork butt, pork shoulder and chicken thighs are most common, but I've also seen a mix or chunks of meat and fat thrown in together. In any case, you need a bit of fat. Sprinkle in some Hawaiian sea salt and you'll have an aromatic steaming process that soaks the soft taro leave with dripping, juicy flavor.
Local Tip: One uncommon lau lau is butterfish lau lau (salted cod). Butterfish is expensive so I've really only eaten it when family or friends prepare it. But if you get the chance, go for it! Butterfish is highly prized by locals. Another popular (and uncommon) butterfish dish you might want to try is miso butterfish.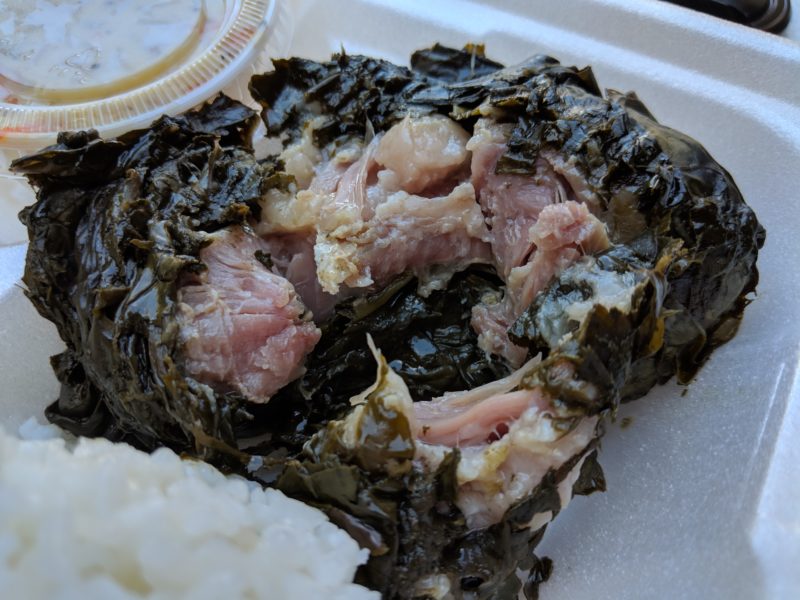 Lau lau may look unappetizing to some at first glance – I'll admit, that dark green color doesn't look the most appealing thing ever created. But the bright green taro leaves have been steamed and their natural softness breaks apart easily with each bite. Believe it or not, I actually love the flavorful taro leaves more than the meat and fat!
Local Tip: Can't find a roadside lau lau? Try the lau lau at Costco or L&L's. They have the same supplier (last I heard) – Highway Inn – which is very well known on Oahu for their Hawaiian food, including their lau laus.
How To Find Roadside Lau Lau
The hardest thing about these roadside lau lau stalls is that they're sometimes hard to find. Most of them don't show up everyday, sometimes they change spots based on their own personal schedules, and if they sell out – they're going home.
When I do see them, it's during the afternoon rush hour. People are returning home from work and their tents are usually set up on long stretches of dirt and grass on the side so cars can easily pull over to order. So if you're stuck on a one way road in some traffic when it's getting close to dinner, don't be surprised if you see some lau lau signs, tents, cars and coolers.
Local Tip: You won't find any roadside lau lau stands in downtown Honolulu or Waikiki. It's just too crowded and there isn't enough space for a set up without getting everyone else riled up and angry at the added traffic. You'll have better luck near residential neighborhoods or even in the countryside.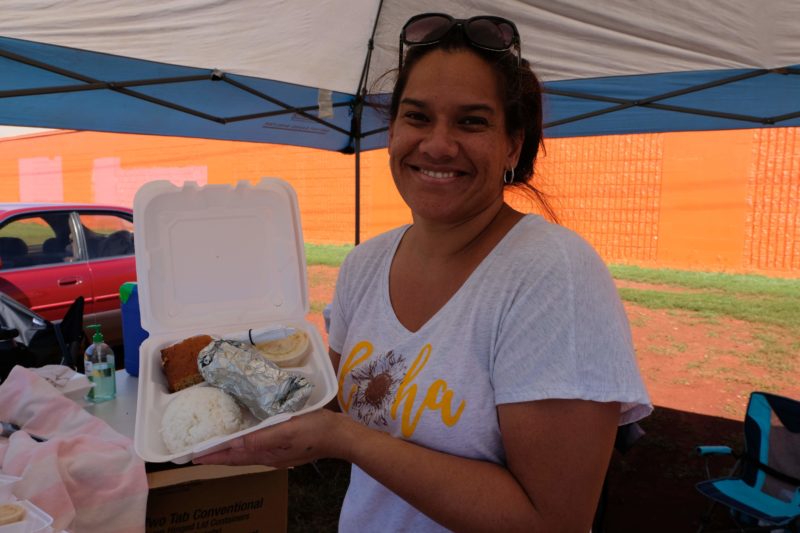 Meet Mapuana – my lau lau supplier on my way home from work. She has these $7 lau lau plates with a scoop of rice, tasty mac salad and some pretty heavenly banana bread – yum! Her family comes and helps her every so often, too.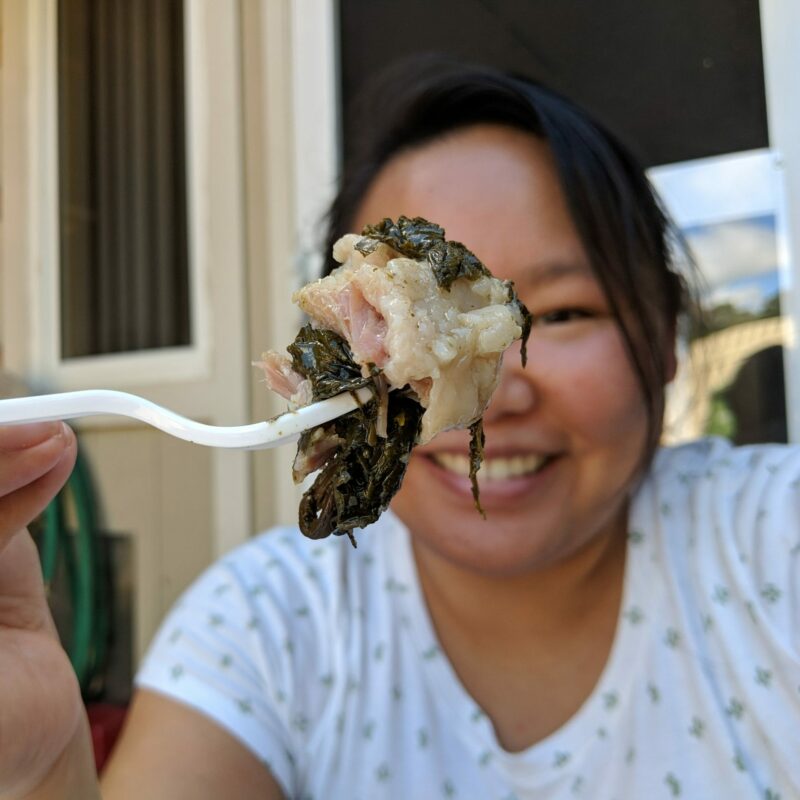 Discover more restaurants, bars, cheap eats, and mom-n-pop shops in Hawaii!