This post may contain affiliate links, which means I'll earn a small commission if you purchase something through these links. You won't pay any extra; instead, you'll be helping Aloha With Love to thrive. Thank you! Learn more.
COVID-19 has affected many of Hawaii's businesses and events. Please double check their dates and times before you go or make plans. Visit HawaiiCOVID19.com for more information.
--
Lanikai Beach is a beautiful stretch of pristine sand and clear ocean waves in Kailua and is right next to the also very pretty Kailua Beach. While not as accessible as Kailua Beach, Lanikai Beach is noted as one of Oahu's most beautiful beaches and year after year makes the top lists for most beautiful beaches in the world.
With that kind of reputation, make sure you plan a stop here to spend a day enjoying this world famous beach. The powder-white sand feels so good between the toes, the incredibly crystal clear blue ocean and the twin islands (Mokulua Islands or "the Mokes" as we refer to them) will amaze and astound you when you first step through the access walkways.
Aloha with love,
Amy
About Lanikai Beach
While Lanikai Beach is a sight for sore eyes, it does have it's downsides. Parking is horrendous here as only street parking is available. Being such a popular attraction, tourists and local residents alike compete for street parking on residential roads.
The beach itself is hard to find as the only access points are narrow walkways between houses. However, they are labeled as "Access" so keep a look out for the signs when you're driving around. There are also no bathroom facilities to shower or change, so be sure to store a couple gallons of water in the car to rinse with to avoid getting sand into the car. You can also opt to drive next door to Kailua Beach, which does have parking and bathroom and shower facilities.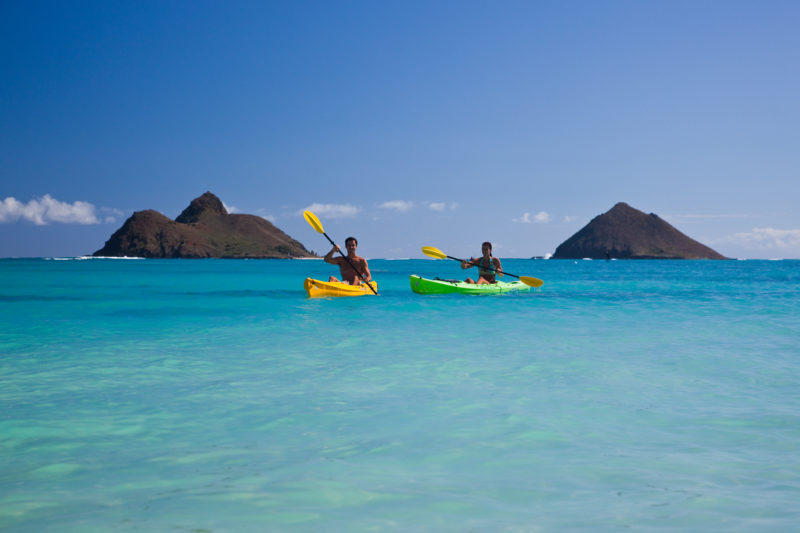 If you definitely want to get a spot on Lanikai Beach, make sure you come early (I'd say before 10 AM) and on a weekday. The weekends get exceptionally crowded since this is such a popular beach. Please respect the no parking signs even if you'll be "in and out". The residents who live in this area have to deal with this on a daily basis so any help on your part in following the rules will be much appreciated.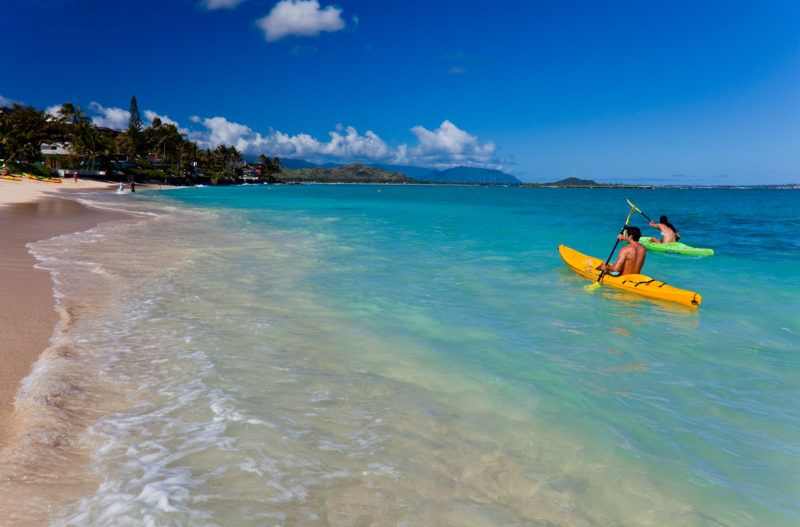 With its calm and gentle waves and flat sandy beach, this is a great beach for young children to play and swim in. You don't have to worry about them stepping on sharp pieces of coral and they'll be able to run and play to their heart's delight. Bring some floats, boogie boards and sand castle tools for them to play with and you'll be set. I do recommend bringing a cooler of drinks, lunch and snacks for you to munch on since it is too easy to spend the whole day here relaxing!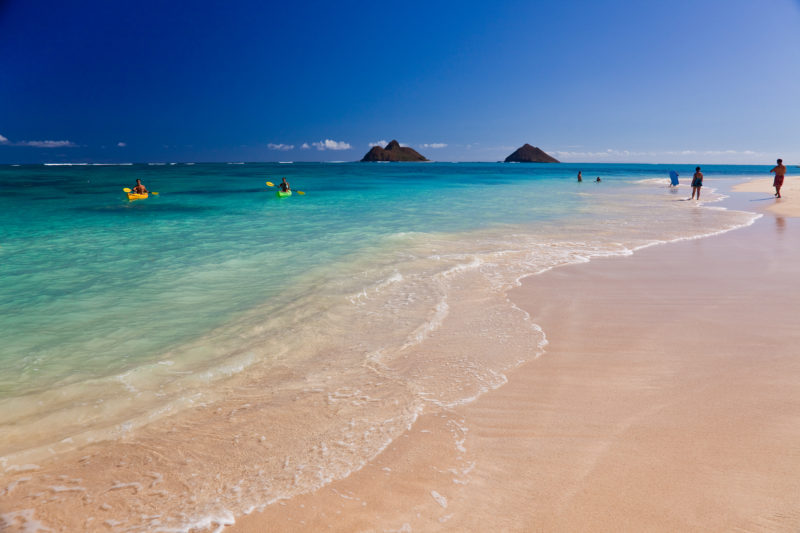 Kayaking and the Mokulua Islands
Kayaking is another favored water activity here and you can even make your way to the Mokulua Islands. The larger Moku Nui island is popular among kayakers and you'll see several heading out that way on a daily basis. Please stay out of the inner area of Moku Nui island and completely off of the smaller Moku Iki island (do not land your vessel) as both of these areas are bird sanctuaries.
Things to do in Oahu near Lanikai Beach
Lanikai Pillbox Hike: A shorter hike that goes up to the Lanikai Pillbox. There's an amazing view of the coast here and the Mokulua Islands make this hike especially memorable.
Kailua Beach: Right next door to Lanikai Beach. Just like Lanikai Beach, the white sands and view are wonderful and is hugely popular. But since there are bathroom and shower facilities, this beach is much more family-friendly.
Mid-Pacific Country Club: The greens are beautiful and well taken care of, plus the scenery is amazing. I've also heard really great things about their food, too!
Popoia Island (Flat Island): Kailua Beach Adventures is a local kayaking company that provides kayak rentals and tours out to Popoia Island and the Mokulua Islands (bird sanctuaries).
Lanikai Monument: You'll see this round pillar right at the entrance to the Lanikai neighborhood fronting the beach. It's been around since 1924 and is a popular photography spot.
Kailuana Beach: If Lanikai Beach and Kailua Beach is too crowded for your tastes, head to Kailuana Beach – a "hidden" neighborhood beach with sand just as beautiful, gorgeous views, and significantly less people.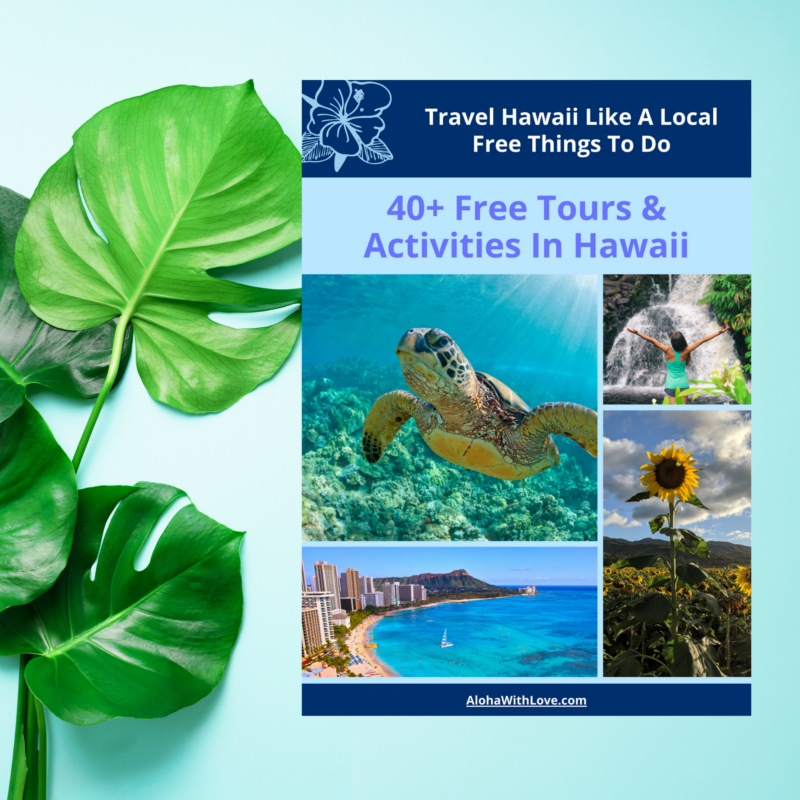 Want to go on a free tour in Hawaii?