This post may contain affiliate links, which means I'll earn a small commission if you purchase something through these links. You won't pay any extra; instead, you'll be helping Aloha With Love to thrive. Thank you! Learn more.
COVID-19 has affected many of Hawaii's businesses and events. Please double check their dates and times before you go or make plans. Visit HawaiiCOVID19.com for more information.
--
Ready to make your knees tremble and calves fall off? I've got you covered.
The Kuliouou Ridge Trail will take the average person 4 hours to complete. 3 hours if you're in shape and 5+ hours if you're with a dog who waddles.
But is the longer hike worth it?
If you love 360° views of Oahu and a workout to rival that of your StairMaster's, then the Kuliouou ridge trail is a great choice for you. It's one of the first longer hikes I've done and I recommend it to anyone who has a love of hiking.
The daily crowd climbing Kuliouou ridge trail is nothing compared to the enormous Diamond Head and Manoa Falls crowd. Plus, this trail has a little of everything. Ironwood forests with cold breezes, trees with widespread roots like a web, and short bushes of ferns with stunning views every time you sneak a peek behind you.
Bring an extra bottle of water and pack some snacks for the top!
Aloha with love,
Amy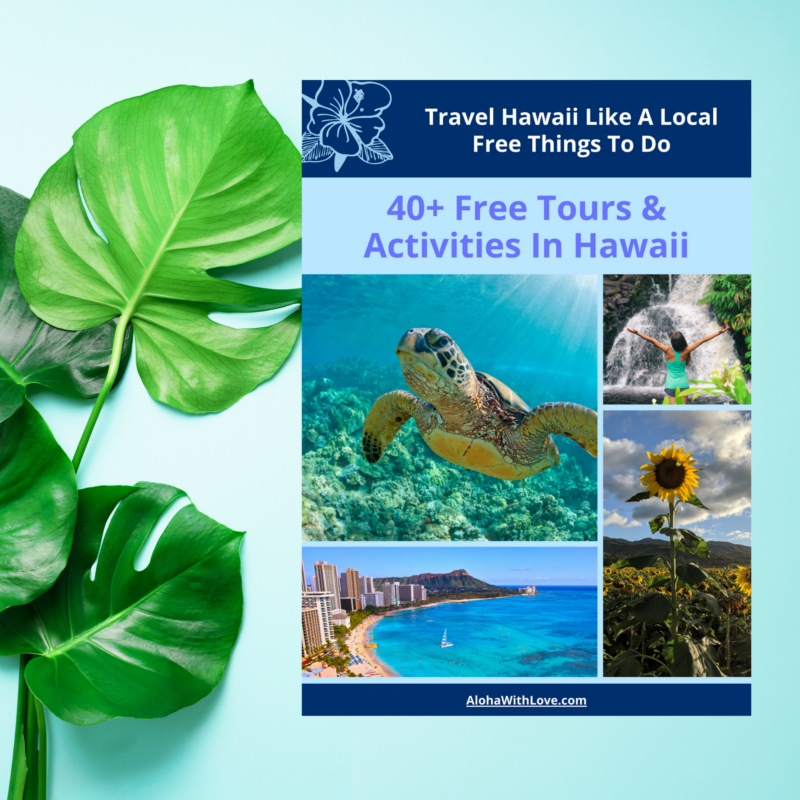 Want to go on a free tour in Hawaii?
The Top Of Kuliouou Ridge Trail Feels Like You're Standing On The Highest Mountain
When you reach the top of Kuliouou ridge trail, several things will overwhelm you:
Look at that view! No photo can compare to being at the top. You've got Windward Oahu on one side and the rest of Oahu on the other. You won't stop turning to admire the landscape from every angle.
The clean, cool air blowing in your face is surreal. You just feel like you're in a different world when you breathe in the wind and feel it wafting over your skin.
You made it! Right before the peak you have to chug your way through a lot of stairs. So when you finally take that last step against gravity, that sense of WOW can really do a number on you.
The top is a large and flat dirt clearing. There are several spots where you can go further out toward the cliffs and enjoy the wind and views, too. If you're a scaredy cat like me, there's still plenty of space to hang out and even some grass to sit on toward the back of the clearing. I highly recommend bringing some snacks up with you. It's a beautiful place to have a meal and the return to your car is all downhill so no sweat. We spent about 40 minutes up there taking photos, eating sandwiches and fruit, and talking with fellow overachievers who also found their way to the top. There was never more than 15 people up there at a time and the top would still be spacious even if there were 30 people.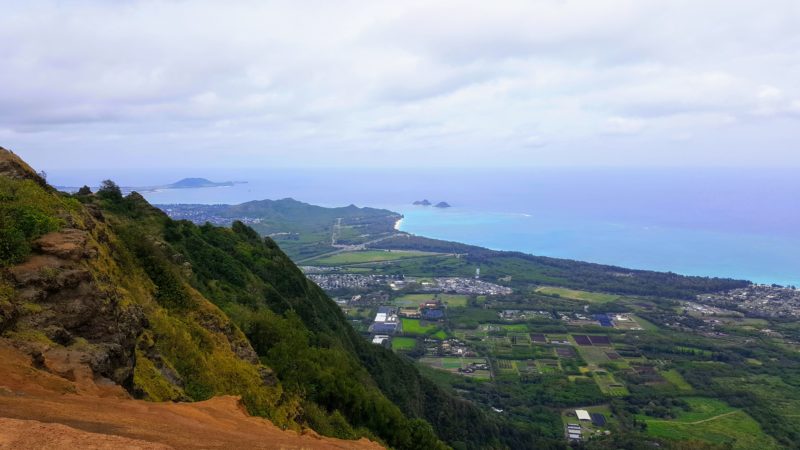 The Kuliouou Ridge Trail Is At Least 3 Hours of Burning Buns And Knee Workouts
Kuliouou can be split into 3 parts. In a nutshell:
Part 1 is easy with a slight incline.
Part 2 is intermediate with a medium incline and you can expect to take a break or two.
Part 3 is killer not only on the muscles, but also the knees.
Kuliouou Ridge Trail Part 1
The first section is pretty easy and almost anybody can handle it. The incline is slight and the walk is all in shade with a nice breeze the whole way up. You'll go through the typical Hawaii forest that are common on our island hikes, but my favorite is the walk through the ironwood pine trees.
Ironwood trees are not native to Hawaii, but there are a few spots in Hawaii where they dominate. The experience is unlike any other forest in Hawaii and the pines make it seem like you're walking through a hike on the mainland. The wind temperature also changes quite suddenly here so you know right away you're moving up in elevation.
There are a few lookouts on the way up, but you'll get an ever better view further up. You'll know you've reached the end of part 1 when you arrive at a shelter with a picnic table. This makes for a great rest stop and it's a good time to decide whether you want to continue the trek or head back to your car.
Kuliouou Ridge Trail Part 2
Part 2 is a bit more hilly with a never-ending incline going up over dirt and roots. The roots are everywhere and provide the perfect grip for your soles. Take your time and rest when you need to. Hydrating yourself is really important at this point since part 3 is coming up next.
The best sight you'll see is at one lone bench that someone has managed to lug up this mountain. The bench can fit 2-3 people and is often empty since most people immediately continue on to Part 3 (nature's StairMaster).
The view from the bench is pretty because you'll see the valley and the neighboring mountain ridges. In the picture below, my Mom and Daisy pose with that scenery behind them (Daisy is standing on the bench).
Local Tip: If you know your knees cannot handle part 3, just aim for this bench and eat your snacks here instead. To get to this bench and back will take about 3 hours depending on how fast you move.
Kuliouou Ridge Trail Part 3
As you probably know by now, part 3 is the most difficult. The incline is steep and it's just one long staircase. Each person's speed will be different. If you work out your thighs regularly on the StairMaster, then this might be a breeze for you. But for the rest of us who consider our work stairs to be a tough workout, this is going to be a challenge.
For me I probably took a break every 10 steps. I found myself using my dog as an excuse and "let her rest".
The best thing about the stairs is that you aren't walking through a forest anymore, but through ferns and bushes that only come up to your waist. So the view behind you is SPECTACULAR! In fact, if your knees can handle it, you might want to go up part 3 just a little bit to see this view.
Local Tip: Need a rest? Do what I did: turn around and exclaim "what a view!" whenever you need to. No one will think less of you.
I did see a few people using walking poles in this area so it might be useful to bring those along for support. One couple brought their walking poles while piggybacking their son – talk about dedication!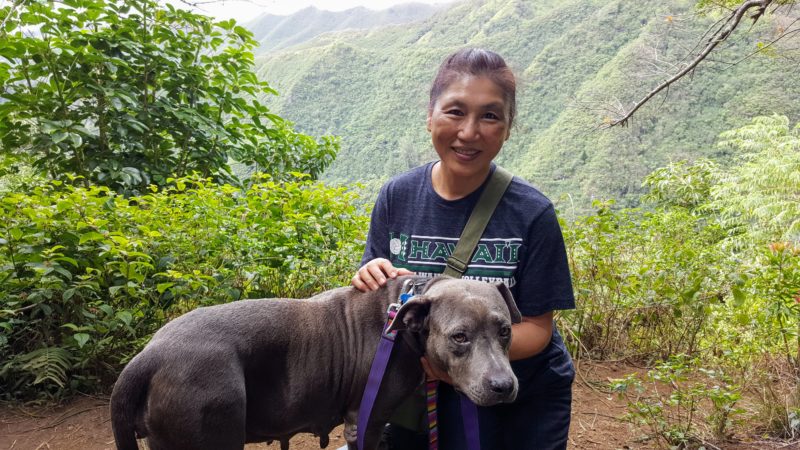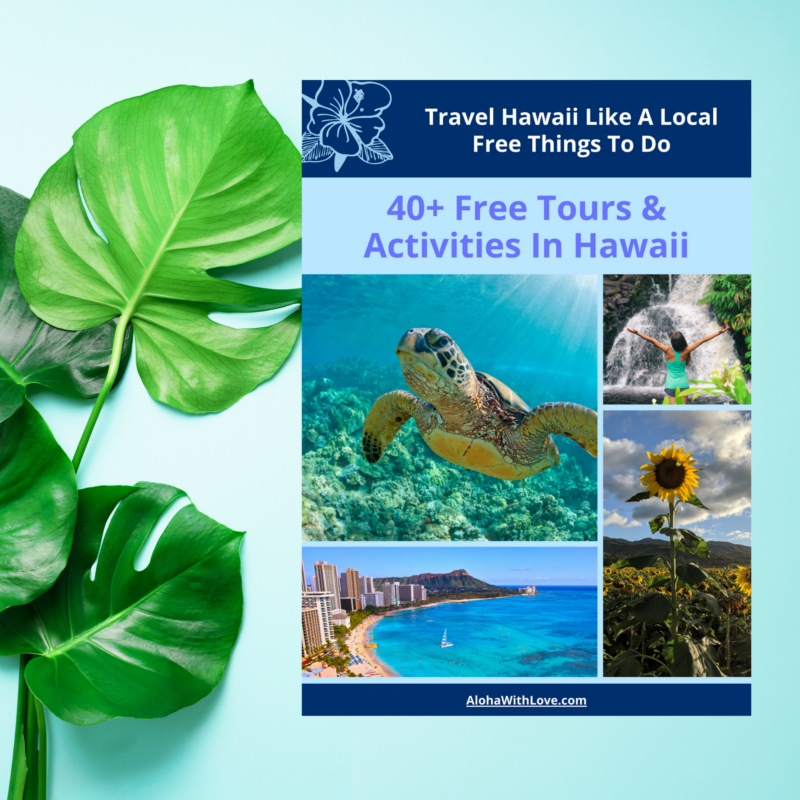 Want to go on a free tour in Hawaii?
How Do You Get To Kuliouou Ridge Trail?
From Waikiki, head east on Kalanianaole highway and turn left onto Kuliouou road (after Aina Haina and Niu Valley, before Hawaii Kai). From there, continue your way up Kuliouou road and take the very last right turn on to Kalaau place. Park respectfully on the street and avoid making too much noise that will disturb residents.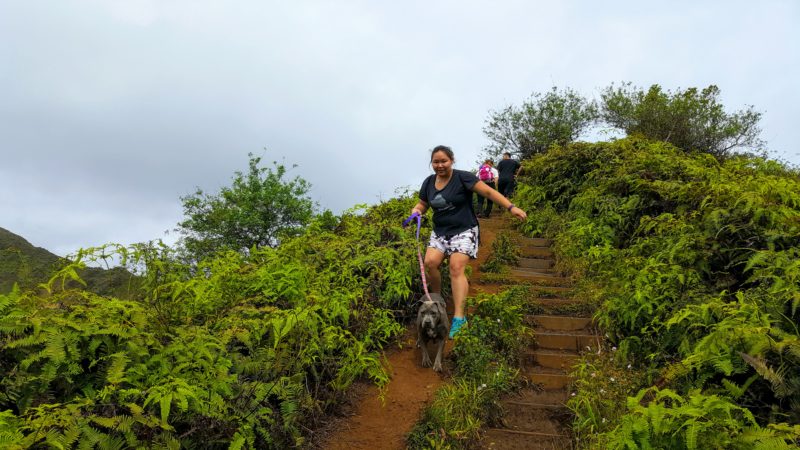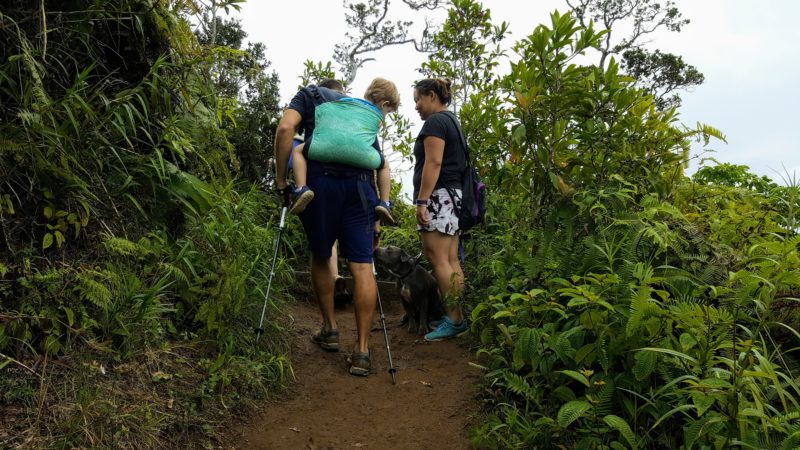 Extra Tips About Kuliouou Ridge Trail
Kids seem to do very well on this hike (I'd say around 10 and up). The scenery keeps changing and the tree roots and branches make for some really cool archways. Plus, it drains all that energy out of them!
While hiking shoes would be better, you can still do this hike with regular athletic shoes (like I did).
There isn't too much of a mosquito population here, yay!
]The Kuliouou ridge trailhead begins on the right of the asphalt road going uphill on a dirt path. However, if you continue on the asphalt road, you'll end up on the Kuliouou valley trail, which is a lot less interesting in my opinion.
2 liters of water was just perfect for me.
Unless you're super in shape or a hiking fanatic, you probably won't want to hike for a day or 2 after the Kuliouou ridge trail. Make sure you've got something else to keep you occupied on your itinerary.
I recommend this hike for visitors who want to do 1 awesome hike on Oahu with the limited vacation time they have or, if they have a long vacation and want to attempt several of Oahu's hikes.
Are You Gonna Work Your Leg Muscles At Kuliouou Ridge Trail?
Kuliouou is really worth it. It requires a bit more time and sweat investment than most other hikes on the island, but the end result is fantastic. Locally, it's a popular hike just because that final view is a real winner. As I mentioned before though, those stairs at the end will really devastate those with weak knees so know your limits. Luckily my knees are fine, but they felt almost fragile the next day.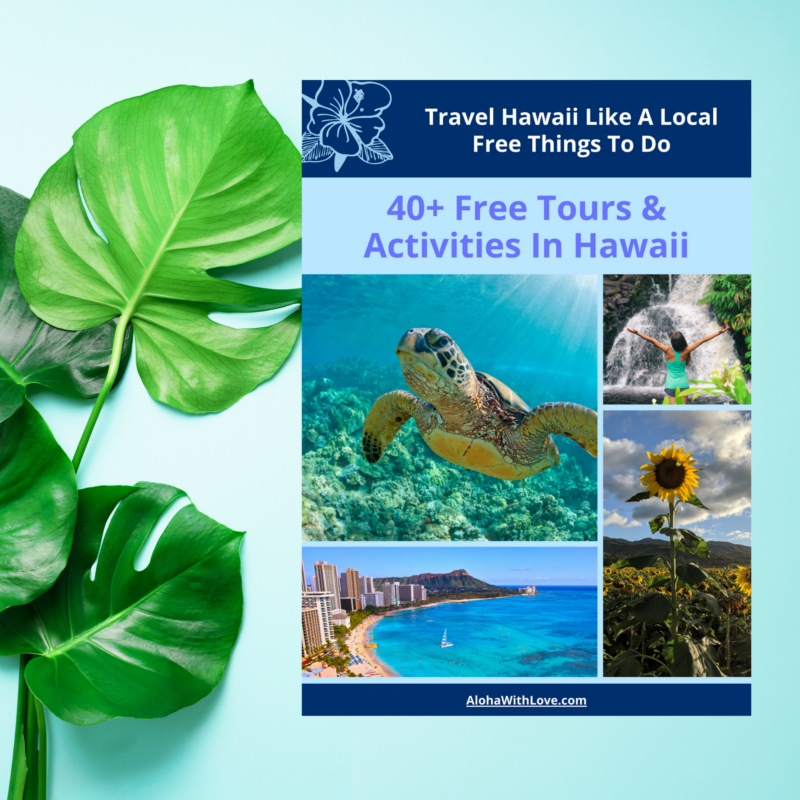 Want to go on a free tour in Hawaii?