This post may contain affiliate links, which means I'll earn a small commission if you purchase something through these links. You won't pay any extra; instead, you'll be helping Aloha With Love to thrive. Thank you! Learn more.
COVID-19 has affected many of Hawaii's businesses and events. Please double check their dates and times before you go or make plans. Visit HawaiiCOVID19.com for more information.
--
Kukio Beach is a fun beach on the Big Island that has a little bit of everything. There are turtles to see, a long paved path along the coastline, free parking, a small beach safe for children, and even some snorkeling opportunities.
Not many people end up here since you have to go into the Four Seasons Resort Hualalai to access the beach. But entrance is free and so is the parking so it's a win-win-win situation!
Aloha with love,
Amy
About Kukio Beach
Kukio Beach is special for many reasons, but the reason why most people come is to see the turtles. They like to hang around the tidepools and pull themselves up on shore to get warm. You can also explore the tidepools as they have small fish, crabs, and shells.
Although access to Kukio Beach is through the Four Seasons Resort Hualalai, it's actually the Kukio Golf and Beach Club that sits behind the sand.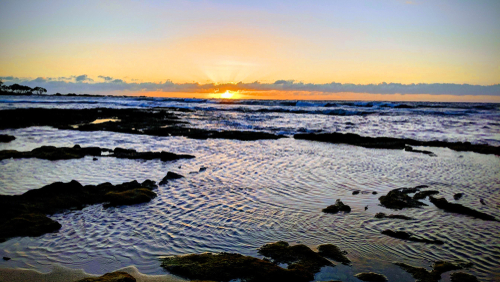 Location
From Queen Kaahumanu Highway (Hwy 19) turn into Kaapulehu Drive and you'll come upon a security office. Let them know that you'd like to go to Kukio Beach. They should give you a free parking day pass. Continue to drive on, take the first left and go all the way down into the parking lot.
It's important to know that all beaches in Hawaii are accessible to the public. That means hotels can't (or aren't supposed to) block you from entering.
Turn off of Highway 19 onto Kaupulehu Drive, just south of the Four Seasons Hualalai Resort sign. Drive to the security hut and let them know you would like to go to the public beach. You'll turn left just after the security hut and follow the road until you reach the parking lot.
The parking lot is not huge, but it shouldn't give you a problem unless the beach is very crowded. Most people come and go to see the turtles so turnover seems to be quick. For a guaranteed spot, come early or during slow times.
Facilities:
Since this beach is also used by Four Seasons Resort Hualalai guests, there are restrooms and showers available for all beach goers.
What to bring
If you plan on going into the water for wading or snorkeling, I suggest watershoes over snorkeling fins. You'll want to be able to stand up on the sharp lava rocks comfortable and fins will just get in the way. This is also a great place for stand up paddleboarding as Kukio Bay is naturally protected and calm enough for it.
Wedding Ceremonies
Thinking about getting married on the Big Island?
Kukio Beach sees a lot of wedding ceremonies, vow renewals, and proposals. So if you're contemplating a romantic celebration on the Big Island that will be both memorable and beautiful, Kukio Beach is a great option!
Things to do at Kukio Beach
There's plenty to do at Kukio Beach for all ages – including a beach for kids!
As you explore the beach, don't miss the signs pointing out cultural, historical, archeological, and spiritual locations. These give you some background information about this area and the impact it had on the lives and culture of ancient Hawaiians.
But what makes Kukio Beach extra special in my opinion is the long paved pathway through the lava rocks that give you an amazing panoramic view of the Kohala coast.
Swimming and snorkeling
While you can't safely swim long lengths at Kukio Beach, there are sections where there's enough sandy bottom to play in the water without stepping on a sharp rock. One sandy section is right at the entrance when you enter from the parking lot.
Snorkeling: A few people do snorkel here, but the water usually isn't clear and you have to clear the rocks and get far enough away in order to snorkel safely.
See the coast on the paved path
More than the turtles, I think the most fascinating part of Kukio Beach is the paved walkway that hugs the coast. On one side you have the Pacific Ocean with a chance to see Hawaiian spinner dolphins and humpback whales in the distance. On the other side is a gorgeous view of the Hualalai Golf Course.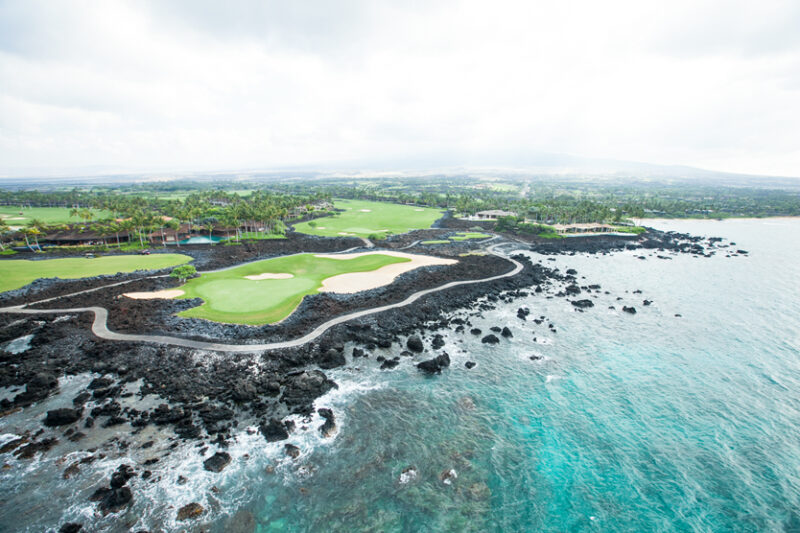 Turtles
It's a well-known fact that turtles like to swim in the bay and even come up on shore to warm up and sleep. You can see them floating in the waves as they move from rock to rock looking for things to eat.
Local tip: Hawaiian green sea turtles are endangered and they are federally protected. It is against the law to touch, harass or disturb them. Be sure to stay at least 10 feet away.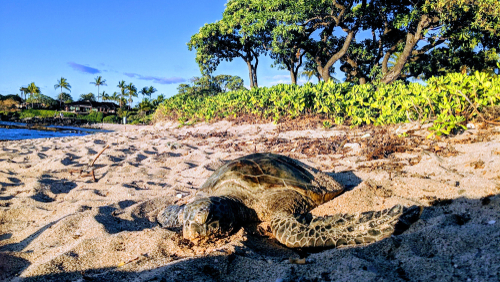 Go to Kukio "Keiki" Beach with your kids
If you have little kids with you and you're looking for a safe beach where they can swim and play without worrying about them stepping on sharp lava rocks, then put Kukio Keiki Beach on your list.
Located on the far southern end of Kukio Beach and right next to Kikaua Point Beach Park, Kukio Keiki Beach (keiki is child in Hawaiian) looks like it was made just for little children.
The swimming area in Kukio Keiki Beach is about the size of 2 large swimming pools with enough sand for several families to stretch out and relax. The area is naturally enclosed by a wall of lava rocks that keeps the big waves out, keeping your young ones safe and in your line of sight.
Local tip: Since Kukio Keiki Beach is on the opposite end of Kukio Beach, instead of driving into the Four Seasons Resort Hualalai, drive into Kukio Nui Drive from Queen Kaahumanu Highway (Hwy 19). This is a private, gated community so just let them know you're going to Kukio Keiki Beach. The parking is limited, so get there early!
Other points of interest
Kikaua Point Beach Park: Right next to Kukio Keiki Beach is Kikaua Point Beach Park which is great for snorkeling. Get here early as the parking lot is shared with Kukio Keiki Beach.
Ala Kahakai National Historic Trail: Part of Kukio Beach belongs to the Ala Kahakai National Historic Trail.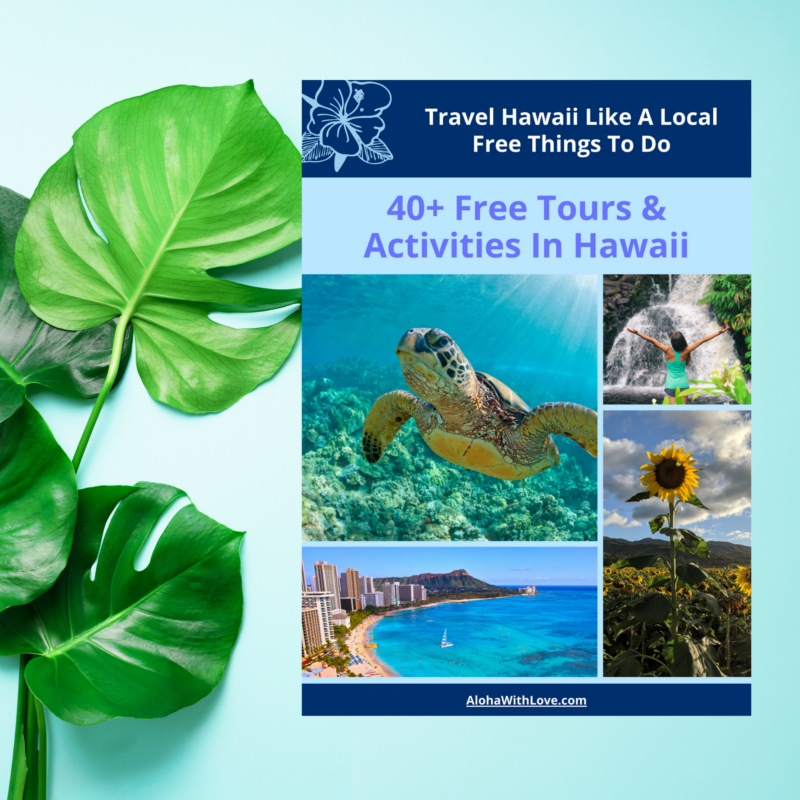 Want to go on a free tour in Hawaii?