This post may contain affiliate links, which means I'll earn a small commission if you purchase something through these links. You won't pay any extra; instead, you'll be helping Aloha With Love to thrive. Thank you! Learn more.
COVID-19 has affected many of Hawaii's businesses and events. Please double check their dates and times before you go or make plans. Visit HawaiiCOVID19.com for more information.
--
If you're looking for azure waters and velvety-soft white sand, look no further. Kua Bay is a spectacular sight and as perfect as a postcard. For those arriving into Kona International Airport (KOA) and looking to hop right into a beach made for paradise, Kua Bay and its Maniniowali Beach will not disappoint.
Aloha with love,
Amy
About Kua Bay and Maniniowali Beach
What makes Kua Bay extra awesome is that you don't need a 4WD vehicle to reach this magnificent beach. It's a flat road all the way to the parking lot and a paved path all the way to the sand.
Location
From the Kona International Airport, drive north on Queen Kaahumanu Highway (Hwy 19). When you see the West Hawaii Veterans Cemetery stone wall on your right, take the left turn and follow it all the way down until you reach Kua Bay's parking lot.
There's a nice view of the bay as you drive down this winding road, but don't miss the speed bumps.
Parking: The parking lot is actually one long road with a loop at the end so you can turn around without blocking the next car. There's a decent amount of parking spots available, but it is still limited so coming here early or on a weekday is a good idea. If the parking lot is filled up, you can also park on the side of the road.
Facilities
Kua Bay has everything you need. There are bathrooms, showers, a few picnic tables, and even a lifeguard station (2019) since the bay has been gaining in popularity.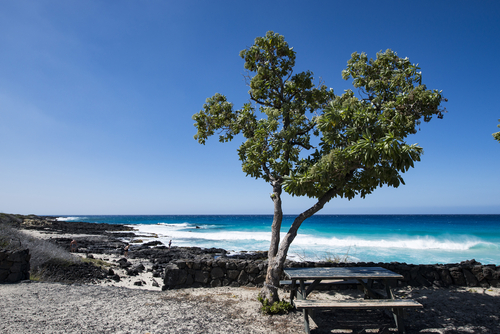 Seasonal Information
During the winter, Kua Bay can get some pretty big swells in so expect to see surfers out catching waves. You can body surf the rest of the year so bring a board if you have one.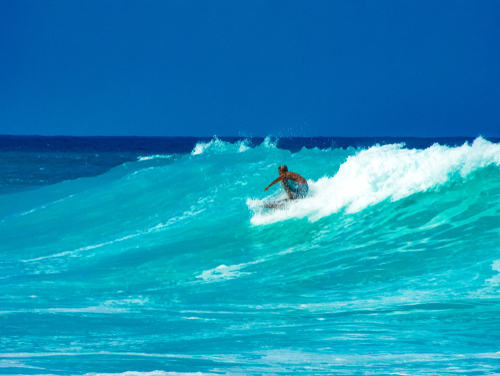 Is Kua Bay safe for kids during the winter?
While the waves can get pretty big at Kua Bay during the winter, it's still usually pretty safe right at the shoreline. Just be sure to keep a close eye on your young ones as they play in the shallows.
Activities at Kua Bay
Not only is Kua Bay beautiful, but there's also plenty to do throughout the year. The bottom of the bay is soft sand so you don't have to worry about stepping on a sharp rock – which is a common concern here on the Big Island. There's also a lot of wildlife to see both in and out of the water.
Snorkeling and swimming
Since the bay is all sand extending out, you'll want to snorkel on the sides of the bay where the fish hang out. The best place is the northern side of Kua Bay (facing the ocean, the far right side). If you follow the paved walkway from the parking lot, you'll end up in the middle of the bay and will have to walk on the sand to get to the right side.
An easier way to get to the right side is to take the pebbled pathway from the parking lot loop. You'll walk parallel along the bay then exit out right at the northern end of the bay.
Local Tip: There are dive tours that come out to Kua Bay, so if you're interested in booking an excursion try out Big Island Divers. They even have manta ray snorkeling and night dives, too!
Wildlife
In the water, you'll be able to see a variety of fish such as trigger fish (keep a lookout for our state fish, the humuhumunukunukuapuaa), schools of convict fish, tangs, urchins, eels, butterfly fish, and the occasional ray. There's plenty of coral (please don't step or touch them) and as you swim around, you're sure to run into some swimming turtles.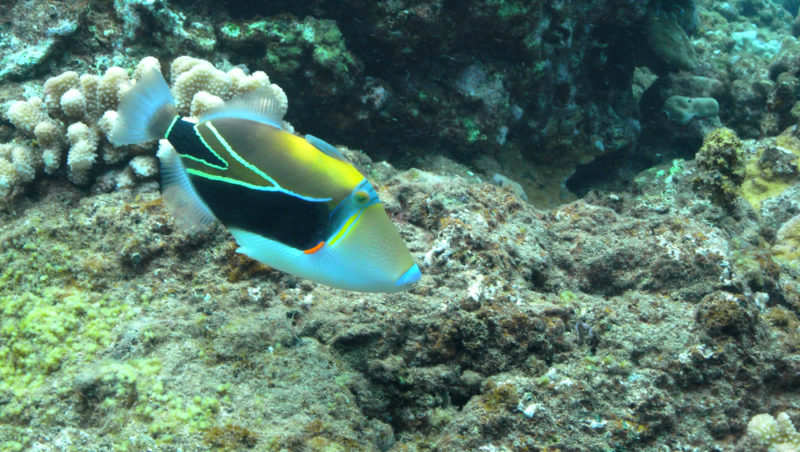 From outside of the water, keep an eye out for Hawaiian spinner dolphins or whales during whale watch season. Turtles and on the rare occasion Hawaiian monk seals will pull themselves out onto the sand to take a nap.
Local tip: Keep your distance as they are both endangered and it is against the law to touch, disturb, or harass them.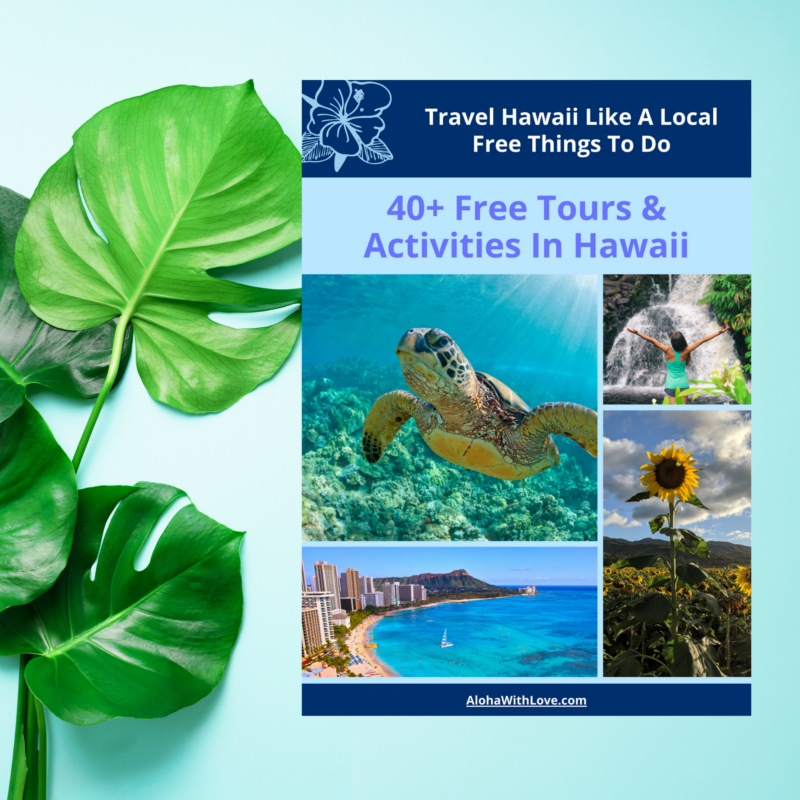 Want to go on a free tour in Hawaii?