This post may contain affiliate links, which means I'll earn a small commission if you purchase something through these links. You won't pay any extra; instead, you'll be helping Aloha With Love to thrive. Thank you! Learn more.
COVID-19 has affected many of Hawaii's businesses and events. Please double check their dates and times before you go or make plans. Visit HawaiiCOVID19.com for more information.
--
If you're already salivating from "12-hour slow-roasted kalua pork", I don't need to say much else, do I?
Kono's North Shore has been around since 2002, but it's only recently that they've been hitting the front pages and earning local rewards. Their menu revolves around their juicy kalua pork and it's drawing foodies like flies.
Their tiny hole-in-the-wall shop in Haleiwa is their original and draws a big crowd every day. They've got terrific bombers, sandwiches and wraps that you'll salivate over. I love their breakfast menu, too! Their biscuit sliders with hot meat, eggs and cheese hit the spot and their milkshakes are off the charts.
If you're a foodie, 12-hour slow-roasted meat intrigues you, and your style of traveling is to seek out popular restaurants, then I recommend Kono's North Shore as your Haleiwa stop.
Aloha with love,
Amy
Local Tip: Don't mind the chickens and roosters because they certainly won't mind you. You'll see what I mean when you get there.
I Ate The Old School Sandwich And It Was Glorious!
It took quite a bit of time for me to decide. Their whole menu is written on a giant blackboard behind the cashier and I peppered her about each item. She seemed used to it though and answered all my questions with a big smile.
She personally recommended the sliders since they're served on Hawaiian King's buns – a soft sweet bread that's been around for ages and often brought to picnics or beach days. Since I prefer savory flavors, I finally decided on the old school sandwich, which comes on a hoagie bun.
Local Tip: You can purchase a bag of Hawaiian King's buns at most chain grocery stores. Even our Costcos sell them.
The old school sandwich has that fabulous 12-hour slow-roasted kalua pork, coleslaw, grilled onions and the kicker: guava BBQ sauce. The sauce is not just sweetened BBQ sauce. It complements the kalua pork and mixes in with the meaty juices and tangy coleslaw. Perfection. Would I recommend it? Of course!
I decided on an icy cold lemonade that I sipped down after every couple of bites. Strangely enough it cleared my palate so that I could enjoy a fresh bite of kalua pork like it was the first time. I also had a handful of potato chips flavored with sweet onion. I'd love to know their recipe because I haven't had these type of chips anywhere else on the islands.
If you're more of a health nut, but still want to try Kono's North Shore's kalua pork, try their wraps or "pig on grass" options. You'll feel healthier and still gobble everything up! For extra creaminess, add avocado and go to town.
The old school sandwich, chips and lemonade disappeared fast. It wasn't too much food, which is good since I hate that bloated feeling that comes all too often when I'm traveling for food. Breakfast is another great option. Get to Haleiwa early, have a bite and by the time you're done, the sleepy town will be waking up.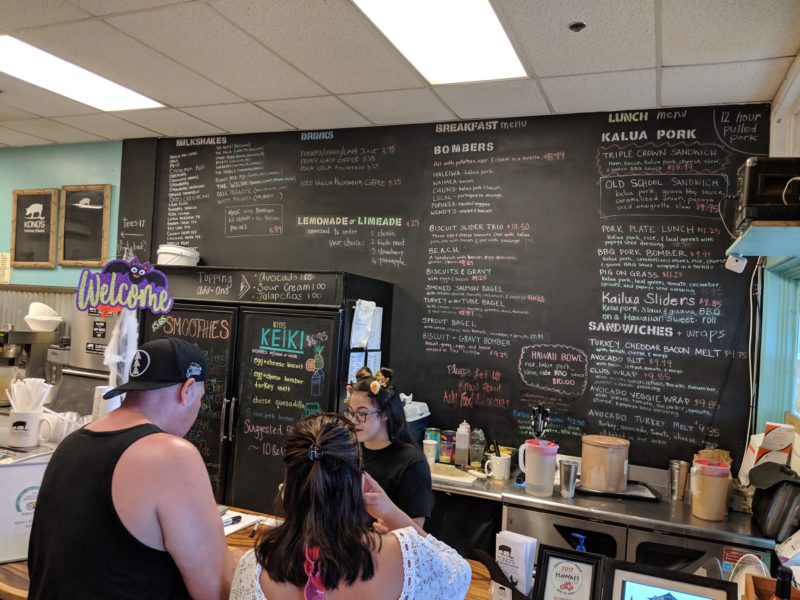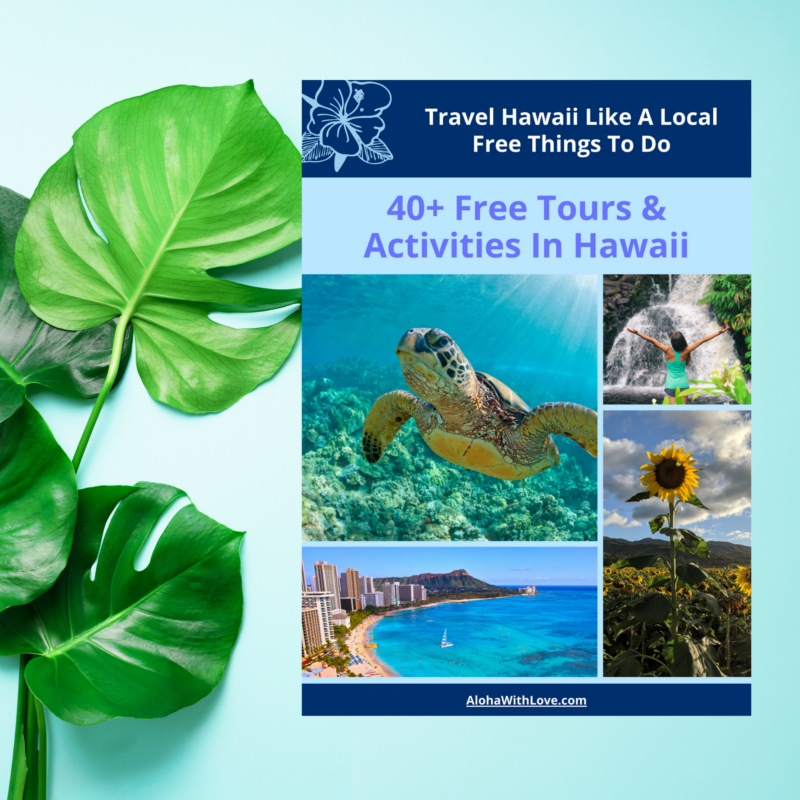 Want to go on a free tour in Hawaii?
Kono's North Shore Is Tiny With Big Character
Kono's North Shore is a fantastic place for a beach stop. Service is quick and you'll gulf down the food even quicker. Located at the North Shore Marketplace, there's a decent amount of parking and even during the busy lunch hour, you should be able to claim a spot within a few minutes and a dash of patience.
Patrons are a mix of locals and tourists despite being in tourist-heavy Haleiwa. Kono's has managed to create a community of dedicated followers and a few have even gone so far as to tattoo Kono's "surfing pig" logo on themselves.
After you place your order, don't forget to turn around and check the wall decor behind you. There's a tattoo photo display of these lifetime fans and their unique surfing pig tats. These hardcore followers get a 25% discount for life. Talk about a memorable souvenir (wink, wink)!
Side Story: I knew I made the right choice to head to Kono's North Shore when a couple I had just met a 2 hours earlier on the Kaena Point hike from Mokuleia waved me down after I placed my order. To see them again twice in one morning says a lot about Kono's North Shore being worth it.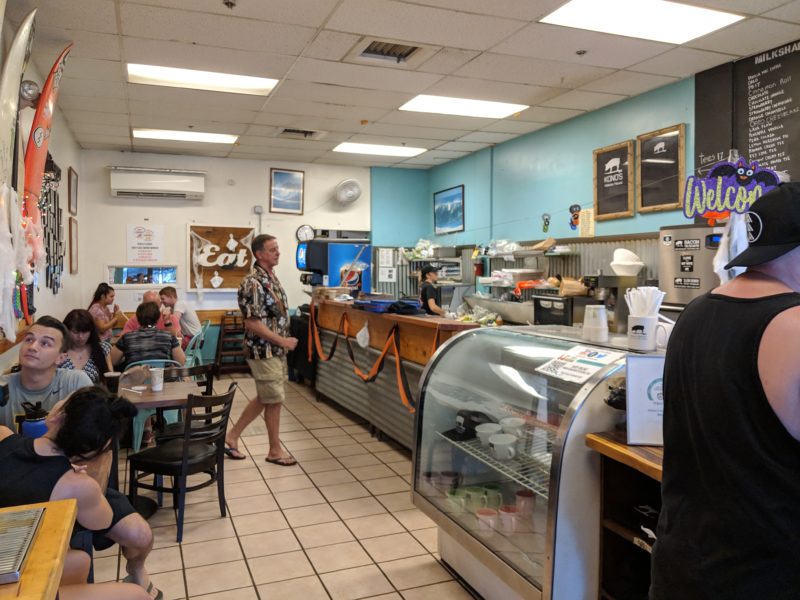 Look For The Kono's North Shore Crowd Right Outside The Door
Since Kono's is located within the North Shore Marketplace, the shop itself is a bit hard to find if you don't know where it is in the complex. Rule of thumb: if you're coming from Wahiawa on Kamehameha highway, you'll pass right by it on your right just before you turn into the North Shore Marketplace parking lot.
There's only one small section in this shopping area that runs along Kamehameha highway. So, if you can find Kamehameha highway, you can find Kono's North Shore. They even have a large dark blue sign in the corner to guide first-time visitors.
Usually there are quite a few people standing outside. Mostly they're just waiting outside for their food as someone else inside places their order. There are a few wooden picnic tables that can seat at least 4 adults and several iron table and chairs for 2.
You'll find at least 10 chickens hanging around outside eying your meal down with bulletpoint accuracy. According to the cashier, the chickens have a mind of their own. One in particular constantly braves the front doors and nudges itself in while the staff chase it out periodically. Is it scared of humans? Not at all.
Local Tip: Eating on the iron table and chairs was a much more pleasant experience. The picnic tables are not in the best shape and one of them was covered in ants. Plus, it was raining earlier and the wood had that soft, spongy feel to it.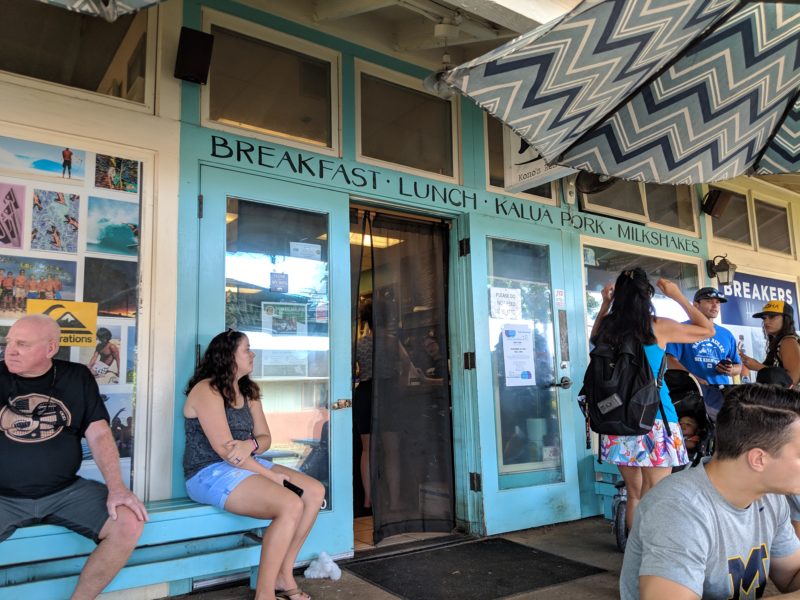 Why You Should Visit Kono's North Shore
For me, Kono's North Shore is one of those places where I take all my visiting friends to. Haleiwa and the North Shore have an awesome selection of plate lunches, food trucks and large restaurants, but Kono's North Shore serves kalua pork – a traditional Hawaiian pulled pork dish.
If you can't make it to Kono's North Shore, don't fear! They've got 3 other locations. There's one in Honolulu and Kailua if you want to give their kalua pork a taste. And if you're looking for something fancy, try The Surfing Pig in Kaimuki. It's described as "Kono's sexy big sister" on their site.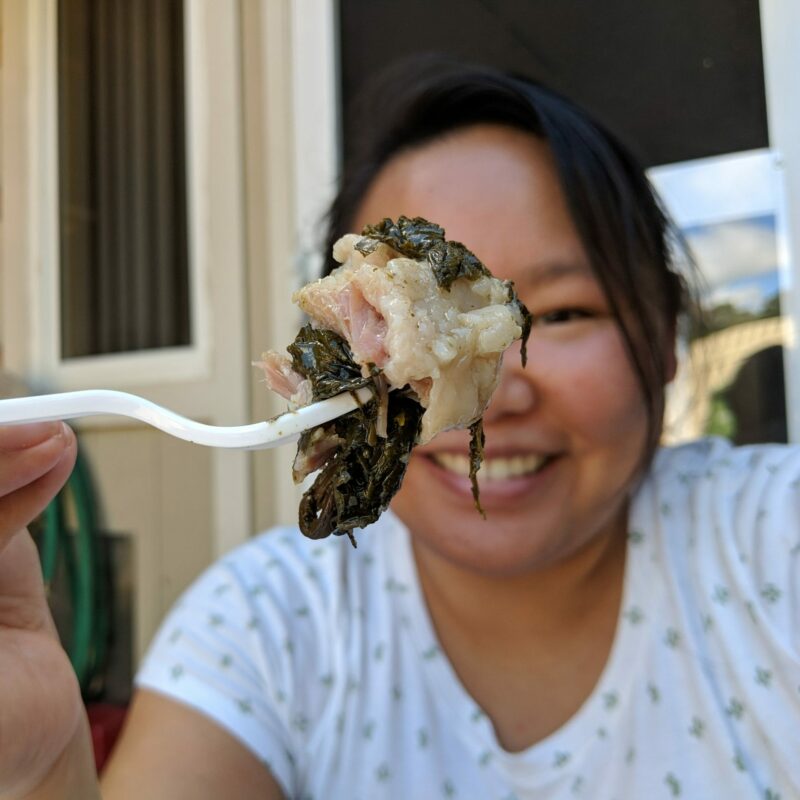 Discover more restaurants, bars, cheap eats, and mom-n-pop shops in Hawaii!