This post may contain affiliate links, which means I'll earn a small commission if you purchase something through these links. You won't pay any extra; instead, you'll be helping Aloha With Love to thrive. Thank you! Learn more.
COVID-19 has affected many of Hawaii's businesses and events. Please double check their dates and times before you go or make plans. Visit HawaiiCOVID19.com for more information.
--
My visiting friend (Nori Mizukami – documentary filmmaker from NYC) wanted to try "Hawaiian pancakes" so I obliged him by taking him to Koa Pancake House. I haven't been here in a while, but I'm so glad I decided to go! The pancakes were even better than I remembered and we fattened ourselves up pretty quickly.
I'm pretty sure more than half of my blog posts are all about food. While I apologize to my readers who want to see more hikes, beaches and bikinis, really, how do you expect me to resist? With all the yummy food here, I don't understand how I'm supposed to not eat everything!
Aloha with love,
Amy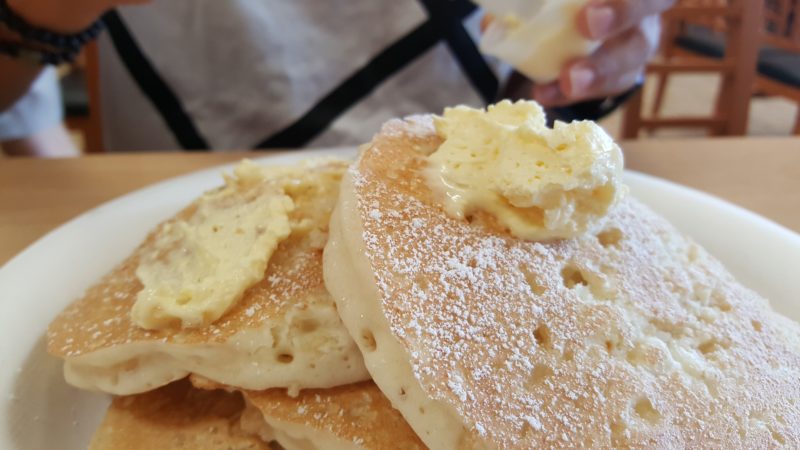 Koa's Pancake House makes pretty awesome pancakes. They're hot, fluffy, light and you can get really unique flavors such as macadamia nut, red velvet and the always popular strawberry cheesecake. They have both a short (3) and full stack (5) on menu so if you really love your pancakes, you'll want to go for broke here.
This local chain restaurant is especially popular during prime meal times, so you may find it crowded when you get here. Luckily, they do allow takeout orders and you'll see plenty of customers zooming in and out with their orders. Personally, I recommend eating here because hot breakfast food really can't be beat. The lovely butter they provide oozes away as it melts all over the pancakes and will make your mouth water. Koa Pancake House also closes early. At 2 PM as a matter of fact. So make sure you come in early enough to get your hot meal.
Local Tip: Guava juice is served here, which you really don't see very often these days. Also, their coconut syrup is spectacular! Definitely make sure you give it a taste because where else will you get to try coconut syrup??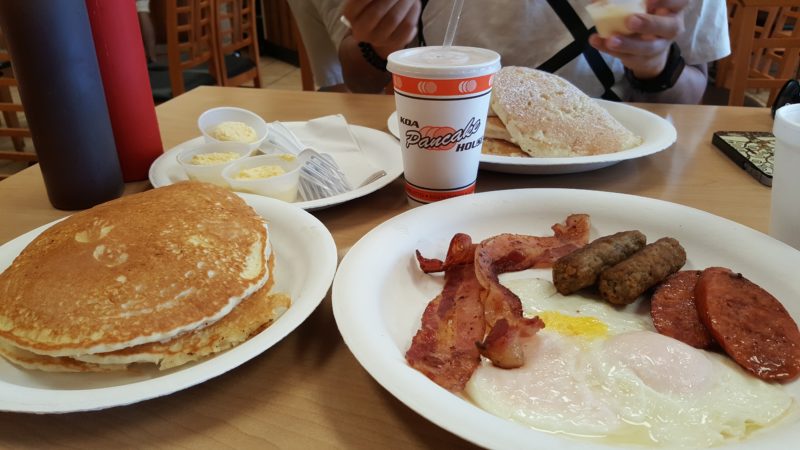 Pancakes aren't the only thing Koa Pancakes House does well. I ordered the trio breakfast plate for myself, which came with my favorite bacon and sausage and also the ever-popular local breakfast meat – portugese sausage. With two over easy eggs and my choice of starch (of course, I went with pancakes), this easily filled me up and I even brought some pancakes home because it was just too much for one person to finish!
My friend (skinniest guy you've ever seen) for some reason decided to get the full stack of macadamia nut pancakes and managed to eat 3 and we took the other 2 home. He actually forgot to take them with him when I dropped him off at his next filmmaking assignment and I ended up eating them for breakfast the next morning – sorry, Nori!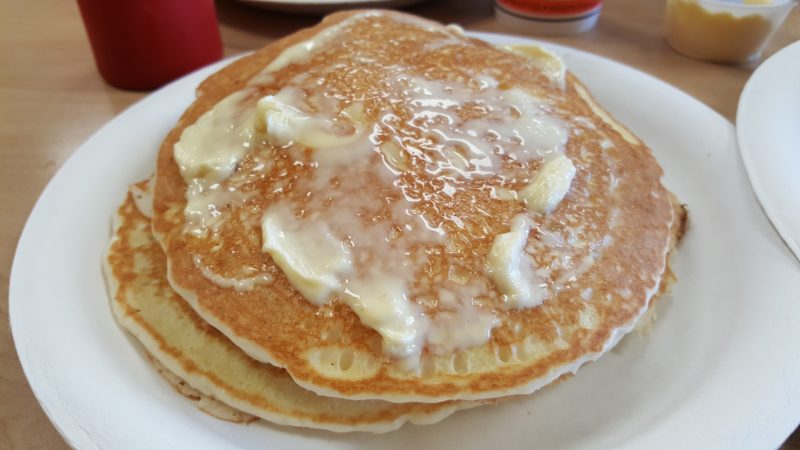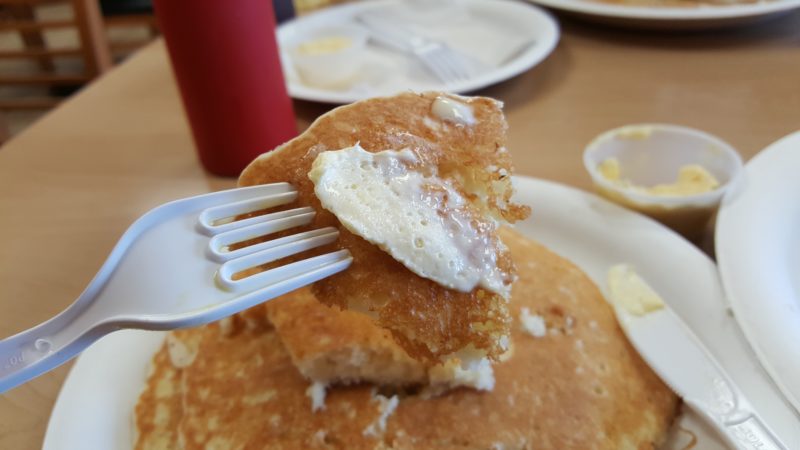 I actually decided to write this post because of my awesome Facebook fans who went crazy over this butter-sliding FB post I did. A big mahalo to everyone who liked, commented and shared!
Local Tip: If you decide to do takeout, make sure you ask for your coconut syrup! Or you'll end up with plain, old regular maple syrup…what a bummer, right? Maybe?
Are You A Foodie?
Oahu: The Aloha Plate Food Tour led by local celebrity Lanai Tabura is definitely something to try out. He's an all-around fun guy to be around and has a terrific background in food! The Honolulu/Waikiki Food Walking Tour is also a good one to choose because you'll try things from the best of Chinatown menus to lovely ube-drizzled pancakes. Mmmmm…
And if you're traveling with a large party and in the mood for some drinks, this 15-passenger bar hopping bike (yes, you read that correctly) will certainly take you places in an unorthodox, but awesome way. There are also plenty of open bar excursions like this fun and relaxing catamaran cruise.
Maui: Headed to upcountry Maui where all the farms are? Make a stop for a tropical farm tour at the Maui Gold Pineapple Farm.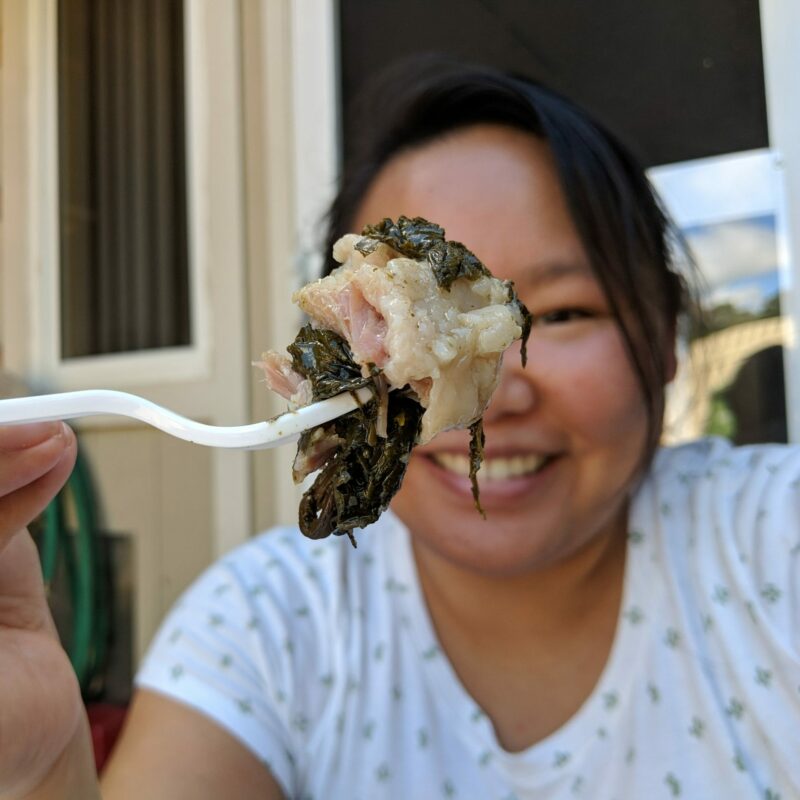 Discover more restaurants, bars, cheap eats, and mom-n-pop shops in Hawaii!