This post may contain affiliate links, which means I'll earn a small commission if you purchase something through these links. You won't pay any extra; instead, you'll be helping Aloha With Love to thrive. Thank you! Learn more.
COVID-19 has affected many of Hawaii's businesses and events. Please double check their dates and times before you go or make plans. Visit HawaiiCOVID19.com for more information.
--
The neverending debate in our household rears its head again.
Dad loves going out for breakfast. There's something about not having to open your fridge or turn on the stove. You don't have to babysit your eggs to get them jiggling just right. No getting your hands oily handling spam or Portugese sausage. Just pay a few bucks, read your newspaper and enjoy your breakfast when it comes.
Mom on the other hand has the same message for us every time: "Why go out? I can make the same thing, cheaper."
So when I found out about a $2 breakfast in Wahiawa, I couldn't resist.
Kitchen Delight calls themselves a deli and okazuya (okazu = side dish, ya = store). I can see they're a hit for Wahiawa residents and early birds headed to the North Shore. Make some time to stop here in the early morning if you're looking for a cheap eats breakfast and you're on the way to the North Shore.
Their big seller is their $2 "shock and awe" breakfast. 2 scoops of rice, 2 eggs cooked the way you like them, and a breakfast meat of your choice. It's a steal that even my Mom will have a hard time arguing against.
Aloha with love,
Amy
The $2 Shock And Awe Breakfast Is Our Staple Local Breakfast In Hawaii
You can find this breakfast combo everywhere in Hawaii. Zippy's, a popular local chain restaurant, has been serving the rice + eggs + meat combo probably since its inception. Even McDonalds was smart enough to do some preliminary research and came out with their local breakfast platters with spam and Portugese sausage.
Kitchen Delight's $2 shock and awe breakfast is on the lighter side, but just barely. Comparing it to what I'm used to, the Portugese sausage was a tad thinner and the rice just barely 2 scoops worth (they flatten it down on the plate so it's hard to tell). Eggs are eggs for me, but these were gooey and over easy, just the way I like them.
You get what you pay for. $2 is hard to beat and if you're stopping at Kitchen Delight in the morning on your way to the North Shore, then the light breakfast is what I'd prefer. There are so many places in Haleiwa that will fill you up for lunch. And if you're here just to experience a local breakfast with the atmosphere, a taste is all you really need.
If you're looking for something a bit more filling though, Kitchen Delight has plenty of other breakfast option add-ons. Spam musubi, plain musubi, steak and eggs, and loco moco are a few of my personal favorites.
Local Tip: Want something very local that I grew up with as a kid but is getting more difficult to find these days? Try the ume musubi – salted white rice wrapped in nori (seaweed) with a sour, pickled plum seed in the middle.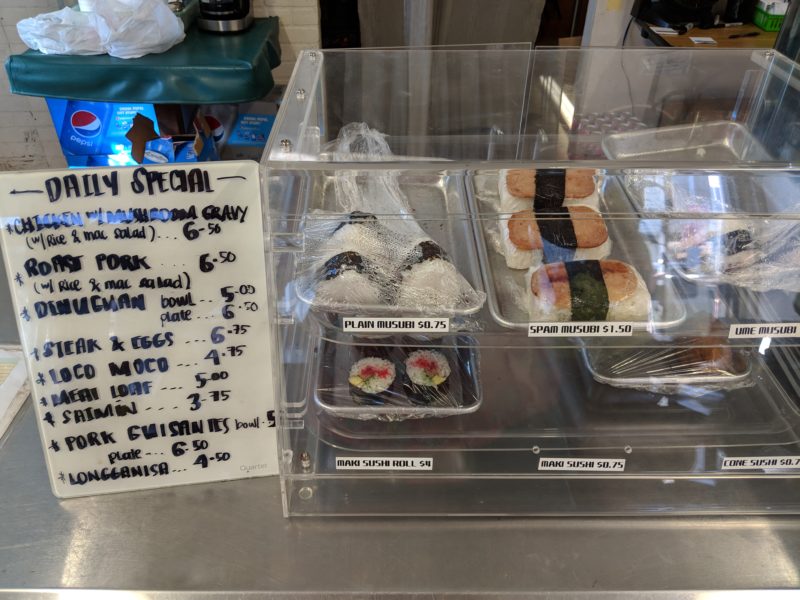 The Okazu Sell Out By The End Of The Day
Okazu is Japanese for side dishes, and it's stuck around in our everyday language since the plantation days. You'll usually hear okazu in Japanese restaurants like Shirokiya in Ala Moana Center.
The okazu at Kitchen Delight aren't your traditional okazu. Mini lau laus are clearly Hawaiian, and I'm pretty sure hot dog kebabs aren't Japanese. But the shop continues to make them, which means the demand is there.
While ordering my breakfast, I asked the cashier what the most popular okazu items were. She walked over to the shelfs and started naming the foods that often sold out. When she got around to the 15th food, she realized she'd already named about half and we shared a giggle.
Long story short, the okazu runs out at the end of the day. Some popular ones she named off the top of her head were the shrimp and vegetable tempura, longanisa, kinpira gobo and corned beef hash.
One idea is to add an okazu or 2 to your breakfast if you need a little extra energy to your shock and awe breakfast. Or, just get a plain musubi and pair it off with an okazu if the $2 breakfast isn't to your liking.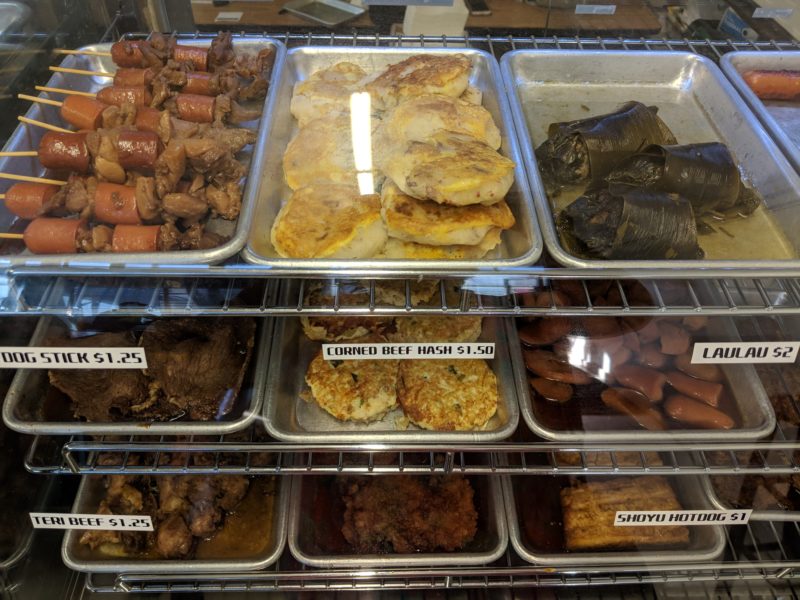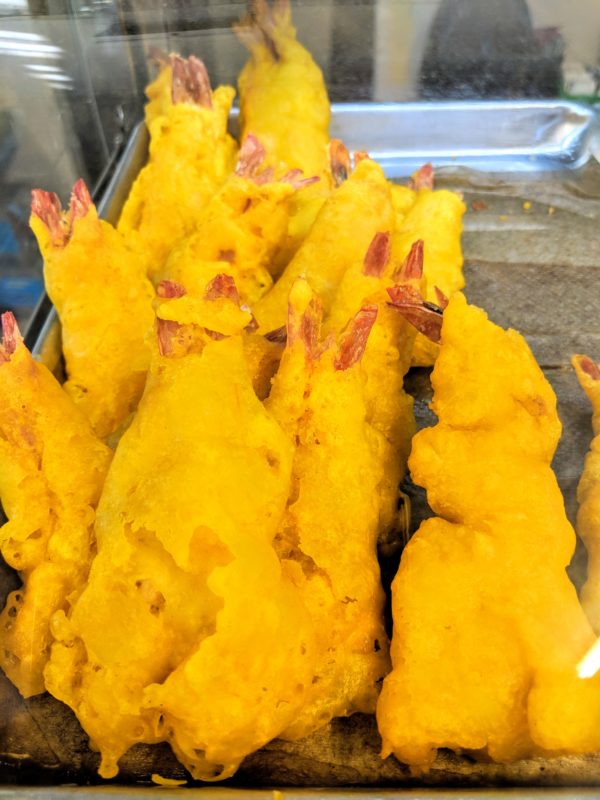 You'll Be Surprised Just How Nondescript Kitchen Delight Is
Tourists don't stop in Wahiawa unless it's to stop for gas before heading off to Haleiwa and the North Shore beaches. Remnants of the pineapple days still echo through the town and it's a unique spot where several cheap eats do business everyday.
Kitchen Delight sits next door to a busy laundromat and even I thought I had the wrong place when I first drove past it. There's no parking lot here, just street parking that constantly moves in and out. I lucked out and snagged a spot that someone just vacated, but there's plenty of street parking all around the area.
You can't see through the Kitchen Delight windows so if it wasn't for the neon OPEN sign, I would have never pegged this place as a popular local breakfast hot spot. But stay outside long enough and you begin to notice that there's a steady crowd of customers coming and going out of Kitchen Delight's doors – a very good sign.
An even better sign was seeing the packed room when I opened the door! Plenty of people were waiting for their takeout orders at 9 AM. The dining tables seat roughly 20+ people and there were extra stools lined up along the walls for waiting patrons. One man even walked out with at least 20 shock and awe breakfast takeouts – it must have been a wild Friday night!
I was surprised that no one else was eating inside. Everyone in the room seemed to be waiting for their takeout order, so I ended up being the only one chowing down.
Local Tip: The very last store before you leave Wahiawa is a 7-11 gas station (just a 1-minute drive from Kitchen Delight). Fill up before you go because Haleiwa's gas station is difficult to get to due to all the tourists and traffic.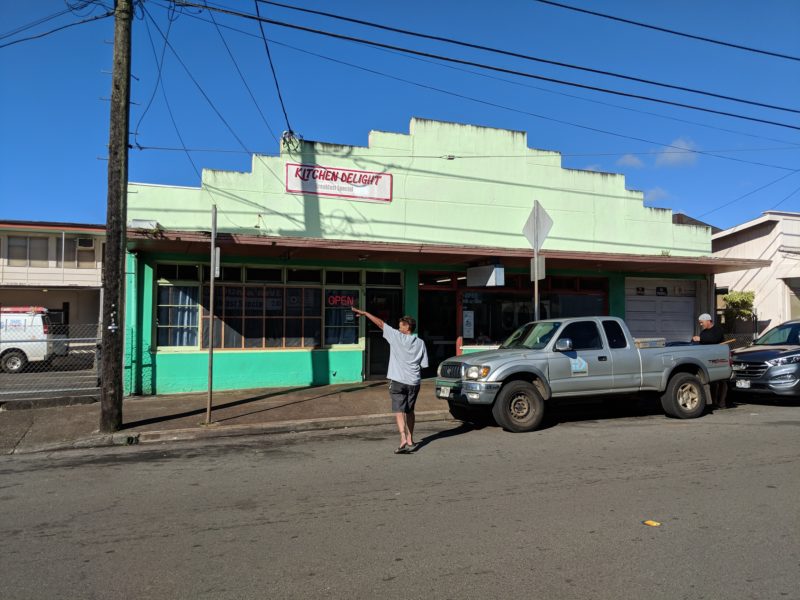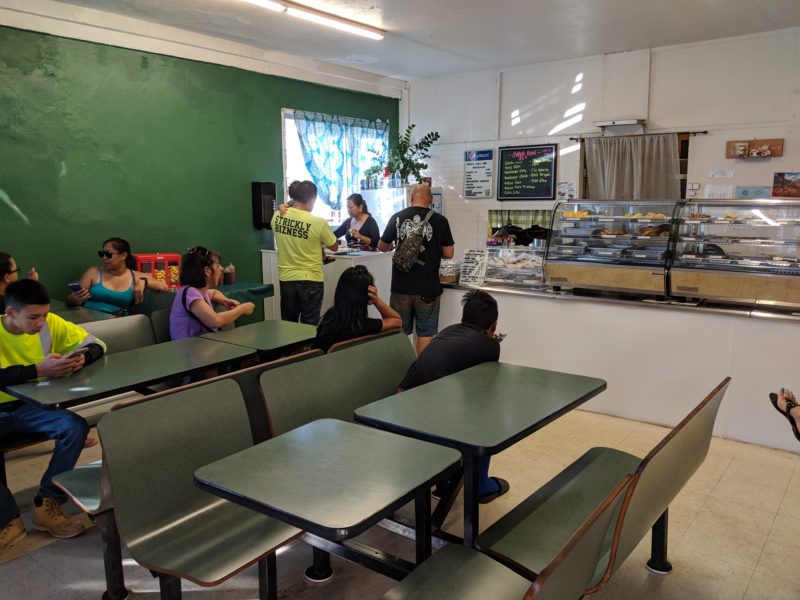 Local Cheap Eats Are Awesome Because Of The Price And The Experience
What's neat about Kitchen Delight's $2 breakfast is not just the price. It's about the atmosphere, the okazuya experience, the local menu, and doing what the locals do: waking up early and making a breakfast stop in Wahiawa before the trek into Haleiwa and the North Shore.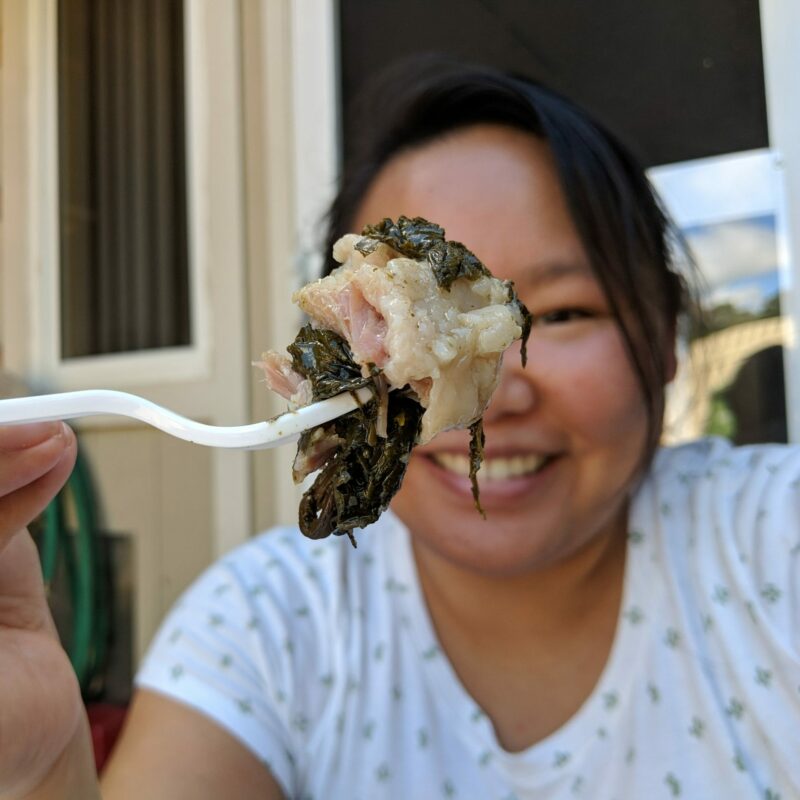 Discover more restaurants, bars, cheap eats, and mom-n-pop shops in Hawaii!