This post may contain affiliate links, which means I'll earn a small commission if you purchase something through these links. You won't pay any extra; instead, you'll be helping Aloha With Love to thrive. Thank you! Learn more.
COVID-19 has affected many of Hawaii's businesses and events. Please double check their dates and times before you go or make plans. Visit HawaiiCOVID19.com for more information.
--
Every so often in Hawaii you run into an old family business that has no website, no social media, and no marketing. Kiso Store in Waipahu is one such store. You could live in Waipahu and drive past Kiso Store every day without ever realizing that they have the best prices for gravel, bricks, and landscaping decor.
If you're redesigning your yard, looking for a stone buddha, or need a truckload of gravel, I highly recommend Kiso Store. More "empty lot" than "store", Kiso Store has piles and piles of gravel, rock, sand, statues, pavers…the list goes on.
The Kiso Store Lot
When you first drive into Kiso Store's lot, make sure you're driving into the right entrance because they've made it into a one-way path to avoid collisions. Space can be a little tight here since everyone tends to congregate in this area near the ordering booth so be careful.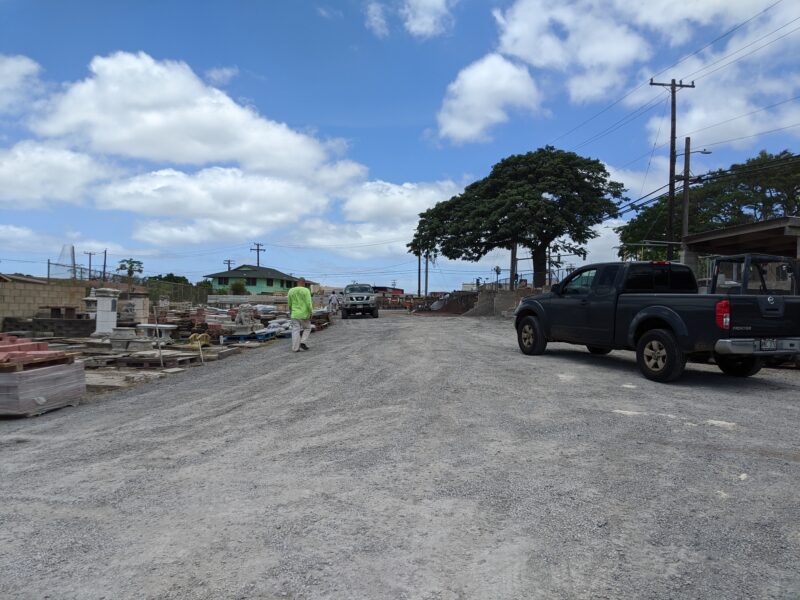 The entire lot is shaped like a cul-de-sac. You drive in, turn to the right and you'll get to the end and turn right back around. Turning around can be a little tricky, so just leave enough room for the car in front of you so you don't block their way.
Purchasing from Kiso Store
You can buy most things in small quantities, but Kiso Store wins the price game when you buy it "by the scoop". They have a couple of small bulldozers on site and you can purchase your loose gravel/stone/sand as a half-scoop or full scoop.
Local Tip: If you only plan to purchase small quantities, do a price comparison with stores near you. For me, it was cheaper to buy the last few extra bags of rock I needed from Walmart.
Kiso Store is old school. You can give them a call and the phone is almost always picked up by the same lady who works in the Kiso Store "shack". She knows the inventory front to back so she can answer your questions immediately.
If you aren't entirely sure about what you want, drive into the lot and park where your vehicle won't be in the way. In general, you'll want to stay away from the loose gravel so the bulldozers can get through. You're free to peruse and walk around – just keep an eye on your car to make sure you aren't blocking anyone as many of the customers here seem to be in landscaping/construction and probably want to pay and get back to their job site asap.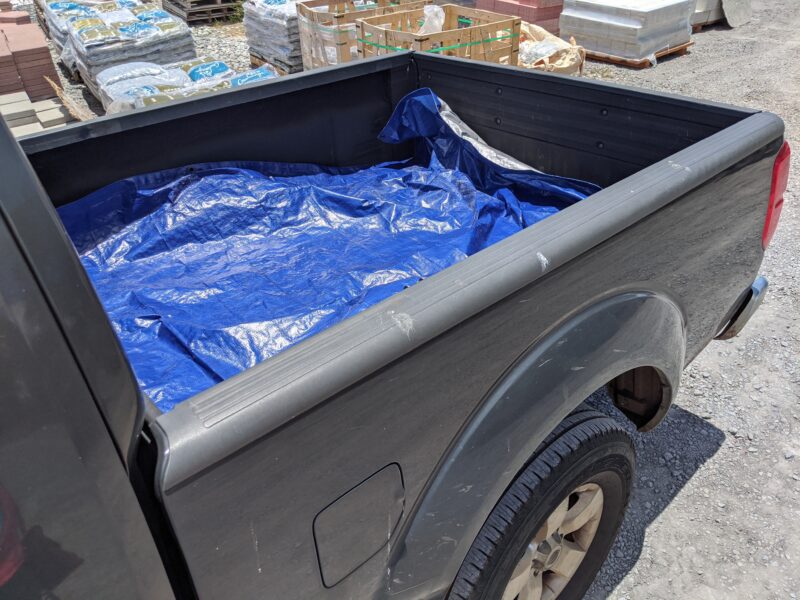 Bring a tarp if you plan to buy any loose rocks by the scoop. It makes your cleanup a lot easier after unloading and protects the bottom of your bed from potential damage.
To place an order, head to the shack located near the exit. There's a large "KISO STORE" sign in the front and a small window where you can relay what you want. You'll pay right there and they'll radio in someone to help you load your goods.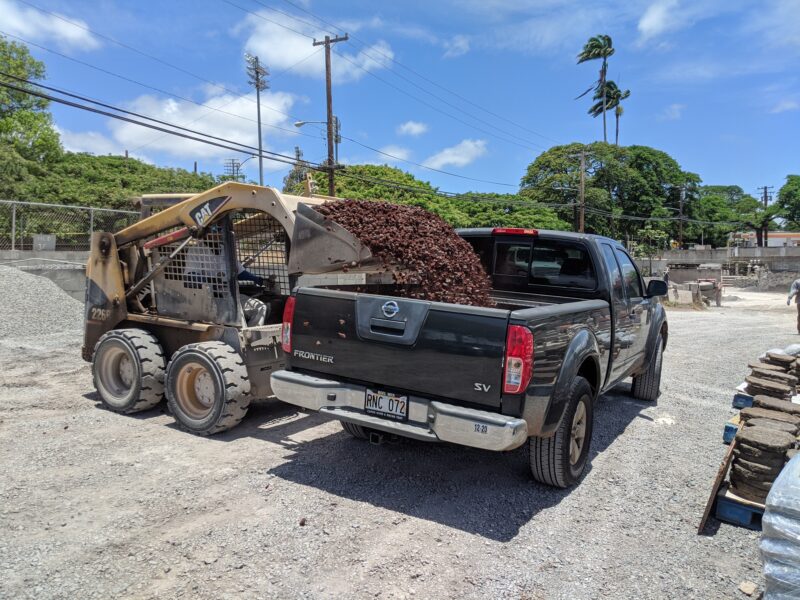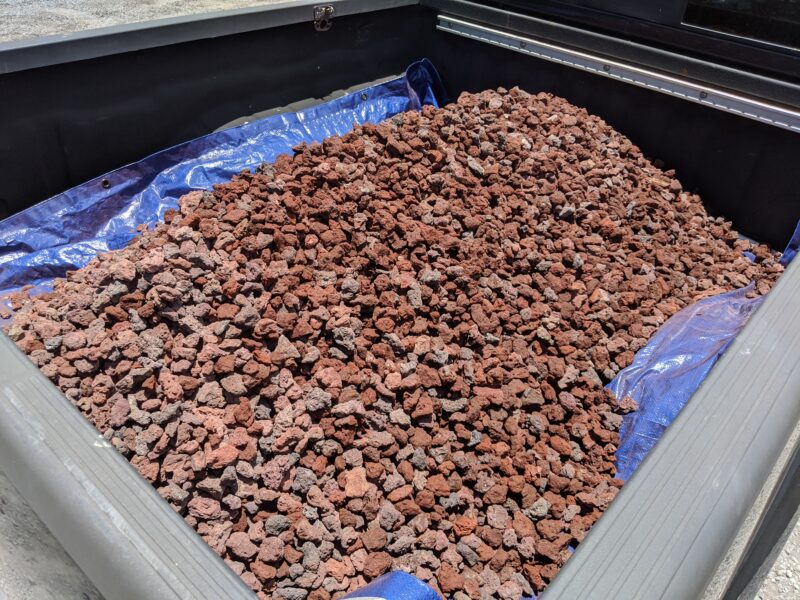 The Kiso Store Experience
Here's what one full scoop of red lava rock (aka red cinder) looked like in our truck (Nissan Frontier). It filled up about half of the bed and only cost me $80. Quite a steal considering that a small 3/4 cubic feet bag costs $6 – $7 at Walmart.
While I can't vouch for the other loose rock, pavers, and landscaping decor Kiso Store has in stock, their Yelp reviews indicate that everyone is pleasantly surprised by their affordable prices for bulk purchases. I even sent my friend over to Kiso Store when she mentioned she needed a lot of quartz for her front yard redesign. She gave me a thumbs up after her visit!
I love small and local businesses like Kiso Store. Hawaii is a great place to find gems like these because word-of-mouth marketing here is so powerful! I was very pleased with their customer service, too. When I first visited, all I knew was that I needed to get lava rock and the staff didn't mind answering all of my questions. Since Kiso Store doesn't accept returns (understandable since it's hard to "unscoop" gravel out of your truck), I wanted to get this order right and they were with me the whole way making sure I left satisfied.
Are you considering visiting Kiso Store for your next landscaping design project? Or, perhaps you already paid them a visit? I'd love to hear about your experience! Let me know what you think in the comments!
Aloha with love,
Amy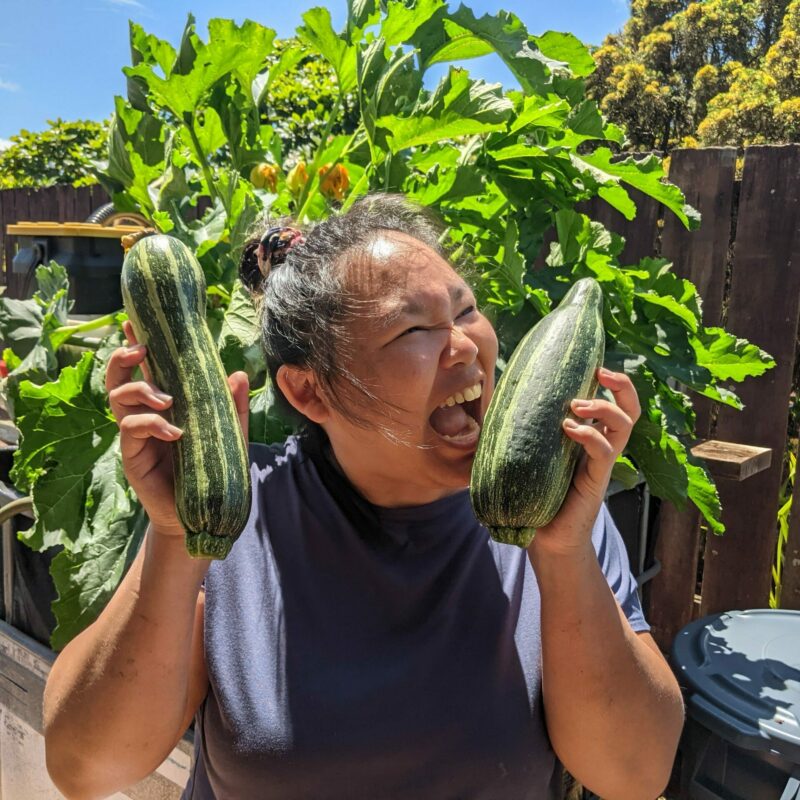 Learn more about living in Hawaii!