This post may contain affiliate links, which means I'll earn a small commission if you purchase something through these links. You won't pay any extra; instead, you'll be helping Aloha With Love to thrive. Thank you! Learn more.
COVID-19 has affected many of Hawaii's businesses and events. Please double check their dates and times before you go or make plans. Visit HawaiiCOVID19.com for more information.
--
Hiking to Kiholo Bay's Wainanalii Pond is a neat little local gem on the Big Island. If you're into nature and being outdoors, I think you'll really enjoy this outing that will only take you 2 – 3 hours. You can enjoy a mini hike along a black lava rock coastline, see lots of turtles, 2 Hawaiian fishponds, and have a relaxing swim in calm waters.
Aloha with love,
Amy
Prohibited – Please Read!
Do not swim inside Waiaelepi (fresh water pool) or Keanalele Waterhole (often mistakenly called Queen's Bath). These fragile ecosystems can die if disturbed.
Don't touch or harass the turtles – it's illegal as they are federally protected.
Dogs and other pets. Dogs aren't allowed in the Kiholo camping area so I think it's safe to assume they aren't allowed in the entirety of the Kiholo State Park Reserve. Service dogs wearing the proper harness jackets are permitted.
About Kiholo Bay
A morning excursion to Kiholo Bay is a great way to explore the natural beauty of the Big Island. Located in North Kona and only about a 30-minute drive from Kailua-Kona, it's easy to reach and you don't even need a 4WD vehicle to get here.
The biggest draw for most people coming to Kiholo Bay are the sea turtles. You'll see them hugging the coastline and hear their signature pop of air as they break the surface of the water and take a breath.
There is an access gate that opens and closes every night, so make sure you're out before the times below.
April 1 to Labor Day – Gate closes from 7 PM to 7 AM
Labor Day to March 31 – Gate closes from 6 PM to 7 AM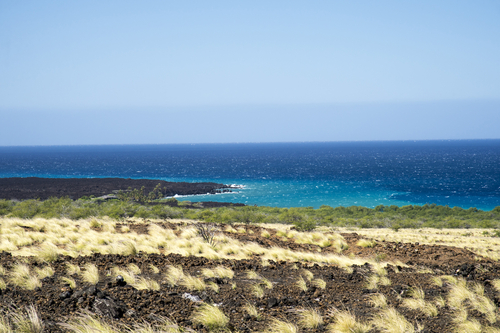 History and facts
Kiholo Bay is part of the Kiholo State Park Reserve and is managed by two groups:
The Department of Land and Natural Resource's (DLNR) Division of State Parks. See their Kiholo Bay page.
Hui Aloha Kiholo – (a nonprofit responsible for preserving this area)
Hui Aloha Kiholo is a small local group that helps preserve the natural beauty of the Kiholo area. They maintain the public portable toilets and rubbish bins so that future visitors and local residents can enjoy the history, view, and sea life in this area.
Local tip: By donating to Hui Aloha Kiholo, you're helping to maintain the public portable toilets and rubbish bins so that the next visitor can enjoy this site, too. There are also volunteer and education opportunites.
As you can guess from how protected Kiholo bay is and the sea creatures living in it, the waters here provided abundant fish for the ancient Hawaiians. There are two Hawaiian fishponds inland of the bay that you can still see, but there used to be an even larger third fishpond that was decimated by the Mauna Loa eruption in 1859.
The eruption also took out an entire Hawaiian village that used to thrive here. As you explore near Wainanalii Pond, notice the surrounding black lava rock that covers the east side of the bay as far as you can see.
How to get to Kiholo Bay
There are 3 ways to get to Kiholo Bay. The first is to drive to the parking area of the Kiholo State Park Reserve, then walk along the coastline until you reach the bay and Wainanalii Pond.
The second is to walk the inner dirt trail that runs parallel to the coastline and will take you to the two fishponds, eventually spilling out into the bay.
The third method is to park in the designated area on the side of the highway and walk straight toward the ocean and Kiholo Bay.
Coastline: From Queen Kaahumanu Highway (Hwy 19), turn into the Kiholo State Park Reserve road. This road is unmarked but you'll see it between the 82 and 83 mile marker signs.
Drive all the way down and you'll eventually reach a small clearing where you can park your car against the trees. From here you can walk out to the coastline. Just turn right and follow the path until you get to Kiholo Bay and ultimately Wainanalii Pond. The walk will take most people about 30 minutes. Although I expect you'll take longer once you see your first turtle!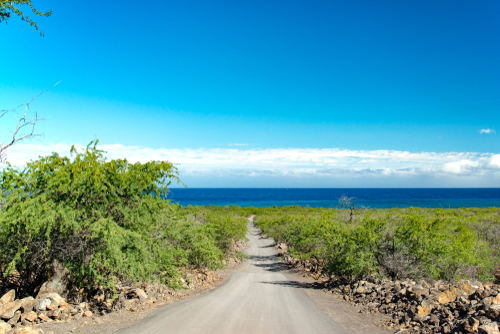 Inner trail: From your parked car, turn around and walk inland, then take a left when you see the path diverge left. You won't see the coastline during your walk, but for folks who find it difficult to walk on uneven land will find it easier to walk this flat dirt path.
Note: You'll see another path diverging to the right as you walk inland. Don't walk here as it will eventually lead to a private residence that was sold for $16M back in 2016. You definitely don't want to be bothering whoever lives there. Instead, watch this real estate video of the home and feel jealous with me:
Walking from Queen Kaahumanu Highway (Hwy 19): The other way to reach Kiholo Bay is to park on the pullout of Queen Kaahumanu Highway (Hwy 19) near mile marker 81. Since you'll be at a slightly higher elevation, you should be able to see the bay as you walk down the trail. While this walk isn't along the coastline, it does take you straight through the Hawaiian fishponds before you reach the bay.
Camping at Kiholo State Park Reserve
There are campsites to the left (west) of the parking area where the pebbled beach is. You do need to reserve a campsite via the DLNR website in order to stay here and make sure you read up on the rules as there are plenty to follow.
Below is a Kiholo camping video by Hui Aloha Kiholo, which gives you a better idea of what to expect and also what's around in the area. For even more detailed information on camping, check out Hui Aloha Kiholo's camping page.
Walking to Kiholo Bay
I highly recommend walking to Kiholo Bay as early as possible (the access gate opens at 7 AM). You'll start to see a lot more people around 10 AM, so if you want to avoid people and have more time to yourself to swim around, plan on arriving at the bay by 9:30 AM.
It gets hot in Kona and the Kiholo area is no exception. The walk from either starting point will take at least 30 minutes for most people, although it will probably take longer if you choose to walk on the coastline as there are so many other things to see.
Walking to Kiholo Bay and back will take you at least 2 hours (including exploring and swimming). Expect this hike to take you at least 2 – 3 hours because there's plenty to see and do.
Kiawe tree thorns (mesquite): If you choose to reach Kiholo Bay by walking straight from Queen Kaahumanu Highway (Hwy 19), there will be some kiawe trees. These trees are known for their sharp thorns. Avoid stepping on fallen branches as they can get stuck on the bottom of your shoe or pierce your foot.
What to bring with you
Bring adequate water because it gets hot here and there are no water facilities.
Good footwear. Don't wear slippers (flip-flops). The lava rock you'll be walking on is very sharp. Even walking from Queen Kaahumanu Highway (Hwy 19) can be dangerous as all the Kiawe tree branches have sharp thorns.
Wear your swimsuit – take a lovely dip in and around Wainanalii Pond.
Sunscreen is very important for your skin. Consider a reef-safe sunscreen so that you don't hurt the surrounding environment.
Note: Like anywhere else you visit, please don't litter and pick up any rubbish you find along the way. Leave no trace.
Things to see
Tidepools: As you walk along the coastline, you'll see tidepools brimming with small sea creatures like crabs and fish.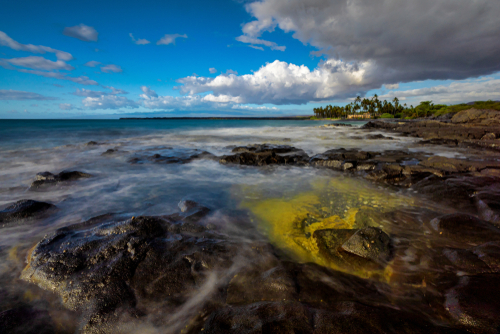 Petroglyphs: If you have sharp eyes, look for a hook and fish petroglyphs on a large flat lava rock.
Keanalele Waterhole: About a quarter of the way in you'll come across the Keanalele Waterhole under the trees. Often mistakenly called Queen's Bath, this is a lava tube that has filled up with fresh water and has it's own unique ecosystem living inside it.
Unfortunately, many people like to take a dip in here, which negatively impacts the fragile ecosystem living in Keanalele. Your own skin, sweat, and sunscreen is enough to do a lot of damage. Please stay out and enjoy without going into the water.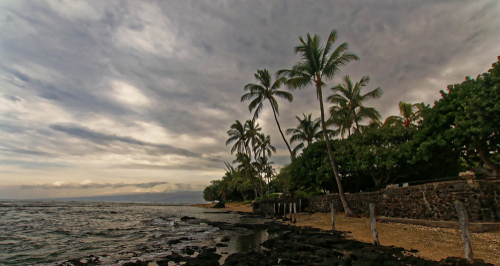 Private property: You'll also pass by a few private properties so be respectful of your noise level in this area.
Turtles
The turtles in Kiholo Bay are a huge attraction of why this place is getting more and more popular. You're pretty much guaranteed to see a bunch of turtles here. Besides the more common Hawaiian green sea turtle, you might see the rarer Hawksbill turtle, too.
Unlike the endangered green sea turtle, the Hawksbill turtles have not fared as well and are considered to be critically endangered species.
Look for them eating near the tidepools, in the fishpond, swimming through the channel that flows out into the bay, and sunning themselves right along the path you walk on.
Local tip: Remember, it's against federal law to touch, harass, or disturb turtles in Hawaii. Keep at least 10 feet distance between you and any turtle you come across.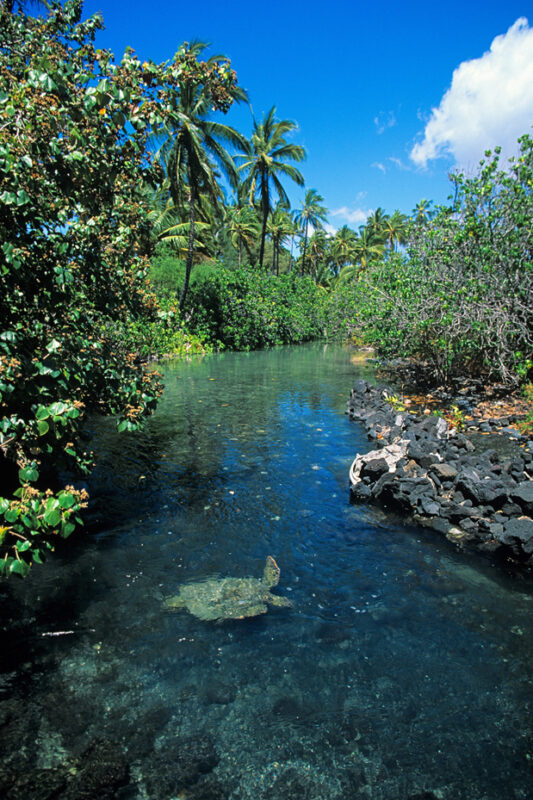 Wainanalii Pond (Blue Lagoon)
The final destination in Kiholo Bay is Wainanalii Pond (aka Blue Lagoon for local residents) at the northern tip of the bay. You'll see plenty of fish in the pond and it will be hard to not see a turtle in here.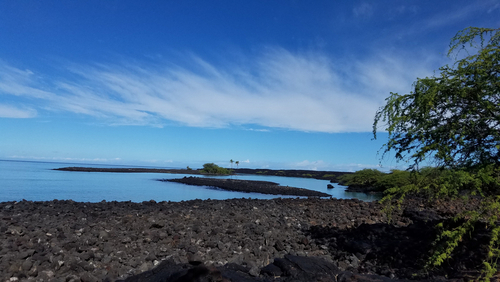 The channel and fishponds
Walk inland from the bay and you'll find 2 large Hawaiian fishponds. There's a stone channel that connects the fishponds to the bay. During high tide some of the turtles will use it to go in and out. It's a neat perspective as you walk above the channel.
Unlike many Hawaiian fishponds that are built as a semi-circle in the shallows of the ocean's shore, these 2 fishponds are inland surrounded by trees. That's because they are spring-fed, so it's a really amazing example of creativity and engineering.
Getting in the water
Swimming and snorkeling: Most people will begin their swim in or around Wainanalii Pond. Although you'll see plenty of fish and turtles here, it's usually not a good place to snorkel. The combination of fresh and salt water make for poor visibility. However, if you do decide to snorkel, try near the mouth of Wainanalii Pond where it seems to be a bit clearer than other spots.
Kayaking and SUP: This is a great place to kayak or SUP as it's usually flat. With so many visible sea creatures as you paddle, it's a memorable experience. Take caution during the winter as this does become a temporary surf spot when the winter swells come in.
Other points of interest
Kiholo Bay scenic overlook: On Queen Kaahumanu Highway (Hwy 19) near the 82 mile marker, there's a Kiholo Bay scenic overlook that gives you a good view of the South Kohala coastline. On clear days you can even see Maui and if you're really lucky, Lanai will be visible on its left.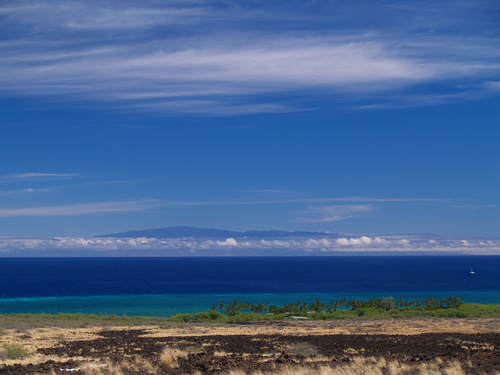 Waiaelepi freshwater pool: Located south of the camping grounds, this is a spring-fed pool with a fragile ecosystem. Hui Aloha Kiholo highly discourages swimming in here.
Poho Paakai salt pans: Also located south of the camping grounds, these salt pans were built in the early 1900s as a way for Hawaiians to harvest salt and preserve their food.
Nawaikulua Point: From the parking lot instead of turning right to head toward Kiholo Bay, you can also turn left and walk on the coastline to eventually reach Nawaikulua Point, which is part of the Aka Kahakai National Historic Trail.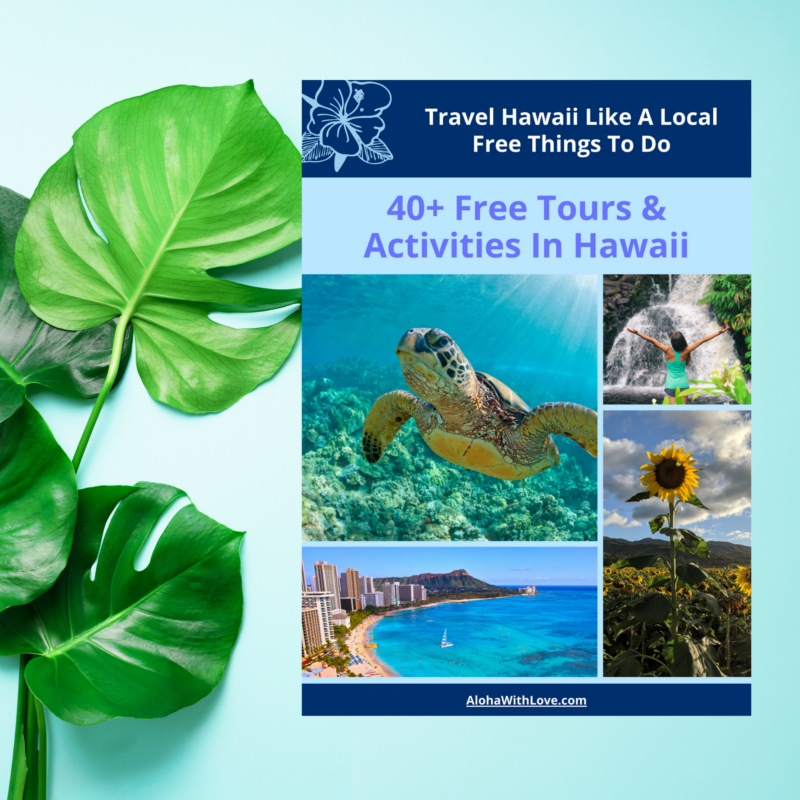 Want to go on a free tour in Hawaii?