This post may contain affiliate links, which means I'll earn a small commission if you purchase something through these links. You won't pay any extra; instead, you'll be helping Aloha With Love to thrive. Thank you! Learn more.
COVID-19 has affected many of Hawaii's businesses and events. Please double check their dates and times before you go or make plans. Visit HawaiiCOVID19.com for more information.
--
If you're staying in Waikiki and would like to check out local farmers' markets, the KCC Farmers' Market is a good place to start! There is plenty to eat and see here and you can always burn off a few calories with the Diamond Head Hike next door.
Aloha with love,
Amy
About the KCC Farmers' Market
I love going to farmers' markets when I travel. There are sure to be local vendors and one of my favorite things is experiencing something that I can only get at that destination. The farmers' market at the Kapiolani Community College (KCC) parking lot is one of my favorites.
There are a ton of local vendors and it's easily accessible from Waikiki. Parking is plentiful and free (it does get busy though) and KCC is a beautiful campus with gorgeous views of the surrounding neighborhood. Also, since Diamond Head is right next door, it's easy to pair the two up into one day.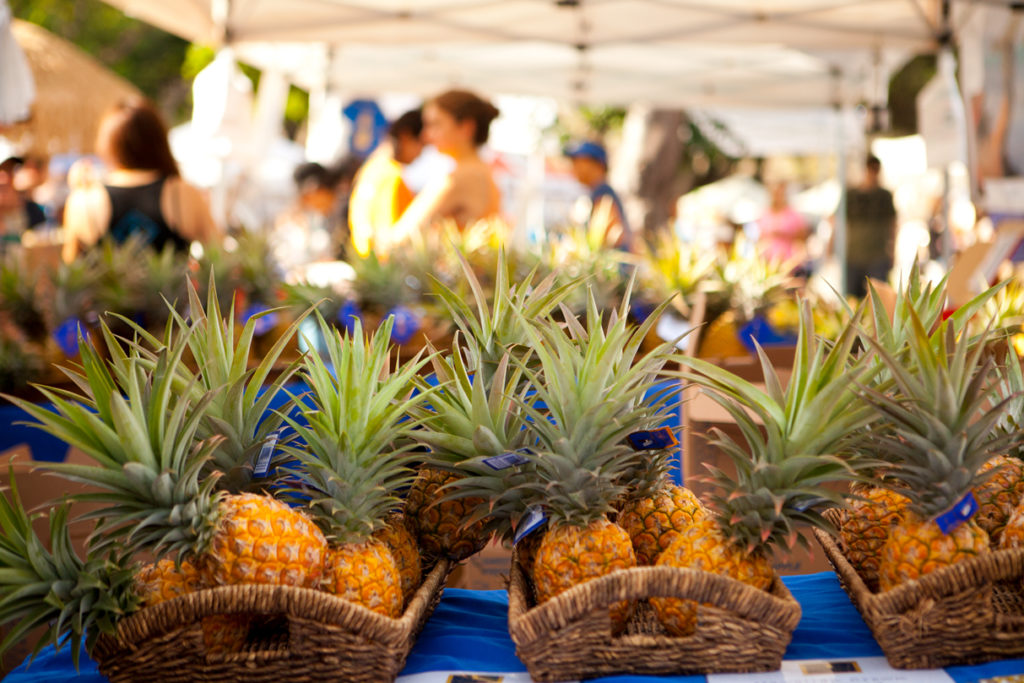 Expect fresh fruit and veggies, as well as several tropical flowers such as torch ginger, bird-of-paradise and a variety of anthuriums (all of which last extremely long and are perfect as a gift). If you're looking for a meal, you're in luck. There are a ton of food options from burgers to grilled abalone that are sure to hit the spot. If you're lucky enough and the line isn't too long, the Pig and the Lady is a local treat.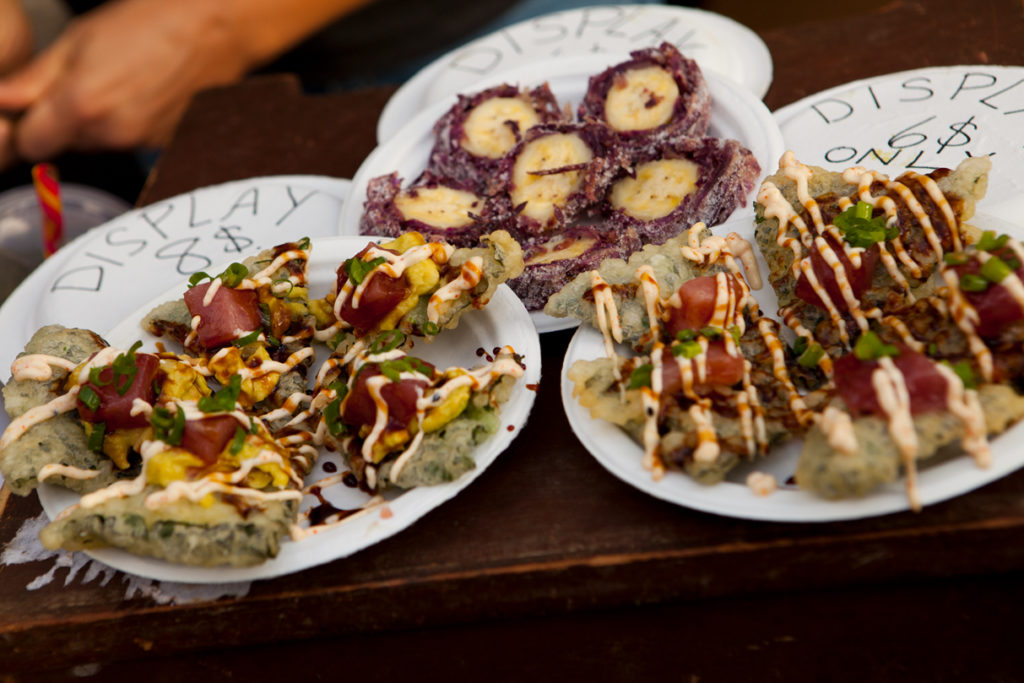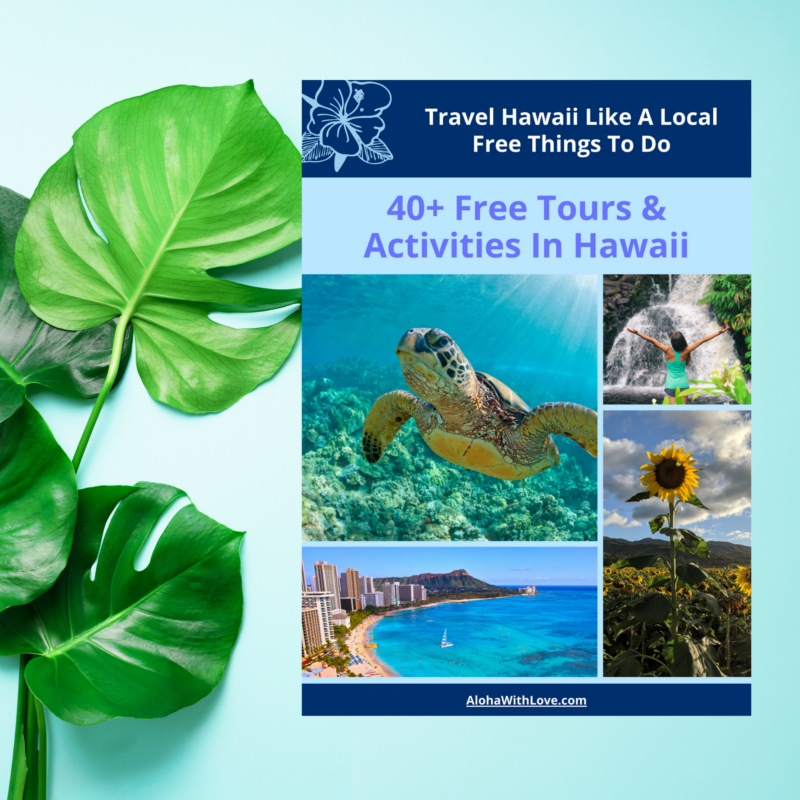 Want to go on a free tour in Hawaii?
Opening hours
The KCC Farmers' Market is run by the Hawaii Farm Bureau (HFB) and at the time of this post these were their hours. Check the KCC Farmers' Market page on the HFB website for updated hours and information. You can also check the HFB website for information on other farmers' markets in Hawaii, vendors, and products.
4303 Diamond Head Rd Honolulu, HI 96816
Saturday 7:30 AM – 11:00 AM
Tuesday 4:00 PM – 7:00 PM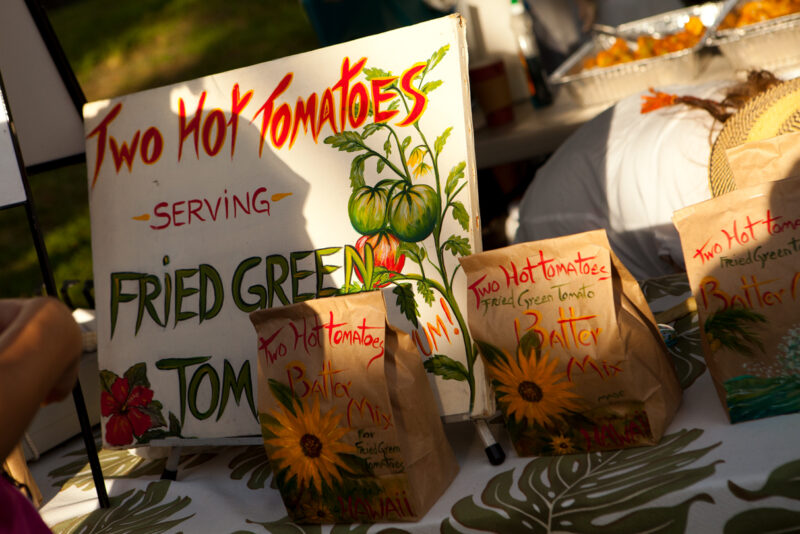 What is visiting KCC Farmers' Market like?
Since this is a farmers' market, there aren't many vendors selling small trinkets or souvenirs so if you have younger kids who grow bored easily, make sure you have a backup plan. Instead, use the KCC farmers' market to experience new foods or local treats.
Many people (both tourists and locals) like to pair the KCC Farmers' Market with a hike to Diamond Head, right next door. So be sure to check out the KCC Farmers' Markets open hours if this sounds like something you'd like to do. Most hikers end up parking in the KCC parking lot anyway so you'll hit two birds with one stone.
Kapiolani Farmers' Market has a lot to see and eat, so the market can get very crowded with both locals and tourists. I recommend getting there when it opens on Saturday morning to avoid the traffic, hot sun and long lines. The Pig and the Lady is probably the most popular food vendor there, but not to worry if they can't squeeze you in. Just check out their restaurant in Chinatown!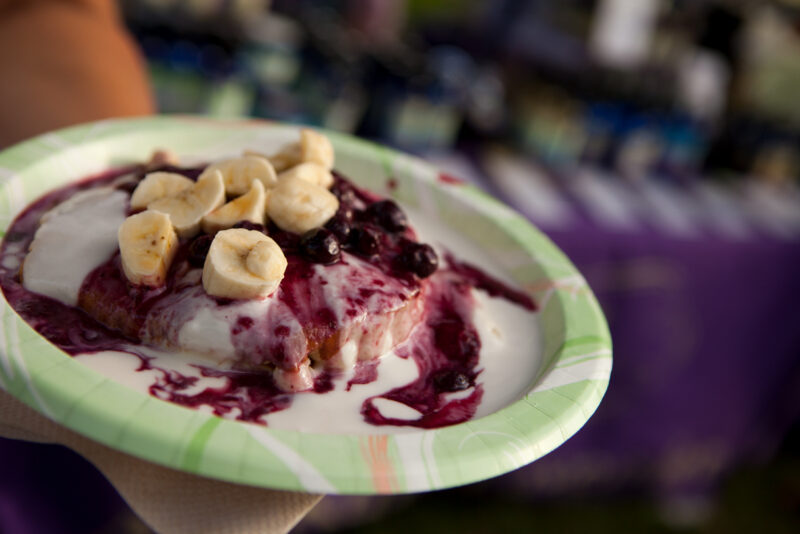 Things to try at KCC Farmers' Market
The vendors are always changing at KCC Farmers' Market, but here are a few popular items that I've liked in the past:
Pig and the Lady (Excellent Vietnamese food – anything is good. Check their website for farmers' market menus and other public events appearances.)
Fried coconut mochi on a stick from Mochi Aulelei.
Takoyaki (Japanese fried octopus balls)
Coconut ube soft serve on a papaya
There's always plate lunches being sold here. Common choices are garlic shrimp, mixed plates, kalbi, and even some breakfast options.
Deep-fried mushroom poppers and zucchini fries
Fresh sugarcane to chew on (very nostalgic for my generation and up)
Beautiful red tomatoes from Kamuela, Big Island
Musubi (rice balls with filling) from Maona Musubi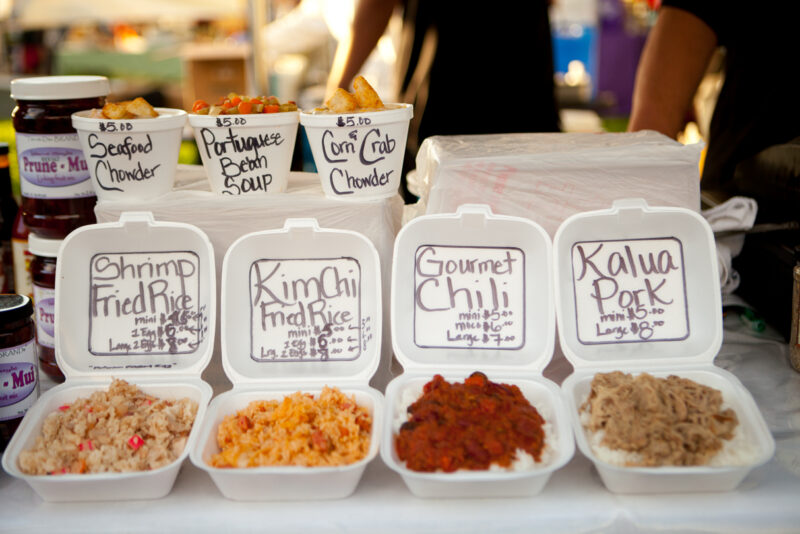 Other things to do in Oahu near KCC Farmers' Market
Because KCC Farmers' Market is right next to Diamond Head State Monument (which is about a 10-15 minute drive away from Waikiki), there's a lot of activities and attractions nearby.
Diamond Head State Monument: I've already mentioned Diamond Head several times, but if you're considering to go, read my Diamond Head post so you know everything before you go.
Rainbow Drive-In (the original location) is located on Kapahulu Avenue, which is a straight shot from the Diamond Head side of Waikiki (East Waikiki).
A family favorite is to buy our takeout food and eat it at Kapiolani Park in Waikiki. Park on the street "back" side of the park (farthest away from the ocean), find a picnic table under some shade and enjoy your meal.
If you don't want to hike up Diamond Head, you can still get a very pretty view from the Kahala Lookout. From the KCC Farmers' Market, follow the Diamond Head crowd up the hill. Right before the Diamond Head tunnel is the Kahala Lookout with a view of Kahala.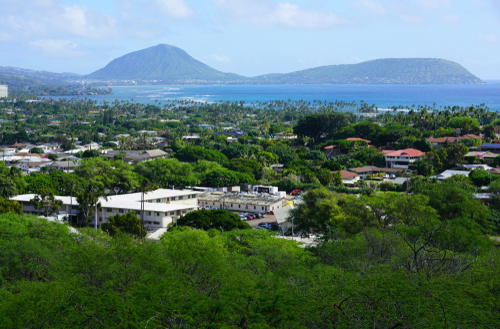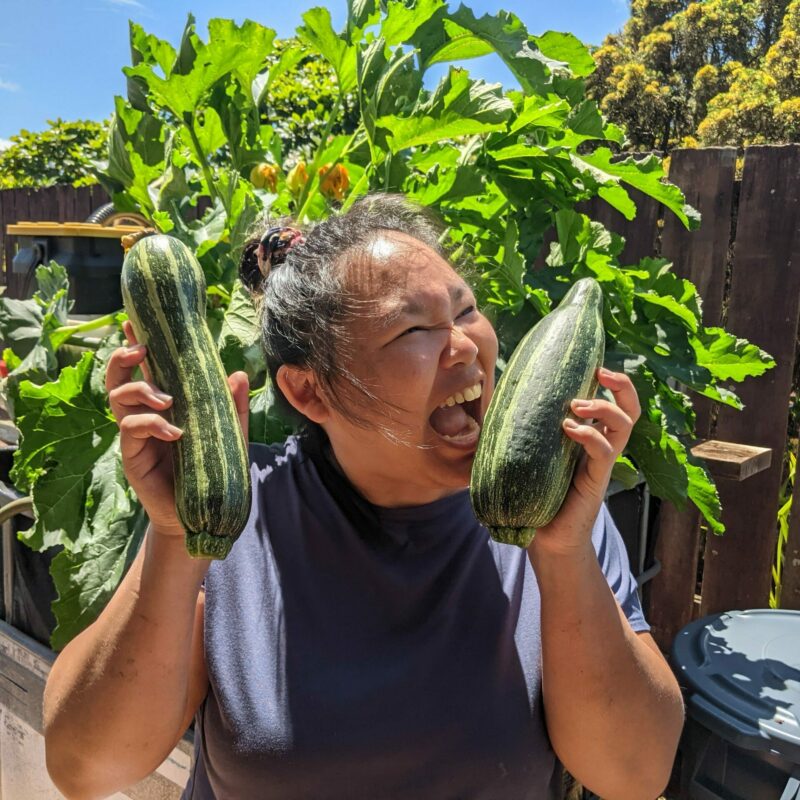 Learn more about living in Hawaii!