This post may contain affiliate links, which means I'll earn a small commission if you purchase something through these links. You won't pay any extra; instead, you'll be helping Aloha With Love to thrive. Thank you! Learn more.
COVID-19 has affected many of Hawaii's businesses and events. Please double check their dates and times before you go or make plans. Visit HawaiiCOVID19.com for more information.
--
Kauai tubing is just one of those must-do activities if you ever get the chance to go to Kauai. The Garden Isle is not often the first island of choice for most Hawaii visitors, but you can't argue that it's certainly one of the most beautiful. There are less people here (compared to Oahu) and visitors seem drawn to its amazing landscapes and relaxation opportunities.
The great thing about Kauai tubing is that almost anyone can do it with very little effort. Young, old and anyone in between can have fun together so this is a perfect adventure for the family.
Have fun tubing in Kauai!
Aloha with love,
Amy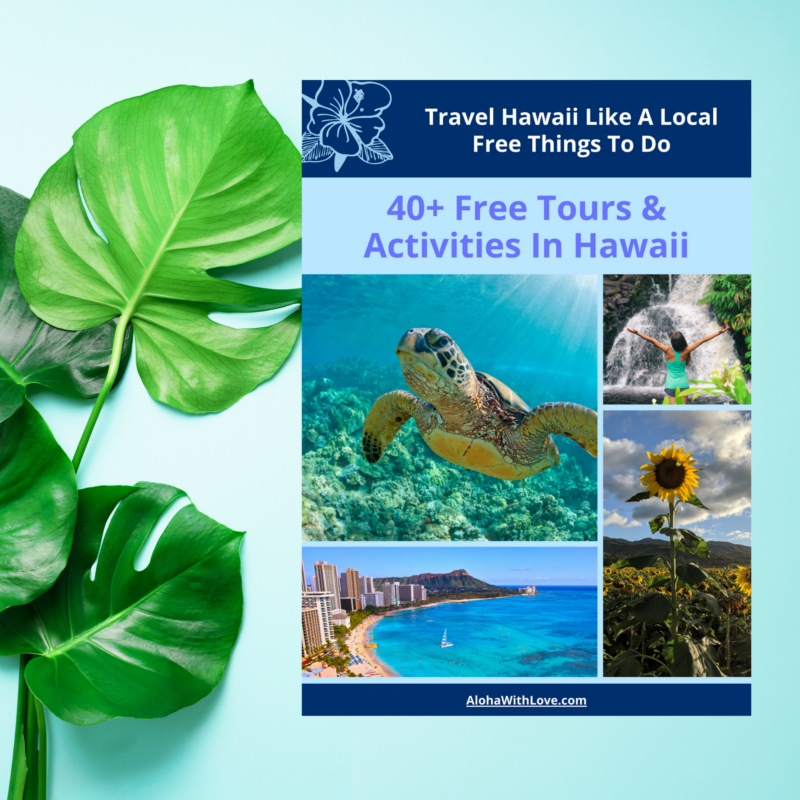 Want to go on a free tour in Hawaii?
Kauai Tubing Checklist
What to bring or prepare for your Kauai tubing adventure
Shoes that can get wet. No slippers or going barefoot. Rentals available.
Wear your swimsuit. If you get cold easily, a rash guard will help.
Wear a hat that won't fly off.
Sunscreen and mosquito repellent recommended.
A towel and an extra change of clothes.
Your waterproof camera!
What will be provided?
Tube, gloves, headlamps, lunch and water-friendly shoe rentals.
Special helmets are provided if you have a water camera or GoPro.
Who Shouldn't Go Kauai Tubing?
Women who are pregnant or those with back, hip or knee problems should avoid tubing and possible injury. In general, children should be at least 5 years old and 4 feet tall. The max weight is 300 lbs.
People who get very cold very easily should also not do this activity. You know who you are. The water can be cold and most of the ride down is in the shade, so you won't have the sun to warm you up. If you're the type of person who is always shivering, then Kauai tubing probably isn't for you.
Also, if you're in Kauai for your honeymoon, wedding or anniversary and it's just the two of you, expect to not be next to your significant other for most of the ride down. This may not seem like a big deal at first, but it can certainly be bothersome when the one person you're on this romantic vacation with is floating several meters behind you.
What To Expect When Kauai Tubing
The whole tour is about 3 hours long, but the tube ride itself is about an hour. The rest of the time is filled up with driving, safety instructions, lunch and any other side activities you've purchased or that the guide has planned for you.
There are usually 2 guides per group and they'll go over the fundamentals of traversing the waterways in a tube. Everything is pretty straightforward and easy to pick up. If you have very young kids with you, don't be afraid to ask the guides to help you keep an eye on them. The guides are familiar with each turn, bump and tunnel and will be able to watch them closely and react quickly if anything should happen.
In addition, you'll also have some history lessons about this area. And it's such an interesting place, too! The 1870 irrigation ditch is a left over memory from Hawaii's sugarcane plantation days, and the tropical and bamboo forests, mountain views and lazy rivers will keep you smiling all the way down.
Kauai Tubing Tour With Kauai Backcountry Adventures
Interested in booking a Kauai tubing tour? Click HERE to reserve, learn more and read reviews about the Kauai Backcountry Adventures tubing excursion. They also have an awesome zipline activity that is also worth checking out – especially for the kids!
The Kauai Tubing Experience
As Hawaii's oldest island of the major Hawaiian Islands, Kauai's scenery is completely different and wildly beautiful. Because of its age, Kauai is the only island that can boast about its beautiful Waimea Canyon and Wailua River. The tube ride is actually an irrigation ditch so not only will you see beautiful greenery and trails, but you'll also go through some neat tunnels, which give the whole ride an added mystery.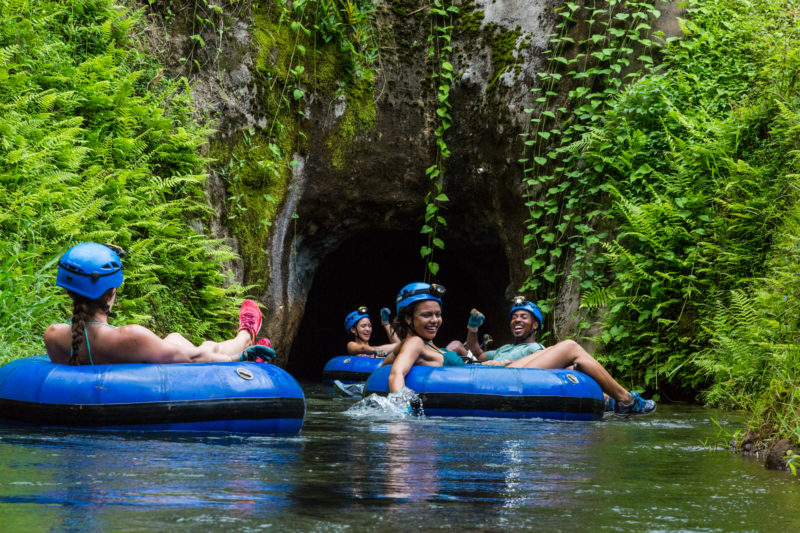 This activity is also the perfect place to get your waterproof cameras and GoPros set up. You're provided with gloves, helmet and a headlamp so your hands remain free for the whole trip allowing full control of getting those perfect shots and documenting the whole trip for your family travel vlog. As you float by on both lazy and brisk waters, you'll be sure to capture several Kodak moments!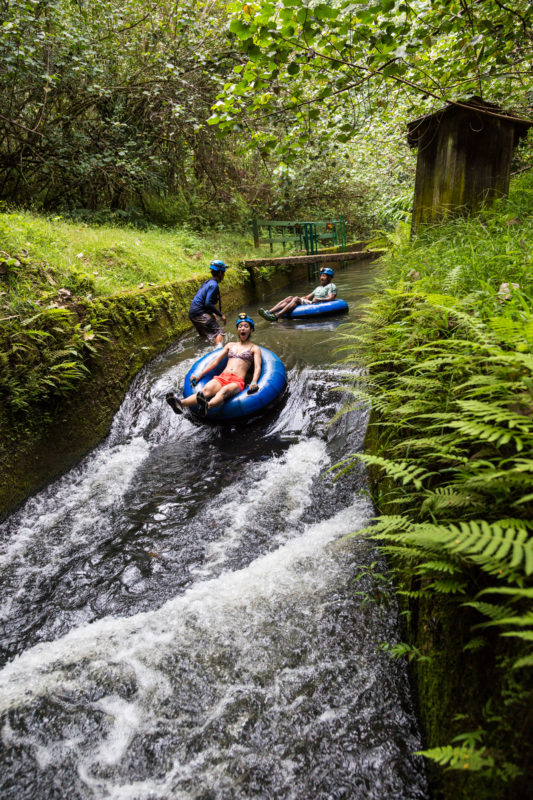 And if you're expecting the whole ride to be flat, think again! What I love about Kauai tubing is that the whole ride is entertaining without requiring too much effort. It's not only relaxing and fun, but also comfortable since you're surrounded by thick trees. The air is cooler, the water crisp and the breeze is fantastic as you traverse your way downhill.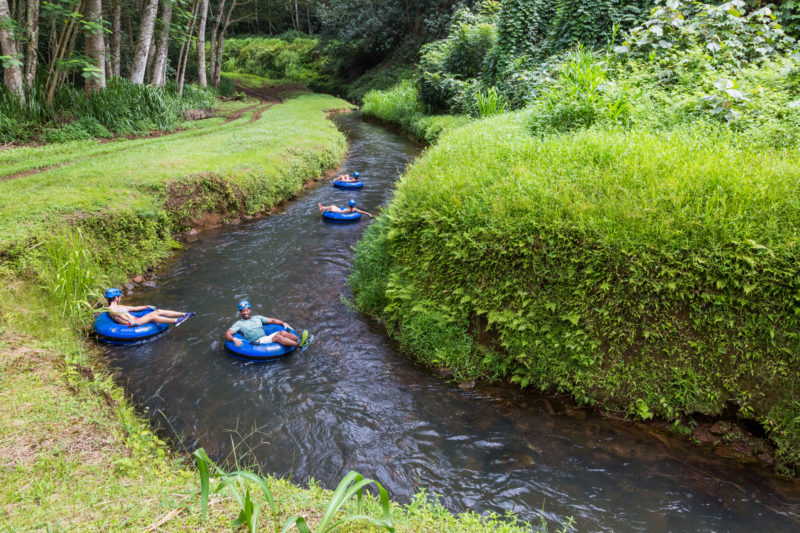 There are a few things you have to consider before you decide to reserve yourself a Kauai tubing ticket. Each session is usually done in very large groups so if you're a big party, then great! But, if it's just you and your newly-wedded spouse, then you'll probably enjoy the experience less. On busier days where plenty of reservations have been made, it's common for everyone to get stuck in the tunnels like a Honolulu traffic jam. Making new friends is a must in this situation.
Kauai tubing is also not a good activity if you're someone who gets very cold easily. The whole ride will be uncomfortable as you shiver your way down. Kauai also rains a lot. So expect it to rain if you go and plan accordingly.
Local tip: Want to avoid the crowd? Consider coming to Hawaii during the "slow" season. Particularly November thru January – but be aware that it will be colder (yes, Hawaii gets noticeably colder – just ask a local!).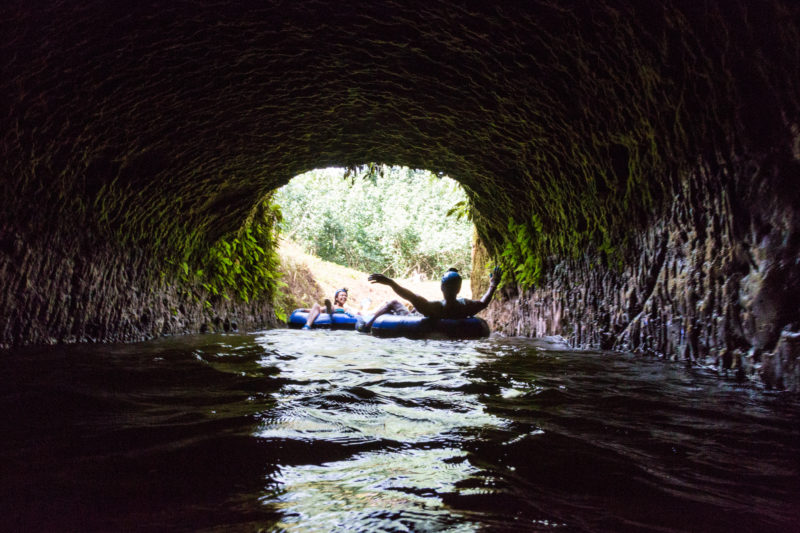 For me Kauai is a magical island. Most visitors go to Oahu, the Big Island or Maui for their 1st, 2nd or even 3rd trip. But for this local girl, Kauai is like going to another world for me. I've seen mountains and valleys, rain and lava fields. But a canyon and a river? It's definitely not a common sight for most people who grew up here.
In fact, most Hawaii people born and raised never see canyons, rivers, lakes and snow until they go to the mainland – either for college or for work. So Kauai tubing on our oldest island is a no-brainer for me. It's enjoyable, fun for all ages and your guides have a lot of information to share about the surrounding land, history and will show you a good time.
Ready To Book Your Kauai Tubing Excursion?
If I've convinced you to do some sightseeing on a Kauai tubing tour, great! It's a really great opportunity to see Kauai's lush forests without killing your knees or losing your breath on a difficult hike. I love that this activity can work for any age, too!
Book It: Top Activity In Kauai – Kauai Tubing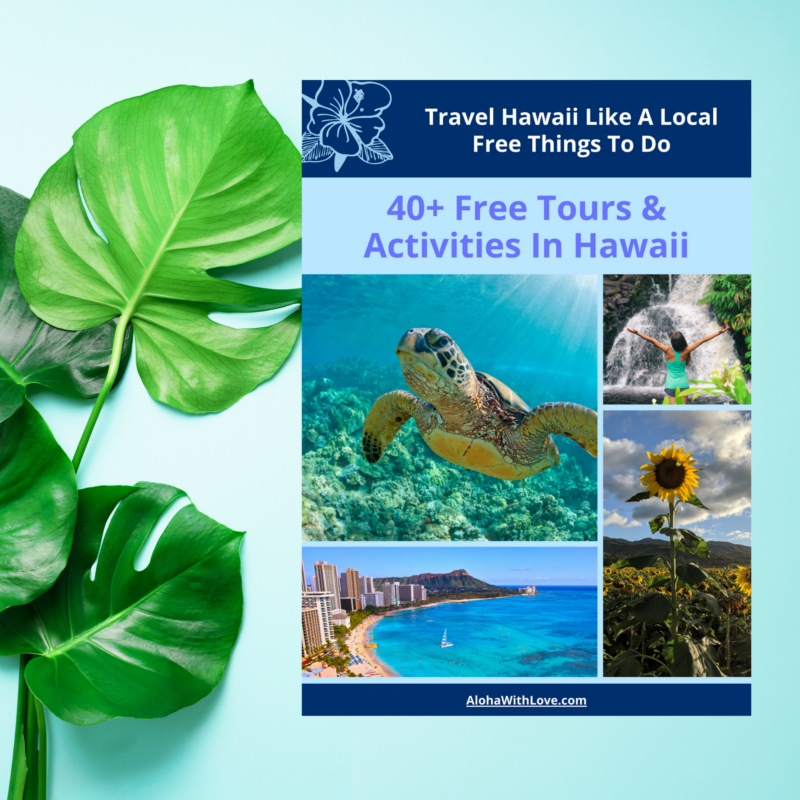 Want to go on a free tour in Hawaii?