This post may contain affiliate links, which means I'll earn a small commission if you purchase something through these links. You won't pay any extra; instead, you'll be helping Aloha With Love to thrive. Thank you! Learn more.
COVID-19 has affected many of Hawaii's businesses and events. Please double check their dates and times before you go or make plans. Visit HawaiiCOVID19.com for more information.
--
What's neat about Kalapawai Market's Cafe & Deli in Kapolei is that it's made to look a bit old school. The original Kalapawai Market first appeared in 1932 in Kailua and played a part in the culture of their beachy community. Local residents recognized each other at Kalapawai Market and their goal is to create that central gathering place for Hawaii's neighborhoods.
I went on an End Polio walk with the Kapolei Rotary Club and we decided to grab some breakfast/brunch after the walk to talk story and get some socializing done. I had a great time and the food was delicious, too!
Aloha with love,
Amy
About Kalapawai Market in Kapolei
Kalapawai Cafe & Deli
711 Kamokila Blvd, Kapolei, HI 96707
(808) 674-1700
$-$$ Reasonably priced.
Hours: open 7 AM – 8 PM Monday thru Thursday, 7 AM – 9 PM Friday thru Sunday.
Atmosphere: Casual, simple, old-school local feel.
Also sells locally made goods such as jewelry, snacks, and bags.
Centrally located in Kapolei, Kalapawai Cafe & Deli was easy for me to find since my hair dresser at Color Box Hair Studio shares the same parking lot. Just look for their signature dark green building on the corner of Kamokila Boulevard and Uluohia Street.
The parking is a bit on the small side especially on the weekends from brunch and on. There are a handful of other businesses sharing the same parking lot so it can get crowded and you may have to find street parking. Luckily, there's plenty of street parking available in this area, so you shouldn't have a problem parking your car.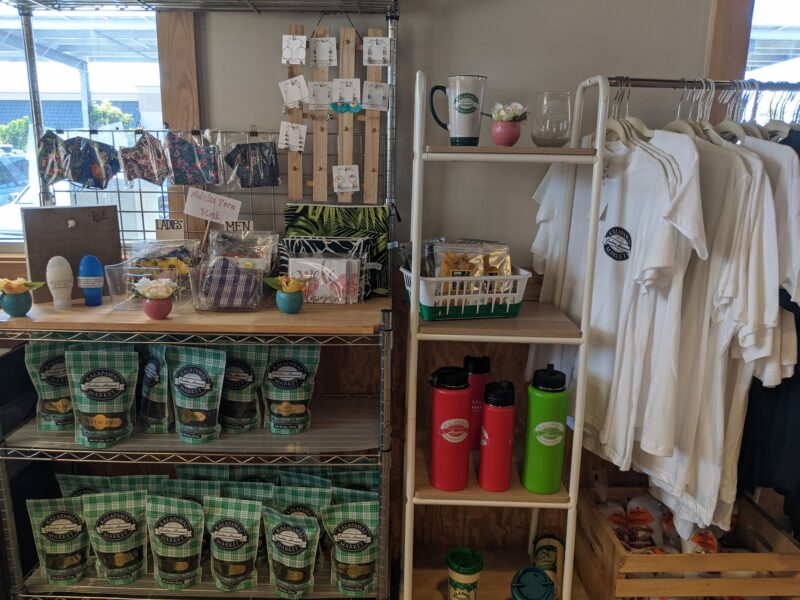 Food
Ordering actually took place as soon as we entered before we found seating. The menu is simple and easy to understand, there are a variety of drinks in the front, and a decent selection of muffins and other quick breakfast goods in a glass display case.
There's sort of a Starbucks Coffee feel to the ordering. You form a line, study the menu, browse the made-in-Hawaii goods on display, and check out the drinks and muffins. Ordering is quick and efficient and as soon as you order, you're free to find somewhere to sit.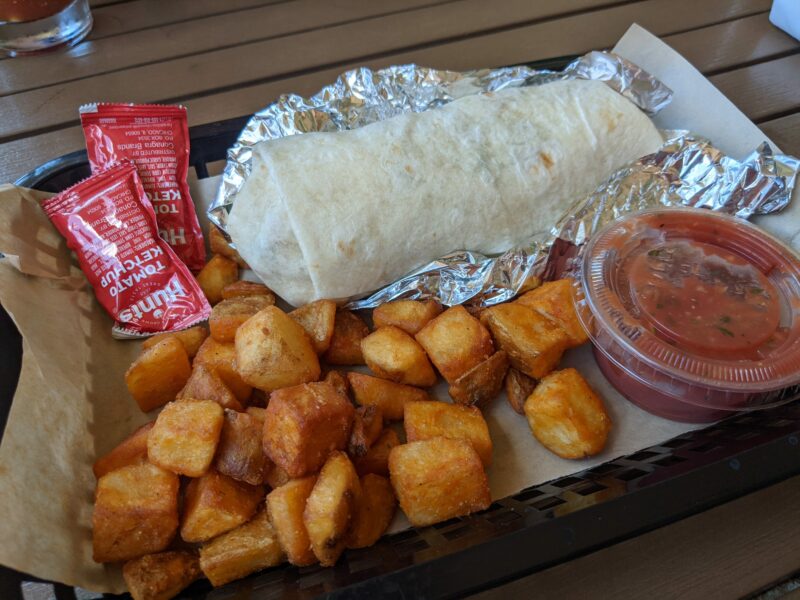 Between the four of us, we ordered 2 Lox & Bagels, 1 toast with bacon, and I went for the breakfast burrito. The fare was simple, but everything was fresh and met my expectations. I was surprised that my breakfast burrito had a creamy texture to it. Kalua pork can sometimes be dry and stringy, but this had more of a steamed texture to it making it soft and very easy to bite into.
I don't really mind the difference, but it certainly made it easier to eat. I can imagine drier kalua pork being difficult to break apart from the burrito.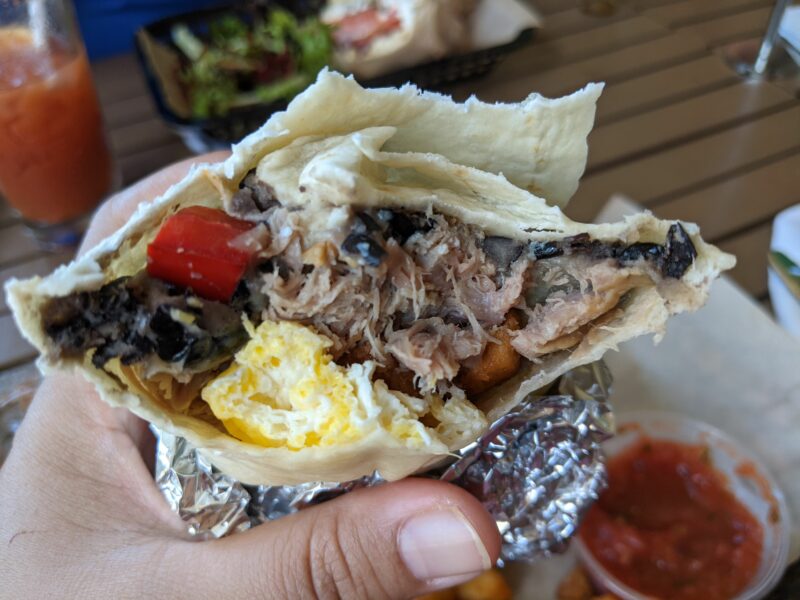 There's nothing that screams "signature dish" at Kalapawai, but that's not what this place offers its loyal customers. When you come here, you can expect great service (they filled up my water several times!), fresh ingredients, tasty food, and a general sense of quality. My friends and I came here to relax, sit outdoors, and enjoy a simple fare from a menu that tasted yummy no matter what we chose. And it was great!
Gluten-free options
There are actually quite a few menu choices here if you want to order gluten-free. They have gluten-free buns for those ordering their sandwiches and I'm interested in trying out their gluten-free pizza crust one day.
Ambience
The interior of the Kapolei location is very pleasant. Since the pandemic is still ongoing, local restaurants are only allowed to be at half capacity, which means there is plenty of space between tables indoors. Most people ended up sitting outdoors like us. The weather was nice and warm and the trade winds were predicted to blow throughout the entire weekend.
The bar was interesting as it was half-in and half-out of the building. There was both indoor and outdoor seating, so you could choose your atmosphere. Even the patrons sitting inside had a nice view across the bar outside.
Two of my friends went for some alcohol – one a beer and the other a bloody mary. The drinks went down easy (they ordered more than once!) and they were served relatively fast.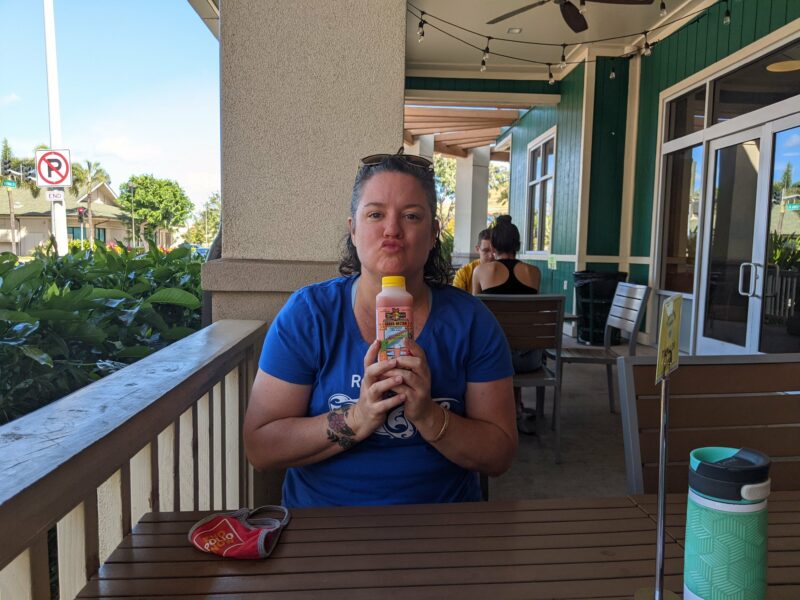 Lunch & Dinner
While I can't vouch for Kalapawai Cafe & Deli during lunch and dinner, from what I ate, saw, and experienced, I feel like this spot is one of those neighborhood casual spots to dine and enjoy your time with some close friends. While there is a bar here, I get the feeling that nothing too crazy is going to happen. Patrons come here for a simple outing with friends where they don't have to worry about anyone going overboard.
It's a place where people will instantly recognize and readily agree to meet you there for a couple of hours. With options for all dietary needs, it's an excellent choice to meet up with your friends.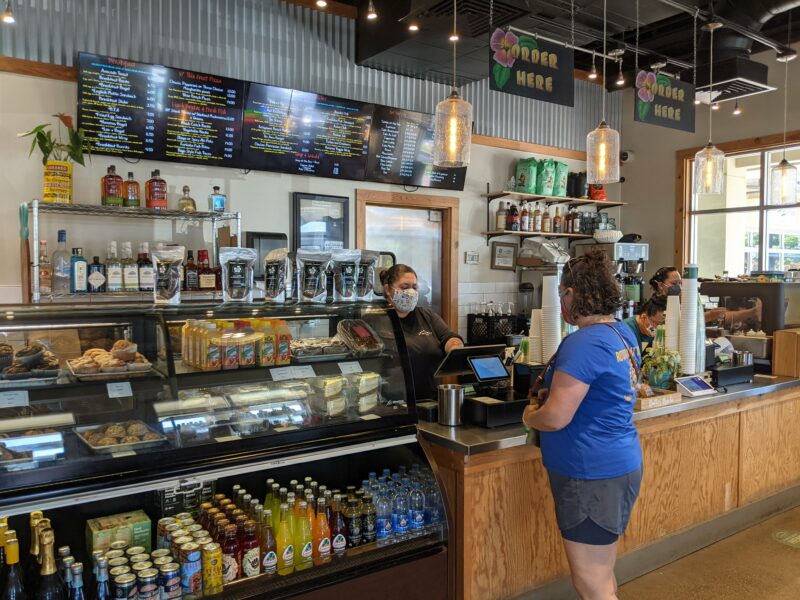 Review
I really enjoyed my time at Kalapawai Cafe & Deli in Kapolei. It was easy to sit back and relax with tasty food and reliable service. The vibe was friendly and it's someplace I can see myself suggesting to my friends if I happen to be in Kapolei (or near their other locations).
Compared to other sit-down restaurants such as Zippy's or Teddy's Bigger Burgers, I always have the feeling that I need to leave once my bill has been settled. But here at Kalapawai, I felt it was OK to just sit and talk story with my friends even after an hour we had finished ending.
I definitely recommend this spot if you're in the area and looking for a place to relax and hang with a meal and some drinks.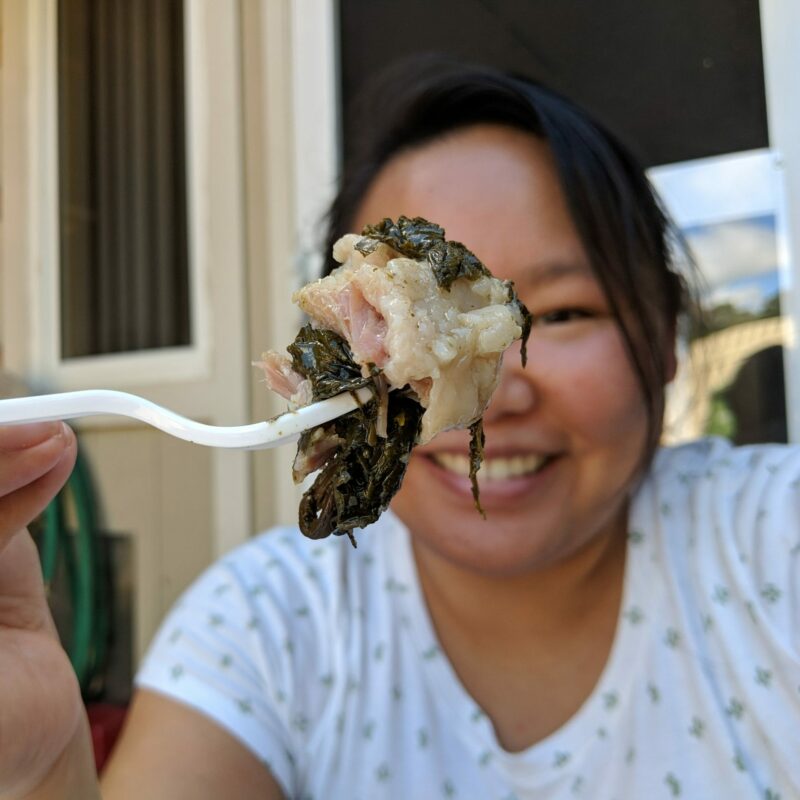 Discover more restaurants, bars, cheap eats, and mom-n-pop shops in Hawaii!