This post may contain affiliate links, which means I'll earn a small commission if you purchase something through these links. You won't pay any extra; instead, you'll be helping Aloha With Love to thrive. Thank you! Learn more.
COVID-19 has affected many of Hawaii's businesses and events. Please double check their dates and times before you go or make plans. Visit HawaiiCOVID19.com for more information.
--
UPDATE: This location has closed.
Despite Kaku's being smack dab in the middle of Waikiki, you'll only see locals lining up at the entrance right before the restaurant opens for lunch. Why? Because it has a decent lunch buffet that's fancy enough for special occasions, but cheap enough that it won't break the bank.
At about $20 per person, it's a good deal. The restaurant's name is actually Kaku's Sushi and Seafood Buffet, so move along if you're looking for a prime rib/American-style buffet. But if you're into all-you-can-eat sushi, tempura, and Asian-American fare, this is one buffet in Waikiki you'll want to consider.
I love that the first early-bird mob at the lunchtime opening hour are all locals. It goes to show that even in Waikiki, the locals know where to go!
Aloha with love,
Amy
The Food At Kaku's
There are 6 sections of food for Kaku's lunch buffet: sushi, salad bar, fruit bar, noodles in soup, dessert, and what I like to call the "hot food". The main 2 sections are the sushi and hot food offerings. The remaining 4 sections are much smaller tables with a limited selection. Typically, these smaller tables only have 2 – 3 choices, which is just enough to add variety to your plate.
Come to Kaku's for the nonstop sushi
If a sushi buffet sounds like your thing, Kaku's Sushi will be perfect for you. In fact, it may even overwhelm you! There is a HUGE assortment of sushi and if you were to grab one of each in one pass, you'd need 3 – 4 plates. I ended up visiting the sushi line about 4 times and I still didn't get to taste every single sushi available.
There was a mix of nigiri sushi and rolled sushi mostly with flavors and combinations that I've seen before at both traditional and modern sushi restaurants. However, there were a few oddballs – cream cheese sushi anyone? The sushi platters run out fast and often, but you won't even notice them. There's a dedicated sushi staff that work at refilling the sushi platters at record speed and too much of a variety to be bothered by a few empty plates.
Local Tip: At $20 for all-you-can-eat sushi, this is a deal. While you won't find that expensive high-grade tuna, with such a high turnover for both sushi and customers, the raw fish was fresh. I did wish that the sushi rice had a bit more flavoring (which was different since I usually think there's too much flavoring), but again I paid $20 and happily stuffed my face so I can't complain.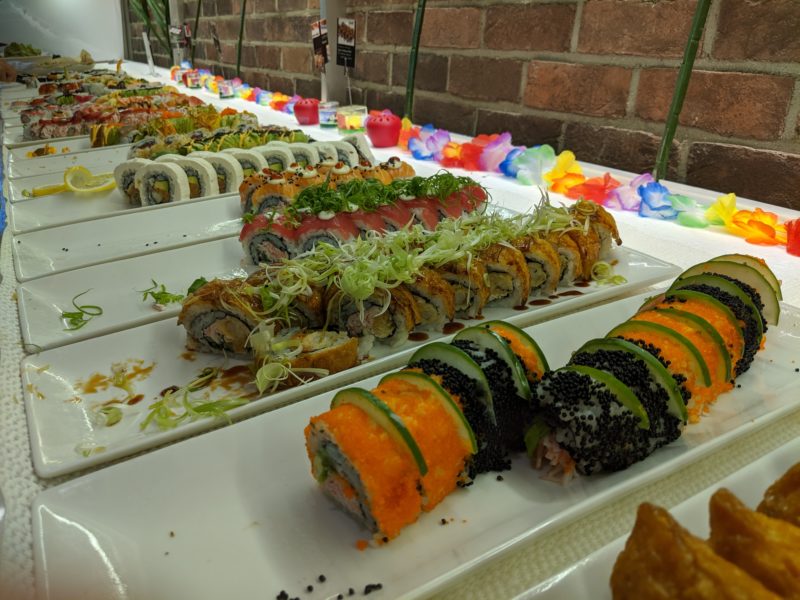 Kaku's "seafood" at lunch
Seafood to me means crab legs (I love crab legs), which was nonexistent during lunch so "seafood" didn't really apply here. According to their menu, snow crab legs is a dinner-only option so if you're like me, you may want to consider visiting for dinner instead. The price does go up to $35 per person though so budgeters keep that in mind.
Local Tip: You can see Kaku's lunch and dinner menus on their website, but note that the fine print says all menu selections depend on availability. And if you look at their online reviews, you'll see disgruntled patrons who missed out on a dish they were looking forward to.
Besides the "seafood" in the sushi, Kaku's other seafood options were rather tame: clams, calamari, shrimp, and shrimp tempura. It was nothing too exciting, but it was good they had the options there to break up all my sushi visits.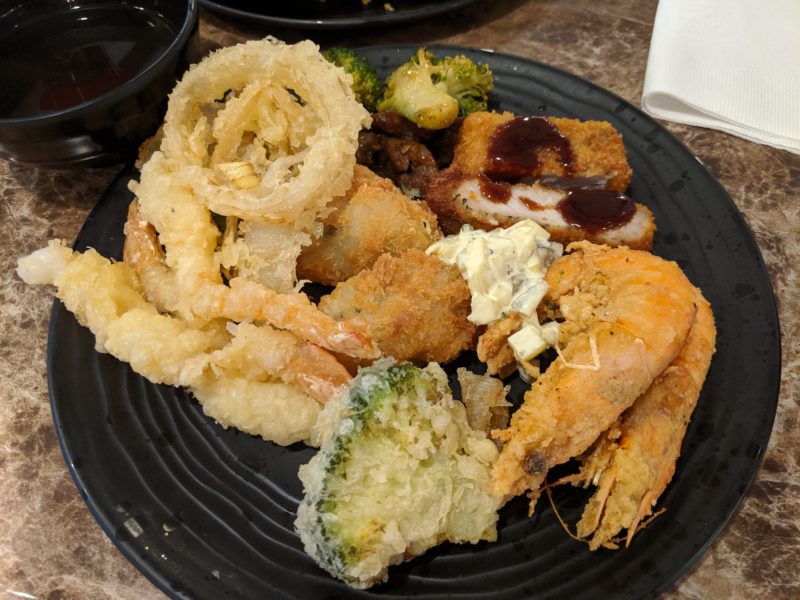 Everything else to eat at Kaku's
The rest of the buffet sections were pretty ordinary. The fruits were cut into bite-sized pieces, the salad bar had maybe 2 – 3 salad options (that I didn't even bother with), and I was too full to fit in a bowl of ramen or udon noodles (although my brother said they tasted like your average bowl of noodles). The dessert was just large tubs of ice cream with sweet condiments on the side.
Local Tip: By far my favorite thing to eat was the tonkatsu (breaded pork loin). Super juicy, thick and cooked well in my opinion. It took me by surprise because in Hawaii more often than not you'll find chicken katsu (breaded chicken) instead. Tonkatsu is less common. Give it a try and let me know what you think.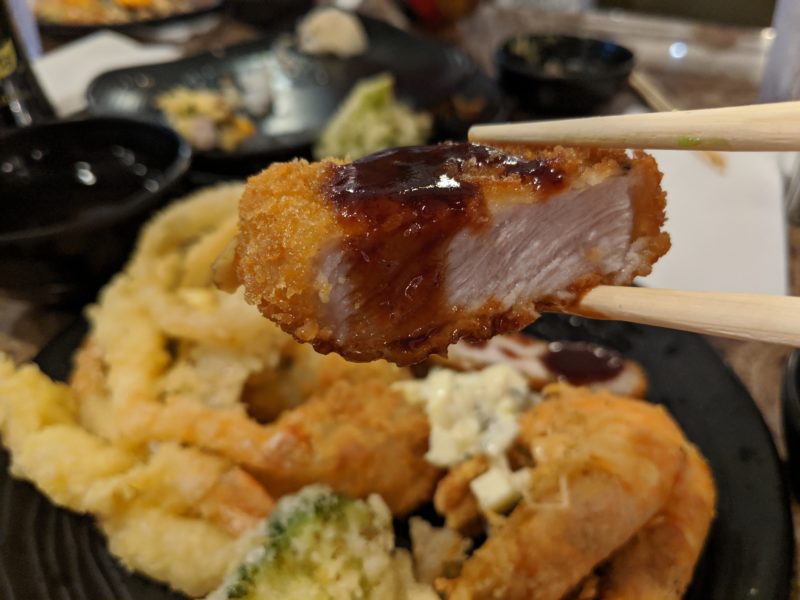 What To Expect At Kaku's
When you look at the 2 pictures below, you might think "wow, this place is crowded." But when I look at these pictures, I think "wow, there are a lot of locals here." I had made a reservation the day before for 11:30 AM, when Kaku's opens for lunch. We arrived at 11:15 AM and there was already a line to get in.
A few minutes after 11:30 AM, the door opened and we were shown to our seats fairly quickly. Drinks were extra, so we just went with water and started filling up our plates. The servers were quick to get us settled, and they reappeared every so often to clear off our empty plates.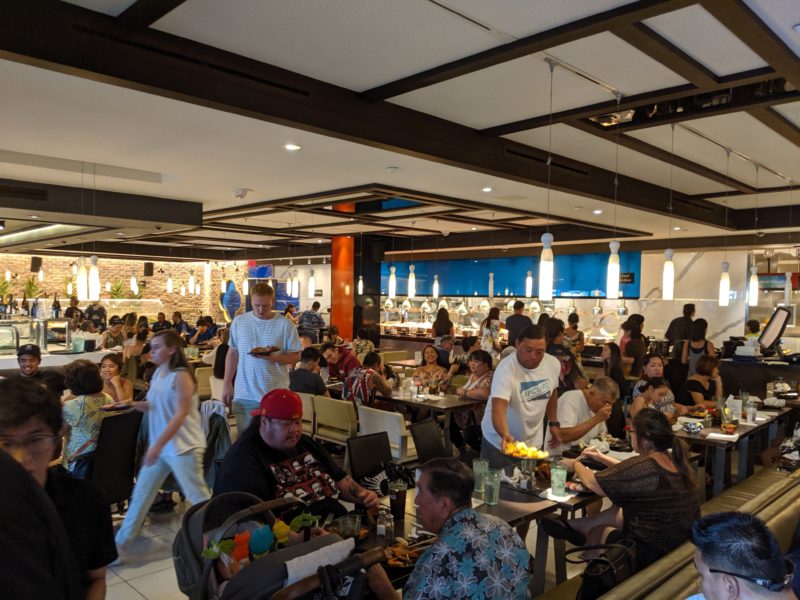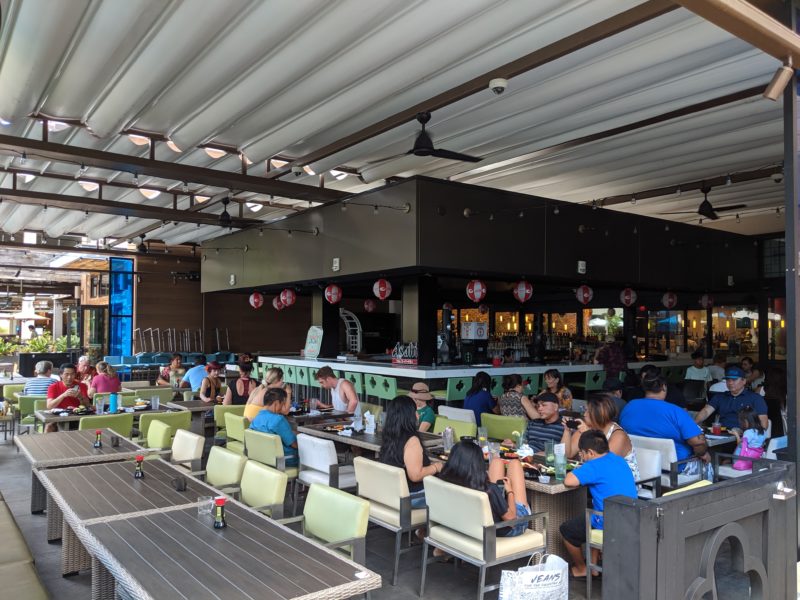 Kaku's Sushi and Seafood Buffet is located on the 3rd floor of International Market Place, which is known for its luxury brands and gorgeous architecture, but you don't have to dress up fancy to eat here. There were plenty of t-shirts, jeans, and slippers being worn. On the other end of the spectrum, there were also some people dressed in their best.
Overall, it's a decent place for a mini splurge if you're hungry in Waikiki. Plus, since it's located in International Market Place, it's easy to get to wherever your Waikiki accommodation happens to be. Any Uber/Lyft/Taxi driver knows where International Market Place is and several city buses pass by. If you happen to be driving, parking is easy and affordable once you get your parking pass validated.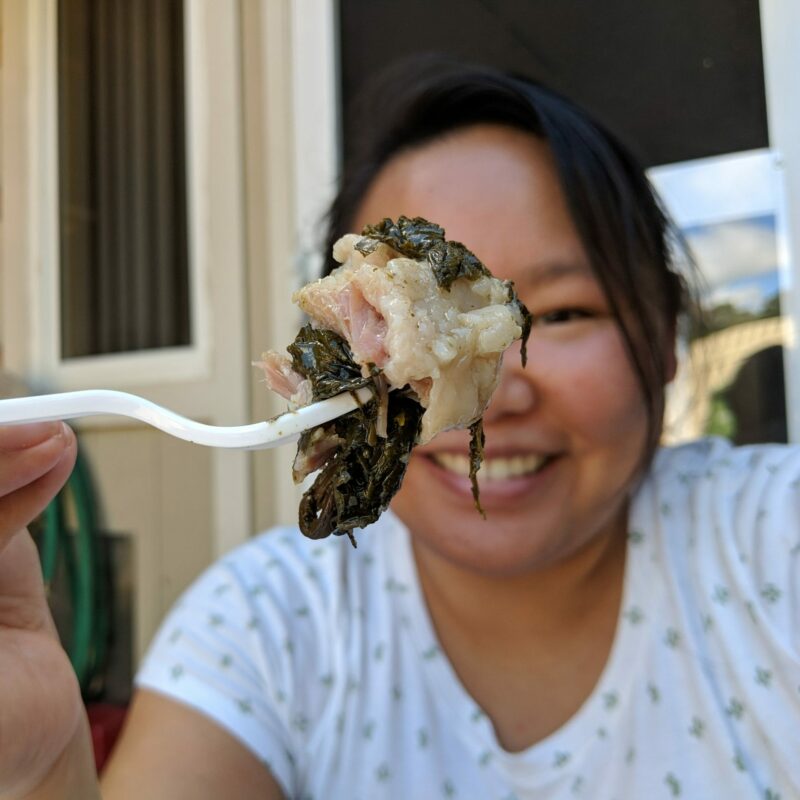 Discover more restaurants, bars, cheap eats, and mom-n-pop shops in Hawaii!