This post may contain affiliate links, which means I'll earn a small commission if you purchase something through these links. You won't pay any extra; instead, you'll be helping Aloha With Love to thrive. Thank you! Learn more.
COVID-19 has affected many of Hawaii's businesses and events. Please double check their dates and times before you go or make plans. Visit HawaiiCOVID19.com for more information.
--
I had a chance recently to board the Kai Oli Oli for a charity fundraiser being held for a local children's shelter, women's home and a US Vet center. The west side of Oahu has significantly less tourists, so the view from the ship was fantastic. The Waianae mountain range is absolutely gorgeous and I thoroughly enjoyed the food, cruise, and service.
This is a fun sightseeing cruise with beginner snorkeling opportunities. You will be supervised and floating devices are mandatory, but the area where you'll snorkel is well known for both turtles and even dolphins! So if you're looking for a safe snorkel experience, the Kai Oli Oli might be a good one for you to consider.
Aloha with love,
Amy
Book A Cruise: If you're interested in booking a cruise in Hawaii, visit Aloha With Tours to shop my approved Hawaii tours and activities marketplace.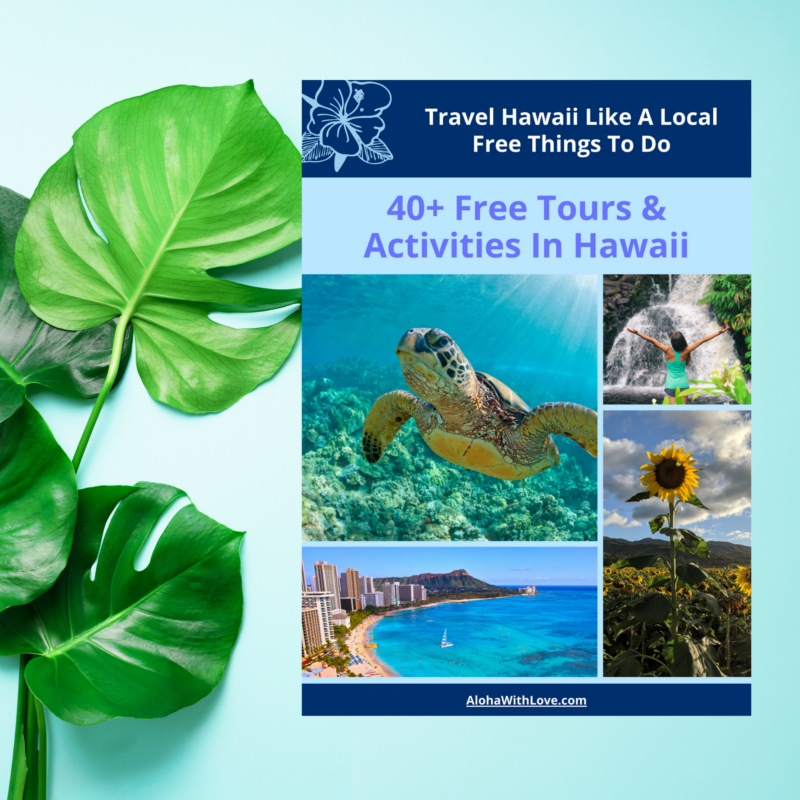 Want to go on a free tour in Hawaii?
Board The Kai Oli Oli
My group met at the Ko Olina Marina located in the Ko Olina resort area in Kapolei. Finding the Marina was easy for everyone – we all live in Oahu so the staff picking us up at our homes was not an option. However, the Kai Oli Oli does offer hotel pickups (even from Waikiki).
Local Tip: The Kai Oli Oli cruise is most convenient for those staying at one of the Ko Olina resorts: Four Seasons, Disney Aulani, Beach Villas, or Marriott's Beach Club. These four resorts are clustered right at the shoreline on the west side of Oahu in Kapolei. The Marina where the Kai Oli Oli docks is located within Ko Olina. However, Waikiki visitors are also welcome!
I got there early and the Kai Oli Oli was just pulling in with their lunch group. The staff took about a half-hour getting the ship ready to sail again. Boarding was quick and easy. Since this was a private event, our fundraising committee had plenty of props, prizes and game equipment to bring along with them. So if you're thinking of having your own private cruise or charter, this is certainly possible to do.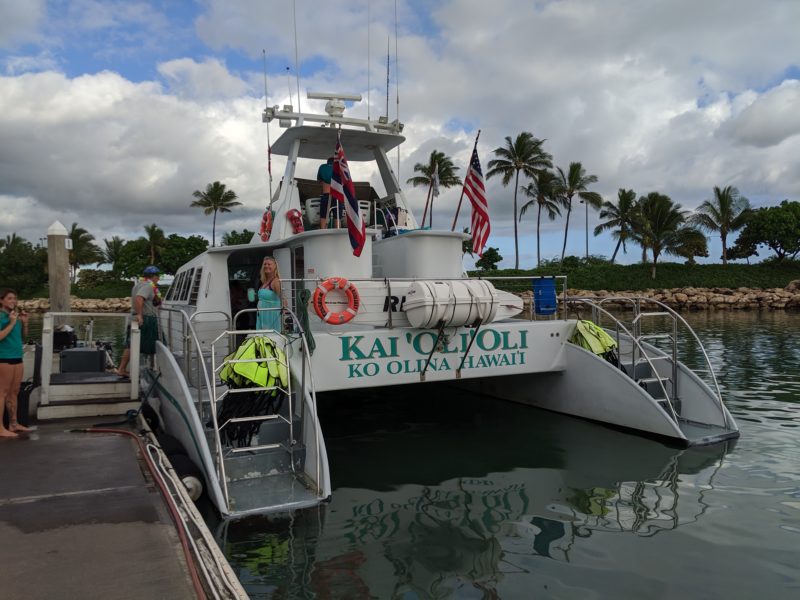 Getting The Kai Oli Oli Cruise Started
Once the Kai Oli Oli eases safely out of the harbor, the staff begins their safety speech on protocols, utilities, and sealife awareness. There are warm showers, bathrooms, life jackets, snorkel equipment, a roomy cabin with comfortable seating and even a photographer should you wish to document your time on the cruise and underwater. I was happy to hear the staff announce that we shouldn't touch the wildlife and they especially made their point when they brought up that humans touching sea turtles could make them sick and die. Altogether, the informative speech took only about 10 minutes and then we were free to enjoy ourselves with the lovely Waianae view.
Local Tip: The Kai Oli Oli is a catamaran, which means it sails more smoothly than your average monohull boat. That means there's a lower chance of becoming seasick since there tends to be less rocking. So if you want to go on a cruise but know you suffer from seasickness, choose a catamaran to give yourself the best chance.
Snorkeling On The Kai Oli Oli
The Kai Oli Oli will anchor right around Kahe Point Beach Park, a popular snorkeling spot for advanced swimmers/snorkelers because of the larger current when you come in and out of the water. Turtles and dolphins are known to frequent this area and it's a personal snorkel spot favorite of mine.
Local Tip: Hawaiian Monk Seals are also known to favor this area, but do not approach or engage with them. They are a severely endangered species; but more importantly, they are big, fast, and dangerous and can seriously hurt you if provoked.
Since you'll be able to slide right into the water from the Kai Oli Oli, beginner snorkelers can enjoy their snorkel time with ease. You are required to wear their snorkel jackets, a bright highlighter yellow so that everyone can see you. While the jackets do have a little air bubble in them, they're not as cumbersome as the traditional bright orange flotation device life jackets. So you'll still be able to snorkel fairly well even if you're at an advanced level. This is a good compromise if you're traveling in a group with mixed snorkeling levels. Plus, not everyone has to get in the water. At least half of our party chose to stay out of the water and instead enjoyed the view, sipped our drinks, and preferred the salty breeze in our hair.
The staff had two people supervising us from the water – one who sat on a surfboard and another in the water. A third staff member (the photographer) was also in the water actively swimming with our group to take pictures and point out sea creatures swimming by. I'm also sure another staff member was on the boat supervising the snorkelers from high above and occasionally checking on the rest of us on board to make sure we weren't getting too rowdy!
Read More: Snorkeling At Electric Beach (Kahe Point Beach Park)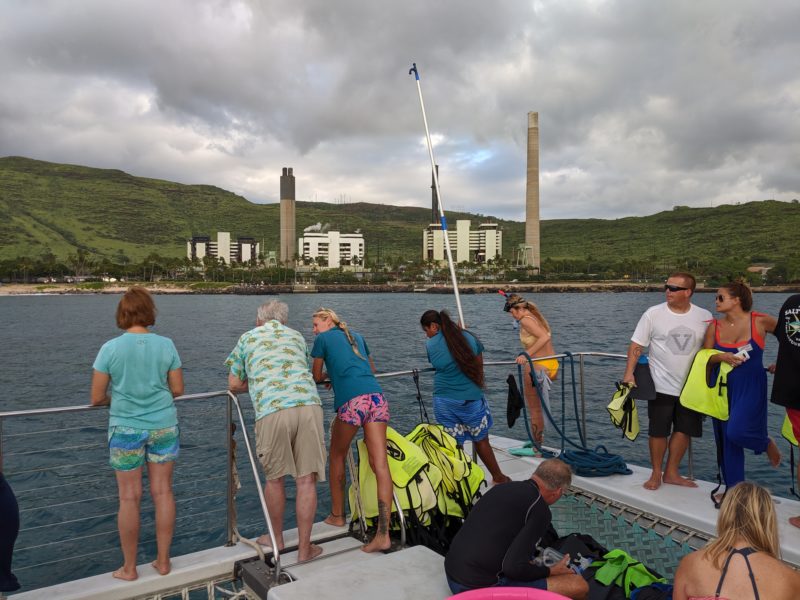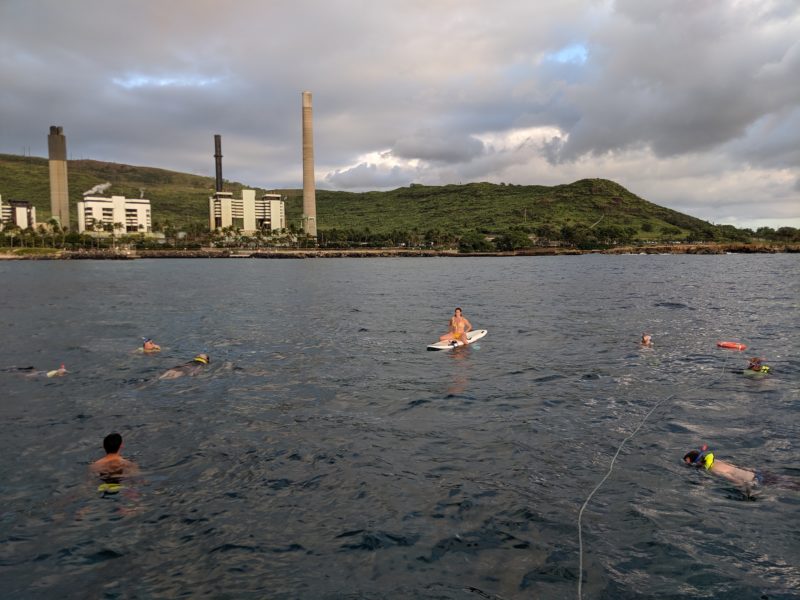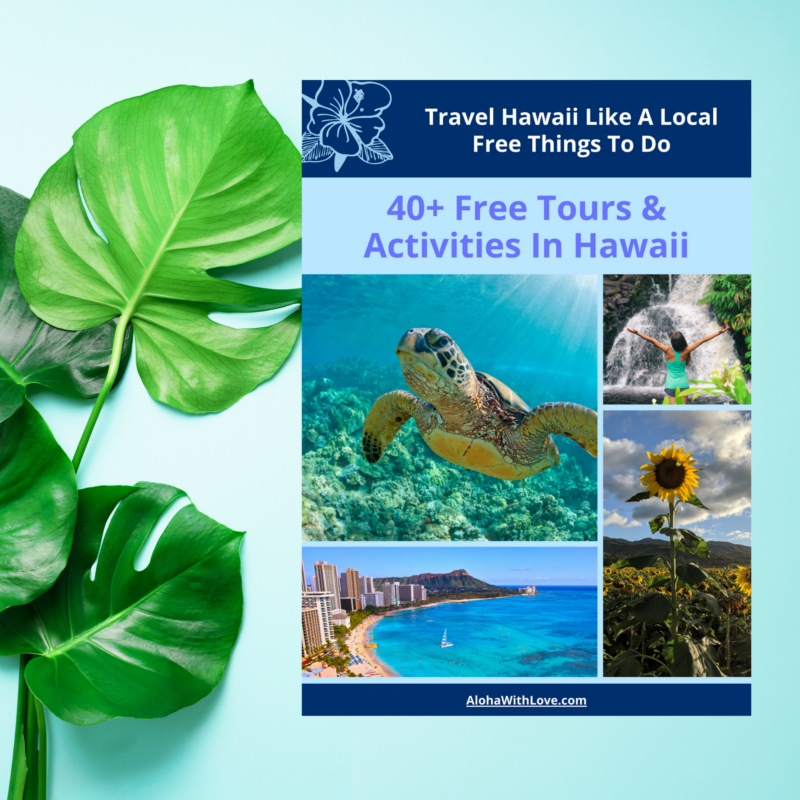 Want to go on a free tour in Hawaii?
Dinner And Drinks On The Kai Oli Oli
Once we had enough of snorkeling, we moved on to dinner and drinks to enjoy with the setting sun. Dinner was a simple fare of kalua pork, buns, lettuce, etc. to make sandwiches and teriyaki chicken. Non-alcoholic drinks were free-flowing, and those who wanted alcohol could have up to four glasses. Some people ate in the cabin, but most of us ended up taking our food outside and ate in small groups as we laughed, talked, and ate our fill while looking out at the horizon. Since this was a private function, our fundraising committee also brought with them extra snacks that we had been snacking on since the beginning of the cruise.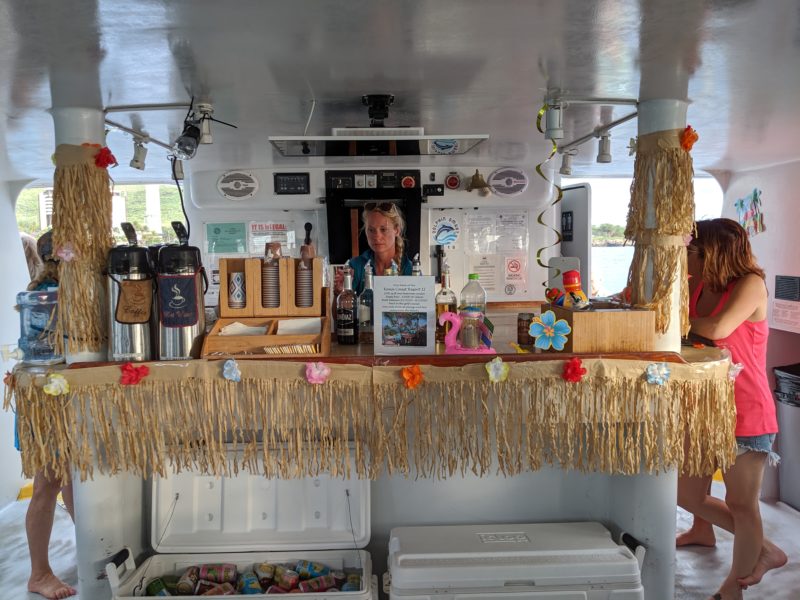 Sunset And The End Of The Kai Oli Oli Cruise
By the time we were finished with dinner, sunset was upon us and it was a beautiful one! Waianae feels so wide and empty compared to rest of Oahu island and I could definitely feel it here. Once the sun had gone done, I turned around and looked back at the island and enjoyed the night view as we made our way back to the Marina. The ship had some playful LED lights, music, and we occupied ourselves with some games and prizes (although I could have easily just sat and enjoyed the view with my friends).
At the end of the night, I was very happy with the experience and I would probably do this again if given the chance. It was a nice evening that was stress-free and all I really had to do was look around and soak in the natural beauty around me. It took us about another half-hour to 45 minutes to pull in back to the Marina and even though it was very dark by then, the breeze and night lights were still pretty to look at.
Thank you Kai Oli Oli for the wonderful excursion. We had a blast!
Book A Cruise: If you're interested in booking a sunset cruise in Hawaii, visit Aloha With Tours to shop my approved Hawaii tours and activities marketplace.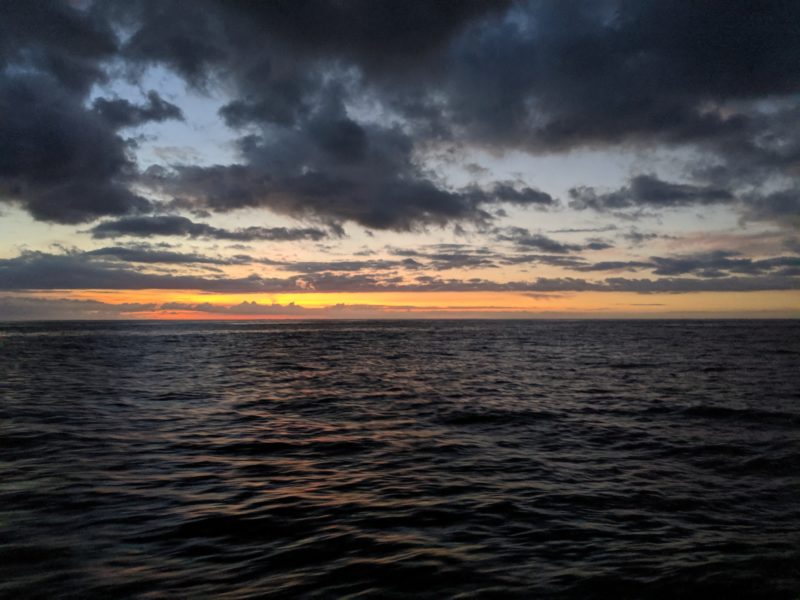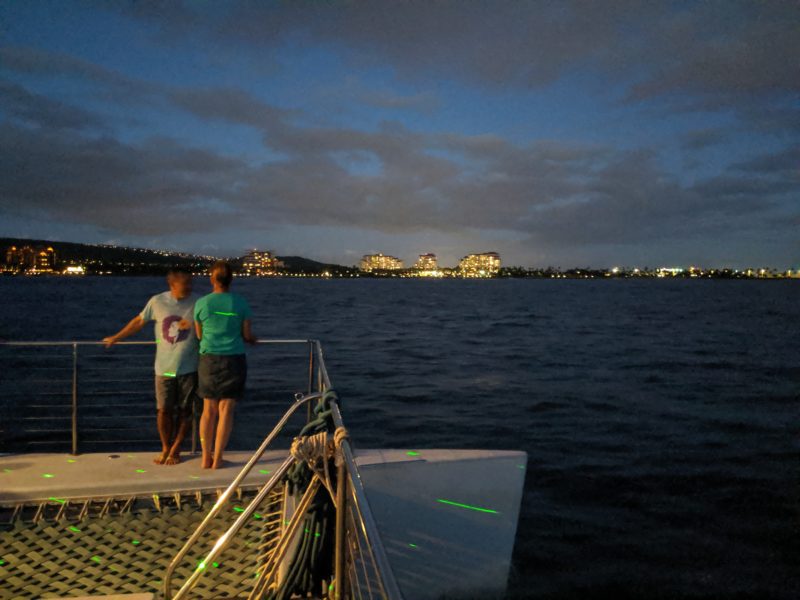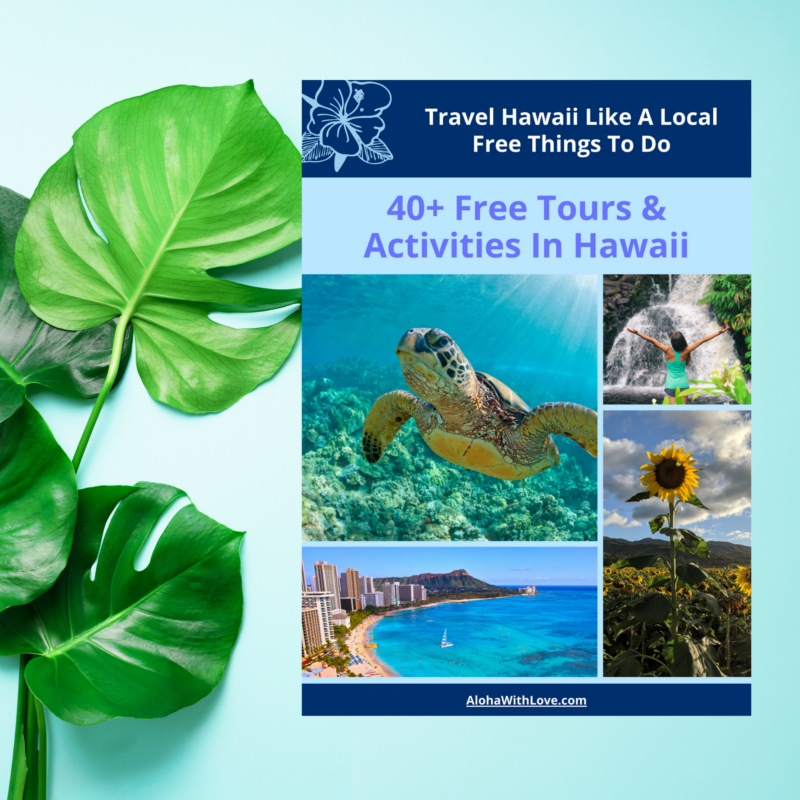 Want to go on a free tour in Hawaii?