This post may contain affiliate links, which means I'll earn a small commission if you purchase something through these links. You won't pay any extra; instead, you'll be helping Aloha With Love to thrive. Thank you! Learn more.
COVID-19 has affected many of Hawaii's businesses and events. Please double check their dates and times before you go or make plans. Visit HawaiiCOVID19.com for more information.
--
Iolani Palace tours will be loved by history buffs, museum lovers and architecture analyzers. As the USA's only official royal residence, it's certainly a unique experience since standing where royalty once lived and breathed can't be done anywhere else in the United States.
Gorgeous koa wood lays the foundation for the flooring and door frames, while intricate designs and cultural influences can be found in every nook and cranny and the amazing history that you get to explore is certainly one-of-a-kind. The tours here are fascinating and neat antiques from this beautiful time period line the walls and tables.
Lovers of history, antiques and architecture, this is a tour for you!
Aloha with love,
Amy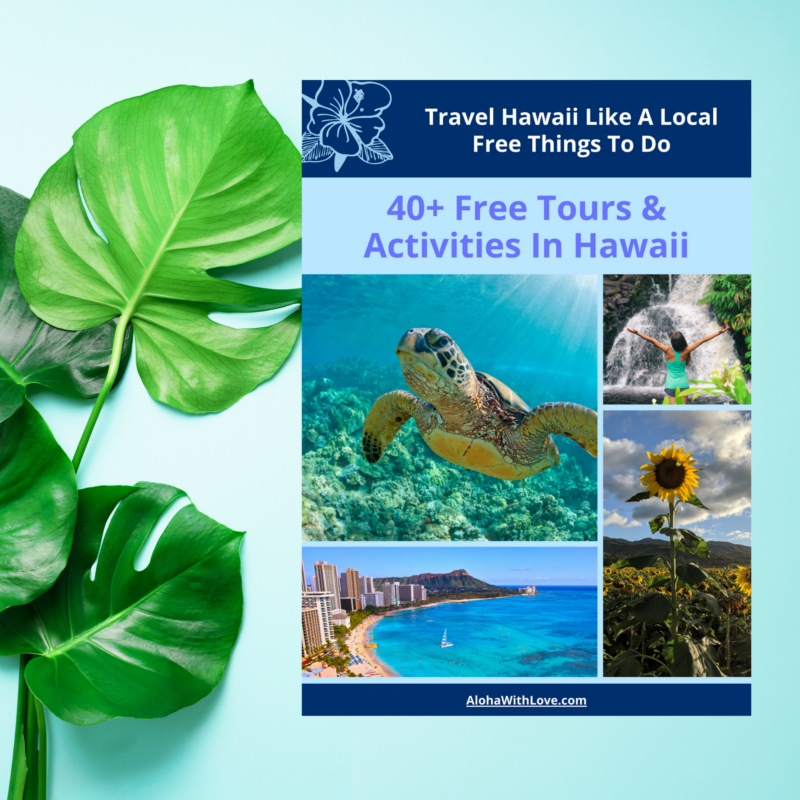 Want to go on a free tour in Hawaii?
Transportation And Booking Iolani Palace Tours
Getting to the palace is pretty straightforward. You can catch several buses from Waikiki to Iolani Palace (about a 30 min. ride) or park in the metered parking stalls right in Iolani Palace grounds.
Local tip: The metered parking is convenient, but limited. The palace also rents out its property for events, which can crowd out its parking stalls – making it difficult for you to find parking in downtown Honolulu.
Iolani Palace tours can be booked directly on their website. There are both guided and self-guided Iolani Palace tours, but I recommend the guided tours if you really want to know all about the palace and the royal family's history. The guides are volunteers docents, many of whom have been with Iolani Palace for years and are dedicated to their passion.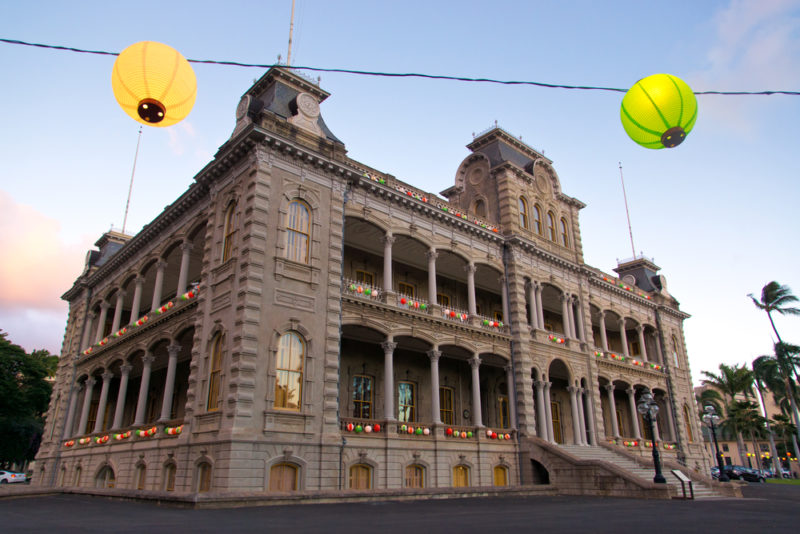 Outside Iolani Palace
Don't miss all of the detail from outside of the palace. Unique motifs, European-influenced pillars and even the ceilings on each floor reveal how much detail went into the design of Iolani Palace. If you're lucky, you may see Iolani Palace decked out in holiday decor where they wrap the pillars in flags or hang colorful lanterns.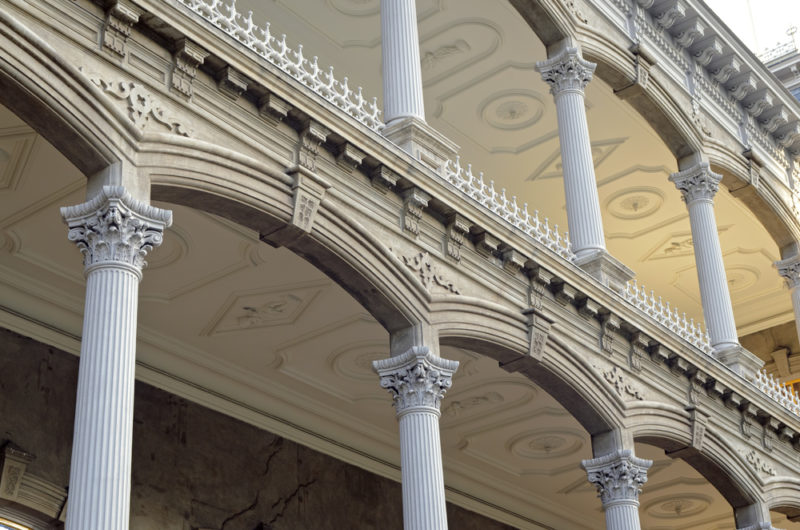 "The life of the land is perpetuated in righteousness." It's a phrase that you'll be sure to hear on Iolani Palace tours. The Hawaii seal is on the front gates leading to Iolani Palace so be sure to stop by to take a picture.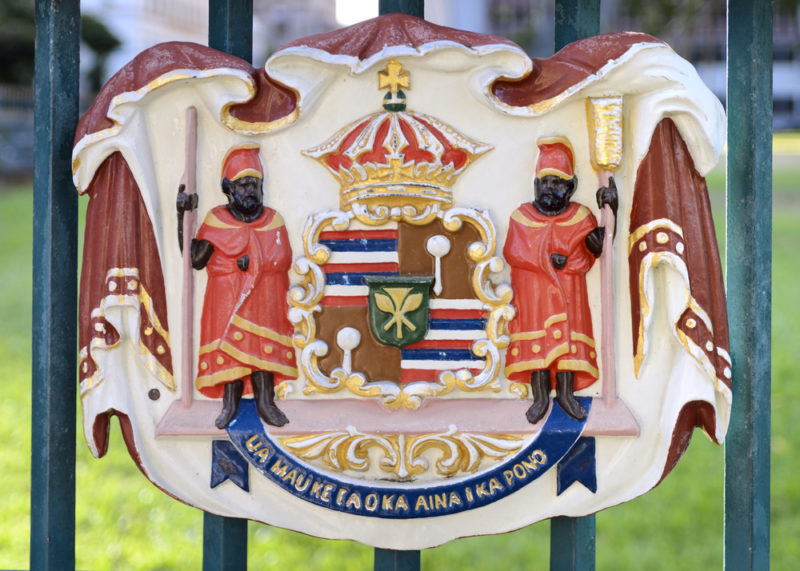 Another thing to see during Iolani Palace tours is the royal bandstand that's reserved for the Royal Hawaiian Band. You can usually watch and listen to them perform once a week for free. Check their schedule in advance here.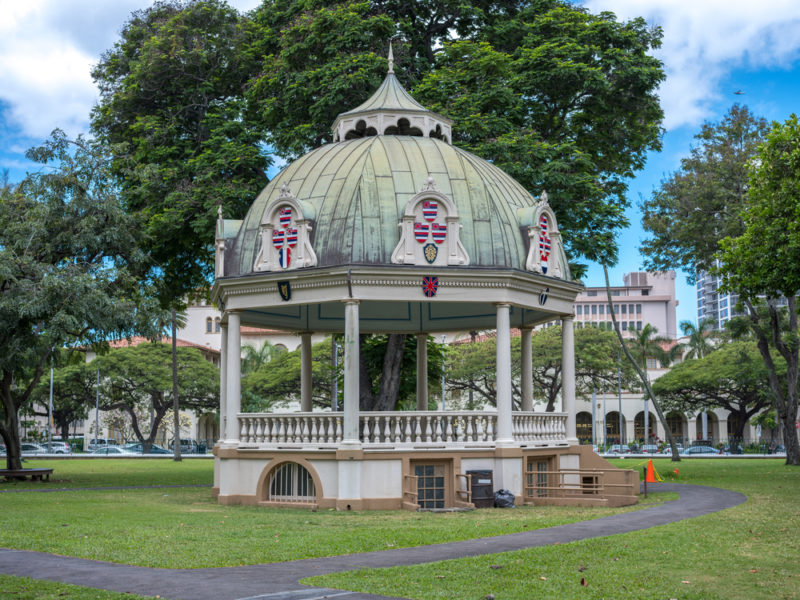 Local tip: Notice the large, grassy grounds and plentiful trees? Feel free to grab a spot, eat lunch or take a quick nap. It's a neat gem of an oasis in the middle of traffic and tall buildings.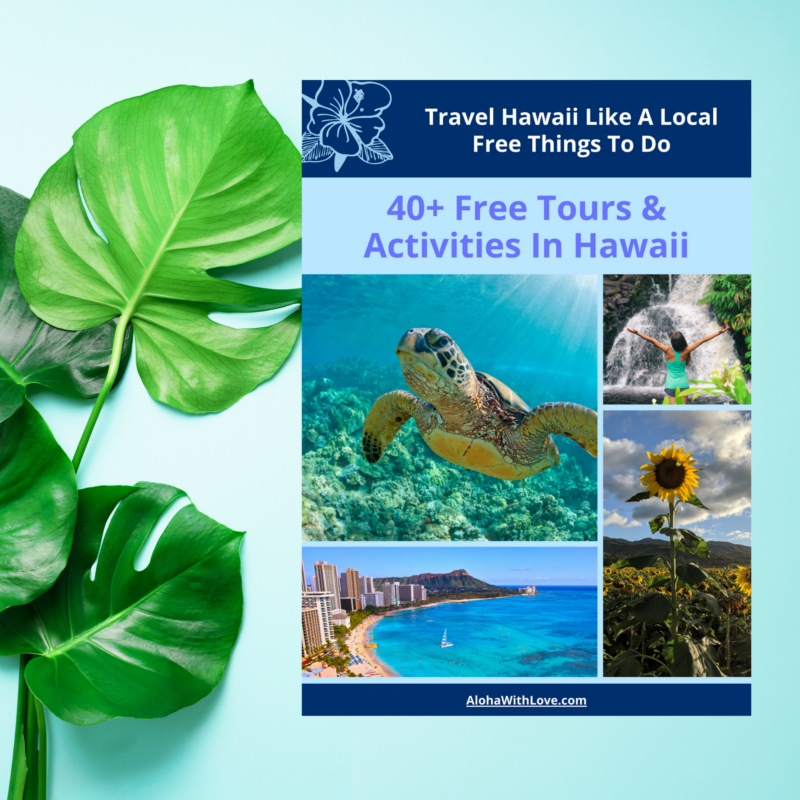 Want to go on a free tour in Hawaii?
Inside Iolani Palace
From the moment you step in, transportation to the 1800s begin and you'll learn about the royal bloodline up until King Kalakaua and his sister Queen Liliuokalani – Hawaii's last monarch who was imprisoned upstairs in her bedroom for the last years of her life. The palace itself was exceptionally modern as it was outfitted with Hawaii's first electrical lights and even had indoor plumbing and the telephone!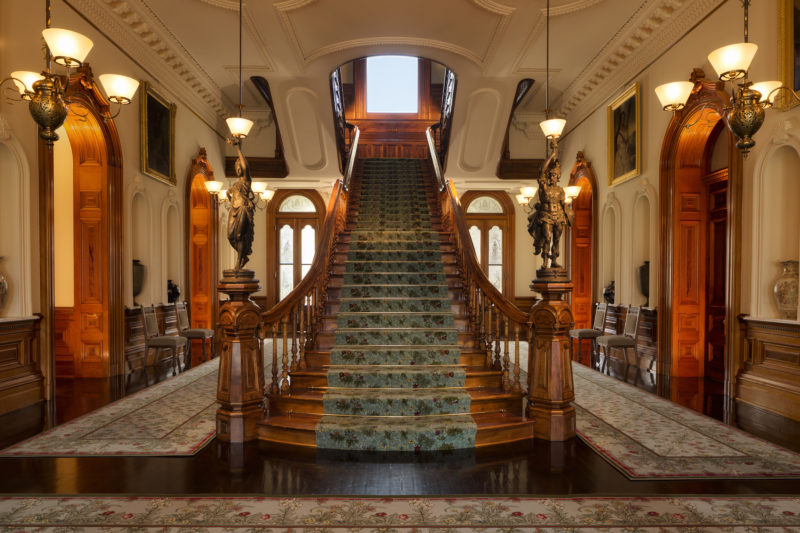 The rooms themselves are almost other-worldly. Who would have thought that they'd find a European palace in Hawaii? King Kalakaua was the first Hawaiian monarch to travel around the world and after visiting Europe's palaces, you can see the impact his travels had on the architecture of Iolani Palace. From the throne room to the blue room, gold room, library and bedrooms, the detail in every chair, cushion and chandelier shines bright.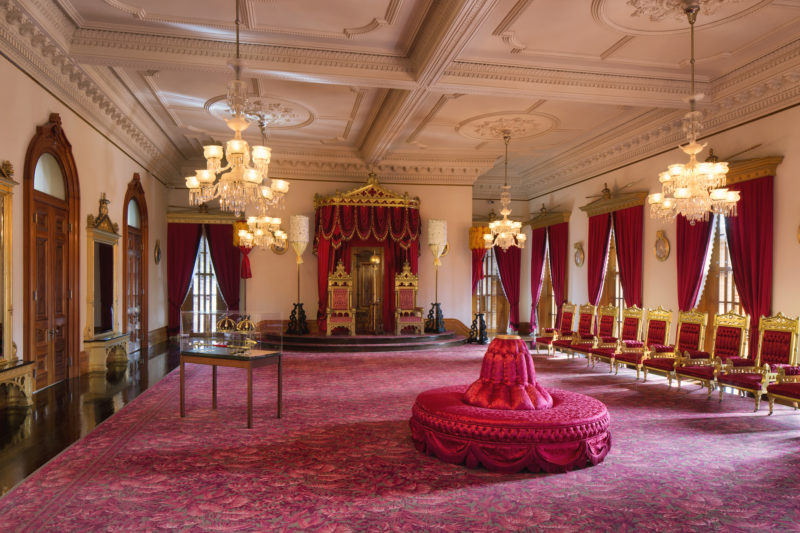 I especially love the dining room. The tableware, glassware and silverware are all engraved with monograms, crowns and some are even Pillivuyt porcelain from Paris, France – complete with Hawaii's coat of arms. Another favorite of mine is the the Queen's quilt that's on display, which was sewn by Queen Liliuokalani and her companions during her imprisonment. You'll have to look carefully for her hauntingly stitched words "Imprisoned at Iolani Palace…We begin the quilt here…"
Local tip: If you're interested in authentic Hawaiian quilting, the Iolani palace holds affordable quilting classes that is taught by master quilter John Serrao and his daughters, Cissy and Rae.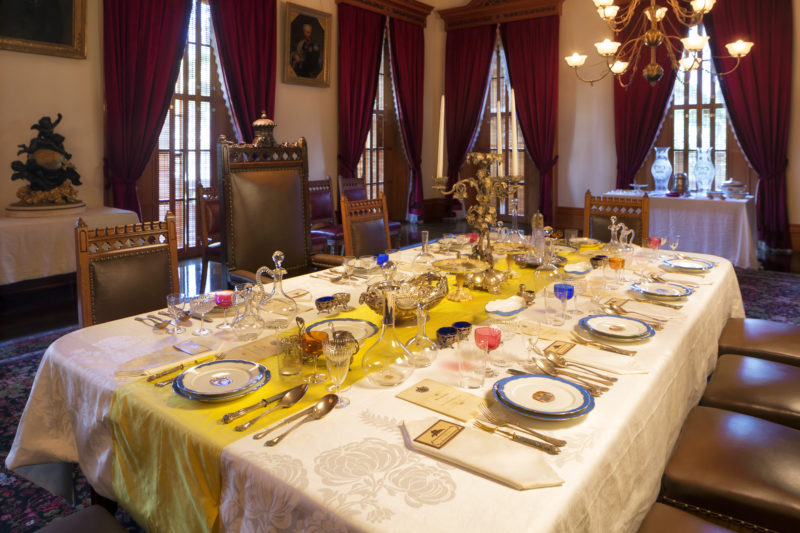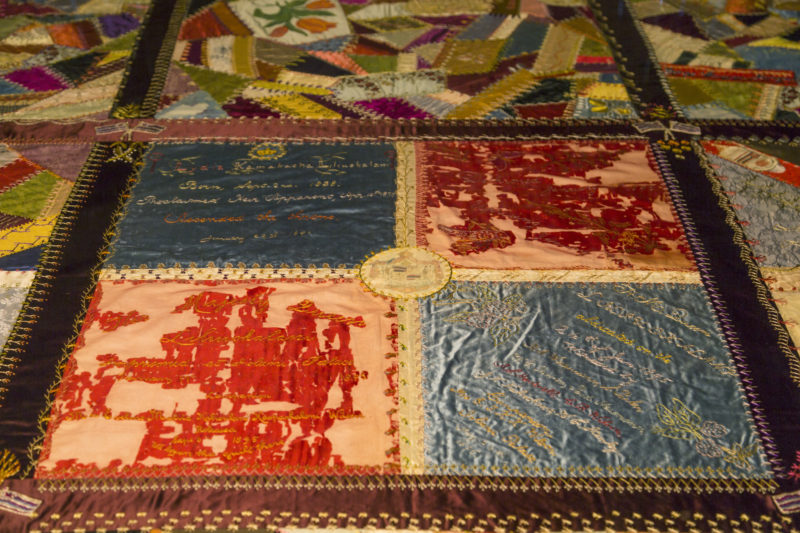 Nearby Sights And Activities
Iolani Palace is in the heart of downtown so there is plenty to see in walking distance after your Iolani Palace tour. City Hall is right next door and Oahu's famous Kamehameha statue is right across the street from Iolani Palace. Using this time to go on a walking tour of downtown Honolulu is a great idea – plus, it's free!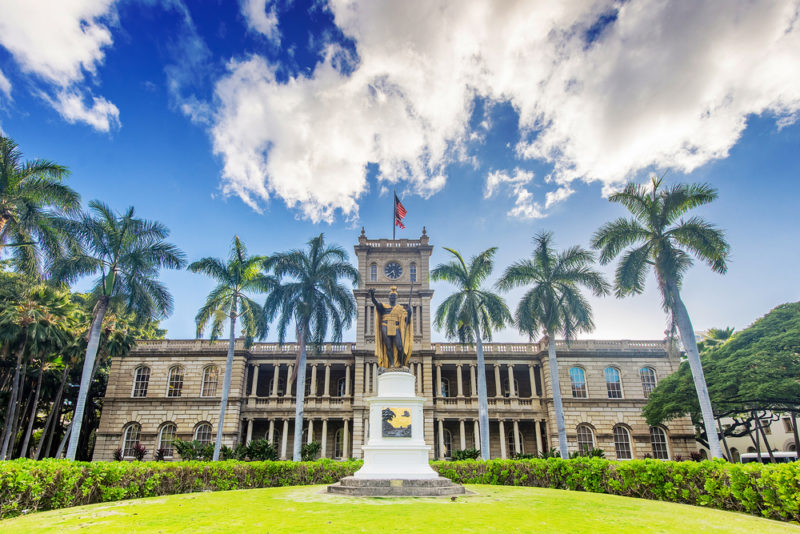 Like many statues featuring historically important people of Hawaii, the Kamehameha I statue is often decked out in garlands of fresh flower leis. The best day to see him would be May 1, which is recognized as "lei day" in Hawaii.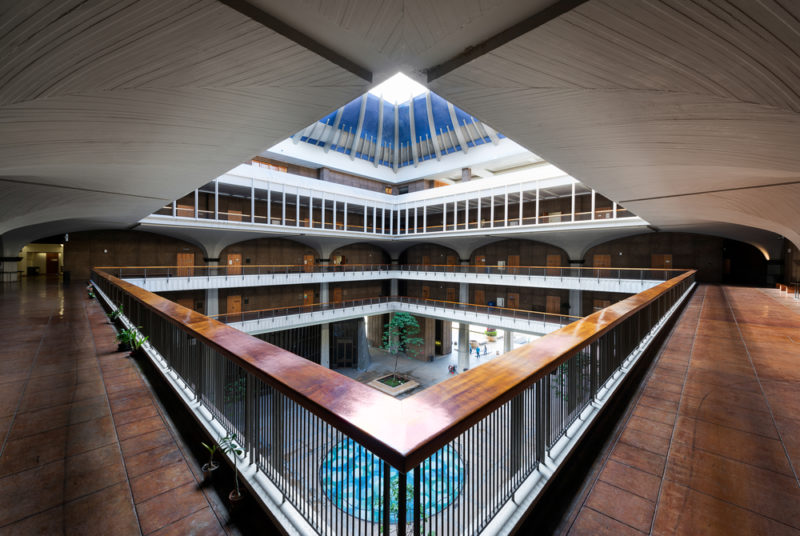 You wouldn't expect to consider going to a governmental building while in Hawaii, yet don't be surprised if you find yourself at the Hawaii State Capitol. The open-air building is actually very pretty and totally Insta-perfect from many angles. Even the outside aesthetics are neat since there's water surrounding most of the building.
If you're looking for more things to do in Hawaii with a budget, check out my budget Oahu post where you can have fun in Hawaii at $50 a day.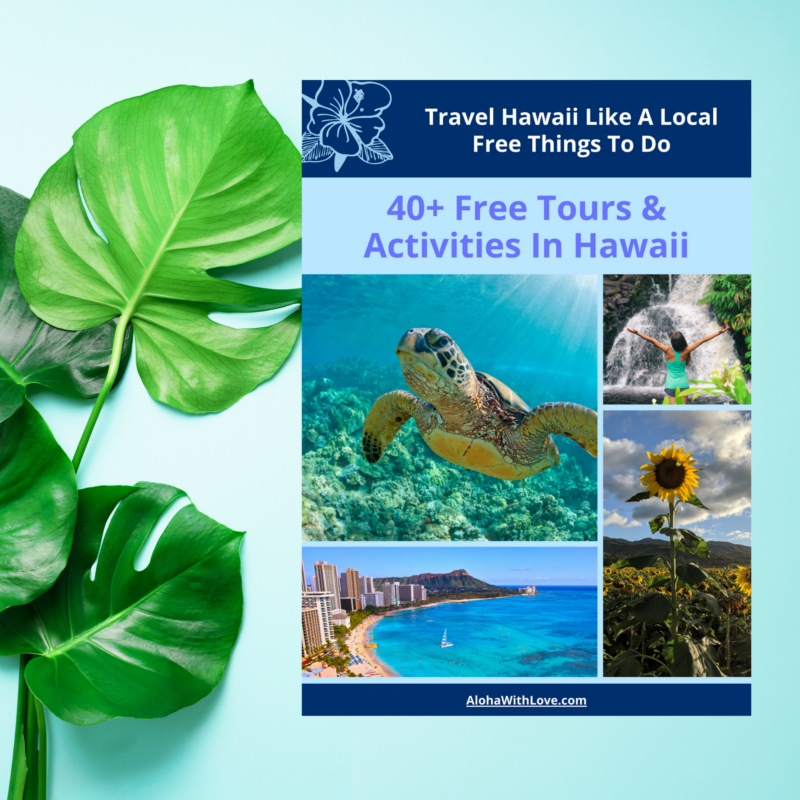 Want to go on a free tour in Hawaii?