Pearl Harbor is an eye opener.
There are graphic photographs, remnants of the attack and stories to be heard from survivors. Don't be surprised if you shed a tear or two and find yourself suddenly overwhelmed with emotion.
On the other hand, Pearl Harbor gives you access to see a bunch of cool planes, submarines and technology used during WWII. The facility is large and spacious, especially after its renovation, and your free ticket includes the main attraction – the USS Arizona Memorial.
Just get there early!

Pearl Harbor update: Cracks have been found on the visitor ramp foundation of the USS Arizona Memorial and is closed until further notice. Authorities believe this will take a long time to fix: the memorial sits in the water and there are many variables to consider since this is a grave site and respect for those who lost their lives is of utmost importance. Although stepping foot into the actual memorial is not possible right now, you can still ride the boat ferries to get a closer view of the architecture.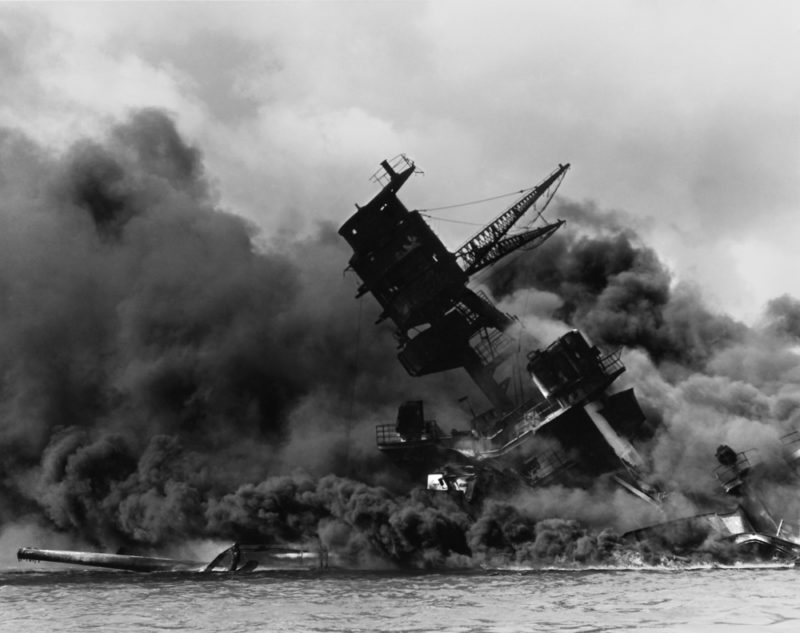 If I could only give you one tip – it would be to get to Pearl Harbor early. And I mean opening time early. The museum is open from 7:00 AM to 5:00 PM and as soon as 7:00 AM hits, the tour buses start pouring in and tourists unload like sardines.
Driving to Pearl Harbor by Car
From Waikiki:
There are several ways to get to Pearl Harbor from tourist central, but here's a straightforward option. Make your way to the H-1 freeway heading west. Once you're on the H-1, stay on the left to get onto the H-2, then move over to the right lane and follow the Stadium Area sign. Take a left onto the Aiea Access road and the Pearl Harbor parking lot will be on your right.
From Ko Olina (Kapolei):
Get onto the H-1 headed east and take the 13A off ramp for Aiea/Honolulu. The exit will loop you around like a U-turn. Stay on the right and follow the Stadium Area sign up ahead. Take a left onto the Aiea Access road and the Pearl Harbor parking lot will be on your right.
Local Tip: This exit is particularly crowded during morning weekday rush hours. Stay alert for sudden stops. It can also get crowded when there's a big event at Aloha Stadium such as a graduation or a UH football game.
From Haleiwa:
From Kamehameha highway (Kam Hwy is the road that circles Oahu), make your way to the H-2 headed south. After your pass the H-1 and H-2 merge, follow the directions above (Ko Olina) to reach Pearl Harbor.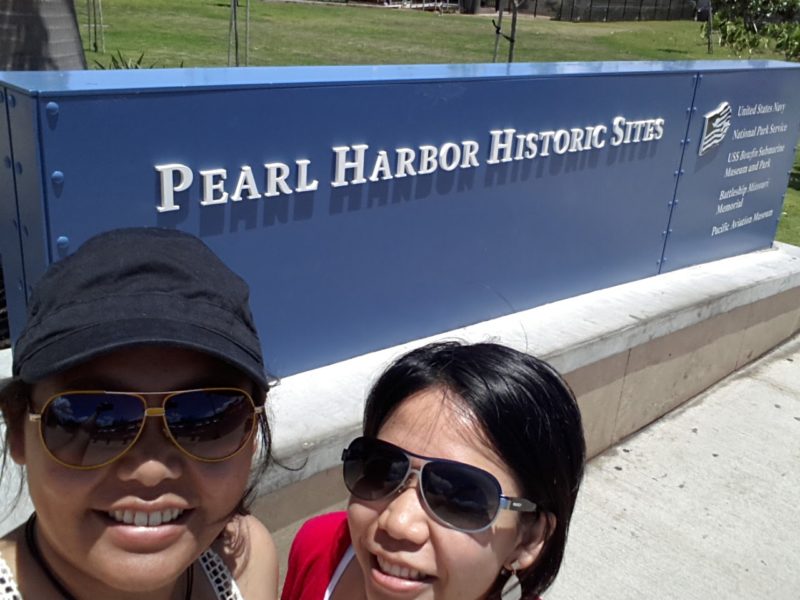 From Waikiki, it takes about 1 hour to get from Ala Moana to Pearl Harbor and will cost you just $5 for an all-day bus pass. There are plenty of buses that will take you to Pearl Harbor – you can check the routes at TheBus.org.
Parking is free at Pearl Harbor, and if you get there early, there's plenty of it. You'll need to start worrying about parking if you intend to arrive later in the day. Pearl Harbor gets crowded fast especially with everyone vying for those 1300 free program tickets.
Security does makes its rounds here and you'll probably see them as you drive around, but that doesn't mean you should feel free to leave your valuables in your car. It's common knowledge that many visitors are forced to leave their bags in their car when they discover that they can't bring their bags with them.
How to get to Ford Island
Visitors can only access Ford Island 2 ways: with a valid military ID or on the shuttle that runs from the Pearl Harbor visitor center about every 15 minutes. Most people end up riding the shuttle to get to the Missouri and Pacific Aviation Museum.
Local Tip: One perk for those driving in with a military ID – you'll have access to the USS Utah memorial. The shuttle does not make a stop here.
Entering Pearl Harbor For Free
Pearl Harbor is confusing for most visitors – if you google Pearl Harbor, you'll come across several tours and ticket prices promising a variety of activities. Even I find it confusing to know what's necessary and what I should be paying for.
What you need to know is that the beginning (or what I like to call the "main" area) of Pearl Harbor is free. In addition, the first 1300 people will get a free program ticket with their movie time.
Here's what you'll get when you enter Pearl Harbor with a free program ticket:
Access to walk the Pearl Harbor visitor center. You can think of this area as the main grounds. There's a beautiful view of the harbor itself and exploring the area will take you at the very least 20 – 30 minutes. There are plenty of plaques, dedications, snack shops and a wonderfully large souvenir shop filled to the brim with historical goodies, that will stretch your stroll to a couple of hours easily.
The Pearl Harbor movie. And I don't mean that Ben Affleck one! This movie is a 23-minute narrative collection of photographs and captured film sequences that led up to December 7, 1941 and although it isn't a Hollywood hit, it's highly worth seeing.
A ride to the USS Arizona Memorial. After the movie, you'll be escorted to the boat ferries that will safely take you out into the harbor and onto the USS Arizona Memorial.
The Pearl Harbor historical museum. This particular museum is not really advertised on other Pearl Harbor sites. When you enter the visitor center, this museum is off to your left indoors and is a great little gem for history buffs. There are plenty of historical tidbits here and artifacts from this time period that are sure to impress. I usually spend about an hour here, but keep in mind that it will take longer if there's a large crowd.
Hidden fee: You can choose to explore the free park with an audio guide – this will cost you $7.50/person and will keep you occupied for 2 hours. Diehard fans of Jamie Lee Curtis will be interested to know that she is the narrator.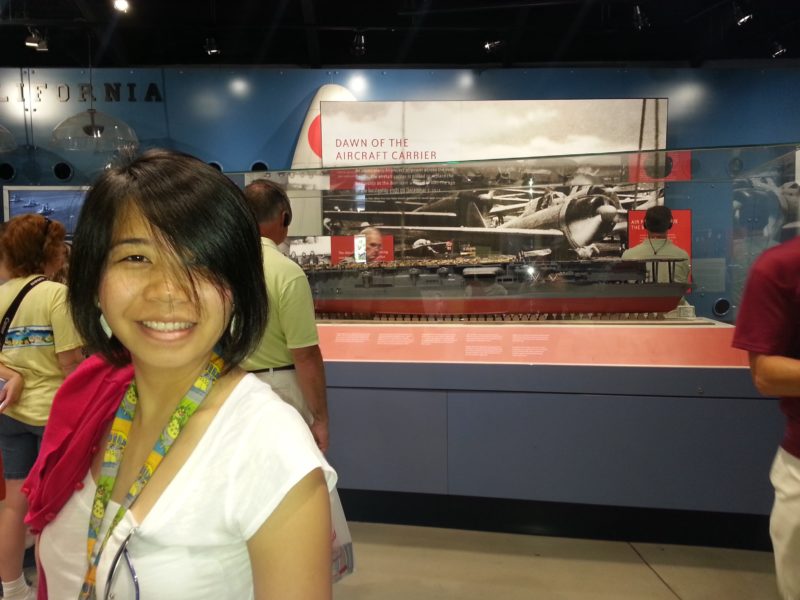 For those of you who'd rather come a little later but still want a guaranteed program ticket, you can reserve your ticket at recreation.gov – make sure you follow the rules or you'll forfeit your ticket(s). There is a $1.50 fee to book online.
Local Tip: I once came to Pearl Harbor late and after waiting around for a few hours, we found out our boat ride was cancelled due to high winds and waves. It was a huge bummer, but a good lesson learned. The waters are calmer in the mornings, which is another reason to get here early and get your boat ride in.
The movie and boat ride to the Arizona Memorial
I cannot stress this enough – do not miss your assigned movie time. There is no possible way for the staff to fit you into the movie theatre when there's a limited number of seating. The only possible resolution they can offer is a later showing if any tickets are still available.
Outside of the theatre, the staff will start lining people up based on their movie times. There's no need to guess where you'll be seated. You'll file in from the back of the theatre and fill up seats in the same order that you were standing in line, front to back. There's a good view of the screen no matter where you sit.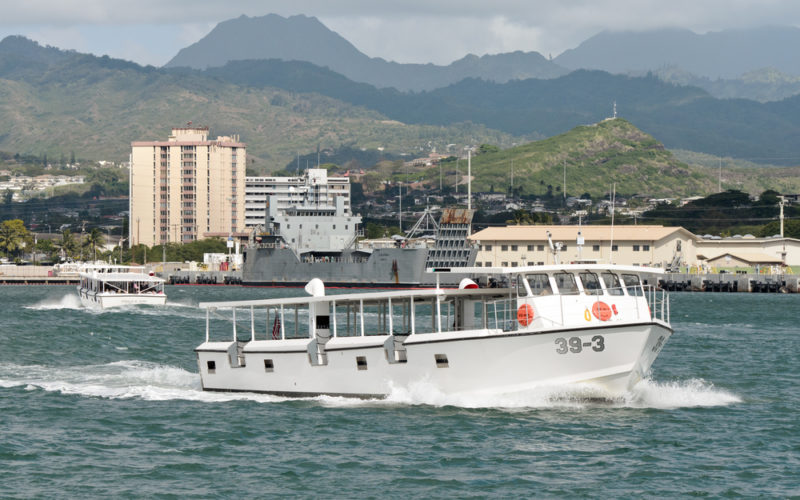 You'll exit the theatre at the front and follow the path to the boat ferries. There's a short safety speech, but the ride will be over before you know it. The visitors ramp leads up into the Arizona Memorial and from here you're free to explore and take pictures at your leisure. You can spend as much time as you want here – just catch any ferry back to return to the visitor center.
Local Tip: Many people choose to bring a fresh flower lei or loose flowers with them to the Arizona Memorial. You can toss them into the water and watch the flowers float away.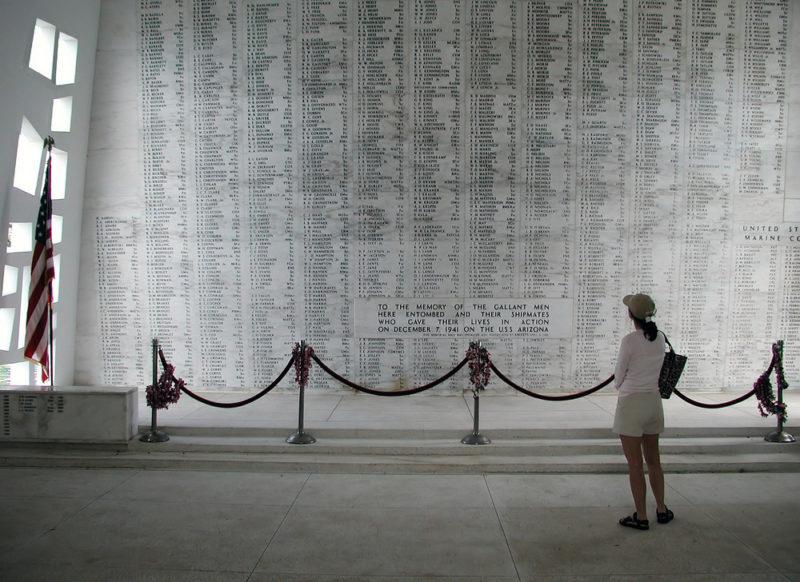 My Pearl Harbor Schedule Breakdown
When I take my visiting friends to Pearl Harbor, this is how I plan my visit:
Arrive at Pearl Harbor parking lot at 6:45 AM and stand in line. This way you're guaranteed a free program ticket and your movie and ferry ride to the USS Arizona Memorial is EARLY.
Watch the movie and visit the USS Arizona Memorial just a few minutes after you've entered the visitor center. The first showing is at 7:45 AM.
Explore the free Pearl Harbor historical museum, the grounds and the awesome souvenir shop.
Decide on other tours/museums that you'd like to visit based on how you feel. By going early, you can finish the free activities around 10:00 AM.
Why I don't recommend going later: I often find myself in the situation where visiting friends decide they'd rather sleep in than listen to my alarm clock. On these days, we usually end up at Pearl Harbor around 10:00 AM with a free program ticket that says our movie time is 3:00 PM. It's really hard to spend 4 – 5 hours with only the free museum and Pearl Harbor grounds for entertainment. Most of the time we'll end up going back home early, thus wasting half a day in Hawaii and missing the movie and USS Arizona Memorial visit.
The only time when arriving later is a good idea is if you're very sure you'll be doing another paid tour or museum visit before your assigned movie time.
Another last-ditch effort people come up with is to go eat lunch and return for your movie time. I don't recommend this strategy unless you've planned everything out. This area doesn't have any remarkable restaurants or good eats nearby that I'd wholeheartedly recommend.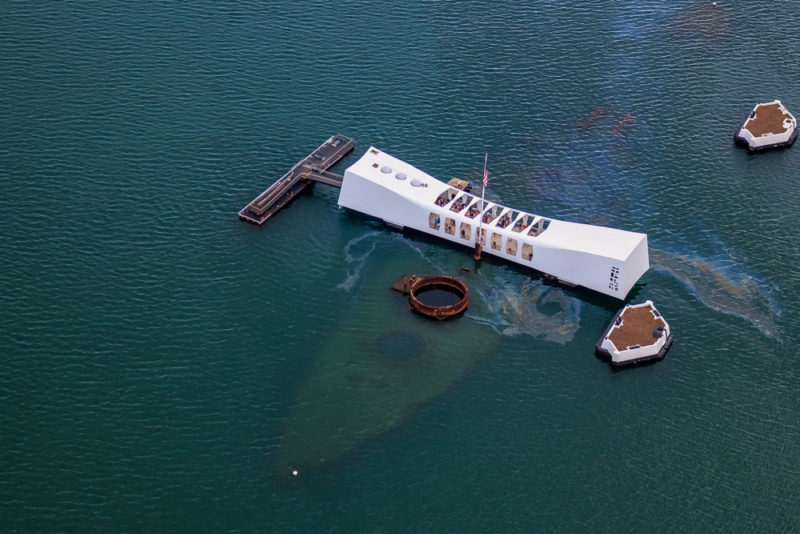 What's Not Allowed At Pearl Harbor
Pearl Harbor is an active military base so there are plenty of rules that you'll need to follow. The most important rule that catch many unaware is that bags are not allowed. This includes small purses, camera bags and even diaper bags. If you can conceal something inside the bag, then it won't be allowed.
Local Tip: I've always told my friends that if it doesn't fit in your pocket, don't bring it. Cameras are fine to hold, but big cameras will also be stopped and inspected.
According to the PearlHarbor.org website, this clear tote has been accepted by security. You can also bring a very small bag (the size of those small drawstring bags), which I successfully showed to security and went through without a problem.
A note about strollers: Strollers are allowed everywhere throughout the Pearl Harbor visitor center except for in the movie theatre and on the ferries that go to the USS Arizona Memorial. You're allowed to bring in the essentials (powder, diapers, snacks, etc.), but keep everything to a minimum – stroller pockets must be emptied out upon entrance.
If you can't leave your bag in the car, you can also rent a locker and secure your bag in there. The lockers are limited and there is always a line of people waiting for lockers to open up (and a line of people waiting to get to their locker to open it back up).
What to wear to Pearl Harbor
There's no official dress code, but this is a place of honor where many lost their lives in an instant. A shirt, shorts and shoes are completely acceptable. Do not show up in a bathing suit or profane clothing as the staff have the right to ask you to leave.
Shoes are required on the Arizona Memorial, so it's a safe bet that you'll need shoes on the Missouri and Bowfin, too. The more tours you sign up for, the longer you'll be walking under the sun, so keep your toes covered.
Tours And Museums You Need To Pay For
As I mentioned earlier, the Pearl Harbor visitor center has the grounds, the free museum, the movie and ferry access to the USS Arizona Memorial. The information booth is also here where you'll be able to purchase tickets for any tours and museums.
If you were to do every single activity at Pearl Harbor, expect to spend about 2/3 of your day here, including lunch. There is plenty to do, see and learn especially for those who love planes, ships, and models.
Check this link for any discounted Pearl Harbor tours available. If you're not on Oahu, you can still arrange to visit Oahu and Pearl Harbor in one day on this site, too.
This huge WWII submarine is also located on the visitor center grounds and you'll be able to see it for free from the outside as you explore the visitor center. To tour just the museum is $6/adult but the real highlight is to explore the actual submarine, both inside and out. This ticket is $15/adult and includes the museum visit, too.
Unfortunately, children 4 and under aren't allowed onto/into the submarine, but they can visit the museum for free.
Check current prices and updated information for the USS Bowfin submarine museum and park.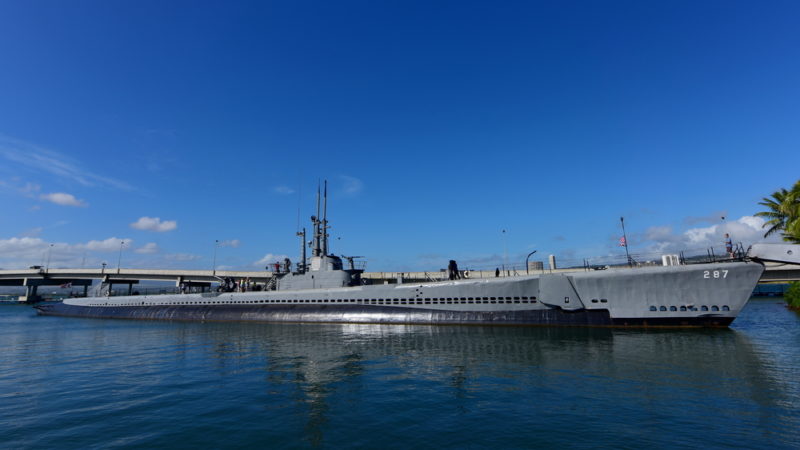 Battleship Missouri Memorial on Ford Island
The Missouri is on Ford Island and the majority of the general public visiting Pearl Harbor can only access Ford island via the shuttle that leaves from the visitor center roughly every 15 minutes.
Local Tip: Near the Mighty Mo is the USS Oklahoma memorial. This memorial is free to observe and serves as a stark reminder of the lives lost.
Like the USS Bowfin, the Missouri also has 2 ticket types. The general admission (aka Mighty Mo pass) is $29/adult, $13/child. You can choose between a guided tour or an acoustiguide audio tour. Exploring the ship on your own is also possible and if you have the time, you can certainly do all 3.
The "Heart of the Missouri tour" will set you back another $25/adult, $12/child, but in my opinion it's worth it for those who are engineers at heart. This tour will get you deeper into the Mighty Mo and a closer look at how the ship, its guns and technology work together to create this beast of a battleship.
Unfortunately, children under 10 aren't allowed on the Missouri.
The Battleship Missouri Memorial is a popular tour – check out prices here and find out more information on hosting events or spending a night here as a team-building event for youths.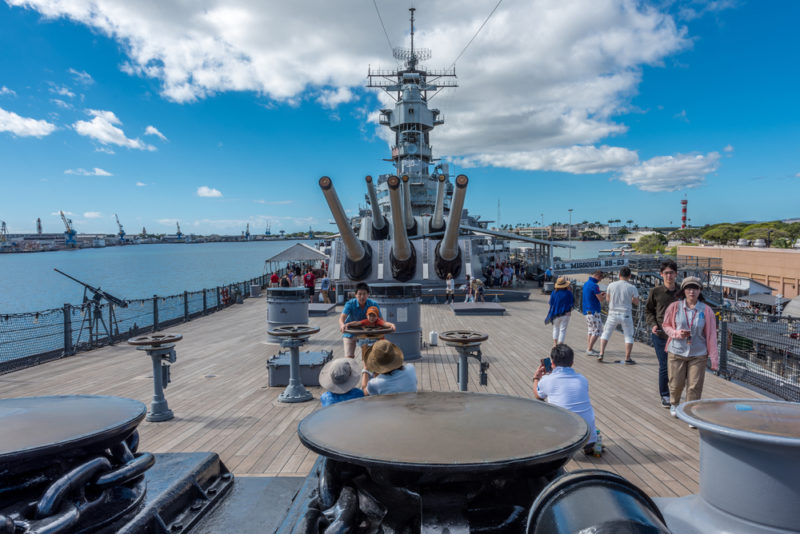 Pacific Aviation Museum on Ford Island
The aviation museum is notably one of the best historical museums in Hawaii. Ticket prices will cost you $20/adult, $10/children for an acoustiguide or to explore on your own. But if you can, I highly recommend the docent-guided tour for $30/adult, $10/children. The $30 price tag will also get you access to the restoration shop – a must-see for any plane maniac.
The planes offer a different taste into history as you explore the technology and evolving plane designs. You can expect to spend about 1 to 1.5 hours here at the very least. Even the souvenir shop is different from what you'd normally expect. There are some really neat memorabilia here and a lot of it on the pricey side – high quality stuff for aircraft enthusiasts!
Buy tickets here and don't forget to check the discounted prices they have on occasion.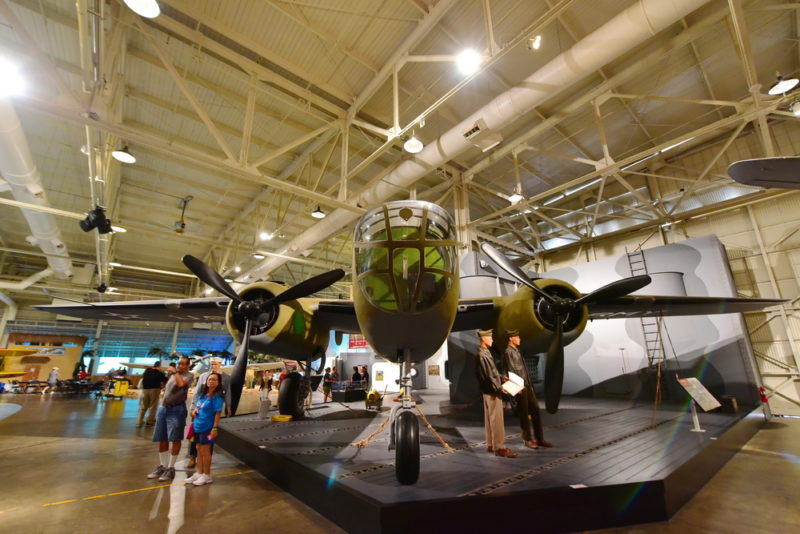 Bring your own snacks/food if you're staying the whole day.
I recommend watching Tora! Tora! Tora! before coming to Pearl Harbor.
Shoes are required on the USS Arizona Memorial.
No bags, except for the ones I mentioned earlier! Cargo pants with plenty of pockets are still OK though.
For those traveling with kids to Pearl Harbor, read Melissa's post from The Family Voyage on her own experience with her 7 and 4-year old children.
Have A Comment, Opinion, Or Question?
Let's talk! Have you been to Pearl Harbor? Which museums or tours have you been to? Let me know what you think below so I can help you and everyone else make your Hawaii vacation an awesome one!