This post may contain affiliate links, which means I'll earn a small commission if you purchase something through these links. You won't pay any extra; instead, you'll be helping Aloha With Love to thrive. Thank you! Learn more.
COVID-19 has affected many of Hawaii's businesses and events. Please double check their dates and times before you go or make plans. Visit HawaiiCOVID19.com for more information.
--
Are you wondering how to get around Maui without a car or if it's even possible? Well, it is to a certain extent. If you want to see the best of Maui, having a car will save you a lot of time. All you need to do is hop in the car and go. But, if you plan on booking tours to sightsee, then not having a car may not be a big deal. At the end of the day it comes down to your budget and your itinerary. Depending on what you want to see and do will affect your mode of transportation.
Aloha with love,
Amy
Who needs this guide?
This is a guide for those who want to know how to get around Maui without a car. So if you're on a budget, staying in certain areas, or prefer public transportation, this guide is for you. Let it be said – having a car on Maui is what most people opt for. Maui's two biggest attractions are the Road to Hana and Haleakala National Park. Unless you decide to book a tour to these spots, not having a car means potentially crossing these off your itinerary.
Need a complete guide to getting around Maui? If you want to know more about car rental options, rules and regulations, rideshares, carshares, and other transportation options on Maui in detail, check out my comprehensive guide below.
Read More >> Getting Around Maui And Transportation Tips
Do you need a car to get around Maui?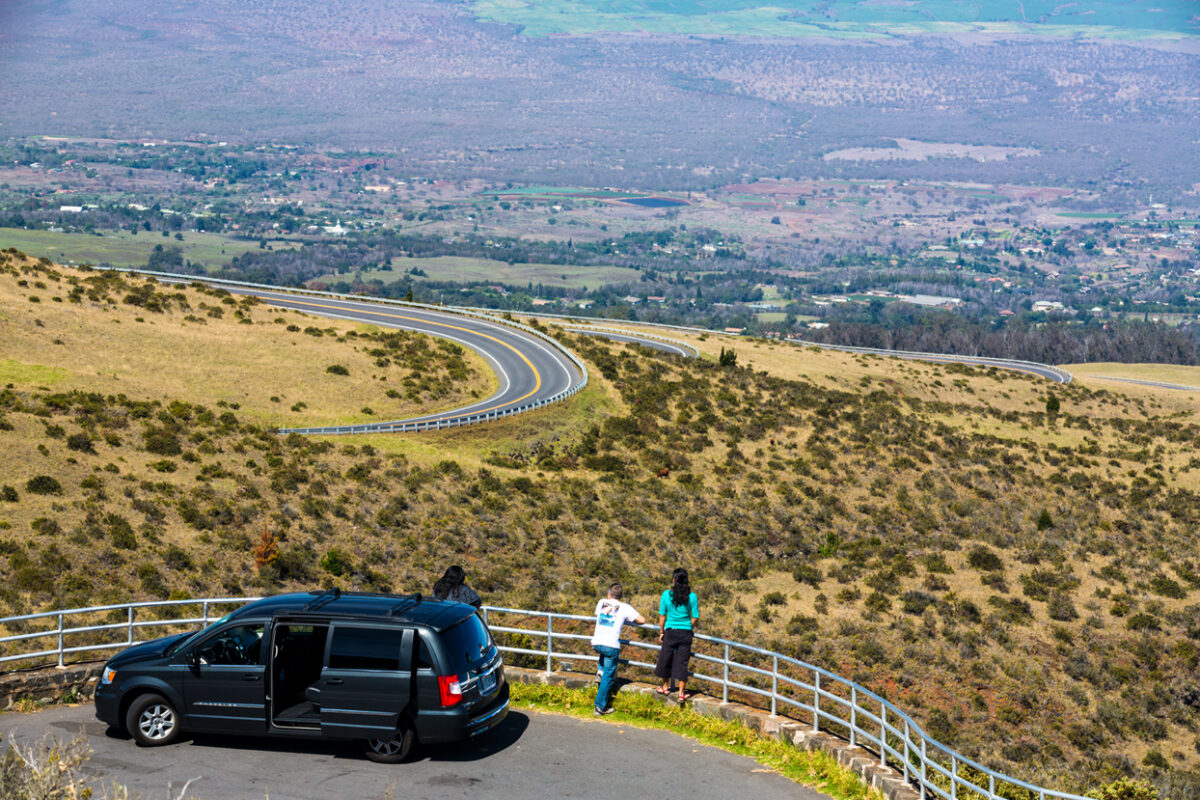 I don't think you do – but it's certainly more convenient. Having the freedom to just hop in the car and go can be a game changer especially if you have a short stay on Maui. If your trip to Maui is 2 weeks or more, that's when I would start thinking about relying on public transportation, tours, rideshares or bicycling. A longer stay allows you to travel from town to town, then explore the local area with other means of transportation.
How to get around Maui without a car: Public transportation
According to their website, the Maui Bus currently connects communities in central, south, west, Haiku, Kula, and Upcountry. What that means is they do not go out on the Road to Hana and Haleakala (Maui's two biggest attractions). That's a bummer, but it makes sense since these locations don't have enough local traffic to sustain business anyway. Plus, the winding Road to Hana is a tad too skinny for a large bus driving through.
If you plan to move from town to town, the Maui Bus is a viable option for you. There are 14 routes which operate 7 days a week and on holidays. A bus pass costs $2, but if you plan on riding the bus back, get the day pass for $4.
Kaʻanapali Trolley
A really nice service in Kaʻanapali is the free trolley that connects the Kaʻanapali Hotel and Resort, Whaler's Village, Kaʻanapali Golf Club and offers free transportation within the resort area. It's open to the public so if you're in West Maui, you can hop on if you're headed in the same direction. Some of the larger resorts and hotels may have their own free shuttle services as well.
Kaʻanapali Trolley >> Visit their website for more information.
Lahaina Cannery Mall Shuttle
There's another shopping shuttle run by Lahaina Cannery Mall that connects Kaʻanapali and Lāhainā. The route runs from Whalerʻs Village (Kaʻanapali) to Lahaina Cannery Mall to Front Street (Lāhainā) and back and only costs $2 for a ride ($4 round trip).
How to get around Maui without a car: Bicycling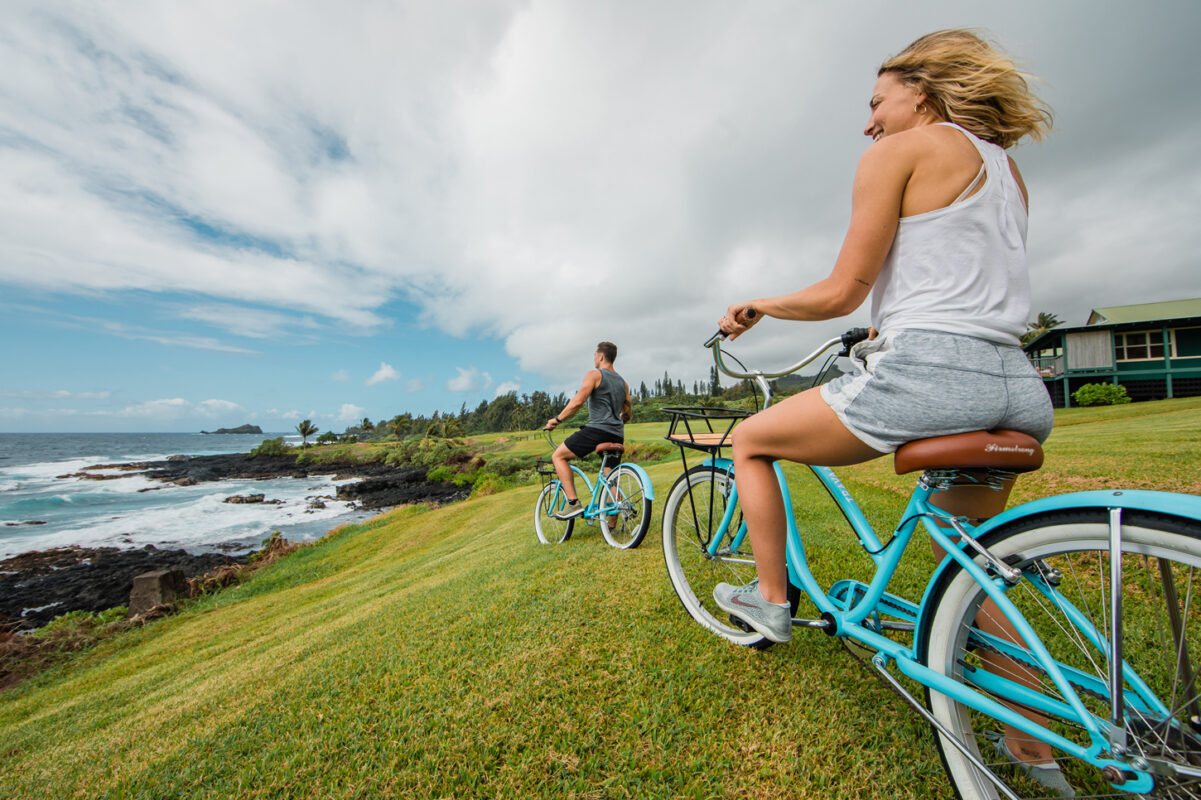 Bicycling is a great way to explore a single town. One strategy is to travel to each town by bus, then explore locally by bicycle. Here are a handful of bike rental companies on Maui that you can try:
West Maui
South Maui
Central Maui
North Shore
Upcountry
Bike rental companies in Maui's North Shore and Upcountry tend to have Haleakala tours or mountain bikes suitable for riding down Haleakala. The staff at these locations are more knowledgeable about biking down this volcano so don't hesitate to ask them. Or, you can book a Haleakala bike tour online now so you don't have to worry about.
How to get around Maui without a car: Booking tours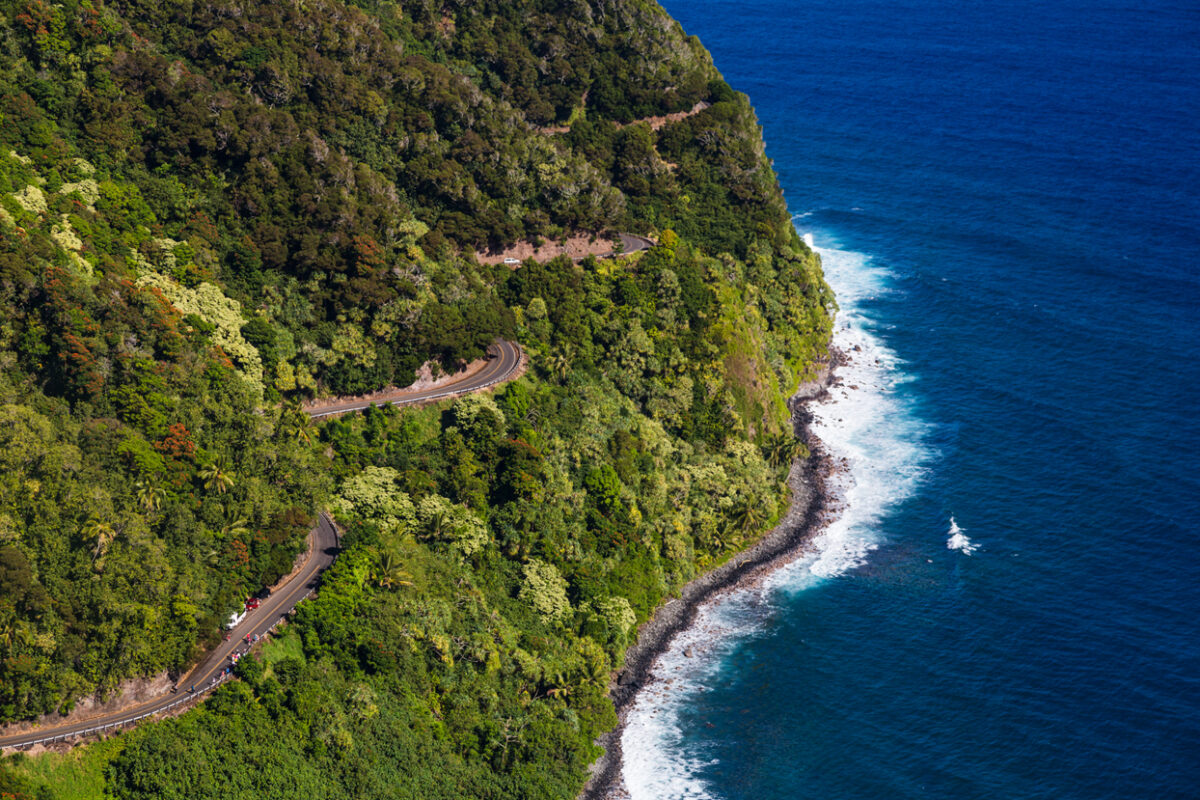 The biggest obstacle when it comes to how to get around Maui without a car is exploring Maui's two biggest attractions: the Road to Hana and Haleakala National Park. Rather than just one attraction, these are actually a collection of several attractions over an entire region. Getting by without a car is not impossible, especially if you opt for book a tour instead.
Read Now >> The Best Places To Visit In Maui: 20+ Bucketlist Locations
Road to Hana
The Road to Hana is a sweet ride on a curvy road along Maui's eastern coastline. The drive is packed with beaches, waterfalls, hikes, gardens, cultural sites, fruit stands, scenic views, and even a lava tube! The reason why a car is almost mandatory is because you constantly stop on the side of the road. So it's really a "wherever the wind takes you" kind of experience.
My recommendations:
Haleakala National Park
Haleakala National Park requires a ride up to the summit where you can watch the sunrise (or sunset). A typical visit requires a 4 AM alarm, driving up the volcano, watching the sunrise, hiking a couple of trails, then making your way back down for a meal. By the time you return to your accommodation, you'll be beat. Booking a Haleakala tour is really your only option because there is no bus route here.
My recommendations:
How to get around Maui without a car: Walking
Maui is a foot-friendly island. The sidewalks and pathways are very walkable and if you're exploring a town such as Lahaina, Paia or Hana, you'll find that walking is a great way to explore. Maui towns attract small boutique stores, souvenir shops and local snack eateries, which would all be passed by if you didn't do some walking. You'll find yourself stopping to take a look during window shopping because the products in the store windows are so unique! Maui is packed with artisans and all those creative juices produce lovely mementos of your trip.
How to get around Maui without a car: Maui – Lanai ferry
When you ask yourself how to get around Maui without a car, include Lanai in your plans. One popular activity that you may not have considered is going to Lanai for a day trip. The two islands are so close that there's a convenient ferry running between the two. Another option is to book a snorkeling tour where your captain will ferry you over to Lanai's snorkeling/diving spots.
Book Now >> Lanai ferry, day trip, guided tour, snorkeling excursion.
Island hopping
You might be considering hopping to and from Maui as you make your travel plans. This is a common strategy when traveling Hawaii so you can explore more islands during your stay. Hawaiian Airlines and Southwest Airlines are the two major competitors that service the island with interisland flights. There are constantly deals being promoted for neighbor island flights, so make your plans early so you can do a little shopping. Another option is to check Mokulele Airlines, the cheaper commuter airline service.
Read Now >> Guide To Island Hopping In Hawaii
Read Now >> Flying Honolulu To Molokai On Mokulele Airlines
How to get around Maui with a car: Airport shuttle rides
Here is a list of shuttles and services that will take you from Kahului Airport to your hotel and back. You might also want to check the Holoholo app in the next section below.
Taxis, Uber, Lyft, Holoholo
Taxis are most visible at the Kahului Airport. You can easily hop in one and take it to your accommodation. Getting back to the airport in a taxi may be a challenge. The best place to look would be at large resorts where the front desk can call one in for you. But don't be surprised if you have to wait longer than you're used to for the taxi to arrive.
Uber and Lyft have also successfully made their way into Maui. There's a decent flow of rideshare drivers in the main towns so finding a ride isn't too bad. But you do have to do some planning if you take a rideshare someplace that is a little isolated. You might not find a driver willing to come out to pick you up.
One rideshare option you might try is Holoholo – Hawaii's version of Uber/Lyft. I haven't personally tried it, but the reviews on both the Google Play and Apple Store make it sound good! Let me know if you end up using this app. I'd love to hear about your experience in the comments below.
Learn About Holoholo >> Maui News: First Hawaii-Based Rideshare Company
The Turo app
One rental car app that I've been enjoying here in Hawaii is the Turo app. It's like airbnb but for cars. You can browse the app for cars on Maui and rent them directly from their owners. Although this guide is all about how to get around Maui without a car, I think this is a great option if you're concerned about your budget. Look for a car that suits your needs such as a minivan or 4WD. If all you need is something that works, this is a great app to check out. By renting the vehicle only on the days you'll need it, your wallet will thank you.
Traveling Maui?
Here are a few more helpful links to help you plan your Maui itinerary: