This post may contain affiliate links, which means I'll earn a small commission if you purchase something through these links. You won't pay any extra; instead, you'll be helping Aloha With Love to thrive. Thank you! Learn more.
COVID-19 has affected many of Hawaii's businesses and events. Please double check their dates and times before you go or make plans. Visit HawaiiCOVID19.com for more information.
--
Everyone knows hot and sour soup. It's the staple soup served at Chinese restaurants and all that sourness makes you salivate. The only disappointing thing about hot and sour soup is that it's usually not filling. When Mom and I have it at a restaurant, we're usually disappointed because while the "sour" is there from the vinegar, the "hot" is mostly from pepper. Real hot and sour soup is made hot with ginger and it really brings the soup to a whole new level.
Traditionally, hot and sour soup is enjoyed with dumplings (which is what we did for this dinner). You can make some jiaozi following my Mom's jiaozi recipe and have enough left over for many meals to come.
Aloha with love,
Amy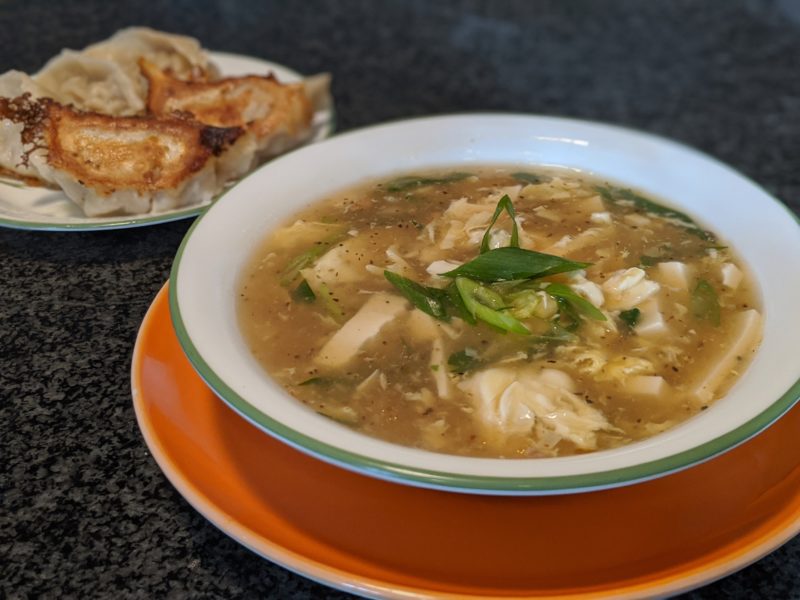 Ingredients
8

c

broth

1

c

green onions

Sliced at a diagonal.

½

c

ginger

Very thinly sliced.

1

block

medium-firm tofu

Thinly sliced.

6

tbsp

cornstarch

6

tbsp

water

3

tbsp

rice vinegar

1

tbsp

salt

2

tbsp

shoyu

Soy sauce.

1

tbsp

pepper

1 tbsp + 1 tsp

3

eggs

1

tsp

hondashi

1

tbsp

sesame seed oil
Meat
1

c

meat (½ lb)

Sliced beef, chicken, or pork.

1

tbsp

cornstarch

1

tbsp

shoyu

Soy sauce.

1

tsp

rice wine

Optional.
Instructions
In a large pot heat up the broth. If you're using canned broth, use 1 can of broth followed by 1 can of water. Mom made this particular brother earlier in the week and had it in the fridge.

While the broth is heating up slice the green onions diagonally.

Thinly slice the ginger. The thinner, the better.

Slice a block of tofu into strips. Add it to the broth so that it can heat up and start cooking.

Slice the meat into strips. Mom used pork, but chicken and beef are also good options. Mix the meat with 1 tbsp cornstarch and 1 tbsp shoyu. Set on the side.

Mix 6 tbsp cornstarch and 6 tbsp water.

By now the broth should be bubbling. Adjust the temperature to low. Very slowly pour in the cornstarch and water mixture while stirring. Once all of the mixture has been stirred in, raise the temperature to high again. This will thicken the soup.

Note: You'll know the soup is at the right consistency when the boiling bubbles look shinier and a little gelatinous. If not, add a little more cornstarch and water mixture.

Add the meat in a little at a time and stir. If you add it in all at once it will cook together and get stuck to each other.

Note: Do not put the meat into the broth before the cornstarch and water mixture. Otherwise, the meat will become tough and hard to chew.

Adjust the temperature to low. Add rice vinegar, salt, shoyu, pepper, and salt. Stir.

Scramble the eggs and very slowly pour into soup as if making a long, curvy trail. When you have poured all of the eggs into the soup, you should have covered the whole surface area with egg. Take about 30 seconds to pour everything into the soup.Note: Do not stir.

The slow boiling bubbles will cook the egg in a few seconds the eggs will rise to the top. Once all of the eggs have cooked, slowly stir for about 1 minute.

Optional: Add hondashi. Stir a few times and turn off the stove.

Add ginger, green onions, and sesame seed oil. Stir once more to mix it all together and serve.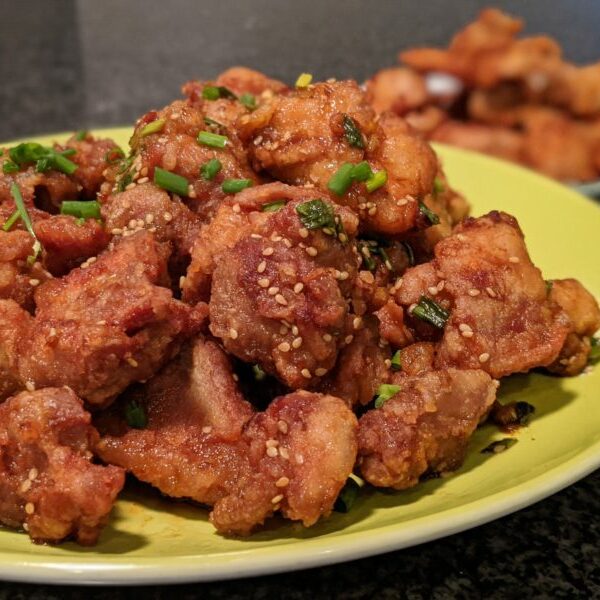 Get my latest recipes with a spoonful of aloha!