This post may contain affiliate links, which means I'll earn a small commission if you purchase something through these links. You won't pay any extra; instead, you'll be helping Aloha With Love to thrive. Thank you! Learn more.
COVID-19 has affected many of Hawaii's businesses and events. Please double check their dates and times before you go or make plans. Visit HawaiiCOVID19.com for more information.
--
After some late night axe throwing at Blade & Timber, our girls-night-out party headed for some munchies at Honolulu Beerworks, a pub with an open-air atmosphere with some good in-house brews and simple sandwiches and salads that I loved. It was a great place for us ladies to catch up and chat with some good food and good drinks on stand by.
Aloha with love,
Amy
Local Tip: If you're not in a drinking mood, take some of their canned brews home to try later! This is definitely something I'd like to try one day as I'm not a heavy drinker.
What To Expect At Honolulu Beerworks
We drove our cars over and circled around for some parking. It was less than a 5-minute drive and finding parking took us about 10 minutes. Walking from Blade & Timber will only take about 15 – 20 minutes, which puts Honolulu Beerworks in a perfect location for good beer and food in the Kakaako area.
I'm not so much of a bar or pub person, but I was impressed with what Honolulu Beerworks had to offer. I didn't feel like this was a full-on bar like their name suggests. There's a fun and open atmosphere mostly because of the large windows and doors, high ceiling, easy outdoor access and spacious seating.
For me, most bars and pubs give me the feeling of small tables, lots of people, loud customers and noisy conversations. Not so at Honolulu Beerworks. The noise didn't bounce around the room and our group of girls could chat at a comfortable volume.
Local Tip: If you're looking for a place to enjoy good beer and good food without the drunk drama, Honolulu Beerworks is a great option. It's missing that "let's get drunk" bar vibe, which is a huge plus! The clientele are here strictly to wind down and destress rather than get their party groove on.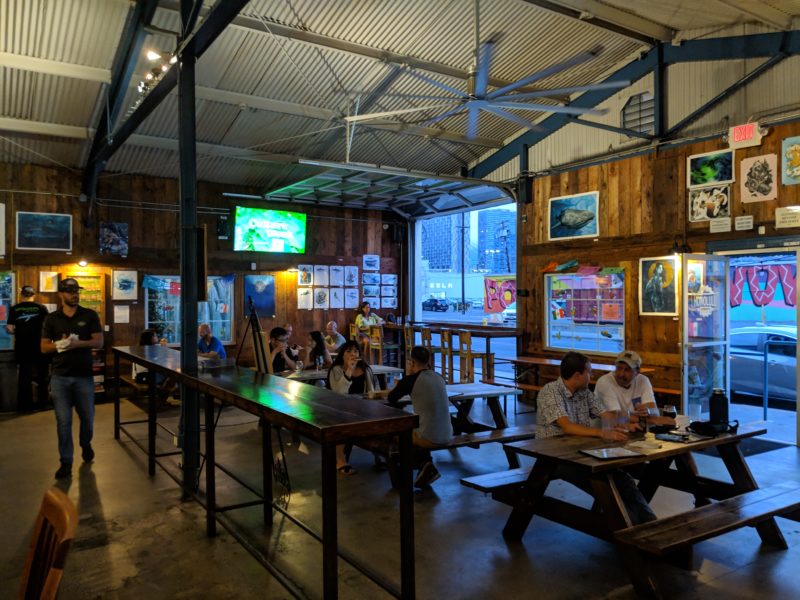 There's artsy decor on the walls, which matches well with what Kakaako is known for. Walking to Honolulu Beerworks, there was plenty of colorful street art I came across and took a moment to appreciate. And since it was later in the day, I wasn't being burned alive under the sun!
Local Tip: Every year during the 3rd week in February, Kakaako holds their annual Pow! Wow! street art festival where worldwide artists are invited to display their talents. It's a fun walk through a hip and urban part of Honolulu especially for those who love art museums. Plan a lunch or dinner in Kakaako because there are a ton of cool restaurants in this area!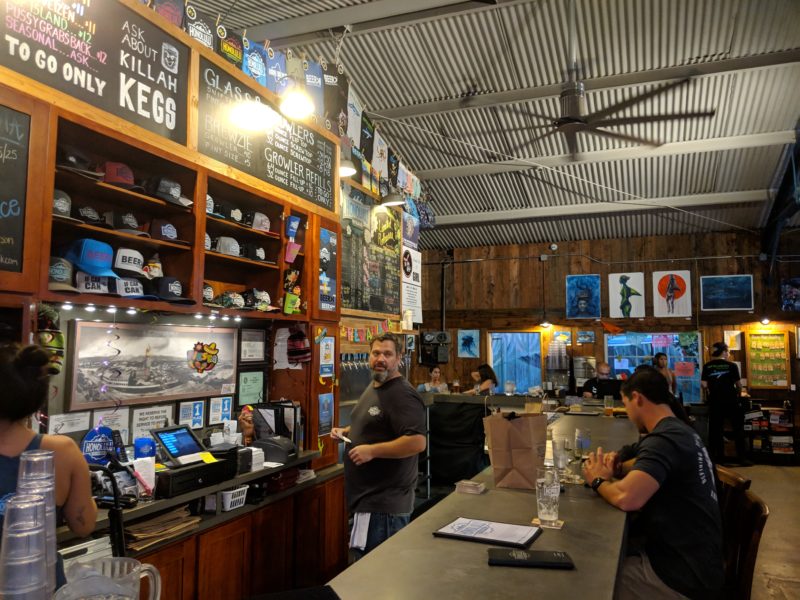 Local Tip: Honolulu Beerworks does get busy, especially during their happy hour and events. We came around 7:30 PM on a Saturday, which seemed to be good timing.
The menu at the bar is easy to read and although I'm not a beer drinker, one of my friends knew exactly what all the beer terms meant and was intrigued by the different flavors. It was fun to talk to our waitress who knew the different flavors front to back and all of my friends were pleasantly surprised by their drink choices. We even did a sampler which was fun for a group of 4 like ours.
We ended up sitting outside where there were a few tables and seemed to be a bit more secluded atmosphere than the inside. The night had a cool breeze, which was all we needed to stay comfortable.
Local Tip: If you're coming here to grab a meal and have got your kids with you, there's a small area for the kids to play right next to the outside tables! This is great especially if you want to spend some time chatting with friends but have your kids in tow.
The Beer At Honolulu Beerworks
There are a couple of neat things about Honolulu Beerworks that I love:
A handful of their beers are seasonal or new so a portion of their menu is constantly changing. This is great for those of us who live here and want to try something different at a familiar hangout.
They have a beer flight where you can pick and choose which beers you'd like to try. Get one for yourself if you're feeling adventurous or share with a clutch of friends to find out which one you want to enjoy with your meal.
Their beers are available in their own can which is usually designed by a local artist. They hold events and bring in the artist so you can meet, get their signature and even purchase limited edition cans. What a great way to highlight the Kakaako community!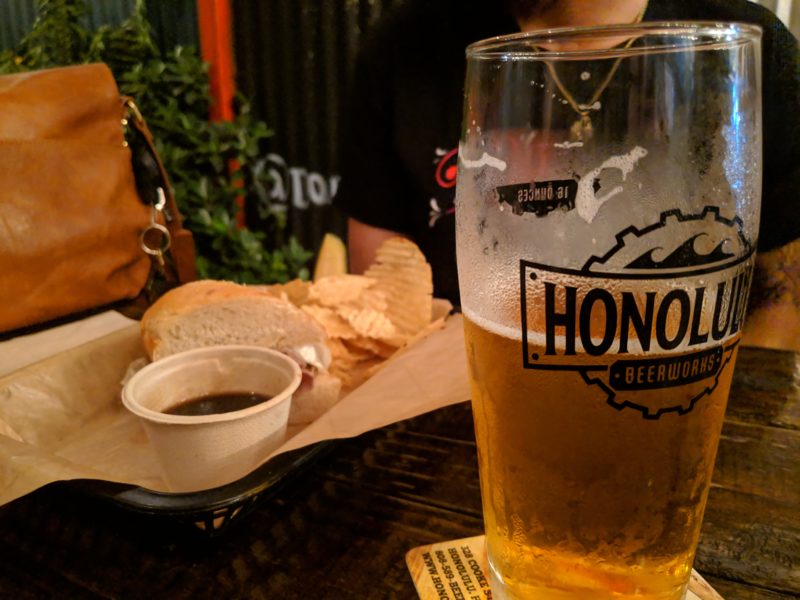 Local Tip: Bring your thermos or a hydroflask (know how many ounces it carries) and the staff will fill it up with your favorite beer for you! Pay by the ounce.
The Food At Honolulu Beerworks
I thought the food was great. There's just simple fare here: sandwiches, salads, a few pupus (appetizers) and a brownie dessert makes up the majority of both their lunch and dinner menu. Despite the simplicity, the presentation is pretty and matches the low-key, outdoorsy atmosphere.
I went with the Italian hoagie with chips and a pickle for $14 (the vinaigrette was yum!) and one of the girl's went with the all mixed up salad, which sources from Mari's Gardens – an aquaponic and hydroponic farm just 5 minutes away from my house.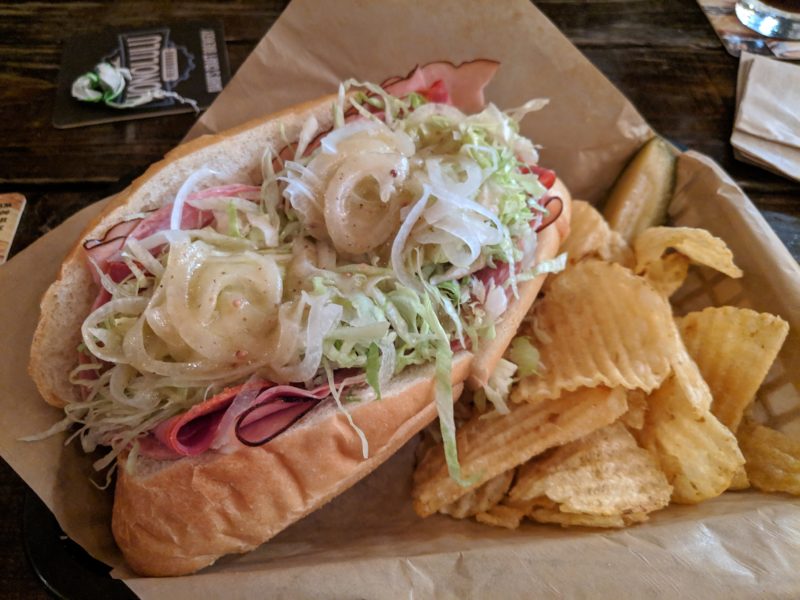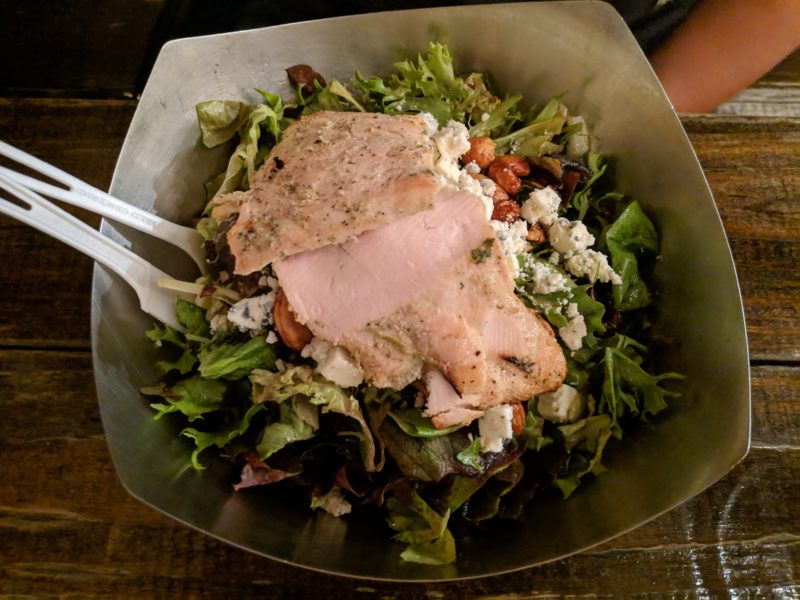 Finding parking at Honolulu Beerworks
The only "problem" about Honolulu Beerworks is that it's located in lovely Kakaako – home to unique restaurants, shops and parking hassles. Your first parking option is with the metered street parking. No matter what time you come, street parking will be a hit or miss. But if you do find one, give yourself a pat on the back and consider yourself lucky.
Local Tip: Do not park right across the street from Honolulu Beerworks (there's an empty lot) as you'll get towed. It's really tempting – believe me, I know – but you'll be thankful when you see someone else chasing after their car rather than yours.
Parking garages near Honolulu Beerworks
Parking garage option #1:
SALT at our Kakaako parking garage is the closest to Honolulu Beerworks at just a block and a half away. The entrance to the parking garage is on Keawe Street and manned electronically. Just pay your ticket at a machine before you leave and you're good to go.
SALT at our Kakaako is a mini urban shopping and restaurant area about a block wide. Their parking garage is dedicated to the stores and shops at SALT.
Local Tip: Honolulu Beerworks does not give out validations for this parking garage (or any parking garage), but they do have an agreement with the Village Bottle Shop & Tasting Room.
How to get validated: Just show your ticket to Village Bottle Shop & Tasting Room, let them know you came from Honolulu Beerworks and they'll validate your ticket. Their hours are Sunday thru Wednesday from 11 AM to 9 PM, and Thursday thru Saturday 11 AM to 11 PM.
Parking fees at SALT with validation:
Free for the 1st hour
$1 for the 2nd hour
$3 for the 3rd hour
$3 for every HALF HOUR following
*Without validation, parking is $6 per hour
Parking garage option #2:
The Flats at Puunui parking garage (440 Keawe Street Apartments) is located 3 blocks away from Honolulu Beerworks and is free for the 1st hour, then $3 for every half hour after that. It's a good option if you plan to return to your car in 2 hours. Just don't forget to factor in walking time since it's about a 5 – 10 minute walk to Honolulu Beerworks.
Bike your way to Honolulu Beerworks with Biki
If you're coming from Waikiki or downtown Honolulu and bikesharing sounds like an option for you, download the Biki app for a fun, easy and worry-free way to get to Honolulu Beerworks. There's a Biki stop just one block away from Honolulu Beerworks so getting there is a breeze.
What's Near Honolulu Beerworks?
Recommended activities near Honolulu Beerworks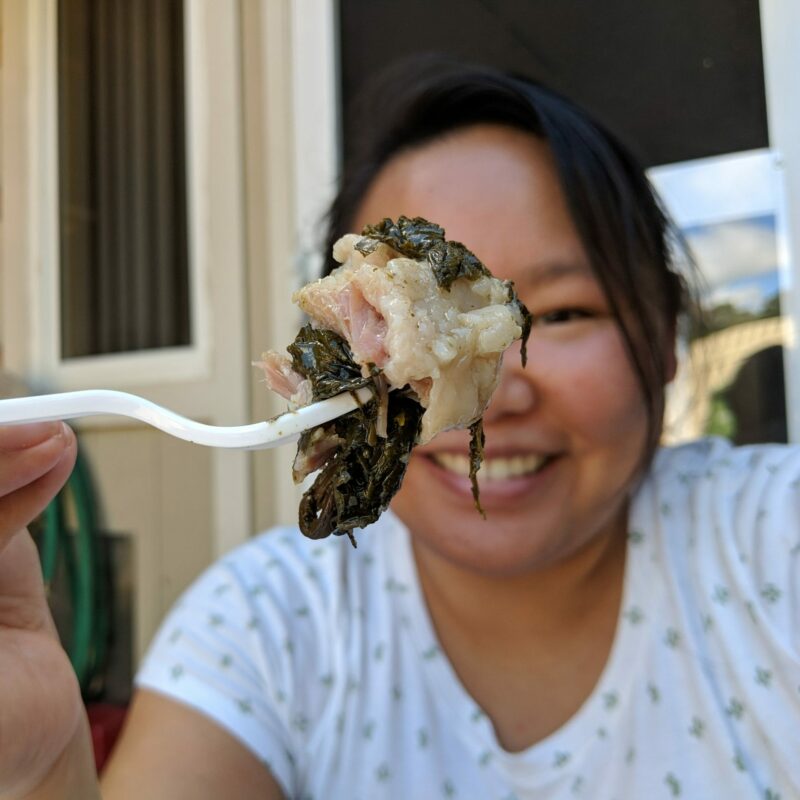 Discover more restaurants, bars, cheap eats, and mom-n-pop shops in Hawaii!