Whenever I travel, the first thing I'm looking into are those hole-in-the-wall spots where only the locals go. There's just something about those night markets, mom 'n' pop stores and local treats that are ridiculously hard to find that keep me salivating for more.
In Hawaii, saimin is the local version of ramen and has evolved from a variety of cultural dishes. These days it's considered comfort food that has been around since the plantation days. Each restaurant selling saimin has its own recipe, but after eating a few different ones, you'll find that saimin has a basic flavor that stands out from your traditional noodle soups.
Local Tip: If you can't make it out to Shige's Saimin Stand in Wahiawa (or can't find it), find a Zippy's Restaurant instead – they do a pretty good job on their saimin and I order it often to get my saimin fix. I absolutely love their vegetable saimin!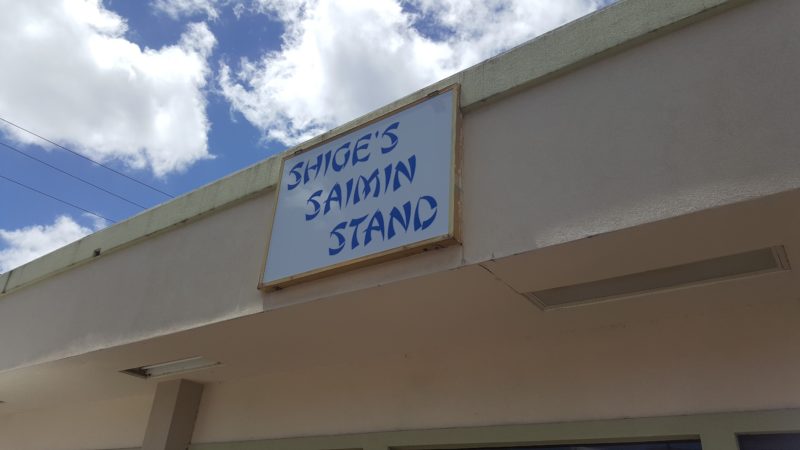 At first glance, you may think you're in the wrong place. There is absolutely nothing eye-catching about this store or its neighboring businesses. Don't expect huge signs or bright lights here. The building itself is nondescript so making the correct turn into the parking lot can easily lead to you driving around in circles. I've done it myself when I haven't been here in a while!
There is a small parking lot here and I've never had trouble finding a spot even during peak lunch/dinner hours.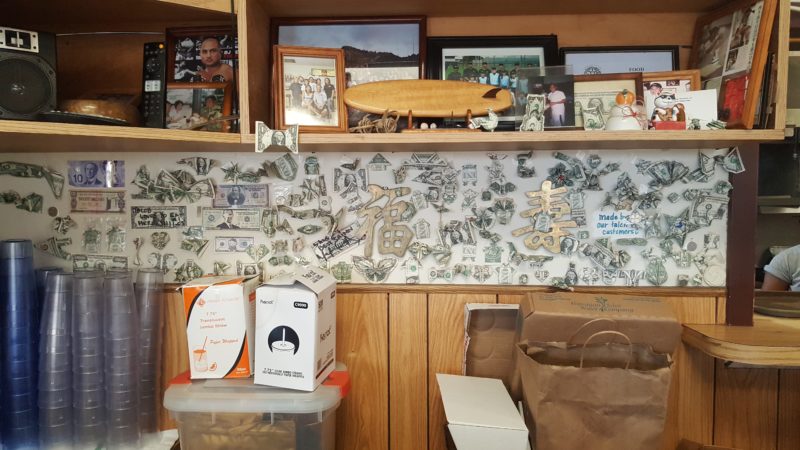 Your first step into Shige's Saimin Stand is a small counter for ordering and a simple setup of tables and chairs. Only about 20 people can fit and eat in here at a time, so there's certainly a cozy feeling to the place. Not to mention all the cool souvenirs left by customers (check out the photos and autographs of famous celebrities!) including their fantastic wall of various money origami.
The tables are simple but kept clean and the servers (there's usually only 2 or 3) are nice and pleasant. There's a large menu board to order from, but if you want to order what the locals do, then go for a small saimin and deluxe cheeseburger.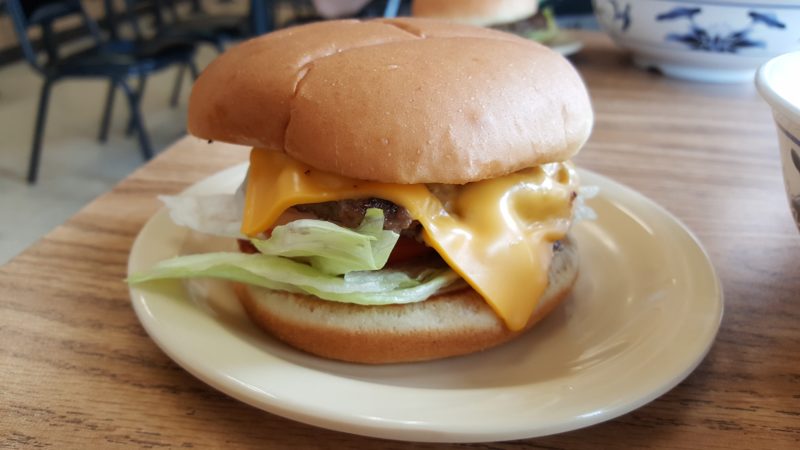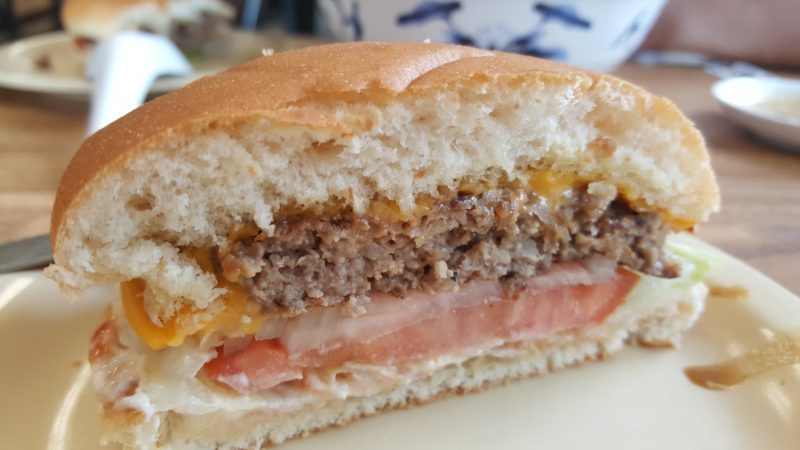 You're probably thinking that is the weirdest combination, but honestly these two match so well! Shige's burgers are "delicious" done right. They're juicy and perfectly proportioned so you get a nice bite with every mouthful.
The small saimin is the perfect size to introduce you to this local dish and the hot broth will cleanse your palate before every bite of that yummy cheeseburger. Don't be surprised when you hear other customers ordering the same thing!
But what really makes Shige's Saimin the namesake of this restaurant are its noodles. These noodles are made fresh daily and you can taste the difference! You won't find noodles like these anywhere else on the island and their chewiness is fantastic.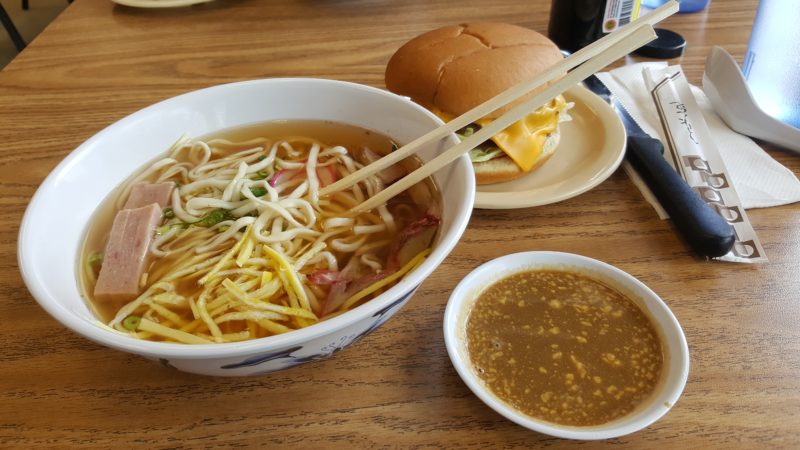 One thing I do have to warn you about is the mustard.
Mustard? With noodles in soup? What?
This may be even stranger than the cheeseburger – but we LOVE it. When you order your saimin, your server will ask you (or may even automatically give to you) a small dish with what we call Chinese mustard here. Chinese mustard is a thick paste and if you were to taste it (which I do not recommend), you'll find your sinuses will be cleared for the next week.
When you get your dish of mustard, pour in shoyu (soy sauce) until that small dish is 1/2 to 3/4 full. Mix with your preferred utensil (you'll find locals often eat with chopsticks here) and you're ready to eat your saimin with your Chinese mustard dipping sauce. YUM!
There is no correct way to dip – but I don't recommend pouring this stuff in. It can be potent for the untried. What I like to do is put my noodles on a soup spoon, then use my chopsticks to dab some mustard on top. But if you're proficient with chopsticks and are loving that unique taste of the Chinese mustard – do what the men in my family do: dip their noodles right into the mustard, back into the broth, then chow down.
The additional mustard and shoyu sauce will give an extra dimension of flavor to your broth as you finish up your saimin!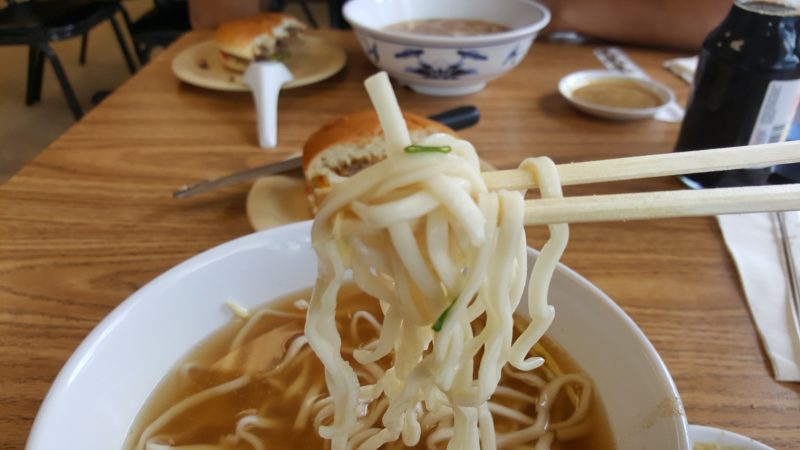 Shige's has always kept its prices low so you probably won't pay more than $10 per person for a fulfilling meal. Plus, since this is right in Wahiawa, you may want to keep it in mind if you're heading out to the North Shore since it will be on your way to (or from) the beach.
If soupy noodles aren't your thing, give the fried saimin a try – another local favorite dish that Shige's does very well. And if you're a fan of dumplings, definitely order the Wonton Min for a dumpling treat.
Local Tip: I usually like to order my saimin with extra veggies if I'm feeling especially hungry.
If you end up going to Shige's let me know how much you love it!