This post may contain affiliate links, which means I'll earn a small commission if you purchase something through these links. You won't pay any extra; instead, you'll be helping Aloha With Love to thrive. Thank you! Learn more.
COVID-19 has affected many of Hawaii's businesses and events. Please double check their dates and times before you go or make plans. Visit HawaiiCOVID19.com for more information.
--
Ziplining in Hawaii may just be the ride of your life! Except for Molokai and Lanai, all the visitable islands in Hawaii have zipline tours. Be ready to ride along mountains, over waterfalls and thru rainforests!
It's a great activity in Hawaii for families, friends and groups since it's got a little bit of everything – crazy views, physical activity and that awesome sense that you're flying! Physically, ziplining in Hawaii isn't too strenuous, but expect to do some hiking, climbing and pulling your weight using cables.
If you're traveling with young kids, read the fine print since each Hawaii zipline tour has a minimum age requirement (the youngest I've seen is 5 years old).
Have fun flying!
Aloha with love,
Amy
What You'll Need When Ziplining In Hawaii
Wear comfortable clothing. You'll be strapped into a harness, wearing a helmet and will want to move about as you glide along the lines. The clothes also create a barrier between your skin and the harness straps (which aren't too comfortable).
MOST ziplining in Hawaii happens under our hot sun so wear a short-sleeved shirt. I'd avoid sleeveless just in case the harness digs into your skin at your shoulders.
Local Tip: There are only a handful of Hawaii ziplines where you may want to wear a light jacket: ziplines at higher elevations or in Kauai (where a light shower can sneak in).
Book A Zipline Tour In Maui: The Morning Haleakala Zipline Might Require A Jacket
Long pants or cargo pants are recommended. Cargo pants are great if you plan on carrying your keys, wallet and other small items since the harness can hinder access to regular pockets.
Good athletic shoes. Do not wear slip-ons as it's easier to twist/sprain an ankle or they can fly off. Basically, if you have to tie them on, you're good to go.
Your phone, camera, GoPro and/or selfie stick. Each company has different rules on this, but usually you can bring them along (get straps!). GoPros are the best option since you can attach them to your helmet and they will leave you hands free. These days, a lot of zipline tours have GoPro rentals, too.
Always wear sunscreen in Hawaii – just some common sense advice from a local in Hawaii. Most Hawaii zipline tours last about 3 hours start to finish and our bright sun can take a toll on your skin.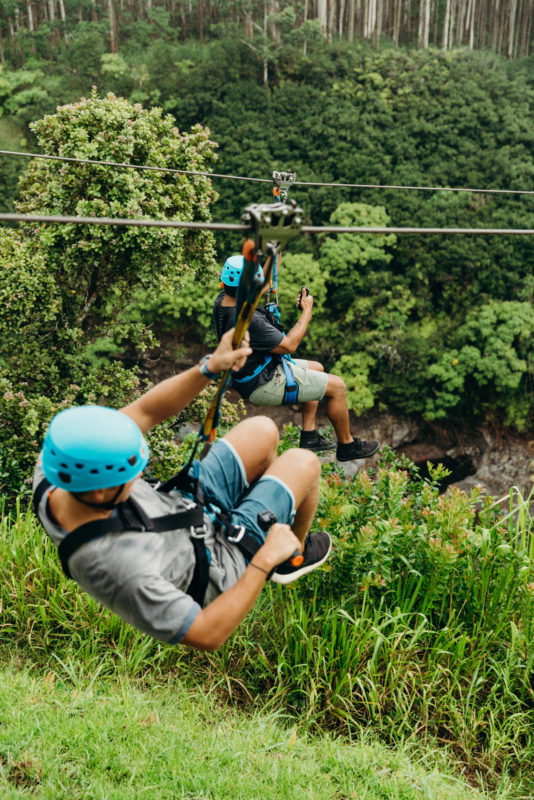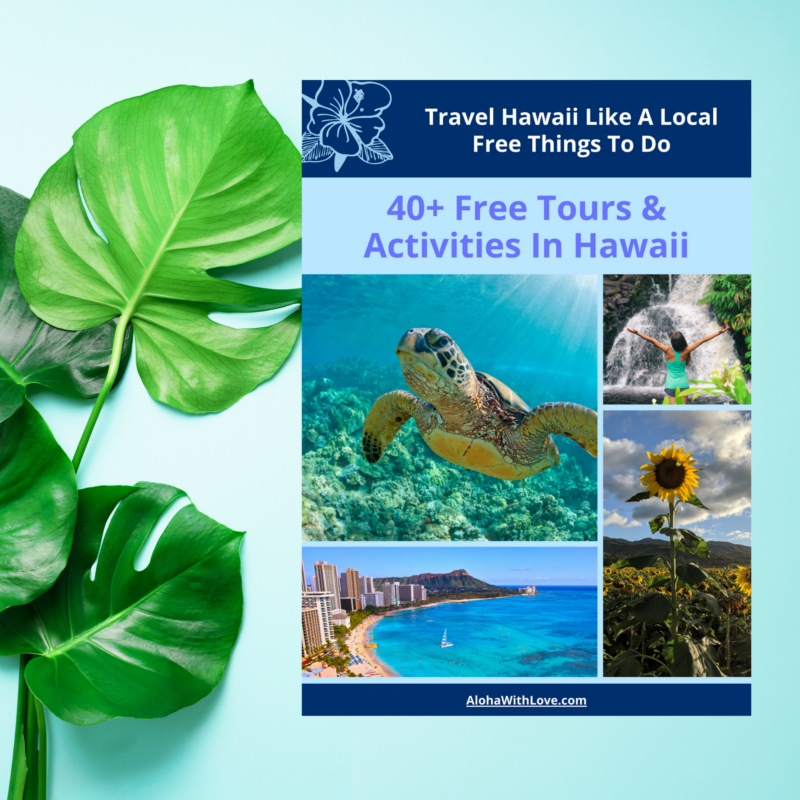 Want to go on a free tour in Hawaii?
Best Ziplining In Oahu, Hawaii
The ziplines at Kualoa Ranch and Keana Farms are probably the 2 most well-known ziplines in Hawaii for good reason. They offer entirely different experiences though, so figure out what you want to see on your ziplining in Oahu tour beforehand.
Kualoa Ranch's Jurassic Valley Zipline
Kualoa Ranch is where a TON of Hollymood movies were filmed, but the most famous of them all is probably Jurassic Park. It's a neat ride to see the iconic location where dinosaurs ran rampant. Plus, this side of the island is just gorgeous. There are no buildings to mar your view and even beach homes can't be seen unless you know where to look.
If you're looking for an all-inclusive tour in addition to ziplining in Hawaii, Kualoa Ranch is one of the best. There are ATV rides, horseback riding, secret beach kayaking, farm tours and even jungle expeditions. It's a great choice if you want to fit in several different activities and don't want to waste time driving from place to place.
Book A Tour: Fly Down The Jurassic Valley Zipline Like A Pterodactyl
Local Story: Way back in high school judo, I had the chance to meet the Morgan Family (owners of Kualoa Ranch) and they were just the nicest people you could ever imagine. Their goal to keep Kualoa Ranch undeveloped and lush is admirable and I'm so glad this part of the island is still so pristine.
CLIMB Works Keana Farms
For those who have no interest in Hollywood movies or want more bang for your buck, the zipline at CLIMB Works Keana Farms is the one you want to be looking at. Overall, it's Oahu's longest zipline experience and has gorgeous views of the mountains, forests, farms and North Shore beaches.
A really neat part of this particular zipline is that since Keana Farms is a working farm, the staff have included their fresh fruit into the zipline fun. Be prepared for some juicy snacks picked fresh off the tree! It really adds another layer of enjoyment to ziplining in Hawaii.
Book A Tour: Zip Along Oahu's Longest Zipline And Eat Fresh Fruits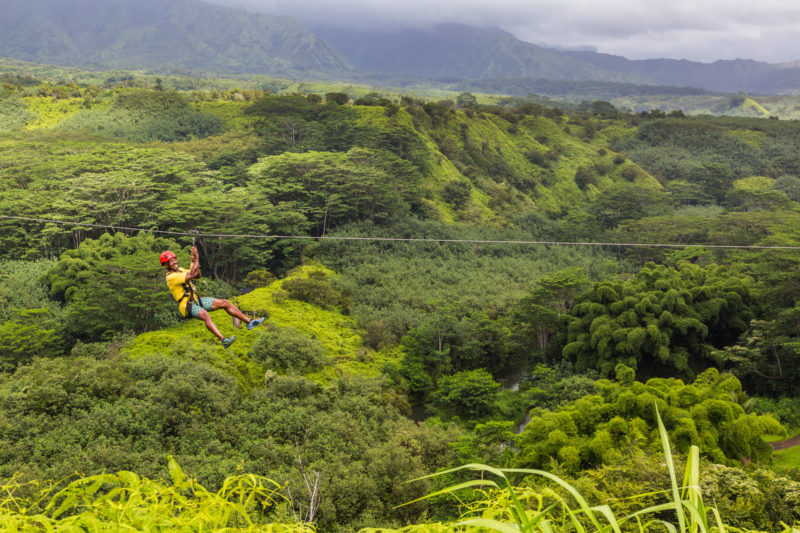 Best Ziplining In Maui, Hawaii
Maui is plain gorgeous. There are green mountains, the ocean is easy to see, and it's a lot more comfortable to zipline here since you're so high up. You can forget about roasting in the sun like you probably would on the other islands. In fact, you might want to consider bringing a light jacket.
If Ziplining In Maui Is Too Wild: The Easy List of Maui Waterfalls
Piiholo Ranch Zipline
Not many people can say they've gone ziplining in Hawaii with Haleakala right next to them. Besides the spectacular views, Piiholo Ranch offers a zipline experience that is really great for kids and couples! Maui's longest side-by-side ziplines are here and you'll get to speed by with your friend or partner and enjoy the ride together.
Local Tip: If you get cold easily, definitely take a light jacket for this one. Because the ranch is nestled right along Haleakala, you're at a higher elevation and those cold mornings can be a little shivery!
Book A Tour: Tandem Ride Maui's Longest Zipline
Another option in Maui are the zipline combo deals. These are great for those who want to mix up their Maui tours if they've been on plenty of zipline tours already. Especially with Haleakala literally "right there," it's a good chance to explore and see things from a different perspective.
Book A Tour: Would you rather hike and zip or bike and zip Haleakala?
Skyline Kaanapali Zipline Adventure
Can you imagine zipping down a whopping 11-line course? You can do that at Skyline Eco Adventures' Maui location in Kaanapali. But what makes this particular zipline special is that you get to see a lot more ocean as you slide down.
Most ziplines in Hawaii head straight toward the ocean. But Skyline Kaanapali has the added advantage of zig-zag ziplines going downhill. The ocean offers fantastic views and sometimes it will seem like you're traveling parallel with the water!
Book A Tour: See The Ocean With The Skyline Kaanapali Zipline Adventure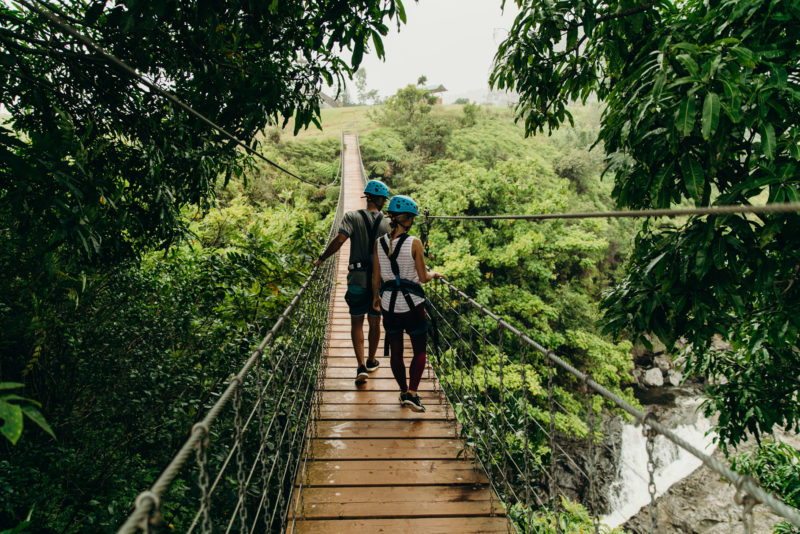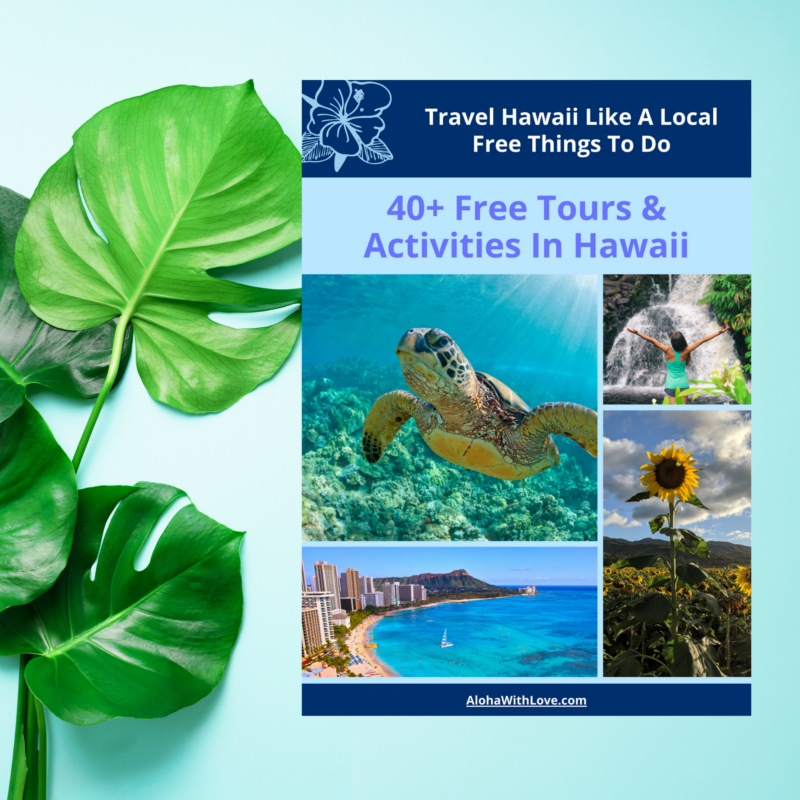 Want to go on a free tour in Hawaii?
Best Ziplining On The Big Island, Hawaii
Ziplining in Hawaii can't get much better than on the Big Island. The Big Island has these amazing waterfalls that will take your breath away. A few of the waterfalls can only be seen from a distance or on a hike, so it's a great opportunity if you're considering ziplining over a waterfall.
Read More: Top 10 Epic Hawaii Waterfalls That You Need To See
Umauma Falls Zipline Tour
With a massive 9 lines making up the Umauma Falls zipline tour, this is one course that will drown you in beauty. Rather than just one waterfall, Umauma falls is a series of layered steps ending in a large pool where visitors can swim, paddle, kayak and even rappel. There's even a humongous swing where 3 people can fly over the falls.
Local Tip: Unfortunately, Umauma Falls is completely under private ownership so the only way to see or experience it is thru The Umauma Experience. But is it worth it? Oh yeah.
Book A Tour: Zip Down 9 Lines Over Umauma Falls
Akaka Falls Zipline Adventure
If you're looking for something with a little more "oomph", ziplining over a powerful waterfall is absolutely thrilling. You'll zoom over Kolekole waterfall, which falls from a staggering 250 feet. Unfortunately, you won't be seeing the actual Akaka Falls on this zipline. Akaka Falls is a state park and as such cannot be commercialized.
Visit Akaka Falls: How To Really Have Fun At Akaka Falls
Local Tip: Kolekole waterfall is not the only one you'll see on this zipline experience. You'll see several in addition to plenty of streams and rivers.
Book A Tour: Fly Along Waterfalls, Streams And Ravines With Akaka Falls Zipline Adventure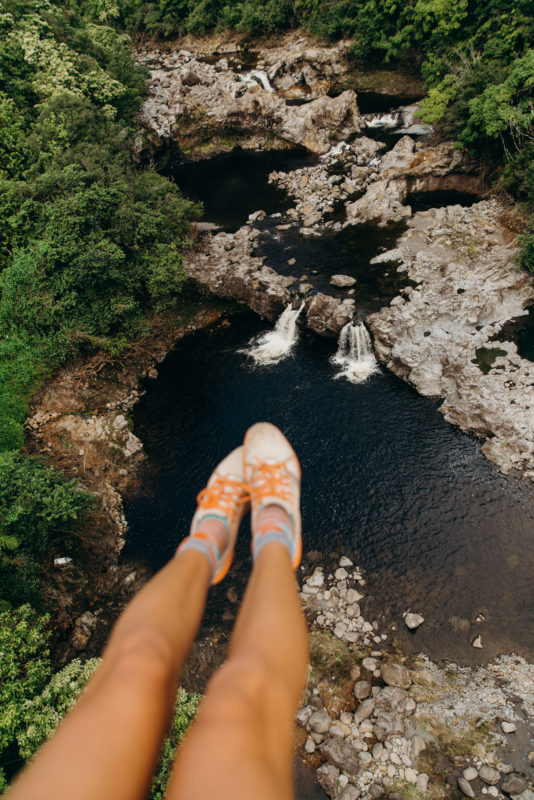 Best Ziplining In Kauai, Hawaii
Kauai has a whole bunch of choices when it comes to ziplining in Hawaii. One feature that stands out are what I like to call the "superman" ziplines. They lay you flat on your stomach so that both of your hands are free wave around like crazy and feel that wind!
Another Popular Kauai Activity: Kauai Tubing Is One Of The Best Hawaiian Adventures
The Flyline – Enjoy 4000 Feet Of Line!
If you're aiming to stay under budget (in both time and money), but want to add a little zip to your vacation, the Flyline is a great one to consider. The whole experience is just about an hour and only $50 per adult. This is a huge money saver since most Hawaii zipline experiences will cost you well over $100 per person.
Local Tip: You'll be flying head first on the Flyline. While you won't be able to do "zipline tricks", not much beats that thrill of flying like Superman.
Book A Tour: Fly On Kauai's Longest Zipline That's 4000 Feet
Just Live! Zipline Tours
Just Live! has a spectacular and unique zipline course. Instead of zooming through open air along mountains, their treetop canopy tour will have you thinking you're in a fancy treehouse. Be prepared for lots of ropes, bridges, ladders and tons of trees. You'll be thinking you're a monkey soon.
Local Tip: They've recently received 2018 excellence awards from both TripAdvisor AND Hawaii Magazine (totally legit award that locals love to read about annually). This will definitely be a ziplining in Hawaii experience you won't soon forget.
Book A Tour: Zip Through A Forest Like A Peter Pan Lost Boy
Koloa Zipline Has The Flyin' Kauaian
The Koloa Zipline makes this list not only because the view is gorgeous (they all are), but because they've got this special harness called the Flyin' Kauai'an where you can really let your inner acrobat shine. You can head out straight like Superman or flip around and really start to strut your stuff for the judges. This one is great for those of you who already have a few zipline flights under your belt and are ready for a step up.
Book A Tour: Perform Zip Tricks And Aerobatics With The Flyin' Kauaian
Princeville Ranch Zipline Packages
Princeville is similar to Oahu's Kualoa Ranch – they're family-owned and offer a variety of activities since they're on such a huge plot of land. Their selling point is the King Kong – a 1200-foot zipline where you can race your partner side-by-side.
While you can choose to do just the ziplining, you might want to look into squeezing another activity or two while you're here. The area here is lush and gorgeous and there are so many things to see.
Book A Tour: Take Flight On King Kong At Princeville Ranch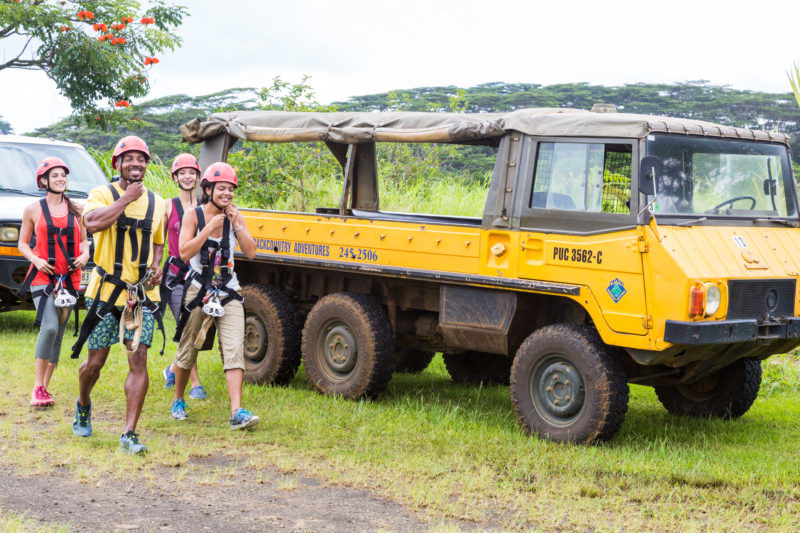 Tips For Ziplining In Hawaii
Book early! Don't be surprised if everything is booked solid when you get to Hawaii.
Don't be too bummed out if there's a shower. Light rain in the mountains often pass by quickly and wet ziplines means you'll zoom by at high speed.
Signing a bunch of liability paperwork before you begin your Hawaii zipline tour is completely normal and to be expected.
Bringing your camera may be cool, but check the company policies on selfie sticks, phones and handheld tripods. FYI, many zipline tours offer a Go Pro rental.
Any kind of short/wiki/express ziplining in Hawaii experience will usually take a little over 1 hour. Most general admission zipline experiences are about 3 hours. Keep in mind, this (usually) includes the ride up to the first zipline platform and any walks, hikes, bridges, climbs and viewpoints between each platform.
There can be a wait, especially on crowded days. It takes about a minute for someone to get hooked up securely and at most there are only 2 ziplines headed down.
Snacks in the form of fresh fruit are often provided on the platforms since most ziplining in Hawaii courses are located on farms or ranches in the countryside. Great way to eat local!
You can't be too light or too heavy. Check to see if your weight falls under the company's acceptable weight range. You'll be weighed when you get there so no cheating!
Ziplining In Hawaii? Will You Do It?
Honestly, I hope you do. It's such a fun experience and pretty much anyone can do it. It's also one of those fun activities that's perfect for the whole family. Young kids will go crazy here and I've even heard that those with a fear of heights completely enjoy themselves, too!
If you enjoyed this post about ziplining in Hawaii and plan to visit Hawaii someday, sign up below to get my local Hawaii tips. It's free and I can't wait to help you plan the perfect Hawaii vacation.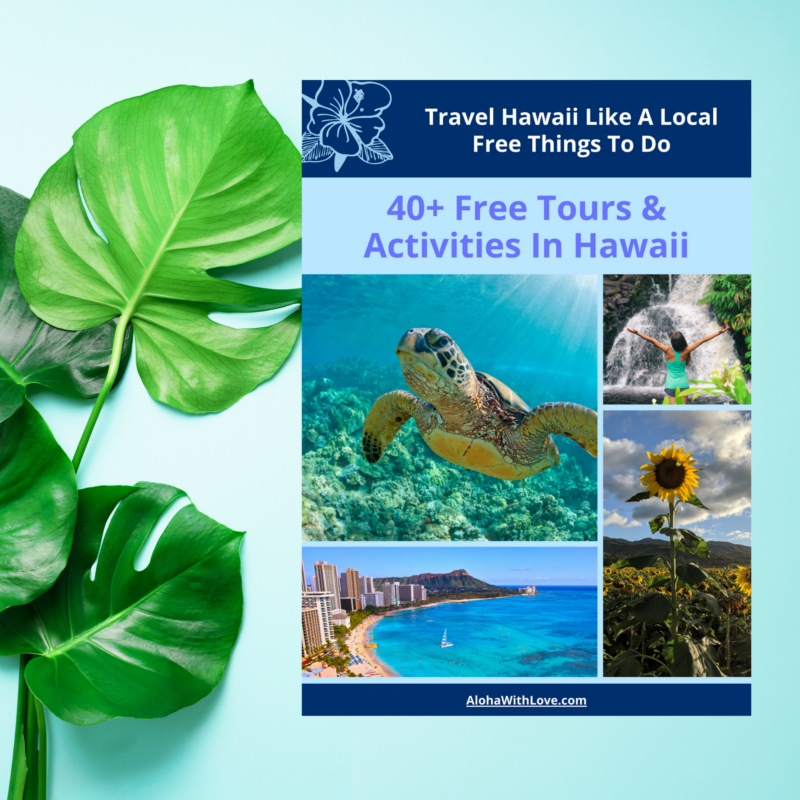 Want to go on a free tour in Hawaii?