This post may contain affiliate links, which means I'll earn a small commission if you purchase something through these links. You won't pay any extra; instead, you'll be helping Aloha With Love to thrive. Thank you! Learn more.
COVID-19 has affected many of Hawaii's businesses and events. Please double check their dates and times before you go or make plans. Visit HawaiiCOVID19.com for more information.
--
Hawaii waterfalls are one of the prettiest sights you'll ever see on the Hawaiian Islands. We've got plenty of them here and each one is a joy to behold. Some are popular for their misty rainbows. Others have starred in Hollywood such as Manawaiopuna (Jurassic Falls) from Jurassic Park. Most require a hike, but there are several Hawaii waterfalls that can be accessed without losing your breath over.
Enjoy this top 10 list of Hawaii waterfalls. I hope they knock your socks off!
Aloha with love,
Amy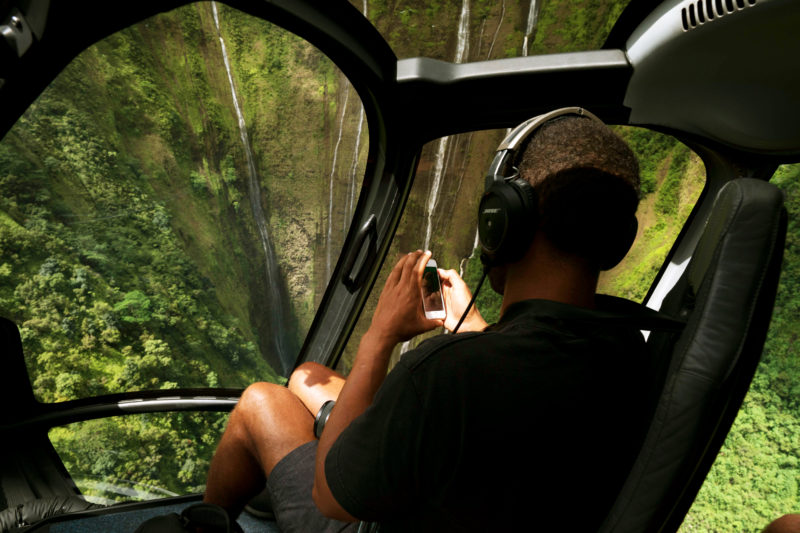 Hawaii Waterfall Tours
Some of the most majestic Hawaii waterfalls can never be reached by a hike. They're simply too treacherous to reach. Make sure you check out helicopter tours for Hawaii waterfalls. The exclusive views you'll see will be magical. There are also plenty of guided waterfall tours on hikes, ziplines, ATVs, eco adventures, waterfall swims and even rappelling!
Dangers While Hiking Hawaii Waterfalls
Never drink unfiltered water as it can contain harmful bacteria.
Be careful of swimming in any fresh water pools. The water may contain Leptospirosis, which can enter your body via any open wounds.
Be careful of slippery rocks.
Always check the weather before you begin your hike and don't be afraid to turn back. Although rain makes for a bigger waterfall, it also creates rivers and flash floods that are common reasons for injuries or even death.
If you need to jump over a river, it's a good sign to turn around and head back.
Avoid cliff jumping into pools. There have been a number of injuries and even deaths due to cliff jumpers.
Hiking in Hawaii can be extremely dangerous since our rocks are made up of lava rocks, which are light and brittle. Be careful of where you step and stand.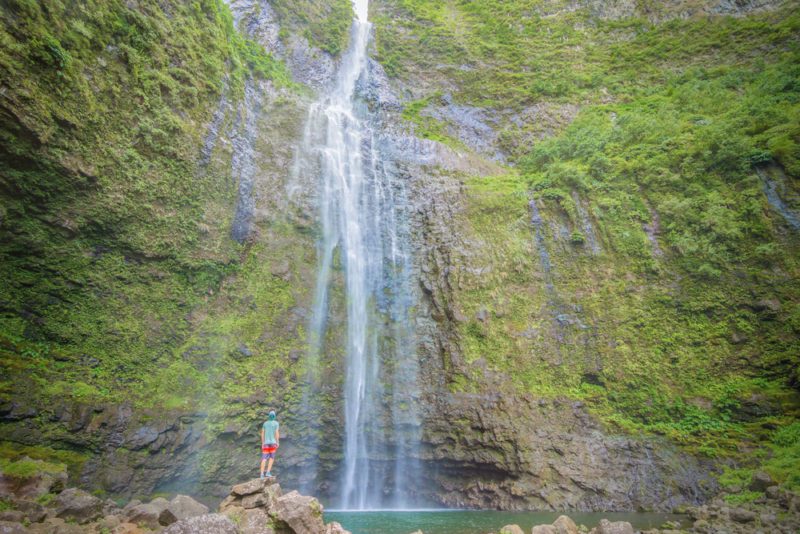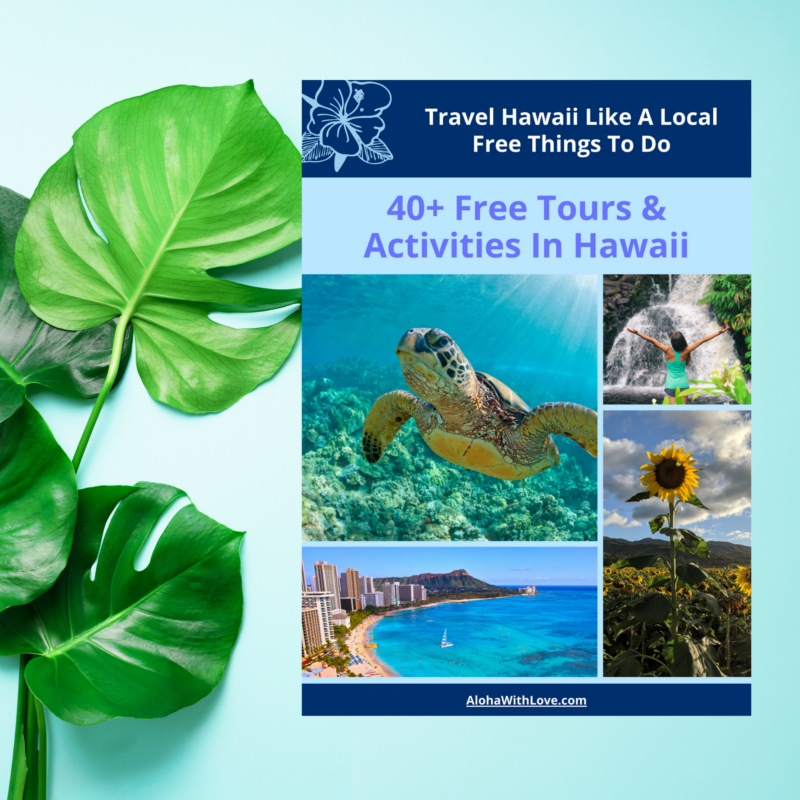 Want to go on a free tour in Hawaii?
#1 Hanakapiai Waterfall, Kauai
Hanakapiai is one of the prettiest and most rewarding of all of the Hawaii waterfall hikes. The hike begins on the world-famous Kalalau Trail and is 2 miles to Hanakapiai beach (due to high winter surf, there is no beach from October thru April), followed by another 2 miles to Hanakapiai valley where the falls are located. The way there is grueling, but for everyone who has made it can all agree that it was certainly worth it.
Since the hike is on the Na Pali cliffs, be careful of any loose rocks under your feet or even above your head. There are many inclines and the 2nd half of the hike is definitely more challenging. Most people will take 2-4 hours each way, but this depends entirely on how fast you move. Plan to arrive at the waterfall at noon so that you can enjoy some sun while you're there.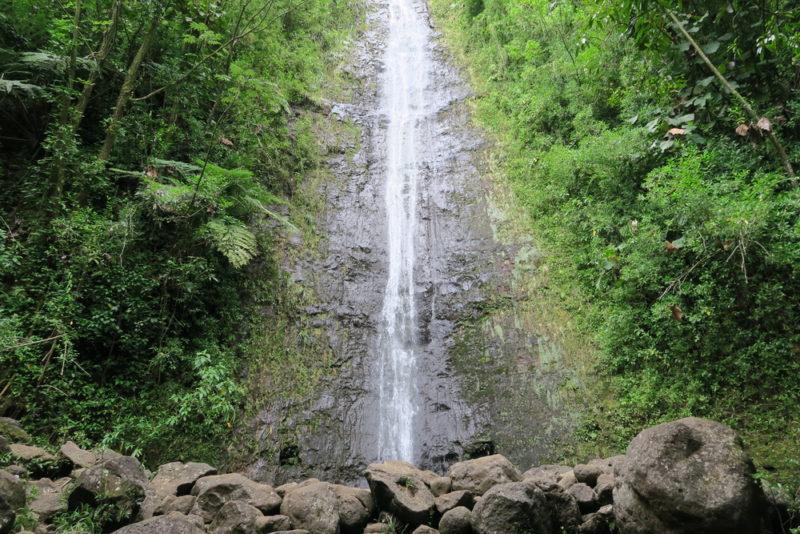 #2 Manoa Waterfall, Oahu
The Manoa falls hike is Oahu's most popular waterfall hike. This well-known Hawaii waterfall is easily accessible and most people can find their way to the top. It's also plenty of fun! Bring your old shoes and clothes and be prepared to get muddy. Kids especially enjoy this hike (probably because they can get dirty with permission) and more often then not you'll find them racing on up ahead of you before you can catch your breath.
In a little less than an hour, you'll arrive at the top where you'll find a beautiful waterfall with a decent sized pool. There does tend to be more of a crowd at Manoa falls, but I've found that the number of people is considerably less when it's rainy. Go figure. The closest parking here is $5, but there is also free parking available further down the road. Many people used to hike this barefoot, but the city has since added gravel to the trail which will make you groan in pain so be sure to wear your shoes.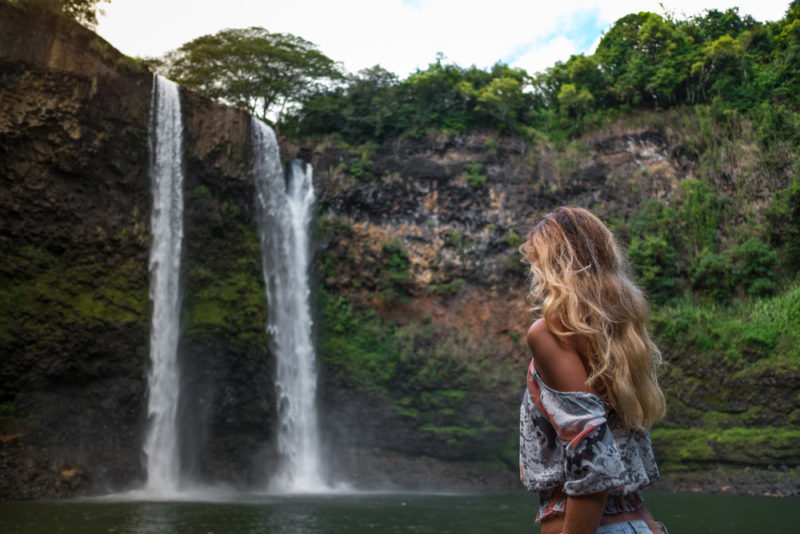 #3 Wailua Waterfalls, Kauai
One reason why I like the Wailua waterfalls so much is because with the right conditions, you'll see a spectacular rainbow in the waterfall's mist! And that's not even the best part! Reaching this spectacular gem will take you probably less than 10 minutes. You'll walk downhill through forest, roots and dirt and almost anybody can make it down no matter their age. Swimming here is popular (there's plenty of space), and as you can tell, it's a fantastic place to take those fancy waterfall shots.
For those who can't make it downhill, don't worry! Another reason why this Hawaii waterfall is so great is because the parking lot overlooks the Wailua falls.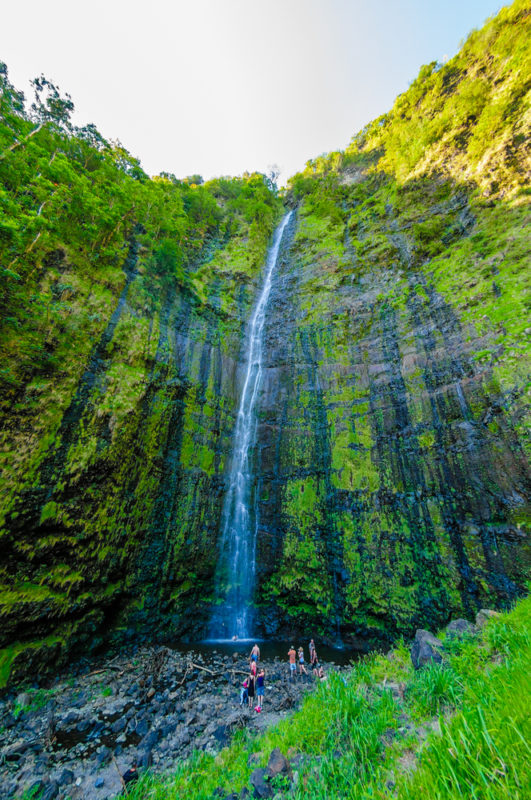 #4 Waimoku Waterfall, Maui
What makes Waimoku falls awesome is not just that it is a beautiful Hawaii waterfall, but also because walking on the Pipiwai trail is such an amazing experience. This hike is very well-maintained and I highly recommend doing this trail if you can. You'll see a humongous banyan tree, pass the Makahiku falls, and explore the gorgeous bamboo forest before you finally arrive at the Waimoku falls. Not to mention all of the mountain and forest views you'll pass on your way there.
The trail can be completed in about a couple of hours, but you'll probably spend another extra hour or two here just admiring the views. The hike is at the end of the Hana drive so plan your time wisely if you intend on driving back to Hana on the same day. The parking costs $10 per vehicle, but it's totally worth it for this Hawaii waterfall.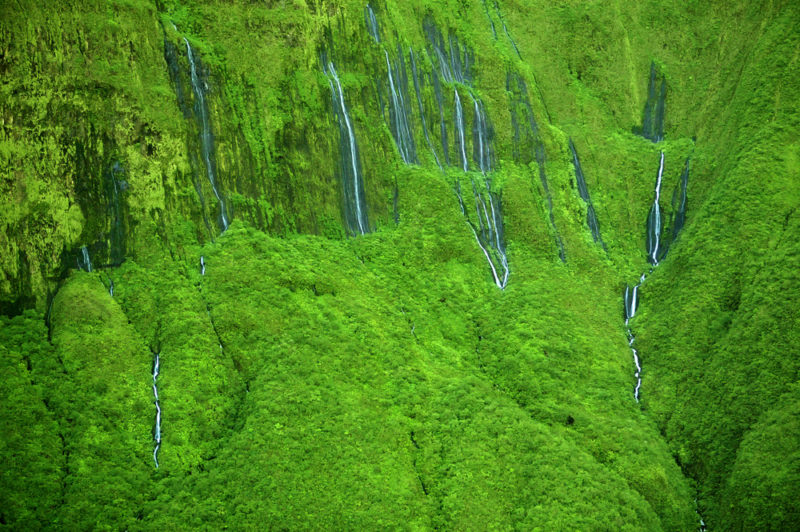 #5 Wall of Tears, Maui
Like many Hawaii waterfalls that are deep in the mountains, some can only be seen by helicopter. If you do choose to go on a waterfall helicopter tour, the Wall of Tears is worth it. Most people have never seen it and even fewer do not even know about it. About 17 waterfalls mark these West Maui mountains and it is known as the 2nd wettest surface in the world. Legend has it that the gods poked their fingers into this mountain, creating what resembles a literal wall of tears.
Book your Maui helicopter flight.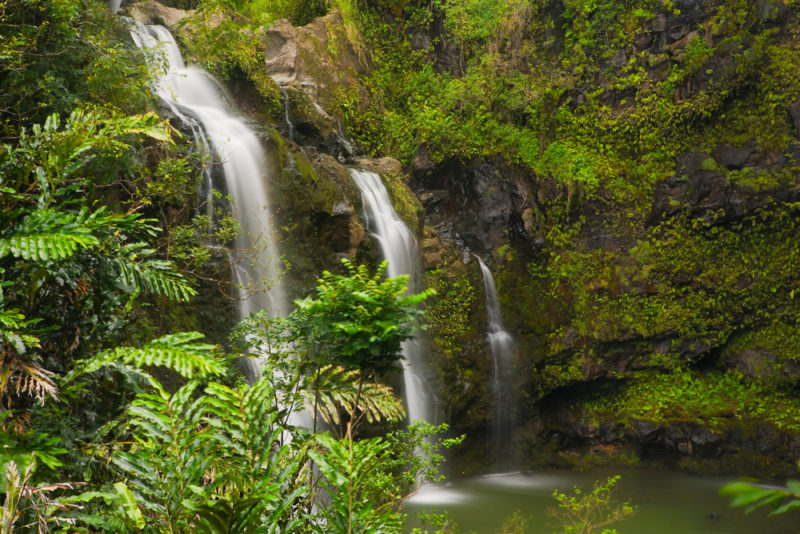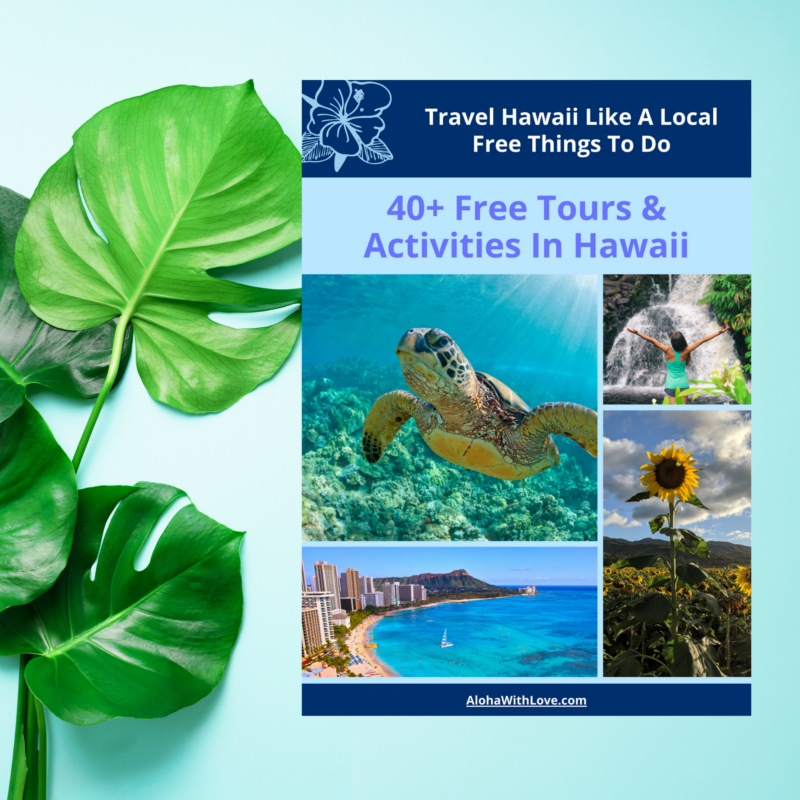 Want to go on a free tour in Hawaii?
#6 Waikani Waterfalls, Maui
On the drive to Hana, Maui, you'll come across many waterfalls, but the most popular are the Waikani waterfalls, aka The Three Bears. Their sizes are reminiscent of Goldilocks' Papa, Mama and Baby Bear. The Upper Waikani waterfalls can be seen from the bridge, but it's highly recommended that you drive past the bridge and park at the small parking lot on the left side. The walk back to the bridge is short and you won't have to worry about blocking traffic on the busy Hana highway.
While the view from the bridge is outstanding, it is possible to get a closer look. The rocks are slippery and unstable here and there was a landslide back in 2012. Take extra precaution if you attempt this.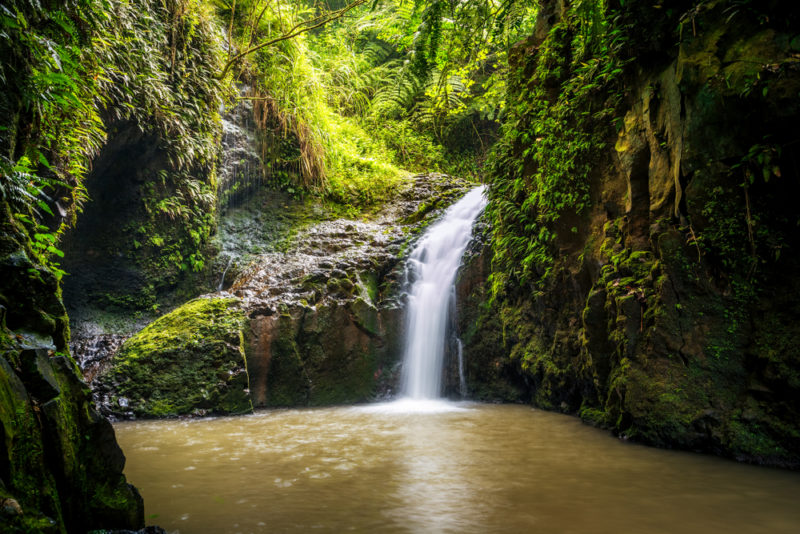 #7 Maunawili Waterfall, Oahu
What makes the Maunawili waterfall hike so much fun is that you can hear the water rushing as you hike your way up to the falls. This particular Hawaii waterfall hike is a bit easier to traverse since there aren't any steep inclines or dangerous cliffs involved. Most of the hike will be on long tree roots that hold the ground together so the biggest danger you'll have to worry about is slipping and sliding. It rains a lot in this area so slippery slopes are almost always a variable.
The Maunawili waterfall hike is a great introductory wet hike for kids to enjoy. Besides the water and mud that they'll be sure to attract, they'll get to cross a couple of creeks, get their feet wet, and even use hanging tree roots as a guide when crossing the creeks.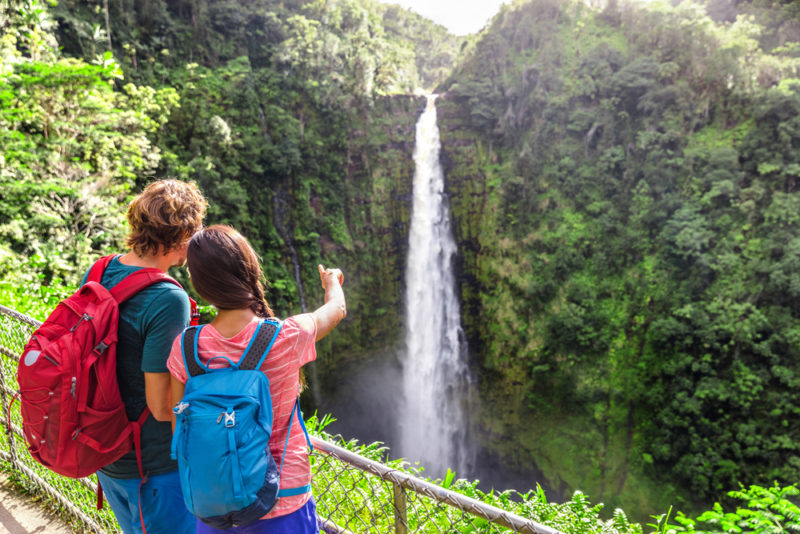 #8 Akaka Waterfall, Big Island
Akaka waterfall is one of the more famous Hawaii waterfalls. It is easily accessible and is only a short walk on a concrete pathway. The loop trail is a delightful one through a rainforest. While you can see Akaka falls from the parking lot ($5 per vehicle or $1 per person), the best view is to get closer and get the full effect from top to bottom.
One unique thing about Akaka falls is the oopu (goby) that is known to lay its eggs in the streams above Akaka falls, hatch and make its way downstream all the way to the ocean. When the oopu is ready to lay its eggs, similar to salmon, it will swim upstream and begin to climb Akaka falls' 442 feet using a special sucker at the bottom of its mouth.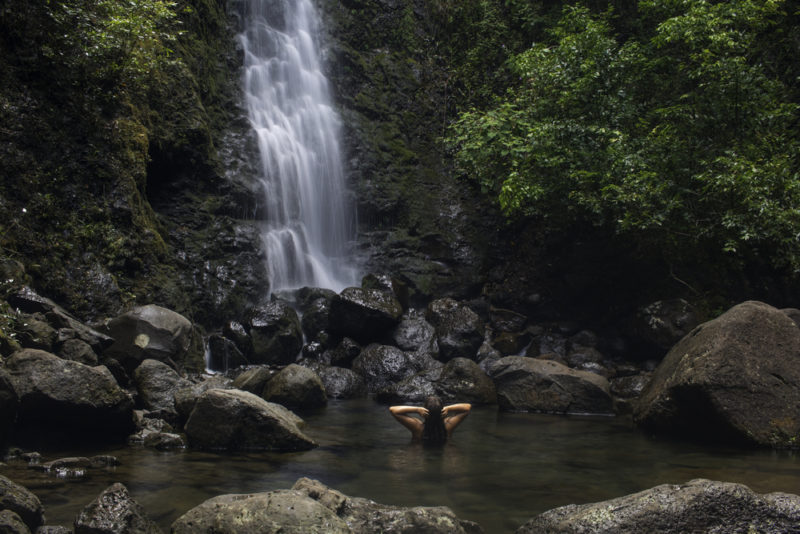 #9 Lulumahu Waterfall, Oahu
This is another great Hawaii waterfall hike for kids. Expect some mud, bamboo forests, small streams of water, open grassy fields and at the end a beautiful waterfall with a small pond. You'll find several online resources stating that you need a permit for this hike, which you can do so here. You'll find that many people do not request a (free) permit, but Lulumahu falls is on private property and applying for the permit allows the government to know how many people (hikers and hunters) are using this hike.
Another reason why this hike is so great for kids is that if you're lucky, you'll be able to spot some jackson chameleons here. They're easy to catch because they're slow and don't bite. I'm sure your children will have fun trying to figure out how their eyes work as they move around independently!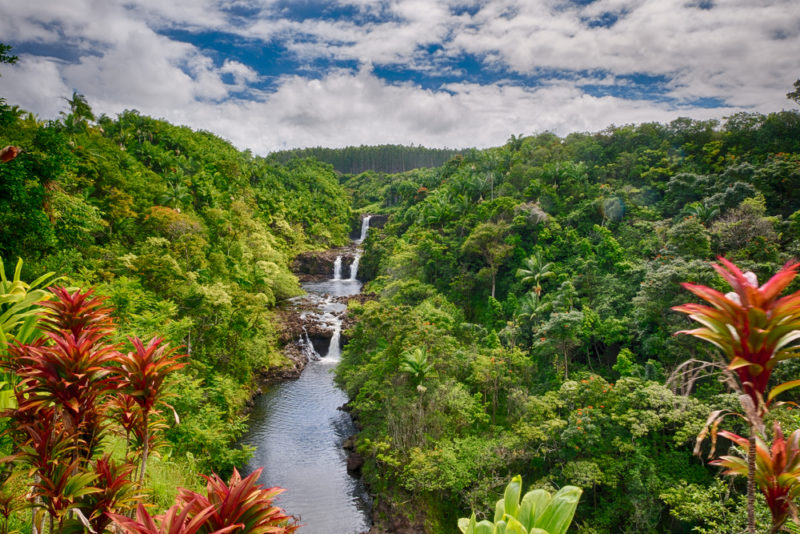 #10 Umauma Waterfalls, Big Island
The Umauma falls on the Big Island is a famous triple-tiered Hawaii waterfall that has made it big to postcards, advertisements and calendars. There are still signs around that indicate that access to Umauma falls is with World Botanical Garden, but it actually belongs to the Umauma Experience. The most popular way to view the Umauma falls is on a zipline, but you can also enjoy this waterfall by just visiting their visitor center and ordering food from their snack bar. There's a lovely deck with a picture-perfect view of the Umauma falls.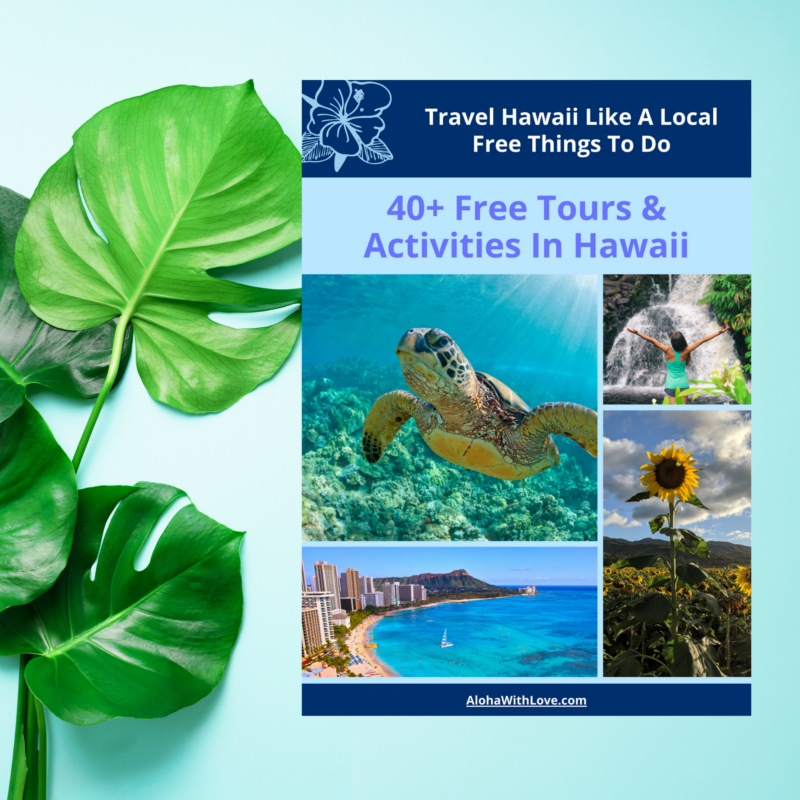 Want to go on a free tour in Hawaii?