This post may contain affiliate links, which means I'll earn a small commission if you purchase something through these links. You won't pay any extra; instead, you'll be helping Aloha With Love to thrive. Thank you! Learn more.
COVID-19 has affected many of Hawaii's businesses and events. Please double check their dates and times before you go or make plans. Visit HawaiiCOVID19.com for more information.
--
Halona Blowhole is a gorgeous place to stop and smell the salty ocean air as you drive along Kamehameha Highway near Sandy Beach. The ocean view expands without end to your left, right and front. On clear days, you'll Molokai and maybe even Lanai if you're really lucky.
But the main attraction is Halona Blowhole. Hawaii is filled with little air pockets in our rocks formed from lava or ocean waves and for this particular blowhole, a tower of white spray shoots up when a big wave rushes in and explodes out of the hole like a bursting hose.
It's a fun sight especially on those windy and big-wave days!
Aloha with love,
Amy
What Is Halona Blowhole?
Located on the eastern end of the island between Hanauma Bay and Sandy Beach, Halona Blowhole is a small pullover parking lot where visitors get a chance to stretch their legs and see an amazing view of the Pacific Ocean. The waves are rough and the rocks are sharp, making this part of Oahu seem wild and unforgiving.
Halona Blowhole is usually on the itinerary when you're doing a circle island tour or sometimes a south shore tour. If you're on a big bus tour, most likely you won't stop here. The parking lot is just too small to fit a bus. But if you're on a private tour on a Ford Transit? You can expect to stop at Halona Blowhole.
Local Tip: If you're planning a self-guided circle island tour, it's much easier to approach Halona Blowhole from south to north (Hanauma Bay to Sandy Beach). If you approach from the opposite direction, you'll probably miss the turn and it's very easy to get into an accident since the cars move fast on this winding road.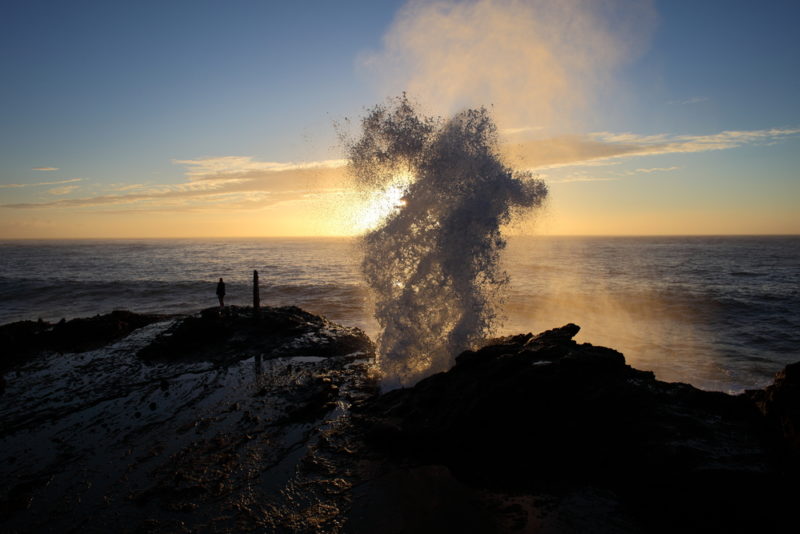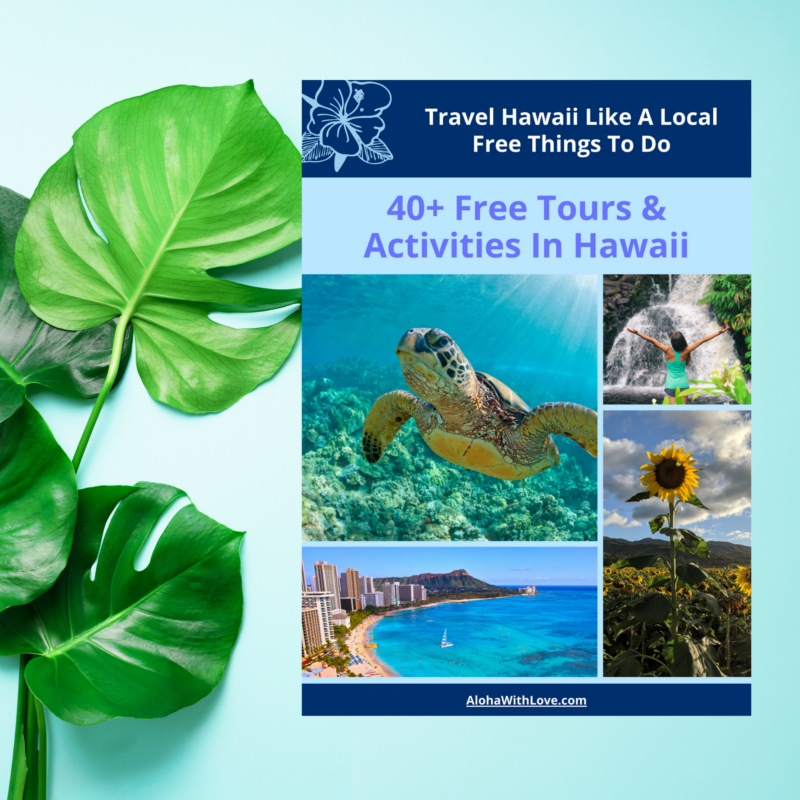 Want to go on a free tour in Hawaii?
How To Sightsee Halona Blowhole Safely
It's been an ongoing battle here to warn visitors that this is a dangerous spot when you don't follow the rules. The last thing locals want to see on our evening news is another story of a drowning or accident on this side of the island. Please pay attention to the warning signs that are posted and resist the temptation to jump the fence.
The waves here are unpredictable and waves are not the same size. Usually what happens is an unexpected big wave comes crashing down and sweeps an unsuspecting person out to sea. The water here is deep – there is no shore line, the waves will pound you into the rocks and you won't be able to climb back up.
By putting yourself in danger, you are also risking the lives of our emergency responders.
Local Tip: The channel between Oahu and Molokai (the island you can see from Halona Blowhole) is called the Kaiwi Channel and it is recognized as one of the world's roughest channels. It's known for its strong winds, currents, swells and unpredictable waves – which is why so many people get swept off the rocks and out to sea even if they think they're being careful.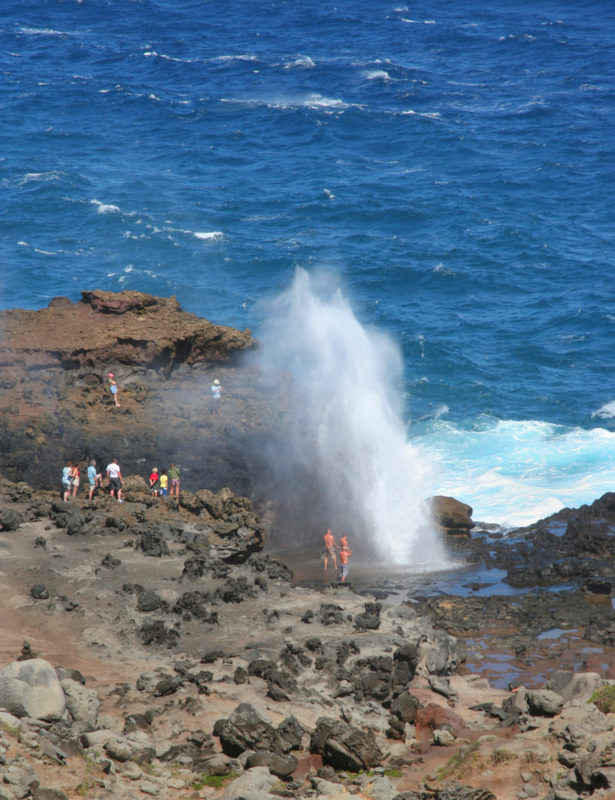 Directions And Parking At Halona Blowhole
Halona Blowhole is on Kalanianaole Highway and you have to be paying attention to the map or you won't be able to slow down in time to make the turn. Cars tend to zoom up and down this highway and it's easy to do the same because it's a two-lane road with no traffic lights, crosswalks or pedestrians (most of the time).
Despite how crowded this spot is, finding parking is not a big problem even when it's crowded. Visitors generally stay here for a short time – just enough to stretch their legs and enjoy the view. I usually stay here anywhere from 10 to 15 minutes. Parking turnover is fast and you'll constantly see cars pulling out to continue on with the rest of their sightseeing tour.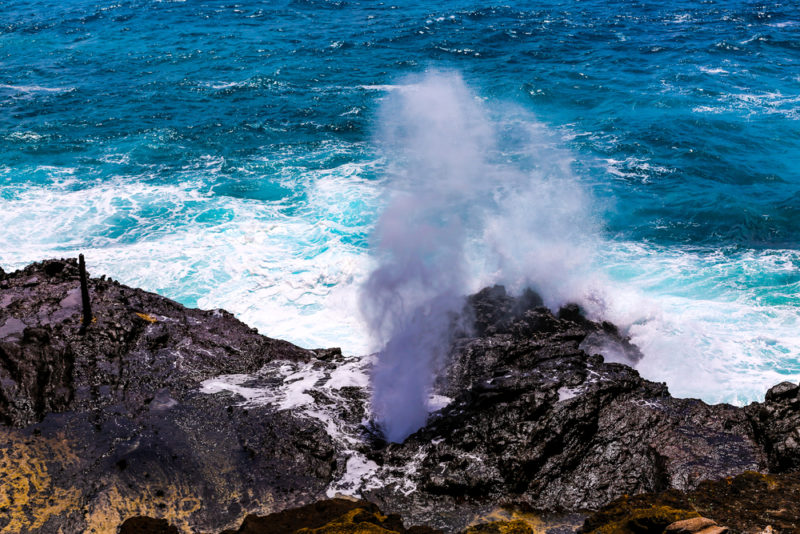 Overall, Halona Blowhole is a really nice place for a gorgeous view of the eastern side of the Oahu. In fact, many people end up here not knowing that this is a blowhole/Molokai/Lanai lookout! There are some pretty surprised faces when they see that water explode up into the sky!
Definitely make this a stop on your circle island tour. It's free, beautiful and doesn't take much time out of your day. The view is completely different from any other viewpoints on the island. Just respect our warning signs and use your common sense because this is really nature at its wildest.
More things to do near Halona Blowhole
Hanauma Bay State Park – One of Oahu's most famous snorkeling spots especially for beginners.
Makapuu Lighthouse Trail – One of Oahu's easier hikes because of the asphalt path all the way up. This is an amazing spot to see humpback whales during the winter time.
Sandy Beach – Fondly referred to as "Sandys", this beach is extremely popular with locals and kite fliers! However, I do not recommend that you swim here as a visitor to Hawaii – Sandy Beach has the highest rate of broken backs and necks in the nation. Come to watch the skilled body boarders, kite fliers and beautiful view. Do not come to swim.
Halona Beach Cove (Eternity Beach) – On the south side right next to the Halona Blowhole lookout, there's a pathway down to Halona Cove. It's a nice beach that's beautiful and calm (except during bad weather and winter swells). The movie From Here to Eternity featured Halona Beach Cove, hence its nickname.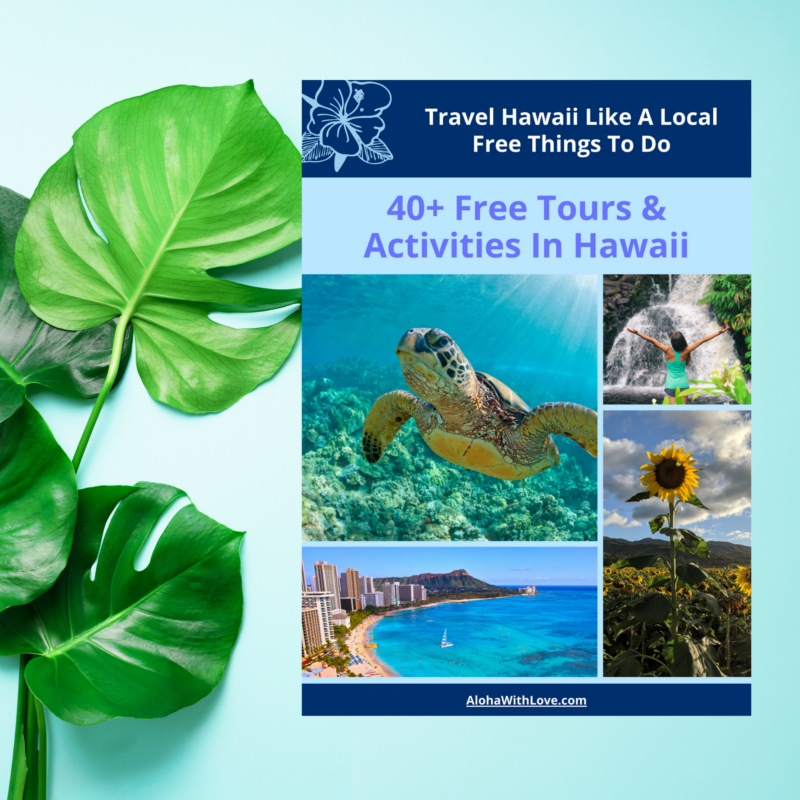 Want to go on a free tour in Hawaii?