This post may contain affiliate links, which means I'll earn a small commission if you purchase something through these links. You won't pay any extra; instead, you'll be helping Aloha With Love to thrive. Thank you! Learn more.
COVID-19 has affected many of Hawaii's businesses and events. Please double check their dates and times before you go or make plans. Visit HawaiiCOVID19.com for more information.
--
We have a lot of papaya trees in our yard. Mom always makes sure we have them because they practically give fruit away for free. The fruit to yard space ratio is exceptional considering papaya trees only need about 2 feet to grow one tree. Right now she has 5 trees in the yard: 3 with fruit and the other 2 with budding flowers. Now it's just a waiting game to see if the flowers are hermaphrodites.
For this recipe, we had an overflow of green papaya and since it was so humid today, Mom decided to make some chilled namasu (Japanese pickled vegetables) for dinner. She ended up tweaking the recipe a bit since our green papaya was just beginning to turn yellow and had its own unique "ungreen" flavor. The papaya itself was still raw and crunchy, but the slight papaya undertones meant it had less of a green vegetable taste. To combat that, Mom added some fish sauce and ginger, which did the trick!
Aloha with love,
Amy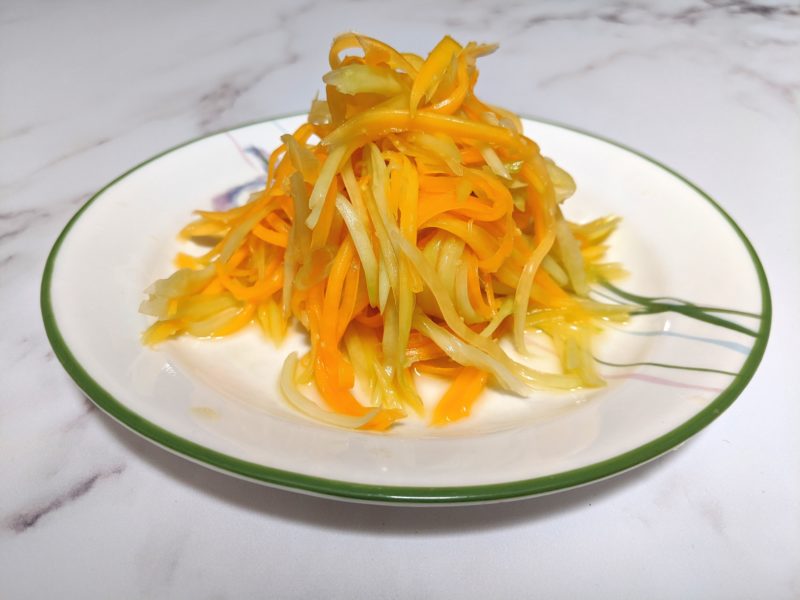 Ingredients
1½

lbs

thinly sliced green papaya

About 2 medium papayas.

2

tsp

salt

4

tbsp

apple cider vinegar

1

tbsp

sugar

2

packets

Truvia (sweetener)

Or your favorite sweetener.

1

tsp

grated ginger

1

tsp

fish sauce
Instructions
Thinly slice or grate your green papaya into strips and put in a mixing bowl. Add salt and mix for about a minute.

Note: One of the papayas had just started to turn yellow, which is why we have 2 different papaya colors. Preferably, you want that pale green color before it turns yellow. But this still tasted great!

Add apple cider vinegar, sugar, sweetener (we used Truvia). If you want to, you can use all sugar or all sweetener.

Note: I recommend using a little less for all the ingredient measurements. This is a unique taste and you need to find the right combination that you like. Use the measurements as a guideline to follow.

Add grated ginger and fish sauce. These two ingredients is what really brings this dish to life.

Mix, taste, and adjust. While you can eat this right away (which we did), I highly recommend storing this in the fridge and eating it the next day. The taste will be completely different and the ginger makes this dish really come alive.
Notes
Eat this the next day if possible.
This recipe also works with very green papaya (as Mom originally intended). Since our papaya was beginning to turn yellow, she decided to adjust the flavor only because the papaya's flavor had changed.
Mom avoids using too much sugar, but if you prefer all sugar, feel free to substitute the sweetener packets in this recipe for sugar or vice versa. Just taste as you go as sweetness levels differ.
This was a touch-and-go recipe since traditional namasu doesn't use green papaya. Use this recipe as a guideline to get started and find the flavor you like.
Less is more, especially with the ginger.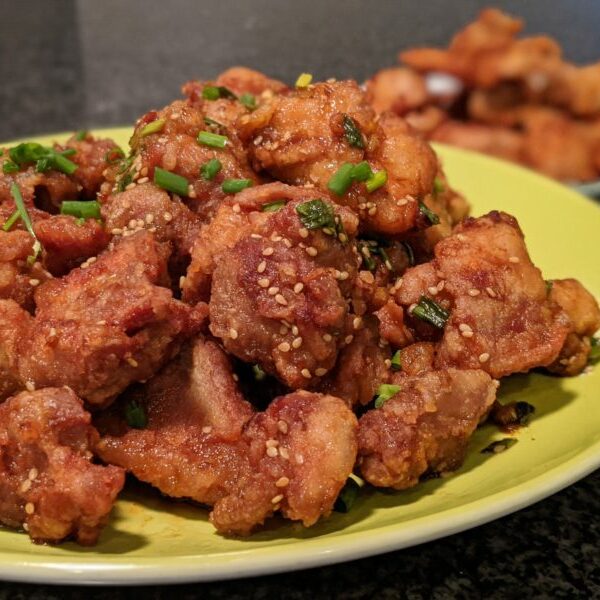 Get my latest recipes with a spoonful of aloha!