This post may contain affiliate links, which means I'll earn a small commission if you purchase something through these links. You won't pay any extra; instead, you'll be helping Aloha With Love to thrive. Thank you! Learn more.
COVID-19 has affected many of Hawaii's businesses and events. Please double check their dates and times before you go or make plans. Visit HawaiiCOVID19.com for more information.
--
Mom decided to try something new today and I think she hit the jackpot on these. Store-bought tortillas can sometimes taste a little dry. So it was a nice surprise to find that these green onion pie tortillas had some good flavor in them. And for those of you who have a habit of stuffing too much into your burritos, you'll have a good excuse to make a bunch of these since they are strong! No matter how much I packed into these burritos, they held up easily down to the last bite. If you like Mom's traditional green onion pie recipe and Mexican food, give this one a try. They tasted great with teriyaki BBQ pork.
Aloha with love,
Amy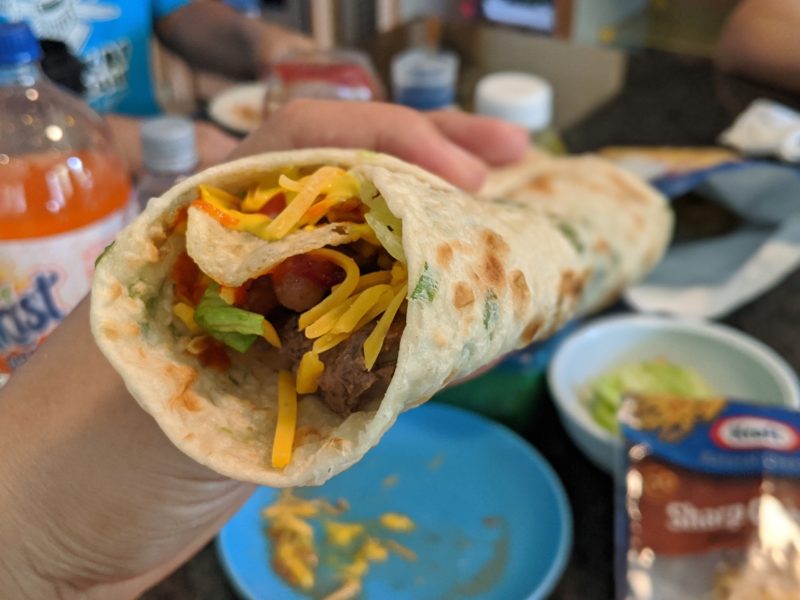 Ingredients
4

c

all-purpose flour

½

tbsp

salt

1½

c

warm water

1½

tbsp

oil

Mom uses olive oil.

2

c

green onions
Instructions
Dough
Add flour and salt to a large mixing bowl. Prepare 1½ c warm water (half hot water, half room temperature). The water should be very warm, but you should be able to put your finger into the water comfortably.

Slowly add the warm water to the mixing bowl to create a shaggy dough. If possible, do not use up all of the water. Pour just enough so that there is no more loose flour.

Knead 1 – 2 minutes to make the dough smooth. The sides of the bowl should be clean of loose flour. Cover and rest for 20 minutes.
Green onion pies
Chop as many green onions as you'd like. Mom used 2 c green onions for this recipe. I personally think the more the better.

Cut the ball of dough in half. Take one half out onto a floured surface. Leave the other half in the bowl covered so that it doesn't dry out.

Roll out the half dough to a circular shape without kneading. Use the rolling pin to flatten and roll the dough out to a thin, circular shape. This does not need to be a perfect circle.

Add about 1½ tbsp of olive oil to the surface of the rolled out dough. Spread the oil around with your fingers or a brush so that it covers the whole surface. Avoid adding too much oil as the excess will make it difficult to work with the dough later on.

Add the salt followed by a sprinkle of flour, then the green onions. The flour will help accentuate and separate the layers as the green onion pie cooks.

Optional: Add anything else that you'd like to try. In the past, we've added bacon bits, pepper, and roasted sesame seeds.

Roll the dough with all of your ingredients away from you to form a horizontal tube.

Starting from the middle, squeeze the tube so that it's about twice as long and twice as thin. The longer you can make this, the more layers you'll create, but don't make it too thin. Once the skin breaks, the layers won't become flaky after being cooked.

Cut the long tube into 6 short, but equal pieces. This recipe makes a total of 12 tortillas. Pinch both ends of the shorter pieces closed.

With your thumbs and fingers still holding the ends, twist the dough into opposite directions. Try not to break the dough (as we did in this picture).

Push the dough inwards from both ends, squashing the dough into a round ball.

Further push it down on the table so that it keeps its shape.

Cover each ball of dough with olive oil all over, cover with a lid or saran wrap, and let it rest for 20 minutes.

Roll it out to the same thickness of a tortilla.

Set the stove on high to get the pan to an even heat, then adjust the temperature to low. Place the tortilla directly onto the pan (no extra oil necessary).

Note: As the pan heats up the tortilla, the dough will change from white to translucent. In this picture you see it's about halfway done because the dough is still white in some areas.

Flip until the tortilla is light brown on both sides.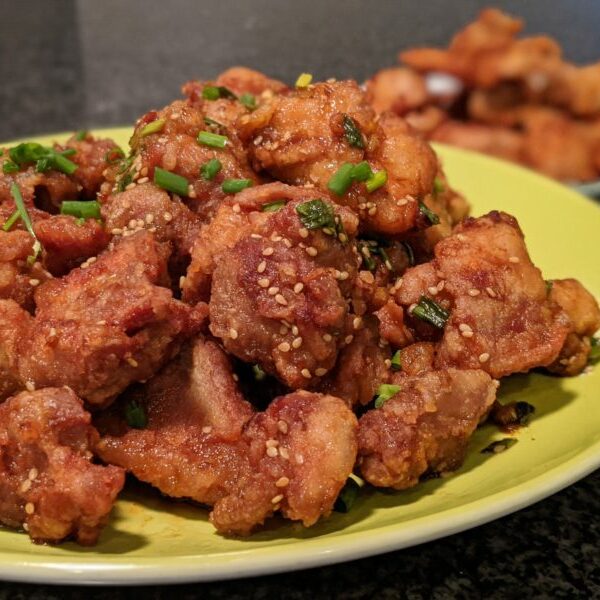 Get my latest recipes with a spoonful of aloha!