This post may contain affiliate links, which means I'll earn a small commission if you purchase something through these links. You won't pay any extra; instead, you'll be helping Aloha With Love to thrive. Thank you! Learn more.
COVID-19 has affected many of Hawaii's businesses and events. Please double check their dates and times before you go or make plans. Visit HawaiiCOVID19.com for more information.
--
Geckos are a special childhood memory for me. In Hawaii, as children we're taught that geckos are a good thing. They eat all the annoying gnats and small bugs that fly and crawl in and out of your house (I just wish they ate more of those flying cockroaches!). They are known as aumakua, a sort of guardian spirit for your house and family. As ancestral gods, most locals will leave them alone to do their job of eating the bugs and personally I find that their coos and clicking noises are comforting no matter where I am in Hawaii. Plus, look how adorable they are!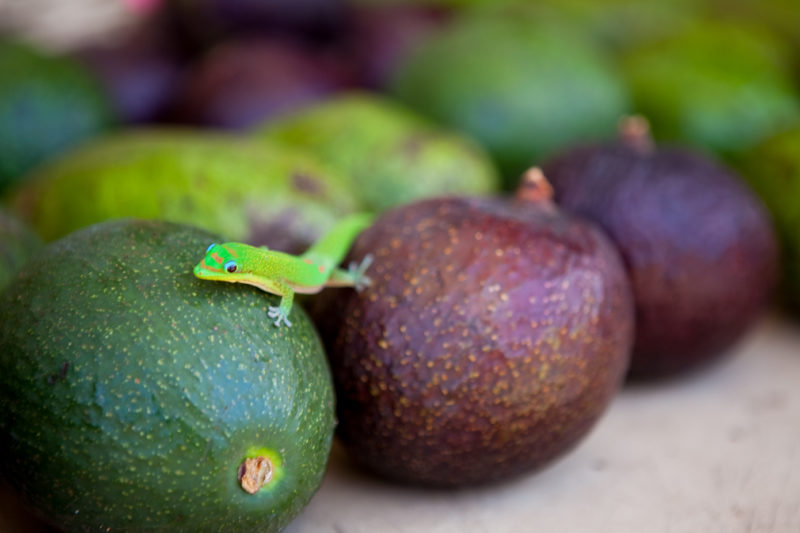 While the usual gecko varieties we have range from grey to brown, recently I've been spotting a lot of the gold dust day gecko, which is spectacular since they are such a sight to behold. If you're spending most of your time in a city or resort, you probably won't see many of these. But keep your eyes peeled for these brightly colored geckos on your hikes or gardens and if you see one, take a photo!
The gold dust day gecko is actually from Madagascar and is what we call an invasive species. Although, all geckos are actually non-indigenous since Hawaii did not have any reptiles at all before humans arrived. The first Polynesians that were the original Hawaiians brought a variety of geckos along with them and since then, geckos have only thrived in Hawaii's tropical climate.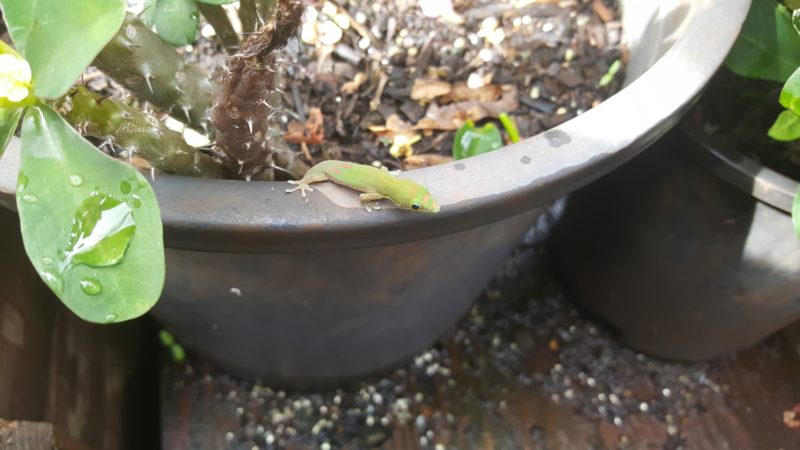 Mom and I managed to save this gold dust day gecko from a ride on the freeway. I first saw him on the hood of our car and he dashed into the engine area before we could grab him. We probably spent a good 20 minutes trying to catch him and we were finally able to move him to our garden into this pot. While we were certainly glad to have to have saved a life, I'm not so sure his tail agreed: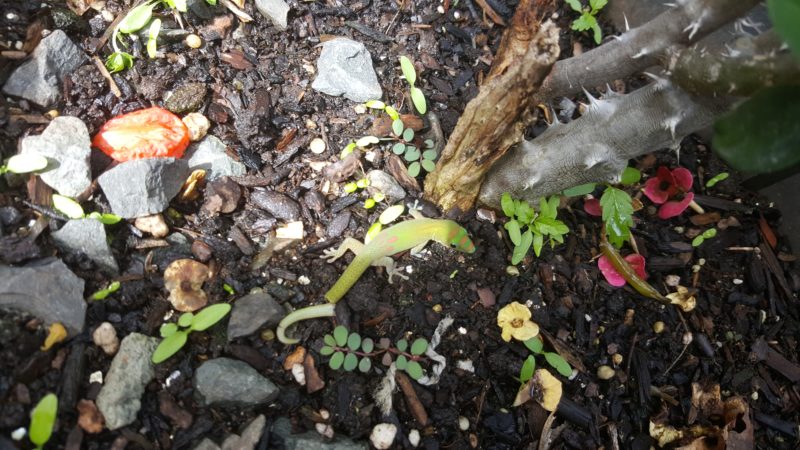 Oh well, at least it will grow back. In fact, I just saw him a few days ago (I think it was him) hanging out on our front gate right next to the car…again. Live and learn, little fella.
Things To Do
Hawaii is a fantastic place to see rare animals. The Hawaiian green sea turtle and Hawaiian monk seal are popular favorites among both tourists and locals. But the best part of Hawaii's creatures are the birds. We have plenty of rare birds that can't be found anywhere else. I highly recommend doing some bird watching here if you're interested.