This post may contain affiliate links, which means I'll earn a small commission if you purchase something through these links. You won't pay any extra; instead, you'll be helping Aloha With Love to thrive. Thank you! Learn more.
COVID-19 has affected many of Hawaii's businesses and events. Please double check their dates and times before you go or make plans. Visit HawaiiCOVID19.com for more information.
--
Fried saimin is a fried noodle dish that you'll only see in Hawaii. Saimin usually refers to a hot noodle soup with egg noodles, spam and/or char-siu, kamaboko (fishcake), egg, and green onions. But since it's getting a little warmer, Mom decided to make a huge plate of fried noodles since it had been a while since we last had it. Most local people will order fried saimin from a restaurant. Even the fried saimin platters I've had at potlucks are usually from a caterer. The best thing about making fried saimin at home is that you won't be stingy with the ingredients. Each bite has a little bit of everything and this recipe is pretty close to awesome!
Aloha with love,
Amy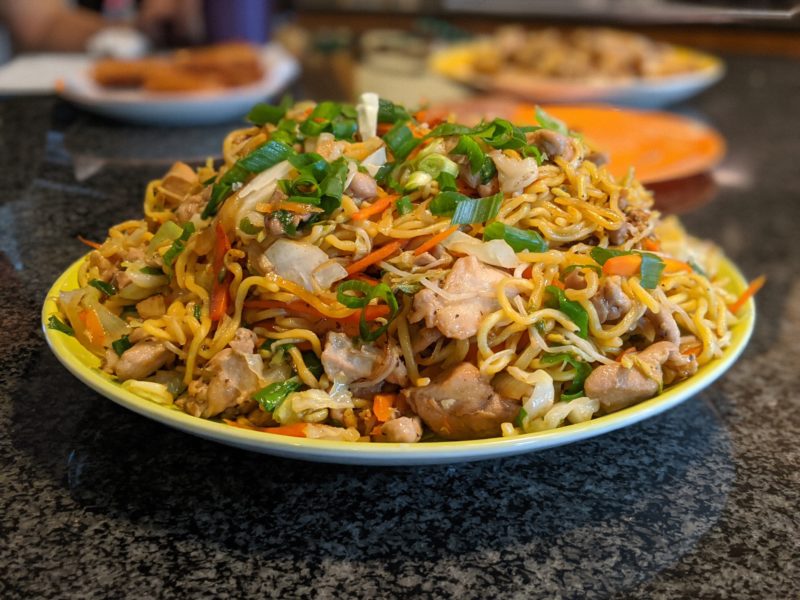 Ingredients
2

package

saimin noodles, 9.5 oz. in each package

Egg noodles.

1

tbsp

oil

2

small/medium carrots

⅓

head of cabbage

¼

round onion

1

c

green onions

1

pack

saimin or noodle broth powder

2

tbsp

shoyu
Chicken preparation
2

chicken thighs

1

clove

garlic

1

pinch

salt

1

pinch

pepper

1

tsp

shoyu

½

tsp

cornstarch
Instructions
Prepare the saimin noodles
We used 2 packs of saimin noodles. They each come with 2 packs of broth powder. Keep those on the side as you'll use one for later.

Set up some paper towels on a couple of sheets of newspaper. If you use a cheap paper towel brand, I recommend using a clean towel instead. Otherwise the noodles will stick to the paper towel like glue. However, thick quality brands (Mom likes Bounty) should give you no problems.

Boil a pot of water on the stove on high heat. Put the noodles in the pot when the water is boiling. Leave on high heat and wait for the water to heat up again. Stir continuously so that the noodles don't stick to the bottom. Take the noodles out when you just begin to see boiling bubbles rise in the middle of the pot since we are only cooking these halfway.

Transfer the noodles to a colander in the sink and drain. Rinse repeatedly with cold running water to cool it down and remove the starch. When the noodles are completely cool, leave it in the colander to drain for 1 – 2 minutes.

Lay out the saimin noodles on top of the paper towels and newspaper. Let this air dry for about 20 minutes. You may need a fan on its lowest setting if it's extremely humid or if there's no wind (open doors and windows works for us).

Remove the saimin noodles from the paper towels and transfer to a mixing bowl. Add oil to the noodles and mix to spread out the oil. Set on the side until you're ready to add it to the pan.
Prepare the other ingredients
Peel and slice the carrots and round onion. Slice the cabbage and chop the green onions. Place these on the side.

Slice the chicken into bite-sized pieces. Add chopped garlic, salt, pepper, shoyu, and cornstarch. Mix.
Cook the fried saimin
Add oil to a large pan and adjust the temperature to high. Cook the chicken first. Remove from the pan when the raw pink color has just about disappeared.

Without adding oil to the pan or changing the temperature, add the onions and cook for about 30 seconds. Add in the carrots, followed by the cabbage about one minute later. Stir.

Once the cabbage begins to soften, bring the half-cooked chicken back into the pan. Reduce heat to medium as you mix everything together for a few minutes.

Note: Mom included some sprouts that she happened to be growing (from her bedroom!). This was unplanned so I did not include it in the recipe.

Pour in one packet of saimin broth powder (included in the saimin package). Mix to spread the powder everywhere evenly. See recipe notes if this is not an option.

Once the saimin broth powder has been fully incorporated, add in the saimin noodles and increase the temperature back to high. Mix to combine all of the ingredients together. The oil that was added to the saimin earlier should make everything glide nicely in the pan.

Add shoyu. Continue to cook and stir for a few minutes. When the noodles are hot they are fully cooked. Add salt and pepper to taste. Turn off the stove.

Add in ¾ of the green onions and mix them into the fried saimin. The residual heat will cook the green onions halfway and bring out its unique flavor. Transfer the fried saimin to a large plate or bowl and add the remaining ¼ green onions to the top.
Notes
Mom buys several packs of saimin noodles when it goes on sale and stores it in the freezer.
If you don't have saimin noodles near you, any kind of egg noodles will do. You can tell they're egg noodles because they are yellow.
If your egg noodles don't come with a packet of broth powder like ours did, any generic packet of broth powder in a beef instant ramen package will do. Use the instant ramen noodles in your next budae jjigae.
Use a thick, quality paper towel when drying the saimin noodles. If this isn't an option, use a clean towel instead.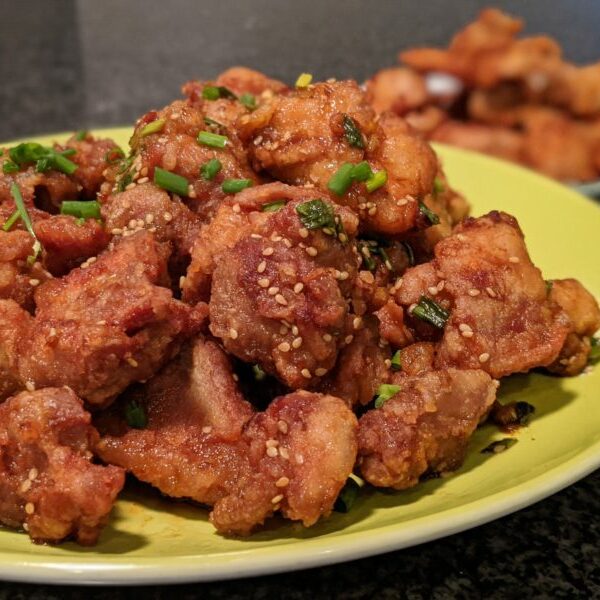 Get my latest recipes with a spoonful of aloha!